The first time I travelled solo in twenty years was when I began writing stories for Ontario's Highlands. I'd toured for other tourism partners with my husband, Mike, but never alone. In my youth, I had often day-tripped by myself, but that was so long ago that this travel work would be a brand-new experience.
That first assignment stirred up travel desires to plan my own solo voyages. I went from zero trips alone to more than a dozen per year, but as we all know, every journey starts with a single step.
My first solo hike was a few years ago, and I found a new love on the trail: slow walking. It was a liberating experience to set my own pace; to stop every ten seconds to photograph a leaf, a bird, a bug, a rock… I was exhausted by the end of each day, but it was worth every minute of sweaty, unhurried exploration.
My second assignment in the region was an overnighter, and I spent three days hitting trails along Highway 60. After my first day's activities, I enjoyed a tasty meal before settling in for the night with one thought on my mind: I was living my best work life.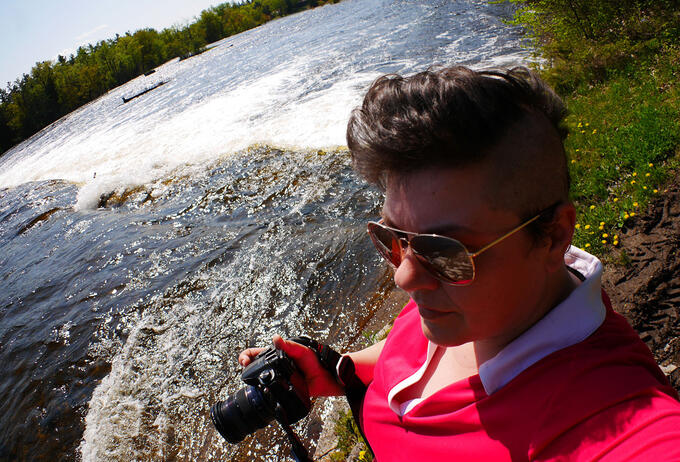 Since that first trip for Ontario's Highlands, I solo glamped six more times before heading out on my farthest from home adventure yet: Northeastern Ontario. A 16-day road trip in the fall of '21, exploring wishlist destinations, like northern bogs and the boreal forest.
Spring Solo Camping Season Has Begun!
Upon returning from the North, my next BIG dream centred around camping. I thought, "There's no time to waste. I'm over 40, and my days sleeping on the ground are numbered."
Between camping gear research and shopping spurts, I scoured the parks nearest me for my top campsite picks. I wanted to be ready when Ontario Parks' reservations opened, five months ahead of my travel dates, and be prepared for other early bookings, like North Frontenac Parklands. In the end, over half the trips I booked were in Ontario's Highlands!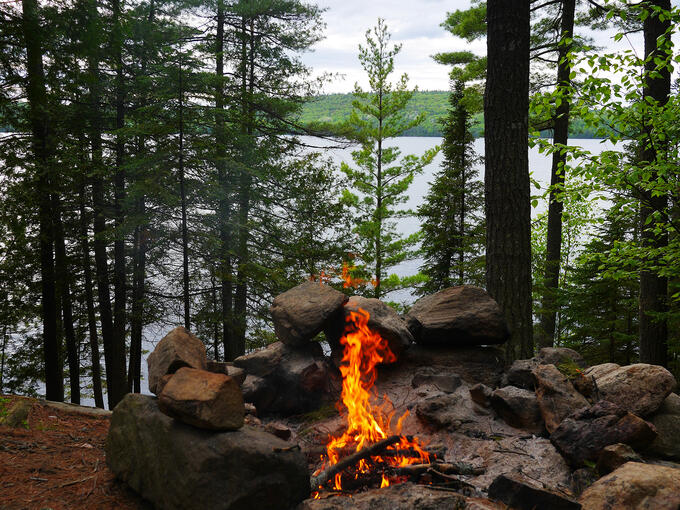 May kicked off with birding and car camping on the shores of Lake Ontario. I also camped in the Ottawa Valley and went glamping at Silent Lake Provincial Park while working on a third blog about the best stops with a view on Highway 62. 
At month's end, a long-time dream adventure came true with Ontario's Highlands, which was ATVing for the first time! It was a guided tour with Tom Irwin of Tom Irwin Adventures Tours  - I can't say enough good things, so you'll have to read about it!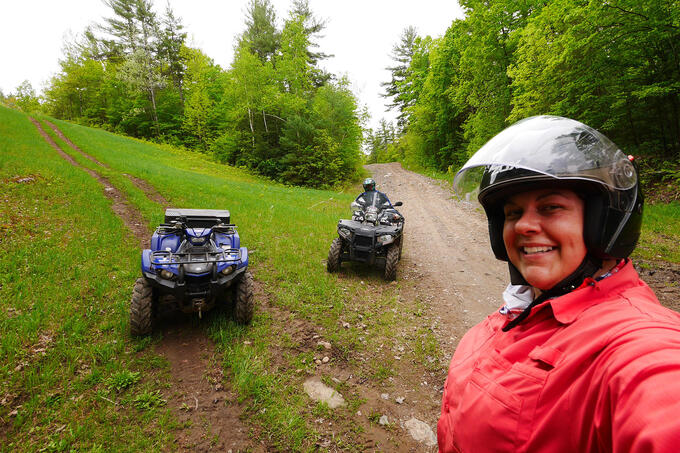 If you thought my travel plans couldn't get any more exciting, try again! The summer fun was gearing up in June with my first-ever backpacking and paddle-in camping trips! I quickly discovered that kayaking fully loaded with all my gear to the campsite was much easier, and my knees thanked me.
In addition, I didn't have to battle mosquitoes and deer flies on the trail. So, upon returning home, I rescheduled all but one of my backpacking trips - hiking to a campsite could wait for the cooler days of fall. This isn't the only lesson I've learned while solo travelling. I've had numerous humorous and humbling experiences, but that's another story.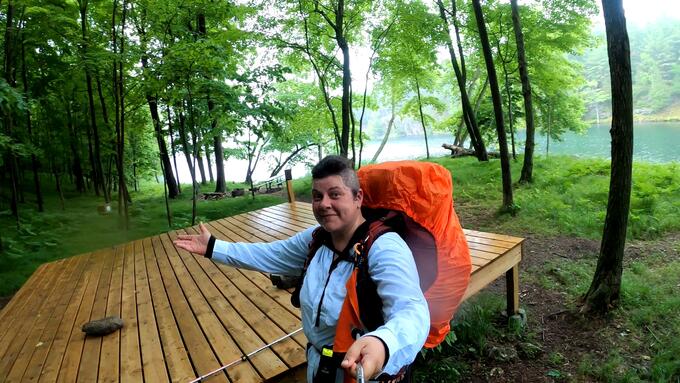 What's Next This Summer?
The lineup of new-to-me destinations continues more paddle-in camping trips, including two in the North Frontenac Parklands, one to Redhorse Lake, the second to Mair Lake. Then I'm exploring Bonnechere Provincial Park, hiking, kayaking on the flat water and camping on the riverside.
While the waters are still warm, September holds one last paddle-in trip before I return to Northern Ontario for two weeks - marking my longest solo-camping trip yet! After the long drive home, I'll stretch my legs with a much-needed backpacking trip and enjoy the fall colours on the trail.
I will revisit Bon Echo Provincial Park days before my birthday in October to camp at a walk-in site across from Mazinaw Rock. Fall ends with pitching my shelter, one last time, on the shores of Lake Ontario for birdwatching and camping, just like it all started in May.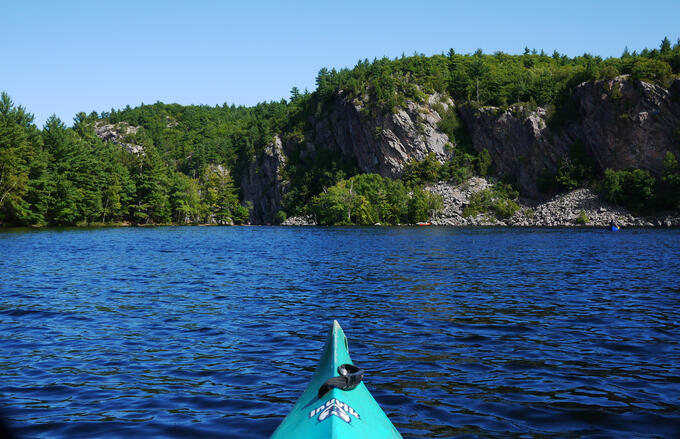 Will I Hibernate This Winter?
When the warm weather turns cold and snowy, I often take the coziest route through the dark months, bundled in my woolliest clothing, and sipping on hot drinks by the fire until the spring melt, but I'm changing, just as the seasons do.
It might be because I'm craving a wider variety of experiences, or I'm finally buying proper clothing for spending time in the snow that winter has become fun again, but I'm now ready to take the next step. It's time to try beginner-friendly cold-weather solo expeditions, like winter glamping - and snowmobiling!