Car camping gives you an opportunity to connect with nature but are you ready to take it to the next level and go backcountry camping? Backcountry camping is rugged, remote, and provides an adventure in nature that has you following the cycles of the sun.
Backcountry camping by water takes planning and preparation but the rewards are great. The echo of a loon over the lake may be the only sound you hear besides the crackle of your campfire.
Your backcountry camping experience is a build-your-own camping adventure: It can be catered to your skill, fitness level and ability, can involve multiple campsites and portages or it can be a 20-minute paddle to your private destination.
If you're game to try something different for your next camping trip, there is no better place to take the plunge (not literally!) than the Haliburton Highlands Water Trails (HHWT).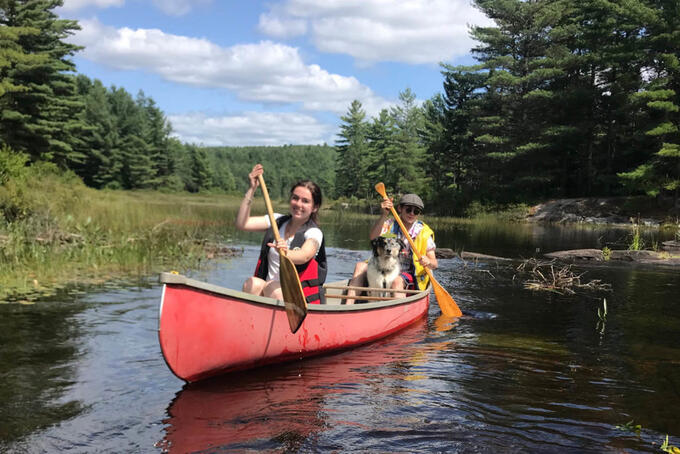 About the Water Trails
The Haliburton Water Trails is a municipally managed backcountry canoe routes system that consists of approximately 28,000+ hectares of provincial and municipal public lands comprised of countless lakes, rivers, trails and continuous forest.  There are over 200 campsites managed by the Municipality of Algonquin Highlands in two distinct areas: the historic Frost Centre canoe routes area which is predominately accesses off of highway 35 north and the Poker Lake canoe routes area off of highway 118 west.
Maps, information and reservations on both locations are available here. Reservations in advance are required.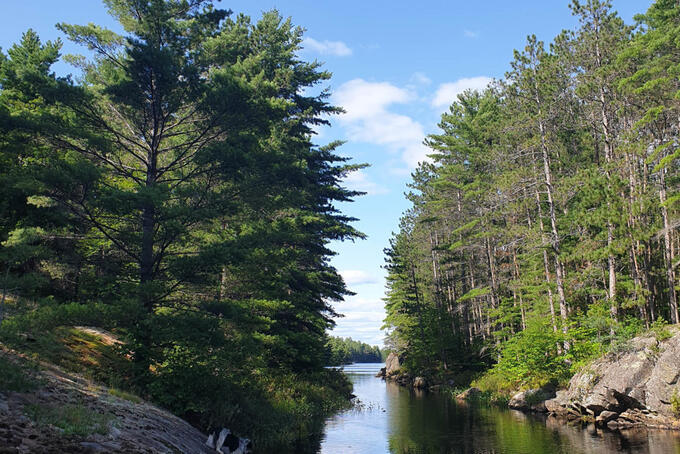 Planning Your Trip
When planning, carefully consider what type of experience you want and who you are going with. The first time I took my son backcountry camping on the HHWT he was five. We were able to drive our car right to the access point unload and paddle a short distance to our campsite. From there we would do mini excursions and explorations.
On another trip to the HHWT, accompanied by another fit adult we paddled and portaged through three lakes to access one secluded campsite in which we encountered a moose in the morning.  Each journey can be varied.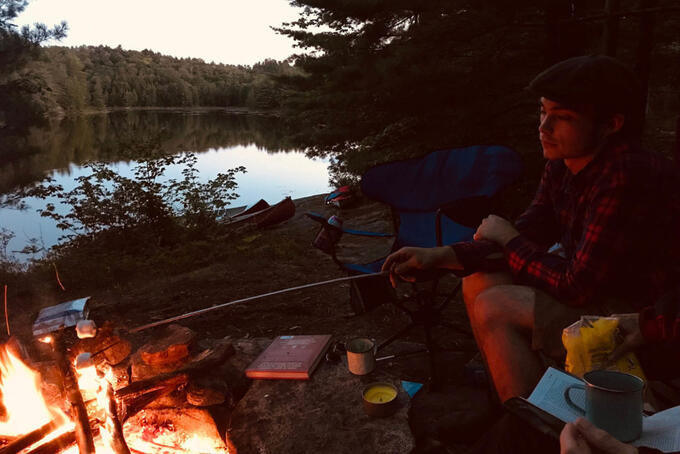 What to Bring: Pack Light and Well
First things first, you need to think about how you will get to your campsite by water. Don't have a canoe? No problem. Pick one up on the way. Canoes are available for rent at Algonquin Outfitters in Haliburton and Minden and at the Haliburton Highlands Water Trail Office.
Remember, backcountry camping means no amenities except a fire pit and an open privy pit which is an open style outhouse otherwise known as a "thunder box" or a "poo with a view".  And don't forget the toilet paper! An extra roll won't hurt -  I still remember the time my son accidently dropped the only roll down the privy hole.
Consider what you will be bringing with you.  Remember it all has to fit in the canoe and if you're portaging you will have to carry it all during the portage. This is not the time to take the screened-in dining tent!
Here are a few tips to help you pack as light as possible:
Have clothing that can be layered which reduces bag bulk.
Don't bring lots of canned goods.
Food can be taken out of packaging and put into ziplock bags.
Cook something prior and freeze it. It can act as a cool pack for a day.
Never bring glass. This is Canadian shield country with rocks everywhere. Beer should be in cans and wine in tetra packs or boxes.
I suggest making a stop at Abbey Gardens or the West Guildford Shopping Centre to pick up food and supplies. Pick up a six-pack of microbrewery beer from Haliburton Highlands Brewing (right at Abbey Gardens)or Boshkung Brewing – it will be worth the effort to get to your site, and a nice treat at the end of a long day outdoors.
Store food including your garbage away from your tent. You don't want to attract wildlife to your campsite. If you don't have a food barrel, (a plastic pickle barrel with backpack straps) use a back pack and string it up a tree.
Be Responsible
When backwater camping you are literally responsible for your own and other's safety.
Preparation and research can make things go smoothly. Be prepared for emergencies and unforeseen circumstances. Bring a first aid kit. If you don't have water bags, be sure to put your gear in garbage bags or have an easily accessible tarp to cover things up. It could start raining as you paddle across the lake to your campsite.
While adventuring, don't depend on your phone to access maps. Certain areas have minimal cell service. Print off maps prior. Some great paper maps are available from the Algonquin Highlands Township office or from the Haliburton Highlands Water Trails Office.
Research your campsite. The Facebook group Haliburton Highlands Water Trails (Frost Centre/Poker Lake areas) has great information about individual campsites and routes shared by fellow travellers.
Most importantly everything you pack-in must come out, including garbage and leftover food. Maintaining the pristine wilderness is everyone's responsibility. Backcountry camping is work but the experiences are rewarding.