We're fairly certain we are not alone in wanting to maximize every last minute of summer - to wring every last drop of fun, sun, and ice cream drips out of every day we can. Out of all the water sports, stand up paddleboarding brings you closer to all the best things about summer.
With every dip of your paddle you pull yourself forward, quietly, and gracefully. And when you fall in (as can happen) you won't mind getting wet, it just makes the experience even better.
If you haven't tried it, we invite you to check out one of these folks below who specialize in getting you on a board and looking like a pro in no time.
Wolf Flow doesn't just offer paddleboard experiences, they are the Haliburton region's paddleboard yoga (also known as SUP Yoga) experts. SUP yoga gives you balance, strength and stability, but it's also a lot of fun! Choose between group classes or a private lesson with Karley and you'll be a SUP pro in no time. 

SUP Schedule:
Wolf Flow SUP offers a number of classes on their website, including Sunrise SUP Yoga (for the early birds!) July 6 and 21 at 6:15 a.m. to 7:30 a.m. as well as evening SUP classes on July 7, 13, 20, and 26 (this last one is an advanced SUP Yoga class).
Visit the website for full details and to register.
About the area
Minden
Haliburton County
From Toronto: 190km • 2 hr 33 min
From Ottawa: 310km • 3 hr 45 min
Paddlers will love the Minden Wild Water Preserve. With 100 acres, the park includes campsites with picnic tables and firepits. When you're not canoeing or kayaking, take advantage of the 3-kilometres trail system on foot or on your bike.
Newcomers to the SUP world will appreciate a paddleboarding course on the Ottawa River from Court Outdoors delivered by a Paddle Canada certified SUP instructor. Learn how to stay on your board safely in all conditions, but also what to do if you end up in the water. This program is great if you are a novice or if you have some SUP experience, you will appreciate the advanced SUP program. 

SUP Schedule:
The Learn to Stand Up Paddleboard course is offered July 3 or Aug. 7 from 8 a.m. to 10 a.m. For a more in-depth experience, the Advanced SUP Skills Course is offered July 24 from 8 a.m. to noon. Try your hand at SUP yoga July 22, Aug. 5 and Aug. 19 from 6:30 a.m. to 8 p.m. Equipment is provided for novice courses.
Register through the website. 
About the area
Petawawa
Ottawa Valley
From Toronto: 390km • 4 hr 50 min
From Ottawa: 165km • 1 hr 55 min
Check out the Water & Dirt Festival, an event born out of the popular Ottawa River Race and Paddle Festival. This popular event adds land based outdoor adventure sports to the already popular water sports the region is known for.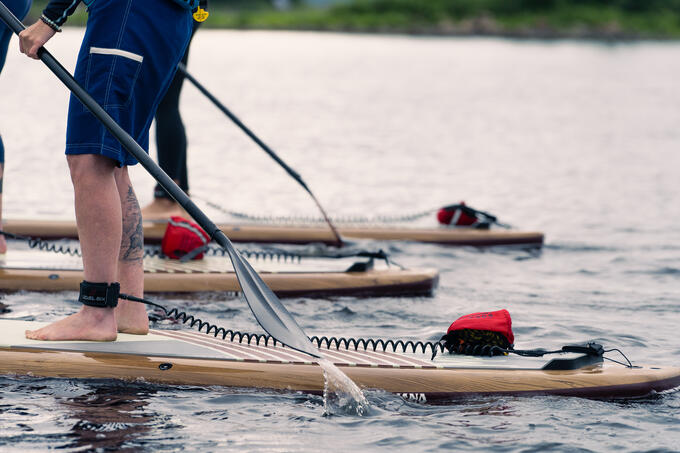 Operating on the Mississippi Lake in Carleton Place, Urban Ocean SUP is all about building self-confidence, community, getting fit and having fun. Choose between SUP fitness and yoga classes or get your heart racing with race training and whitewater SUP programming. If you have a dog, the Paddle with Your Pup course will be one for the memory books (hint: you may end up getting wet with this one). Equipment is included with all classes.

SUP Schedule:
If you are in the Carleton Place area you can SUP almost everyday of the week. Programming is available Wednesdays to Sundays, depending on what you are looking for (ie. yoga, fitness etc.). 
Registration is made through the website. 
About the area
Carleton Place
Lanark County
From Toronto: 360km • 4 hr 30 min
From Ottawa: 53km • 50 min
Park the car and still explore Carleton Place! The Chamber of Commerce rents out bikes from its downtown office for $5 a day. Call ahead and reserve to make sure one is available, and grab the free local cycling map to guide your trip.