The moment we started off on our paddling adventure into Algonquin Park to see High Falls with Deep Roots Adventure we knew it was going to be a day to remember. Not only was it our first time returning to Algonquin since the pandemic but this would also be our son's first time in a canoe!
I feel so grateful to embark on this adventure with my husband Graham and my son Remington, knowing that moments like these shared together will be the most important memories.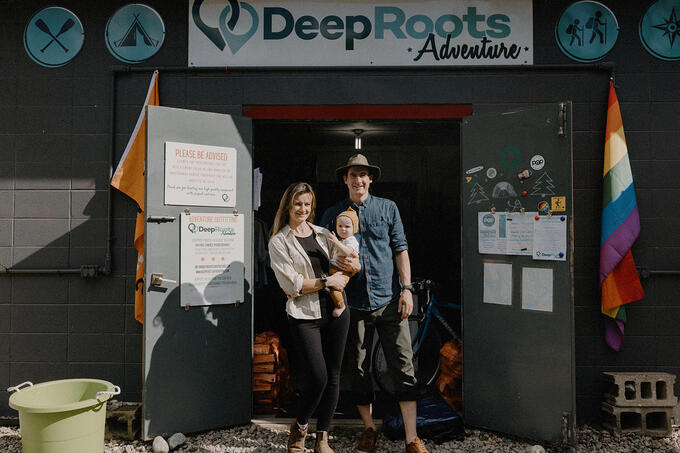 Welcome to Deep Roots Adventure
When we arrived at the Deep Roots headquarters, we were instantly met with smiles! Corina fitted us with our PDF's and gave us a very informative run down of all the safety procedures about paddling.
We had two guides, Noah and Ezra, who were very knowledgeable, easy-going and helpful. We were in a group with a large, very friendly, family that came to Deep Roots for their yearly reunion - also the first since the pandemic.
Everybody was at different skill levels when it came to paddling and chose different modes of transportation: canoe, kayak, stand up paddle board (there were even four people on a stand up paddle raft)! Some had never paddled before, but our guides were super helpful with providing the instruction necessary to help everybody along.
Graham and I are avid canoeists, so we chose that mode of transportation for our paddle.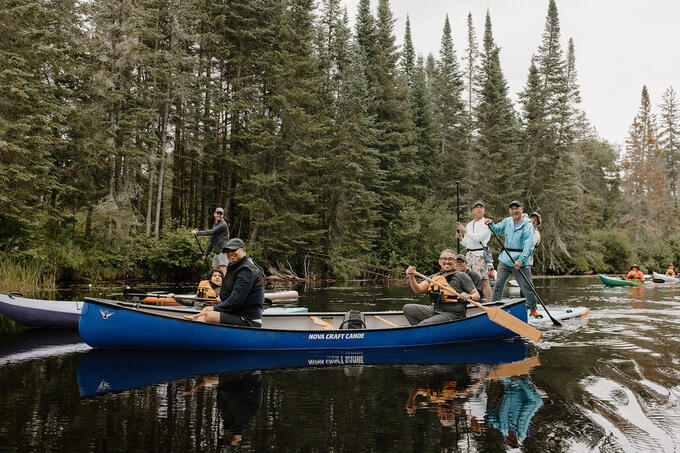 The Paddle
After a brief introduction from everyone, we were off paddling into Algonquin Park. As soon as our paddles touched the water, a calmness rippled over me.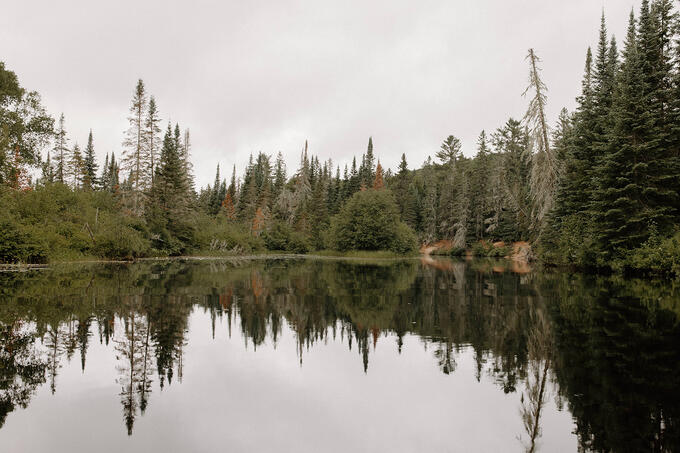 The leisurely paddle took about one hour as everyone took in the sights, sounds, and scents . It rained on us a bit throughout the trip but that only added to the magic. We brought an umbrella with us in order to keep Remington dry and h happily played on the bottom of our canoe or sat on my lap while Graham took over the paddling.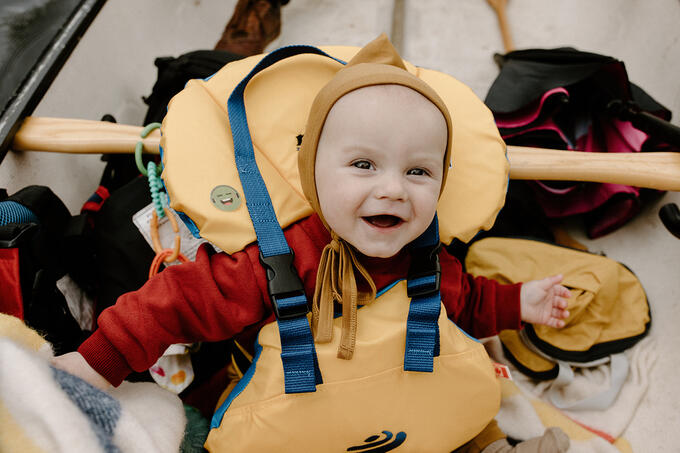 The Hike
When we arrived at the bottom of High Falls, we moored our canoe with the help of our guides. The mosquitoes were quite abundant here so we all took the time to put on some bug spray before starting our hike.
We put little citronella stickers on Remington and that seemed to keep the bugs away from him (although we were not as fortunate).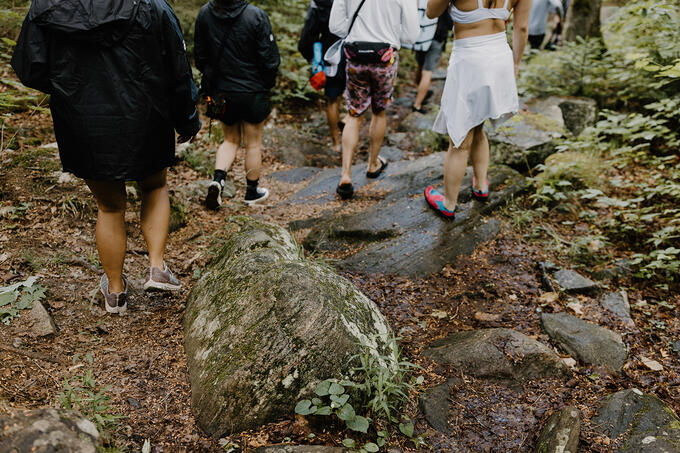 The trail was short but intermediate level so we all took precautions as we narrowed our focus on the ground beneath us, watching our steps on the slippery rocks and making sure not to trip over the roots of the trees.
Along the way there were opportunities to look out at High Falls and what a beauty it was.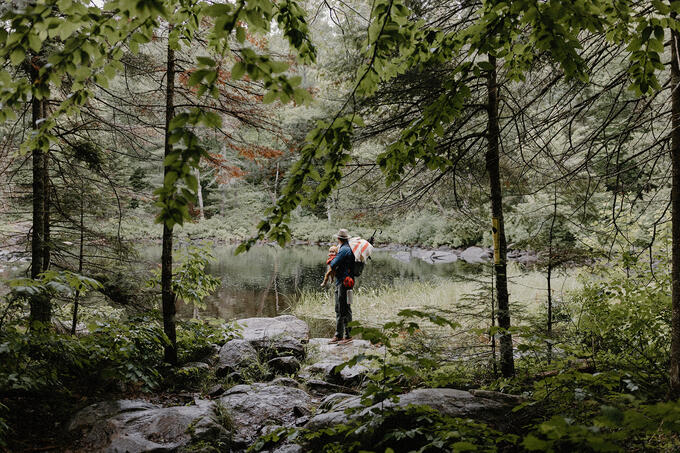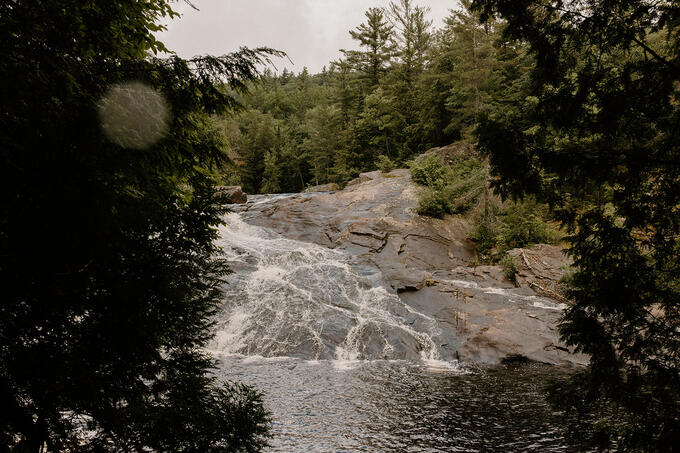 At the top of the falls, the sun came out and our guide Ezra laid out a delicious home-style picnic made by AM/PM outdoor gourmet. My favorite dish was the watermelon, mint and blueberry fruit salad. I always find food tastes better after a hike and this was no exception.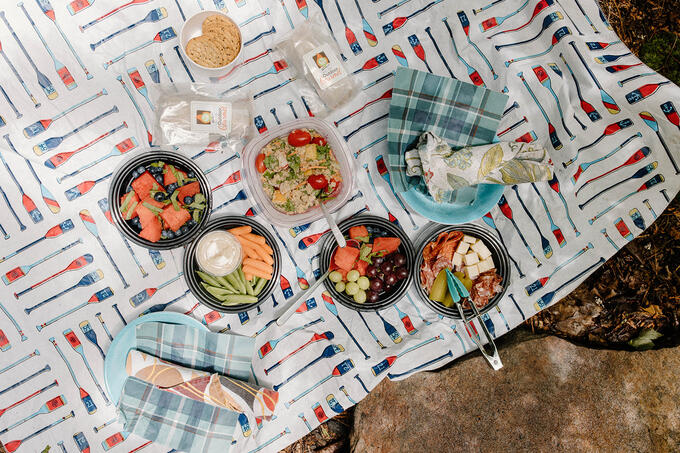 While Graham and I enjoyed the view overlooking the Falls, Remi napped beside us and the other travelers decided to take a little swim at the top of the falls. It was the perfect afternoon.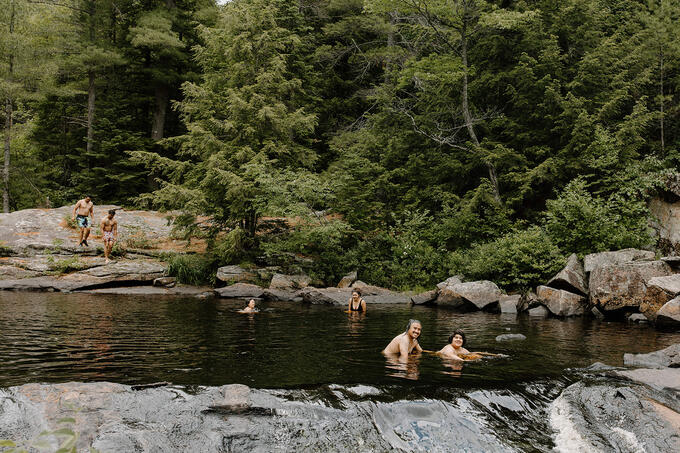 After about an hour, we all packed up to hike back down the trail towards our canoe. Along the way our guide Noah showed us a tree that was hit by lightning which was really neat to see. He also found some wintergreen which smelled amazing when we crushed it between our fingertips; nature's gum they call it.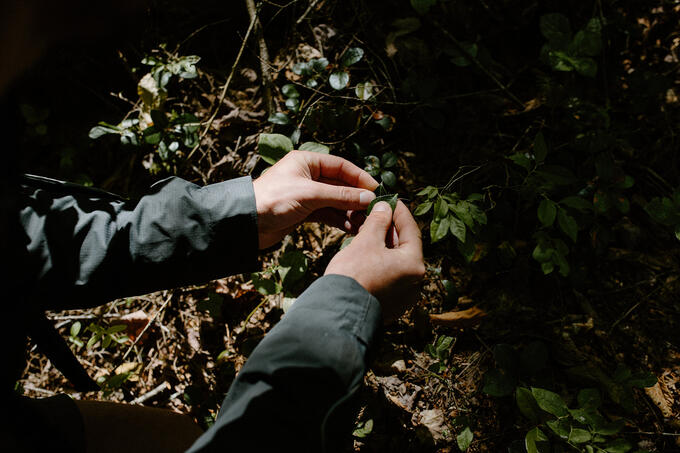 Saying Good-bye
Everyone was getting the hang of their watercraft now and so the paddle back to the dock felt faster, although we were in no rush to get back. We knew in our hearts we would get back to Algonquin Park soon.
Thank you Deep Roots for an amazing adventure with my family!