Local's Take is a series highlighting the staycation experiences available close to home this summer. The experiences featured in this series were hand curated to highlight fun insider spots in our region. Use these stories as your launchpad to create your own staycation in Ontario's Highlands.
Local: Rob Plumley
From: Lennox & Addington
Travelling: Lennox & Addington
I'm pretty fortunate to be born and raised right here in Lennox & Addington County. Growing up in Newburgh and now residing in nearby Napanee, I've really embraced the rural lifestyle and the quality of life advantages it provides. It's helped shape my interest in outdoor activities and I'm doing my best to provide my kids with similar experiences to what I had growing up.
We take full advantage of what we have right at our doorstep, spending as much time as we can hiking the trails, swimming & paddling in our lakes and camping in our parks. Many of these summertime activities take us north to Addington Highlands in Ontario's Highlands.
Here are some of my favourite places to visit.
Camping at Bon Echo Provincial Park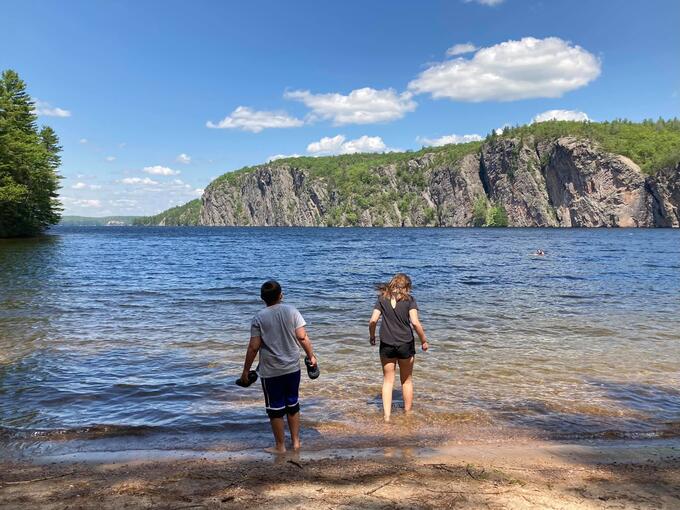 Earlier this summer we made our 7th annual visit to Bon Echo Provincial Park. We camp in our little tent trailer several times a year in locations throughout Ontario, but Bon Echo is the only spot we visit annually. It feels like home.
Each year we load up the truck and head north up Highway 41. Our first stop is always lunch at Addison's Restaurant in Northbrook for some comfort food, and by the time we hit Cloyne we're ready for a hearty scoop of ice cream from Finnegan's General Store. After a brief stop at Milligan Meats for some campfire sausages we're almost at our final destination.
There's a feeling I get at Bon Echo that I just don't have at the other parks we visit. It's quiet, relaxing, and there are so many things to do. There are multiple beaches to choose from, the hiking trails are fantastic, and of course paddling alongside the famous Mazinaw Rock is an unforgettable experience in its own right. The best part is that my kids love it there as much as I do. 

What to Bring:
Bug spray, hat, sunscreen, sense of adventure.
Cycling in the L&A Forest Trails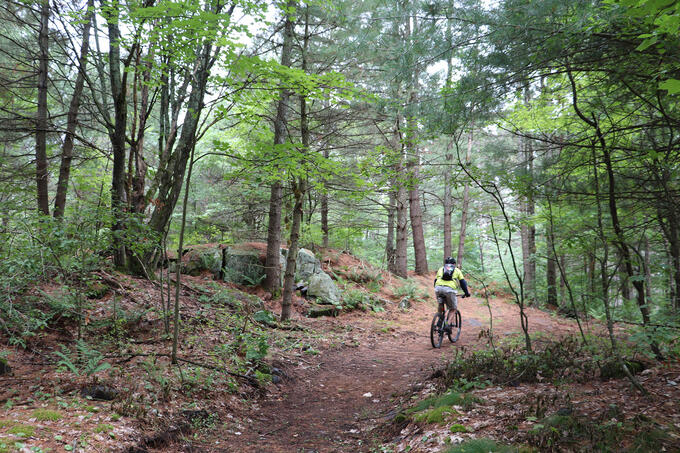 If you're looking to do a little off-road biking, the L&A Forest Trails in Flinton fit the bill nicely. There are 10km of trails now available in a 126-acre section of County-managed forest. The trails are a combination of old logging roads and newly-constructed single-track trails that weave through the tall pines just east of the village.
Unlike a rail trail, it's a place where you can leave your vehicle, tear around for an hour or two and not be miles away from where you parked when you're tuckered out and ready to leave. I've taken the kids here several times. It's relatively flat which is great for families, but there is also some elevation which is ideal for more experienced riders. It's also a nice spot to hike if you don't have your bike.

What to Bring:
Your camera  to capture some of the scenery.
Paddling at Deerock Lake Conservation Area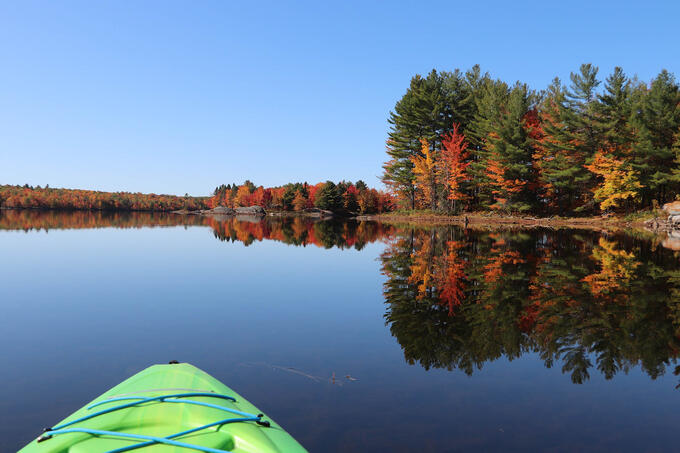 I stumbled across Deerock Lake one spectacular fall day a few years ago and it instantly became my favourite paddling destination in Ontario's Highlands. It was a perfect combination of blue skies, peak leaf colour and not a hint of wind in the air. I was the only person on the lake, and after spending several hours paddling the shoreline I couldn't wait to begin sharing the hundreds of photos I took while out on the water.
I've been back several times during the summer since then and while it's not as breathtaking as it is during the fall, it's still an amazing spot to spend the day paddling out on the water. The fishing is good too.

What to Bring:
Bring your required safety gear, like a whistle, rope, and life jacket.
Stargazing at the L&A Dark Sky Viewing Area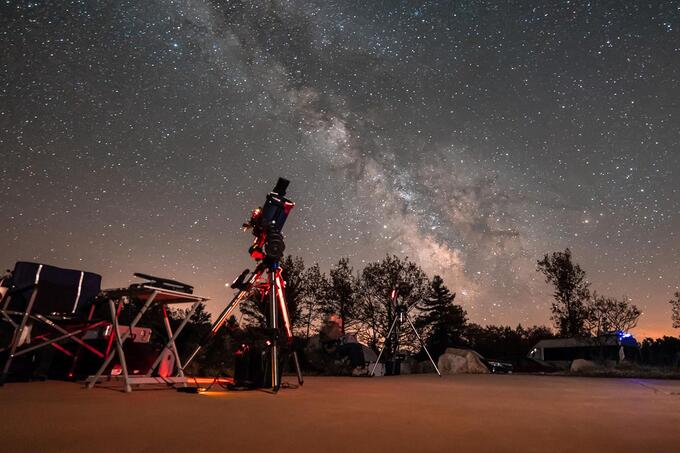 Clear, star-filled skies are something that rural residents sometimes take for granted. The Lennox & Addington Dark Sky Viewing Area is the most southerly point in Ontario that offers a night sky experience very similar to what was available more than 100 years ago.
Found right on the southern border of Ontario's Highlands, thousands of urban visitors travel here every year to view countless stars that they simply can't see in the city due to light pollution. As a local resident, the Dark Sky Viewing Area has helped make me appreciate how lucky I am to live in such a beautiful place.

What to Bring:
A lawnchair and/or blanket to sit back and savour the stars.
More to Explore
These are just a few of the many fun, family-friendly places to visit in Lennox & Addington County. For more travel ideas, be sure to visit www.NaturallyLA.ca.
Looking for more staycation experiences? Read these stories next: