Local's Take is a series highlighting the staycation experiences available close to home this summer. The experiences featured in this series were hand curated to highlight fun insider spots in our region. Use these stories as your launchpad to create your own staycations in Ontario's Highlands. 
Local: Danielle Meredith
From: Haliburton
Travelling: Haliburton Highlands
From the turn into the driveway, to my first step into the woods, I could instantly feel the calm come over me. Winterdance has a beauty and seclusion that is exactly what everyone looks for when they want to disconnect.
I am so thankful to have been one of the first people to experience the new off-grid cabins deep in the woods on a beautiful, small lake.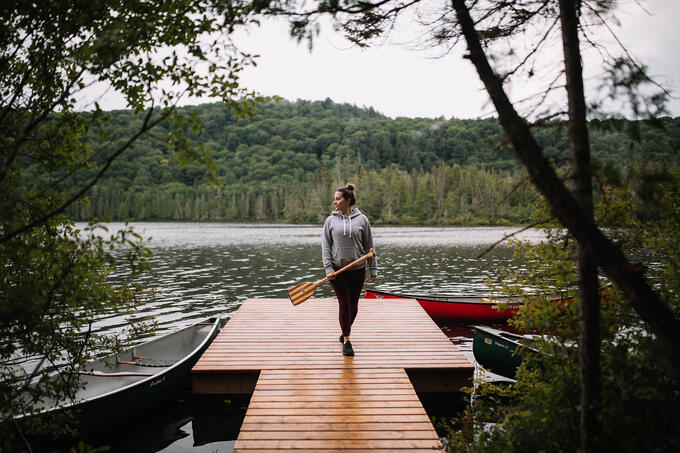 Guided Hike to the Cabin
When we arrived, we were met by our guide Ryan, who is very personable. We were happy to have him during our hike and throughout our entire stay. He is very knowledgeable, thoughtful and easy-going. He truly made our experience that much better.
We walked through the gorgeous, wooded trails, taking in the scenery, as Ryan told us the history of the land. The trails were cleared, making it easier to focus on the peace and beauty surrounding us. We followed fresh moose tracks nearly the whole way in, making us a little nervous, but Ryan assured us they'd be off as soon as they could hear us and long before we could see them.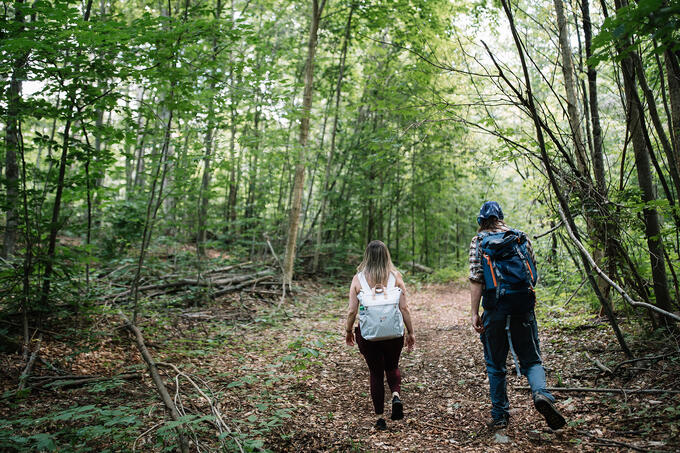 We also saw fresh bear claw markings on the beech trees and learned that bears scratch the trees to release pheromones. The bears also climb into the trees and make themselves little sitting nests in which to eat beech nuts. I spent a lot of time looking up after I found that out.
We stopped half way into the hike to the cabins for lunch in a beautiful field. Ryan told us he often sees moose there. We finished lunch and pressed on. As we got closer I could see the cabins through the trees and I got a glimpse of the lake.
The cabins still had that fresh wood smell and we opened the door to a perfectly made queen bed and a tasty charcuterie board. The cabin was decorated with a woodsy style that was so cozy and welcoming. We walked into the loft and out onto the back deck that overlooks the lake and decided right then that that would be where we'd have our morning coffee the next day.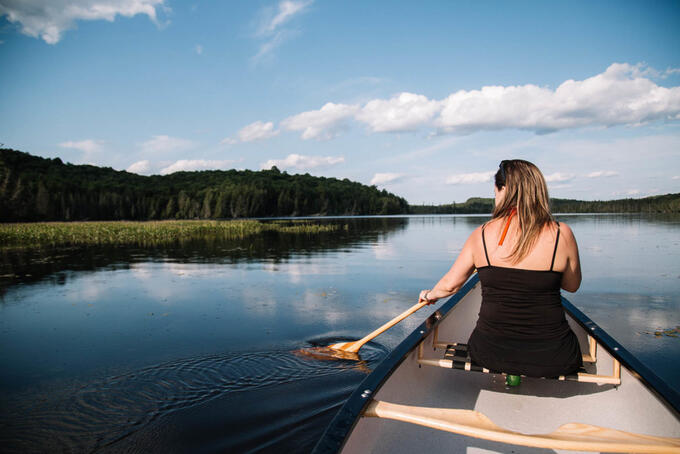 Luxury Meets 'Camping'
It was a very interesting experience being out "camping" in these cabins and having someone serve you meals and clean up after you. Talk about the ultimate stress relief!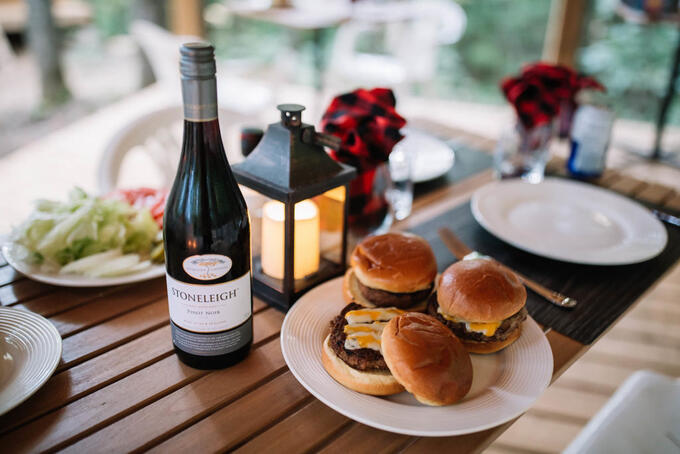 Tanya, Sue and Jess took such good care of us and made us delicious meals while we enjoyed a bottle of wine under the pavilion.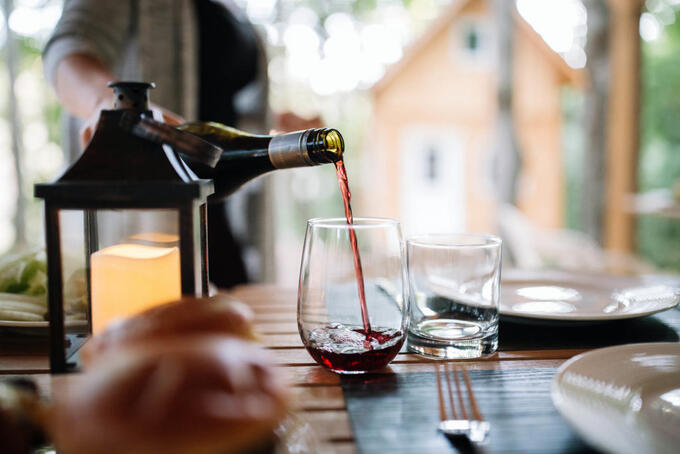 As the sun was setting, Ryan built us a fire and we roasted marshmallows for s'mores while chatting about life and how great it was to be away from the busyness. We wandered down to the dock once night had come. It was a clear night with a sky full of stars and we're pretty sure we heard a mermaid slapping her tail on the water. It was the perfect way to get sleepy, crawl into bed and drift off to the silence of the forest.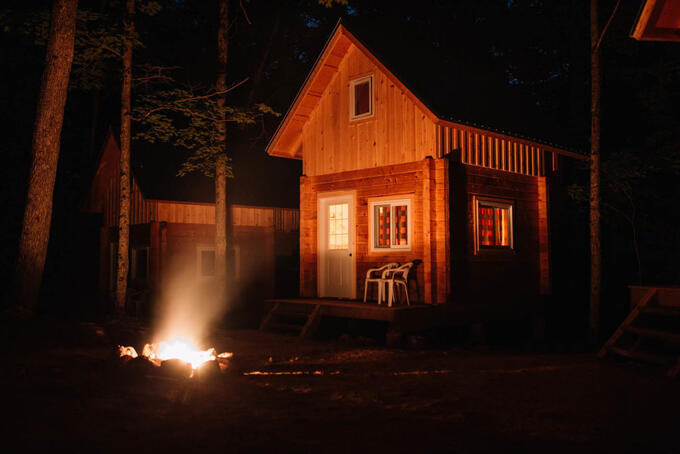 We woke to the sound of rain on the tin roof and a tea and coffee station sitting outside on our front porch. The service was unbelievable! We poured our beverages and made our way up to the covered top deck to enjoy the rain and take in the view of the lake and forest. Shortly after we were served a delicious breakfast of French toast with Winterdance's maple syrup and no surprise, it was fantastic!
Saying Good-bye
It was then time to head home so we packed up and started our journey back out, stopping in at the sugar shack to see how the maple syrup was made. It is quite the production and very interesting to learn about.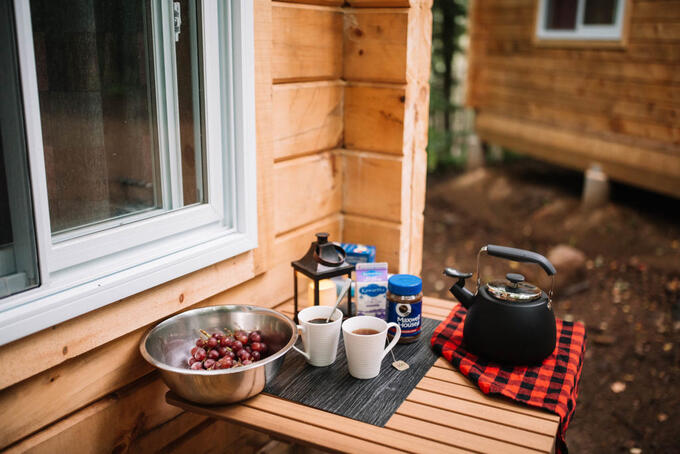 We walked out past ponds, wild flowers, tiny toads and giant trees. We wanted to turn around to go back to the cabins, but it was time for us to go. We already can't wait to get back. There are so many moments to experience throughout every season and we have it right here in our backyard.
Thank you Winterdance, for helping us to disconnect.
Looking for more staycation experiences? Read these stories next: