For fifteen years, three generations of my family have participated in an annual back country camping trip on the Haliburton Highlands Water Trails, HHWT. Located in Haliburton County this municipality-managed back country canoe route system consists of 28,000 hectares of provincial and municipal public lands boasting countless lakes, rivers, trails, forests and campsites.
Lucky for us it's essentially in our back yard.
For some, back country camping is moving from one lake to another, portaging, breaking down camp and setting up the following day. In the past I have done that but not for these family trips. When we started my son was five and my mom almost sixty. We enjoy the privacy and immersion in nature that back country camping provides.
However, we also want to relax.
Portages, breaking and setting up camp is a lot of work. Today we still follow this languid back country approach.  We like to paddle under an hour to set up camp. During the day we do some exploring on foot or with paddle but some serious time is allocated to lying on rocks and reading in a hammock.

Pro tip:
Read other paddler's reviews of the paddling and portages to get a sense of how challenging your trip will be.
Pack lightly and think ahead for how you will transport everything during a portage.
Getting to Big East
Over the years we have camped on Red Pine, Sherbourne, Ernst and Herb Lake all part of the HHWT. Herb Lake is a favourite. The area sports two rapids that make great day trips. However, this year we decided to try something different.
Big East Lake is located off of highway 118 between Carnarvon and Bracebridge and part of the Poker Lakes Area of the HHWT.  A month before our trip my husband and I were passing the access and decided to pull in and check out the launch.
We were in for a shock. In the past we have been spoiled, accustomed to boat launches where we could unload from our car right by the water's edge. Not the case at Big East where from the parking lot you have a 250-metre rock to scale down to reach the water.
We are not light-packing back country campers. We like our full camping chairs and our two-burner kerosene camping stove, the hammock and the two books I tell myself I'm going to read in three days.
A friend suggested and lent us a canoe cart carrier. What a great idea. Fill up each canoe on the carrier and take it right down to the water. We would be paddling in no time. Wrong!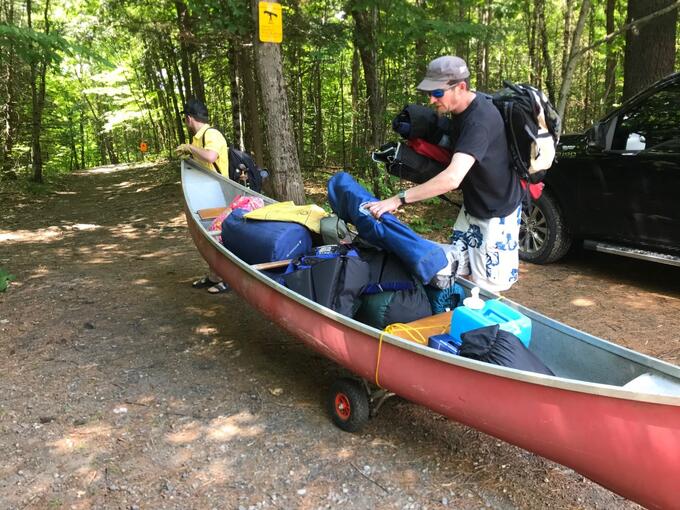 The first issue was the first canoe had a keel which made a challenge balancing on the carrier. We also forgot all the roots and uneven ground on our initial inspection of the path. Before even getting a ¼ the way down we realized this wasn't going to work.
My 73-year-old mom was put in charge of the dog as the rest of us hauled stuff down.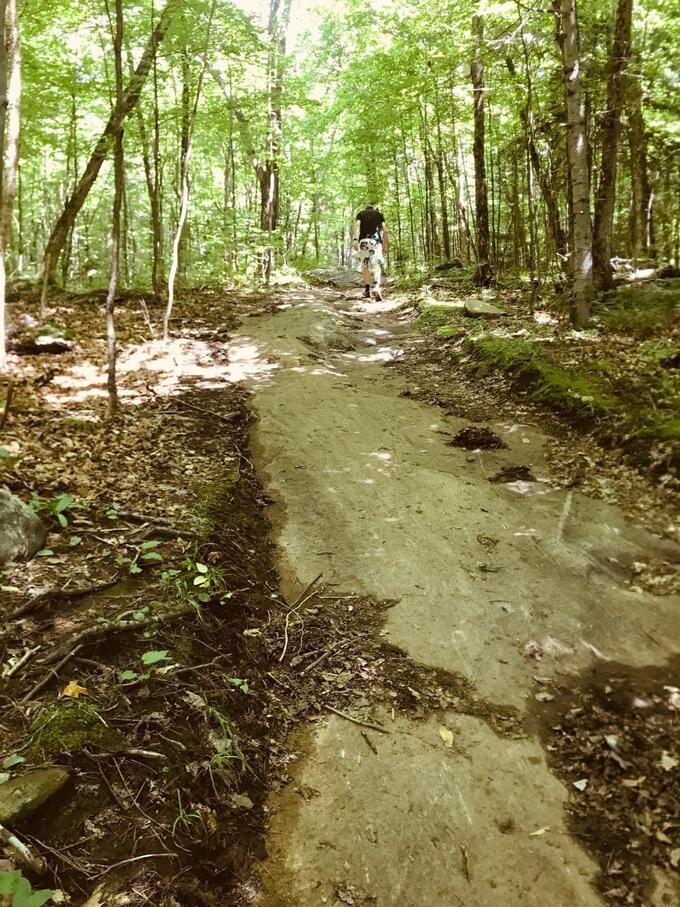 On the Lake (and a surprise encounter)
Once on the lake we were instantly memorized by warm weather, blue sky and rugged natural shore lines. Big East is a decent size lake comprised of many inlets and rocky islands.
There are 17 campsites which includes two group sites. My husband and son led the paddle. With a poor sense of direction, I avoid being the navigator.
After half an hour the guys stopped in a channel in front of a site that was occupied. Two standard poodles came down onto the rocky spine shore and began to bark with my dog.
"What's going on?" I asked.
"I'm pretty sure that's our site," my husband said.
"I don't think they were expecting us," said my son with a grin.
Just then an older man came stumbling down to the shore pulling up his shorts. "Do you have this site? We were here last night and it was just such a beautiful day. Our tent is down we'll just need 10 minutes to load. I'm so sorry," the man said in a panic.
We pulled over to the other side of the channel. "Just put on your clothes," the man said to the person in the tree line. Unfazed and happy we took in the blue sky. A heron took off from a shore line in a distance.  
For the next ten minutes we heard a lot of swearing and scrambling. We had obviously caught them unexpected and in a compromised position.
"Great to see older people enjoying camping," said my mom oblivious to the situation we had stumbled upon due to not wearing her hearing aids.
The campsites are a testament to privacy and seclusion however not following departure times can shatter your most private moments.
The next few days were full with beautiful summer weather. A moment in time where an adult child is home and available and an aging parent is still healthy and hearty enough to make this trip.
Unplugged and undistracted our family enjoyed once again our annual camping trip.