So you're not ready for camping season to end? Here's a tip: It doesn't! Just because the summer is over doesn't mean we need to head indoors, when it comes to camping experiences, fall is where it's at.
Fall camping is an entirely different (and some would say better) experience from summer camping. Sure it's a little cooler, but in fall the  splendour of the forest is unparalleled by day, while the brilliance of the stars is dazzling by night.
Whether you are looking for a campground with services or a backcountry or paddle-in adventure let the vibrant forests of Ontario's Highlands create the colourful backdrop for your getaway with these five fall camping experiences.
*Please note the campgrounds listed below are open until October 16, 2022 and online booking can be made here or through the individual links below.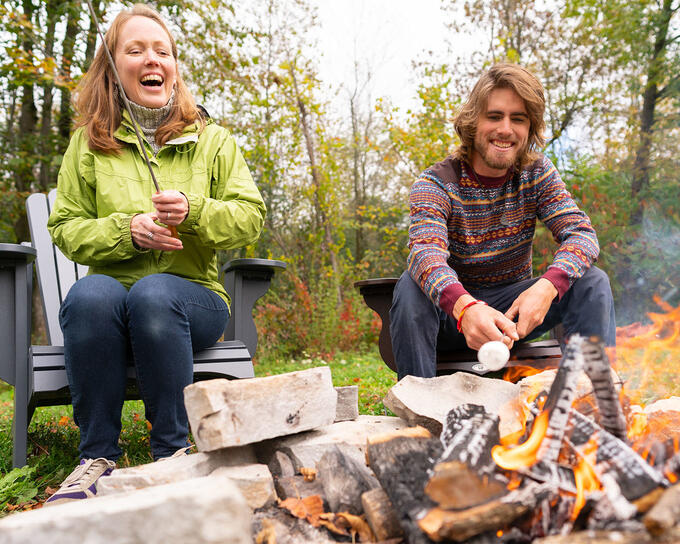 If you haven't yet been to Bonnechere Provincial Park, fall is the time to go. Bask in the vivid colours of the fall foliage crowding the shoreline of Round Lake or on the network of hiking trails that traverse the park. If you're looking for more secluded camping experience, choose one of the Riverside sites tucked alongside the Bonnechere River. Rent a canoe at the park and begin your day with an early morning paddle straight from your campsite, then warm up with a cup of coffee before your campfire.

Cozy Up:
En route to your campsite stop in at Madawaksa Coffee Co. and pick up some freshly roasted coffee to savour during your trip. Nothing makes a cool fall morning better than the aroma of freshly brewed coffee.
The name of this provincial park should say it all – you'll love basking in the silence of Silent Lake, a silence that is easily maintained because there are no motor boats or electric motors allowed here. Disconnect with some much-needed solitude and select one of their walk-in campsites for a different camping experience. Find inner peace amid the brilliant oranges and reds of the fall forest.

Cozy Up:
Savour a sweet treat while lounging around the campfire by picking up one of Zehr's Deli & Bakery's famous Chelsea Buns (very similar to a sticky bun).

Be Responsible:
Canoeing in fall is an amazing way to see the fall colours! The colder weather can make safety even more important. Be prepared in the event you end up in the water and ensure your watercraft is equipped with all necessary safety gear.
Fall days are extra special when you have the time to sit back and drink in the spectacular beauty of the season. Relax lakeside at Sharbot Lake Provincial Park or wander the park's vibrant and colourful network of nature trails, right off of Highway 7.

Cozy Up:
Warm up your day by starting with a breakfast of champions – stop at Seed to Sausage in Sharbot Lake en route to your campsite to pick up some locally sourced and naturally cured bacon or sausage that will pair well with the smokey aroma from your campfire. Of course, a few marshmallows wouldn't hurt, either.

Be Responsible:
Keep to the marked trails to limit the spread of invasive species into our provincial parks. Clean footwear and equipment thoroughly when moving between geographical areas like different parks in the province.
Pitch your tent at the scenic Murphys Point, located in the heart of the Maple Syrup Capital of Ontario, Lanark County. Here, the vibrant displays created by the abundance of maple trees create a truly spectacular fall experience. For a more upscale experience, try one of their roofed accommodations, one step up from roughing it with traditional camping.

Cozy Up:
Stop by Sunflower Bake Shop to pick up some sweet goodies that will make your day a little sweeter. Add in a stop at Coutts Coffee for some fair trade and organic coffee to brew at the campsite.
Glamp up your fall camping experience with this fun Airbnb located near Madoc and spend your nights snuggling up under a down duvet in a cozy canvas earth hut. At night when the bonfire is lit and the loon is calling on the lake you'll feel like you're in another world.

Cozy Up:
Pop out to Hidden Goldmine Bakery in Madoc and complete your glamping experience with some sweet and savoury tidbits that will taste even better around a bonfire.

Be Responsible:
Wear layers that can be removed when overheated. Bring water and snacks - you can get dehydrated in cooler weather, too!