You waken to the sound of new snow drifting onto the top of your tent or cabin, landing light as a feather one snowflake at a time. The world is hushed and the air snaps with cold but you are warm and cozy in your snowy cocoon. You wonder to yourself why you haven't tried winter camping before, because it's awesome.
Don't be put off at the thought of cold weather – the best part of winter camping is it gives you an excuse to really amp up the coziness. We're talking about hot chocolate with marshmallows cradled between woolly mitts while you sit beside a roaring fire.
We live in the best part of Ontario to experience this magical and vastly underrated camping experience. Explore the forest in winter and launch yourself into the frosty and magical world of winter camping in Ontario's Highlands.
Where to Camp in Winter
This is one winter camping experience that you won't find anywhere else! Guests of Cruising Canoes in North Frontenac can check into The Outpost and sleep in a cozy tent in the midst of winter's snowy finery. These tents are made for winter camping, they're actually Canadian Forces Arctic Bell hot tents, can accommodate up to four guests, and come with wood floors and the cutest little wood stoves so you can stay warm while camping, no matter the temperature outdoors.
Open from December to March for roofed accommodation rentals. The park has seven yurts and 10 sleep cabins available for rent and over 19-kilometres of hiking trails. Please note you need to book two days in a row for roofed accommodations. These spots are also in high demand, but don't be discouraged if it appears to be booked up. Keep checking back on the website as cancellations open up availability.
Skip the park reservations and limited availability and take advantage of Ontario's wealth of Crown land. Crown land is public land which means any Canadian can camp on it for free, anytime of the year, and it's a fun experience if you want to challenge yourself in the great outdoors. There are no designated camping areas and you can only stay at a single location for 21 days (which would be an epic winter camping experience!) before you must move. Visit this link to find Crown land in your region in Ontario's Highlands. Be sure to pack everything you need as there are no washrooms, showers, or picnic tables.
Available for backcountry camping year-round, HHWT is made up of more than 28,000 hectares of provincial and municipal lands. Choose between the Frost Centre Area which has a few road access campsites along Sherborne Lake Access Road. The Poker Lakes Area access points are accessible by four-wheel drive vehicles only. Reservations can be made through the website.
Learn to Camp
Don't just head out into the unknown, be prepared with some advanced instruction from Yours Outdoors in Haliburton. Yours Outdoors offers two courses to introduce you to the beauty of winter camping so you can stay warm and have fun while outdoors. Choose from one of these two educational experiences:
Build and Camp in an Igloo: Join Martin Pate (aka PineMartyn) to learn how to build the Canadian iconic Indigenous shelter - the igloo. Igloos are surprisingly warm and efficient, using body heat and the insulating capabilities of snow to keep you warm. You'll learn everything you need to know about building an igloo, along with tips for camping overnight. This is a full day experience, with an option to conduct the course on your own property, and/or sleep overnight.
Introduction to Hot Tent Winter Camping: If you haven't heard of hot tent winter camping you are missing out. This style of camping keeps you cozy warm with a portable woodstove right inside your tent! This introductory course offers a one-or-two-night experience guided by Martin Pine, a skilled winter camping and bushcraft enthusiast. All gear is included.
Gear Up for Cold Weather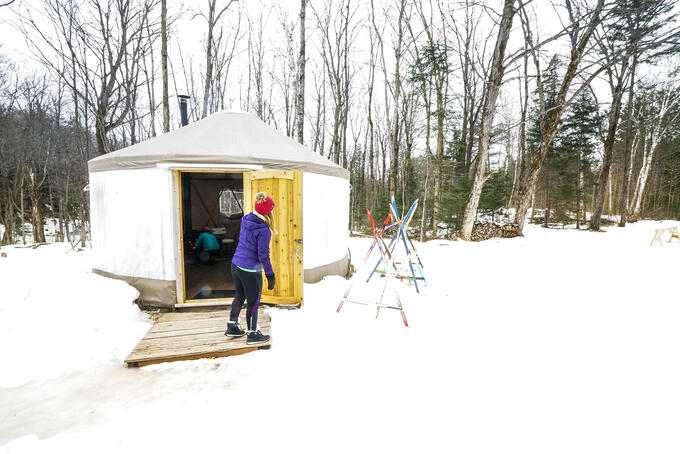 When winter camping, it's all about the gear. Before heading out make sure you have the right equipment because if your feet, hands, or ears are cold you will be cold all over. Check what temperature your sleeping bag is rated for, and then look at your outdoor clothing to make sure it's waterproof or resistant and will keep you warm even if daytime temperatures are far below freezing.

Tips for Success:
If you don't own a pair of snowpants, buy some because they will keep your clothes dry, which is key for keeping warm.
Pack the Thermals
This is not the time to skimp on your base layers, you will want to layer up with long underwear, preferably made of wool. Your outer layers should be easy to shed, because you will be surprised by how quickly you warm up with only a little bit of outdoor activity in winter.

Tips for Success:
The inclination is to sleep fully dressed, but you don't want to sleep in too many layers or you will find it cold the next day. Instead, strip down into your base layers and then climb into your sleeping bag which will warm up in no time. Make sure you wear a toque though, to keep your head cozy warm.
Get Moving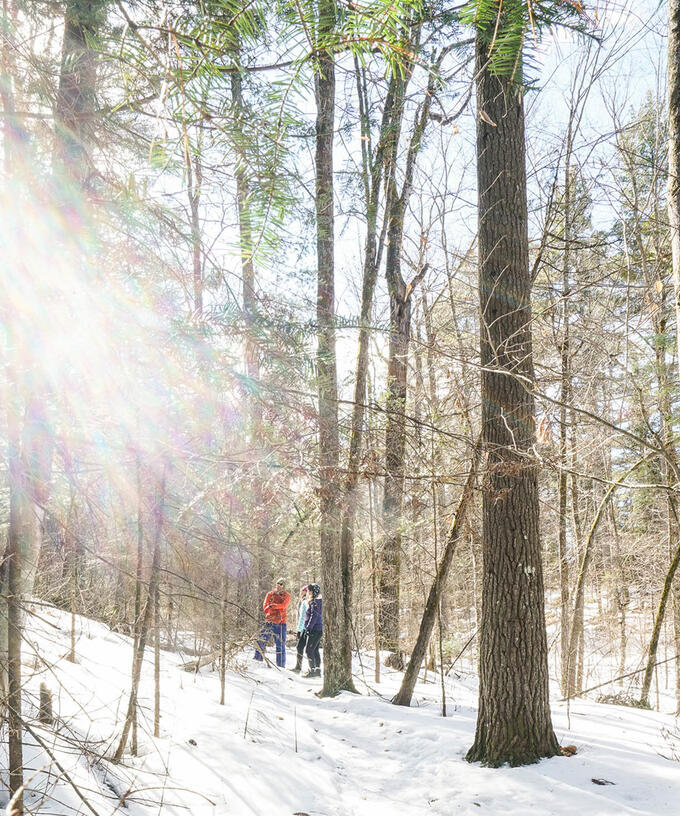 Exploring the forest in winter is a wonderful experience that is far different from a summer hike. This is the time to strap on the snowshoes or cross country skis and push yourself forward into a frosty and magical world. Wander through a snow covered forest and listen to the sweet calls of chickadees drift through the crisp wintry air. Watch for delicate tracks in the snow as tiny animals scurry busily on a warm winter's day.

Tips for Success:
Dress in layers to remove as you warm up from your activity. Pack a thermos of coffee or hot chocolate to enjoy during a break where you sit and marvel at the stillness of the forest in winter.
Look to the Stars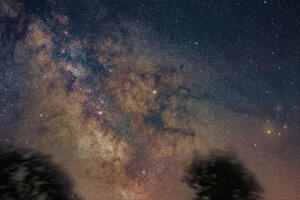 In the winter the cold air holds less moisture than summer air which creates extraordinarily clear skies filled with millions of brilliant stars. This is the best time to tip your head back and marvel at the beauty of winter under a hushed and starry sky.

Tips for Success: