Whenever I travel on Highway 62, I look for parks with beautiful views to break up my drive. I love knowing where to stop for a rest, whether I'm headed to my favourite glamping cabin at Silent Lake Provincial Park, exploring the Algonquin's Highway 60 corridor or road tripping to Northern Ontario. There are plenty of opportunities to stretch, take a break and find a little relief from those pesky human needs - which, as I get older, happens more often than I'd like.
I've explored Highway 62, from Belleville to Barry's Bay, and these are my favourite lookouts and waterfront parks - with basic facilities available from early summer until fall.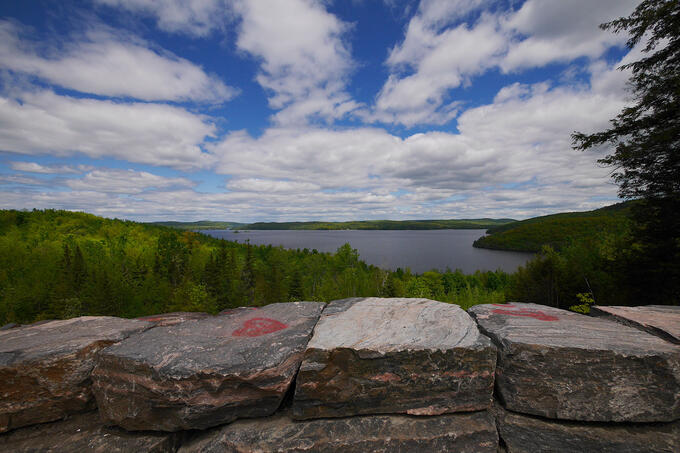 Madoc's Boat Launch and Parkette
This little parkette and boat launch is just south of Madoc on Boat Launch Road. There are some benches on the waterfront, and a couple of picnic tables sit in the tree's shade on the lakeside - an inviting spot for a bite to eat.
A couple of kayakers had just come in from paddling on Moira Lake, reminding me to pack my kayak next time - the pebble beach is perfect for novice paddlers to launch from and explore Moira Lake.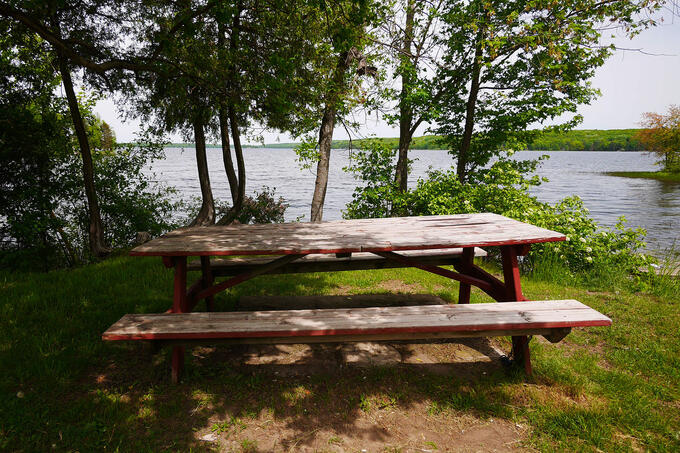 Robinson Lake Parkette
Blink, and you may pass right by this beautiful rest stop. There are signs for this stop on the highway, but it's easy to pass along the curve. The left-hand turn is shortly after Robinson Lake Road. The right-hand turn is right after the Robinson Lake sign and water crossing if you're heading south.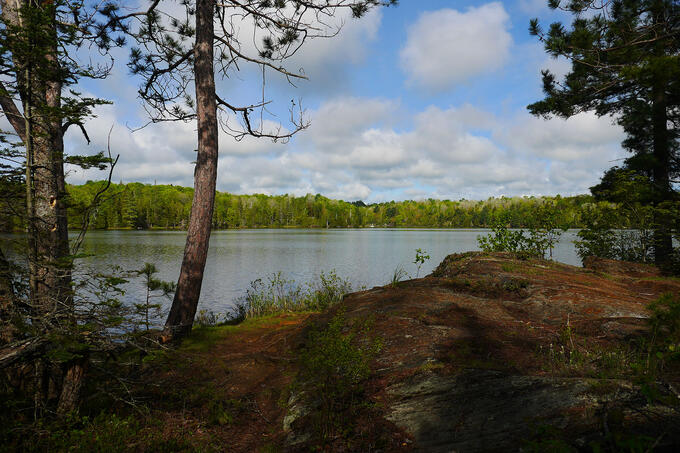 Millennium Park
As you drive downtown Bancroft, look for Millennium Park on your left. Located on the riverside, it's a great spot to take a break on benches by the water; and stroll along the tree-lined path to the iron bridge. Crossover the water to the Hastings Heritage Trail system and continue exploring the region further.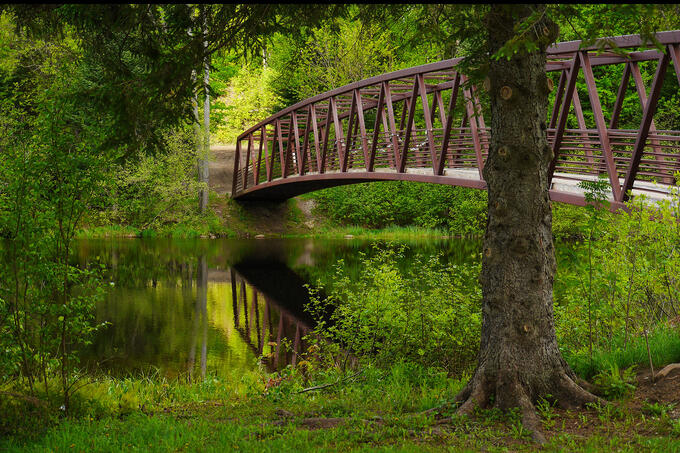 Eagle's Nest Park
When leaving downtown Bancroft, it's hard to miss the cliff towering above the east side of the road. When you see the Eagle's Nest Park sign, turn in, then put your vehicle into a low gear for the ascent. There are two parking lots, and at the top, you'll find trail maps, accessible porta-potties, and a wheelchair-friendly trail to the lookout.
Having used a wheelchair briefly after a leg injury, I'd recommend bringing a friend as the loose gravel paths have some elevation. As someone who would lack the arm strength to propel myself up the hill, I would have found parts of this trail a bit difficult to ascend solo.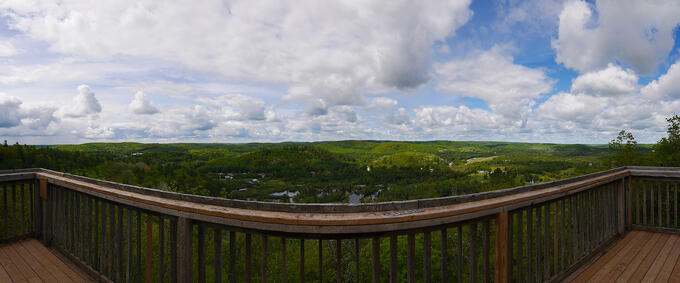 Kamaniskeg Lake Lookout
Follow the winding Lookout Park Road up the hill and through the forest until you arrive at the Kamaniskeg Lake Lookout. An informative plaque describes the Mayflower tragedy; nine souls were lost when the steamboat sank in a winter storm.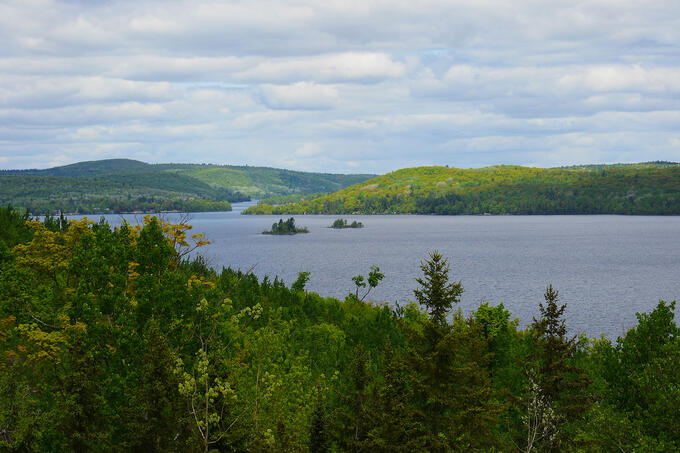 Crooked Slide Park
This park isn't directly on the highway, but it's worth the 2 km diversion to see the waterfalls and the reconstructed original log chute on Byers Creek, used by loggers in the early 1900s. From Crooked Slide Park's first parking lot, there's an immediate view of the water flowing through the log chute, down the creek where the waters join the Madawaska River's flow.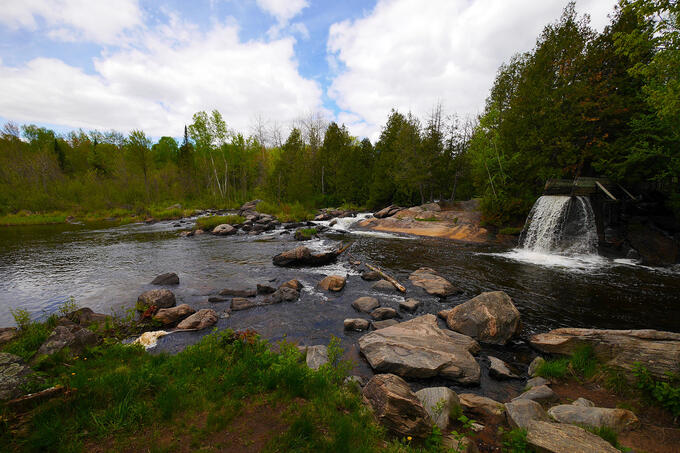 BONUS: Lake St. Peter Provincial Park on Highway 128
Do you have an Ontario Park Pass? Lake St. Peter Provincial Park is your last chance for a scenic waterfront stop before hitting Highway 60. It's a short 2.5km drive down Lake St.Peter Road to the main office and adjacent to the park's small beautiful beach on Lake Saint Peter.

Next time you head out on a road trip, don't be in a rush to get where you're going because who knows what you'll miss along the way.