Having spent time with Tom Irwin of Tom Irwin Adventure Tours, I can tell you he was born with engine oil pumping through his veins.
The love of motorcycles runs in the family; Tom's Grandmother rode bikes until she was 82. His grandfather, father and sister all raced motorcycles. And Tom's children? You guessed it, riders and racers, too. Tom himself had an impressive career as a motorcycle racer for 44 years across Canada, the US, Europe and Mexico.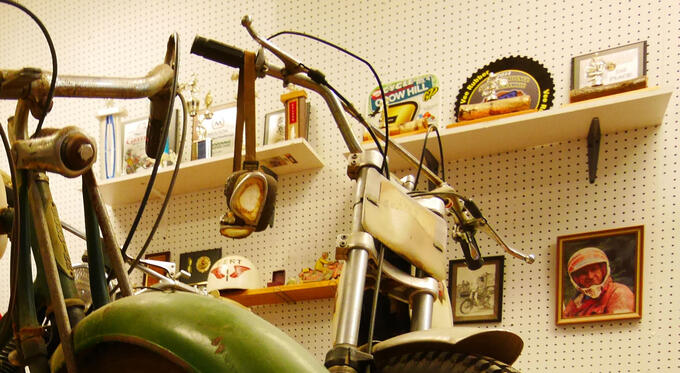 With forty-four years of road trips and race tracks, it's hard to imagine Tom staying in one place for long, but he loves Calabogie. A motorsport enthusiast town where Tom can ride through sun and snow in the majestic Madawaska Highlands.
As a first-time ATVer, who else but Tom would be my top choice for a guided adventure? I can tell that Tom loves what he does; he makes sure every tour is exciting and runs smoothly, including vehicle inspections before every outing. His passion for motorsports makes Tom the ideal owner/operator for this type of business. 
Based on our conversations leading up to departure, Tom had crafted a route he could change on the move - he knows the trails well! I didn't know what to expect or where we were, but I never stopped smiling!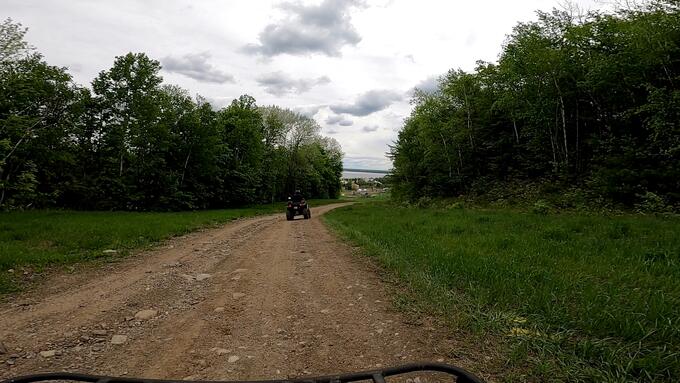 Getting Started
You don't have to worry about permission to ride on private property, the permits required for riding the region's multi-use OFSC trail systems, or the insurance, but here's what you need to know.
The first person or group to book a tour date with Tom sets the pace for the day.
For my booking, I had a choice to join an experienced group or an open day where the tour's speed would match my skill level. I opted for my own tour date. Anyone could've joined "my" novice tour, but it was just me that day.

Pro tip:
Use the bathroom before you go on tour. You'll practice leaving no trace etiquette on backcountry trails.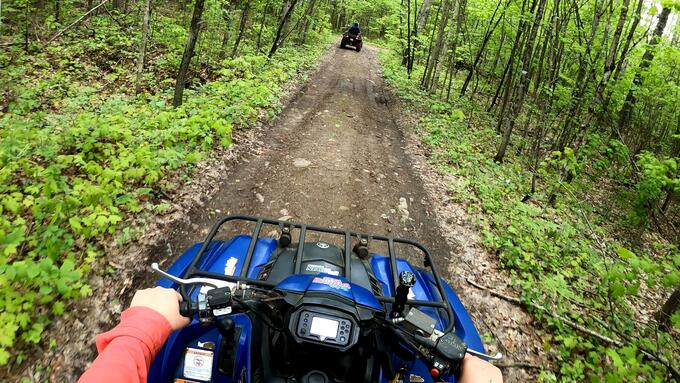 Choose Your Ride
When it's not the snowmobile season in Calabogie, your choice of rides are an ATV, a Side by Side/UTV, or to be a passenger!
All the machines are automatic transmission.
ATVs are smaller, lighter and more maneuverable. Being fully exposed makes this ride feels fast, even at 10km/h.
Choose a Side by Side (2 or 4 people) or the 6-person UTVs for group tours - they are beefier, stable utility beasts.
Already own an ATV? Bring it and join a guided tour!

Please note:
Drivers must be at least 16 years old with valid M2/G2.
Participants under 18 require a parent or legal guardian's signature.
Passengers must be at least 8 years of age.
What To Wear
Wear (easy to clean) quick-drying clothes. You'll be muddy, but you won't be wet for hours!
Wear long pants and long-sleeved shirts for protection from low-hanging branches and debris thrown by tires ahead of you.
Dress for a cool wind. You won't sit for long, and there's lots of air movement when riding to keep your temperature down.
Wear closed-toed (waterproof) shoes, like hiking boots, preferably something that laces above your ankles. If you're not wearing appropriate footwear, loaner boots may be provided to you.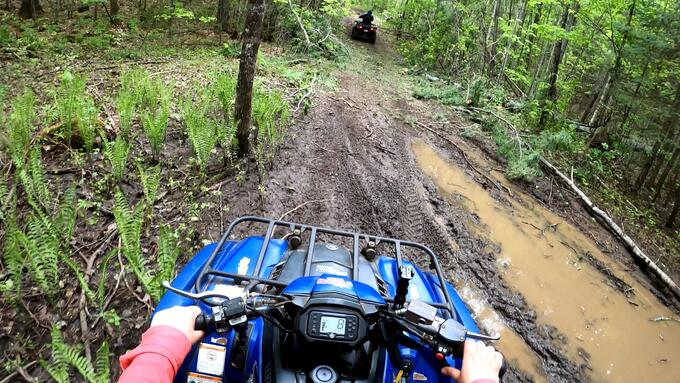 What to Bring
A camera you can secure into a zipped pocket. You don't want to lose it.
Bring your GoPro with a clip mount to record your adventure and extra batteries!
Bug spray. You may ride fast enough that the bugs won't keep up, but when you slow to navigate challenges and stop for lessons, to see points of interest and hear local stories, so you may provide the bloodthirsty insects with a meal or two. I did.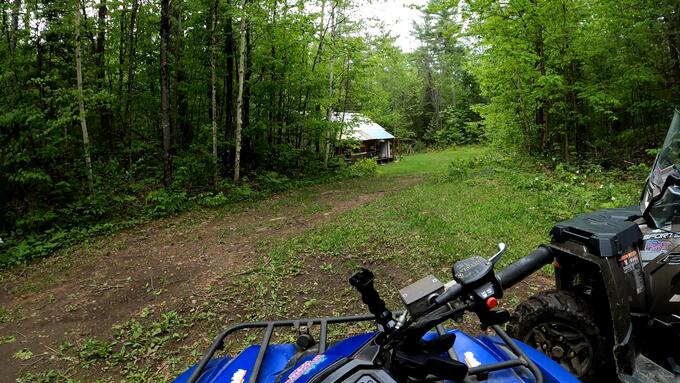 Safety First
Before the tour begins, you'll learn road and trail driving speeds, hand signals and off-roading etiquette for your safety and those around you.
You must come to a complete stop at every STOP sign, even with follow-the-leader tours.
Helmets are required and provided. Some have a GoPro mount!
Gloves are provided but not required. Pocket the gloves in case you get sweaty palms.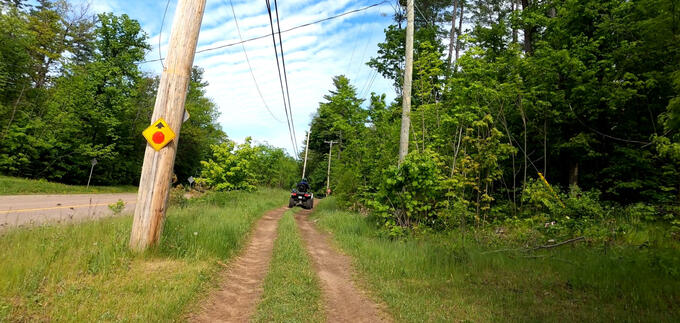 Let's Go On A Guided Adventure!
Tom is an attentive tour guide - I'd receive directions and a demonstration with every new challenge before I'd follow the leader.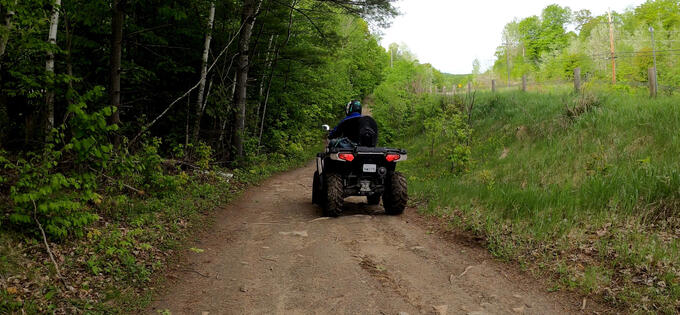 We crawled over logs and drove through big puddles slowly: this is the Canadian Shield; you never ride fast through puddles because you don't know what rocks lay under the surface.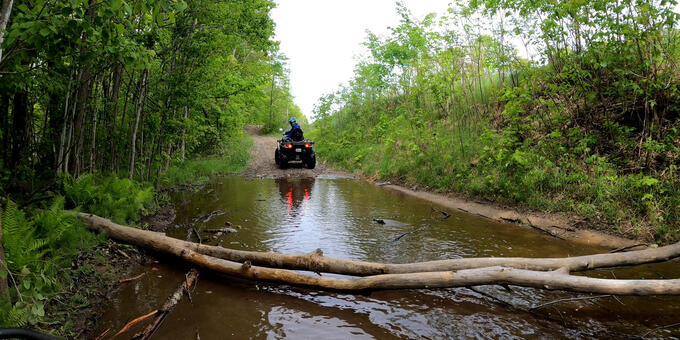 As I began to master the basic skills, the trail difficulty increased gradually. Soon enough, Tom was guiding me down more advanced routes. 
The fastest way to the top in the summertime is on tour. You could hike up, but I assure you, riding is quicker and still increases the heart rate!
Don't Worry About Bringing Lunch!
Tom packs a lunch for every tour, no matter the length. You can bring a few snacks, but I found the packed meal was plenty to recharge me.

Pro tip:
Let Tom know in advance if you have food allergies or sensitivities!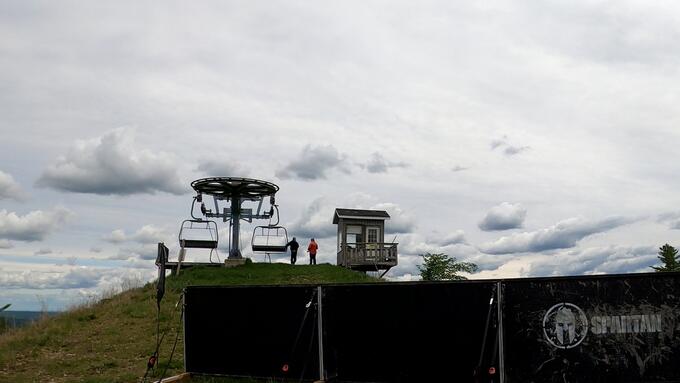 We strolled with our sandwiches up to Calabogie Peak's chair lift for a scenic picnic overlooking the surrounding landscape.
"Welcome to my office," Tom said to me with a grin.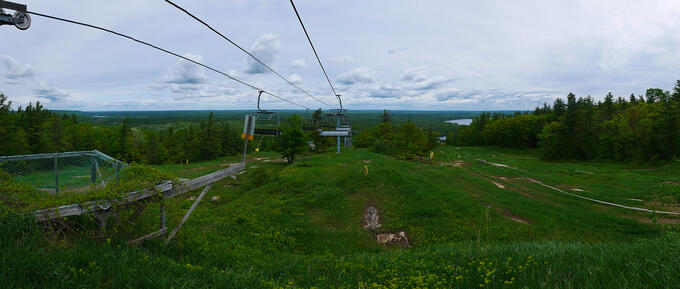 The only downside to my midday meal was that it signalled the end of my half-day tour. I'll jokingly say it was all downhill from here.
I savoured each minute of coming down the mountain, leaving Calabogie Peak Resort behind as we rode back to the shop. Such sweet sorrow.