With 1,500 kilometres to explore, the remote and often muddy backroads and trails in the Ottawa Valley are a dream come true when you're on four wheels (or a side by side). In fact, when you're on an ATV travelling beneath a canopy of fall colours, the more remote and muddy, the better.
In the Ottawa Valley, the Renfrew County ATV Club (RCATV) can be your go-to for resources and to get your permits to ride the trails. This club operates on six trail systems and connecting trail routes that connect the Greater Madawaska to the Madawaska Valley and north to Laurentian Hills and beyond.
Don't have an ATV? No problem – in Calabogie you can rent from Urban Sport's impressive fleet of ATVs and Side by Sides. If you're looking for a guided tour or self-guided adventure, you'll find it here.
This fall, order a pass online from the Ontario Federation of All-Terrain Vehicle Clubs (OFATV), get dirty, and explore new places from the back of a four-wheeler in the Ottawa Valley.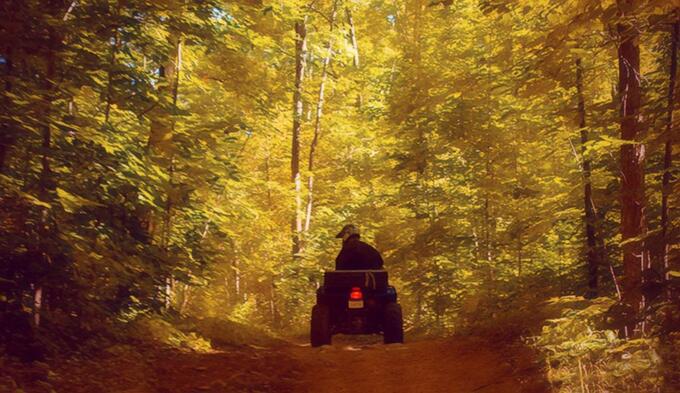 Tom Irwin Adventure Tours offers an adventure made for novice riders or those who want someone else to take care of all the details. Choose between an ATV or Side by Side and take a trail riding adventure that really gets the mud flying, Valley style.
The experienced folks at Tom Irwin Adventure Tours will look after everything you will need for a truly excellent back roads adventure, including your passes, safety gear and driver training. Start your ATV tour in Calabogie for a half day or full day tour of the Madawaska Highlands, and at the end of the day you won't have to worry about anything other than taking a long, hot shower.

Insider's Tip: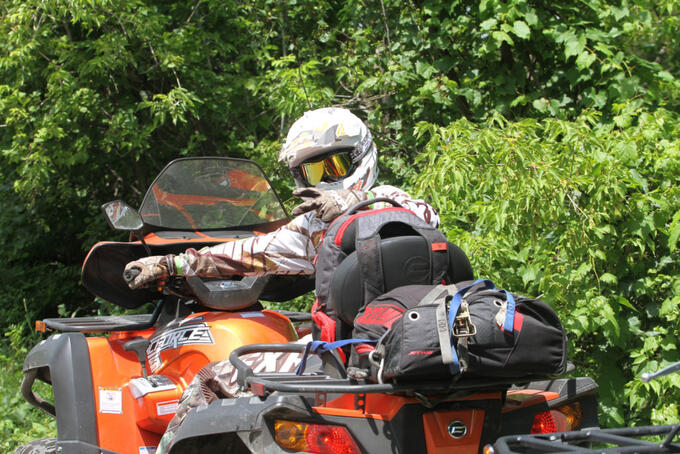 Pick a Trail: ATV Routes in the Valley
So many ATV trails and so little time….if you have a love for bumpy roads and trails, then the RCATV has the trail for you. Here are three of our favourites:
This 106 kilometre route runs from Pikawkanagan to Killaloe, Wilno and Foymount, and operates primarily on abandoned railbeds and gravel roads. Connecting two trail systems, the Pakkotinna and the Opeongo, it will take you from Golden Lake to Wilno.

Insider's Tip:
Here is another long route that takes you through the rough and tumble topography of the Ottawa Valley. Travel from Petawawa to the Laurentian Valley and end at the Barron Canyon in Algonquin Park. This route will take you over old logging trails through crown land. Keep a watch for moose, deer, and black bears on your way.

Insider's Tip:
There is no fuel on your trip so be sure to fill 'er up in Petawawa and Pembroke. Spend the night at the Holiday Inn in Pembroke.
This route is hands down the most popular route in the trail system, and once you've ridden it you'll understand why. Its popularity could have something to do with the fact that it connects with two other trail systems, but it might also be because if gives you a chance to spend some time in Barry's Bay.

Insider's Tip:
Don't miss indulging in Charlie D's famous poutine in Barry's Bay (please check ahead for seasonal closures). Book a room at the Pinewood Inn and then do it all over again the next day.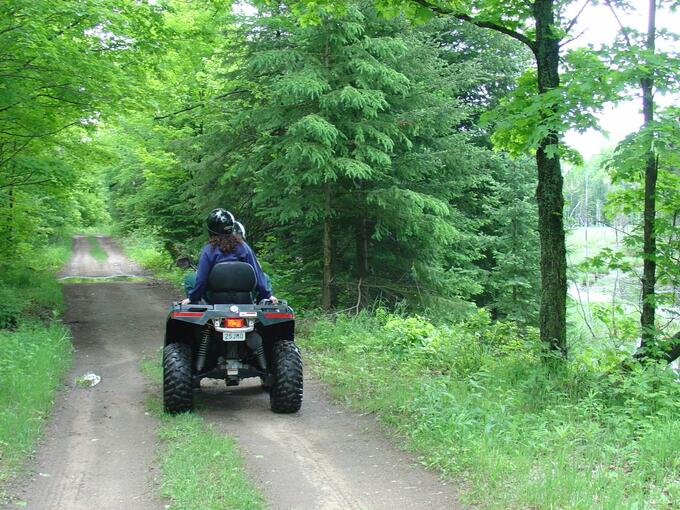 Responsible tourism asks us to respect the places we visit to ensure the longevity of the destinations and experiences we love so much. It asks us to be safe, be respectful, and minimize our environmental impact. While travelling, be a good steward to the land and its people while being respectful of oneself, others, and nature.