When the days start to get shorter and the leaves fall to create a colourful carpet covering the ground, we naturally head for the wild places to get in the last few bike rides, hikes, and meanders before the colder weather hits.
In Lennox & Addington, fall invites you for a world of outdoor adventure. Hit the trails for a cycling adventure, drink in the brilliance of the night sky in autumn, and hike some of the most beautiful trails in Ontario. This is your ultimate guide to outdoor adventure this fall in Lennox & Addington.
Cycle Through Forest Trails
Hike or cycle the Lennox & Addington County Trails and explore 127 acres of the rugged and beautiful Canadian Shield landscape. Mountain biking is a prime activity here, and you'll love cycling beneath the brilliant canopy of fall foliage.
Difficulty: These trails are easy to moderate.

Insider's Tip:
Stay off the orange marked trail that runs parallel to the cycling or hiking trails as it is designated for motorized traffic only.
Get Close to the Stars
The night sky in fall is an amazing sight – the air is crisp and clear, making the brilliance of the heavens even more captivating. You'll find some of the darkest skies in Ontario in Lennox & Addington. At the end of a day spent in the great outdoors, plan to visit the Dark Sky Viewing Area and sit or lay back and drink in the brilliance of the night sky with no light pollution.
Difficulty: This location is fully accessible.

Insider's Tip:
Bring a sweater or blanket and a lawn chair to truly immerse yourself in the experience. Telescopes are optional but there is a paved area to set one up if you have one.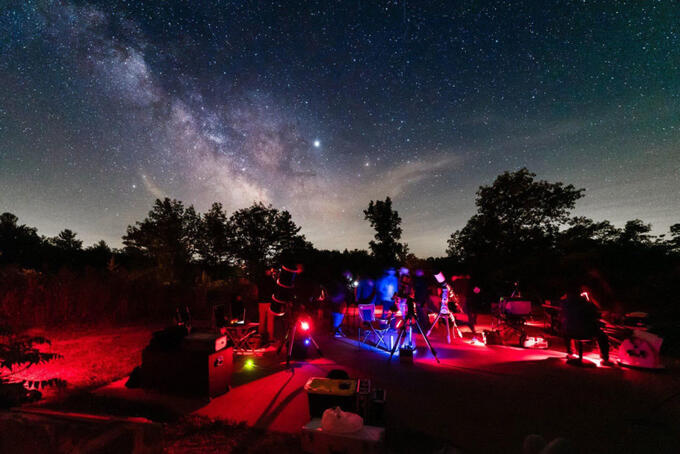 Take a Fall Paddle
Deerock Lake Conservation Area is one of the largest, mostly continuous, peatlands in southern Ontario (who knew?). This is a fun lake to explore with a paddling daytrip and the rugged terrain along the shoreline is ideal for capturing on camera or more artistically, with paint and canvas, especially in fall.
In September and October, the shoreline is crowded with brilliantly coloured trees that make a fantastic backdrop against the water. Pack a lunch and dine on the sandy shoreline.
Difficulty: This is a great place for beginners to dip their toe in the paddling world! The boat launch is highly accessible as well.

Insider's Tip: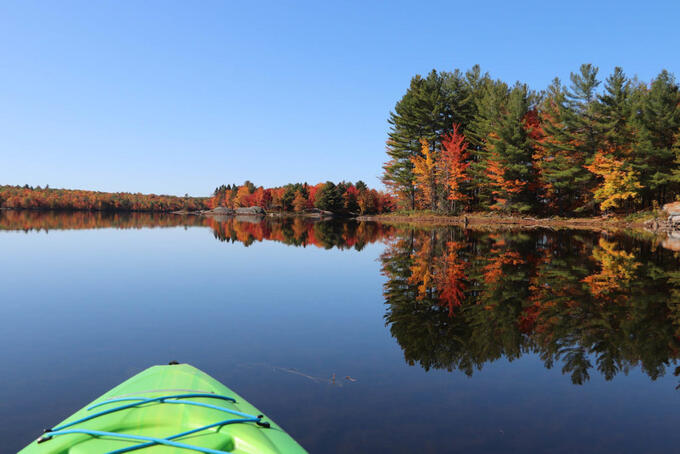 Hike to Panoramic Views
There are few places more beautiful than in Bon Echo Provincial Park to view the fall colours. Hike one of the three interconnecting trails on the Abes and Essens Lake Trail to get the best views of the fall foliage.
You can choose the loop that suites your capabilities, ranging between less than two hours to seven hours in length. If you have a canoe (or rent one onsite or from Bon Echo Outfitters) you can paddle to the Cliff Top Trail which will lead you to the observation decks at the top of the iconic Mazinaw Rock.
Difficulty: Depending on the loop you choose Abes and Essens Lake Trail is moderate to difficult. The Cliff Top Trail is also moderate to difficult.

Insider's Tip:
Listen for the unmistakable sound that reverberates off Mazinaw Rock – this is the source of its' name: good echo.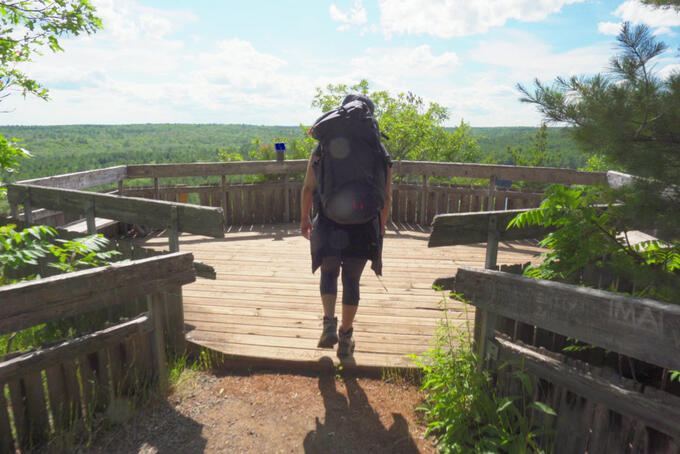 Bonus: Refuel for Fall Fun
If all that outdoor activity has your stomach rumbling, or you want to pack in a snack or a meal for your outdoor adventure, you'll want to stop at one of these locations:
Rosie's Café & General Store in Denbigh. This old-fashioned general store has a little bit of everything – bait and tackle, fresh baking, homecooked meals, preserves, and more. If you forgot something for your daytrip, chances are good you'll find it here!
Finnegan's General Store in Cloyne. This cute shop is filled with fun things like ice cream, coffee, seasonal flowers, and even pizza, as well as those staples like milk, candy, and home baking.
Addison's Restaurant in Northbrook has hearty old-fashioned fare. This would be a good place to stop on your way home after your camping trip. For something that will really stick to your ribs, their Grilled Reuben sandwich will be just the thing you're craving.
Responsible tourism asks us to respect the places we visit to ensure the longevity of the destinations and experiences we love so much. It asks us to be safe, be respectful, and minimize our environmental impact. While travelling, be a good steward to the land and its people while being respectful of oneself, others, and nature.