Bikepacking is a natural next step for those who love both cycling and camping, it truly is human power for the win. Over the past few years, Ontario's Highlands has emerged as a bikepacker's paradise with good reason: the rail trails are plentiful, you can choose between serviced front country or secluded backcountry camping options, and the rugged terrain challenges both new and seasoned bikepackers.
My first time bikepacking was on a whim. My partner and I made some questionable decisions - we lugged a queen-size inflatable mattress instead of lightweight sleeping pads - but the trip was short and sweet and got us hooked. Each trip since then has been easier because of the lessons we learned along the way, lessons that are best shared with others who wish to dip their feet into the world of bikepacking.
So before you head out on an advanced multi-day bikepacking trip, I suggest starting small and working your way up. Here are some tips for planning your first trip.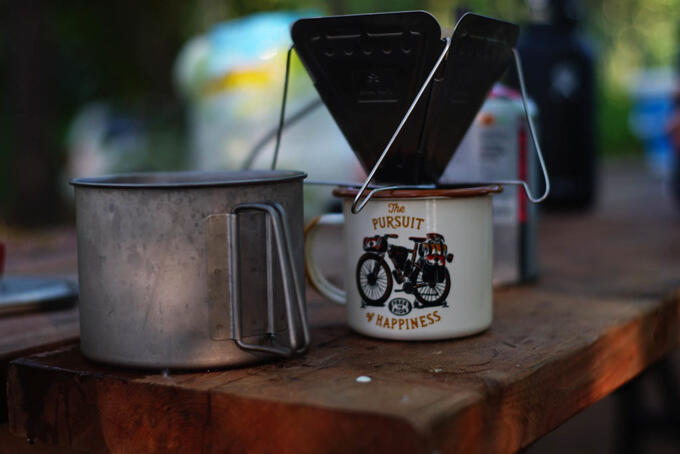 Which Bike is Right?
Do you have a mountain, hybrid, or road bike? The answer to this question will determine the route you take for your first bikepacking trip.
Road, gravel, mountain, or hybrid bikes all offer varying levels of comfort and are more suited for certain terrains. Some may have better carrying capacity, but even the most basic of bikes can handle a short bikepacking trip as long as the bike's comfortable and in good working order.
One thing to watch is your tire width and tread. On paved roads, any tire will do, but once you head off road, you will need a wider tire. A gravel or hybrid bike should suffice for chunky gravel or hard-packed rail trails. If you are heading deep into the woods on unmaintained trails, a mountain bike can take you almost anywhere.
What to Bring
If you have (or can borrow) a lightweight tent and some means of attaching it to your bike, the world is your oyster. If not, get creative. Arrange to camp with friends who can meet you there by car.
Or opt for accommodations that will still have you sleeping under the stars, like an Otentik along the Rideau Canal, or a fully-equipped tiny cabin. One of my first trips was a ride to an Otentik and back!
Depending on your choice, you may need to pack:
Camping gear - Tent, stove, sleeping pad, sleeping bag, cookware, flashlight, rope, medical kit, etc. All the camping basics, if you choose that route.
Sustenance - Carry more food and water than you expect to consume and plan regular stops to refill bottles and purchase food. If possible, you may prefer to depend on restaurants instead of preparing your own food (space saving tip!).
Repair kit - Familiarize yourself with bike repair basics and bring tools to repair a flat or make any adjustments, tighten loose bolts, etc.
The first challenge you'll face is paring down to the very basics in order to keep your packs light. Try laying out the contents of your bags into "must have", "maybe", and "nice-to-have" piles. Ditch the nice-to-have and see what maybe items you can squeeze into your bags. You'll likely overpack the first few trips, so take notes of what you didn't use to avoid next time.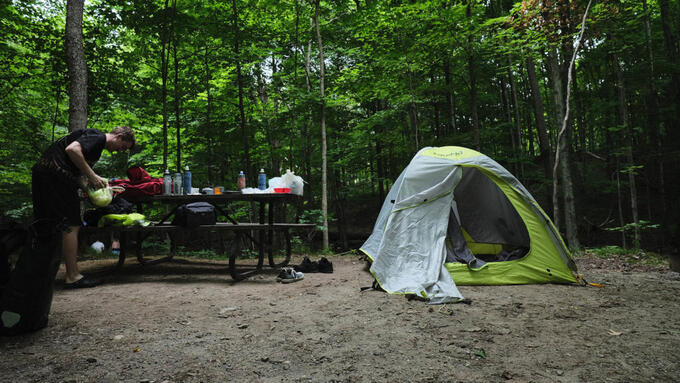 How to Bring it
While there is purpose-built bikepacking gear made for different types of bikes, it can be expensive to buy all this before you've even tried bikepacking. Fortunately, it's fairly easy to use gear you may already have.
Panniers and racks - A bike used for commuting or errands may already have racks and bags that would work. Strap your tent or other bulky items on the top of your rack.
Dry bags and straps - Stuff a dry bag and attach it to the front of your handlebars (or a rack) with ski straps or velcro for an easy waterproof bag.
Backpacks - If you're bikepacking regularly you probably won't want to carry a backpack, but for the purpose of trying it out, it's a handy option to have. Just try to keep it light!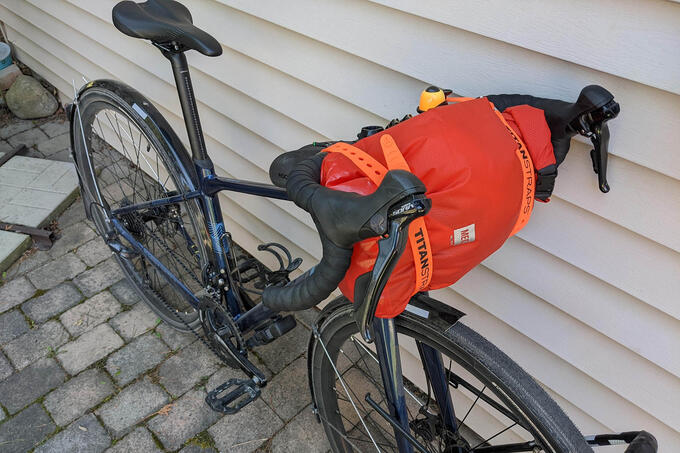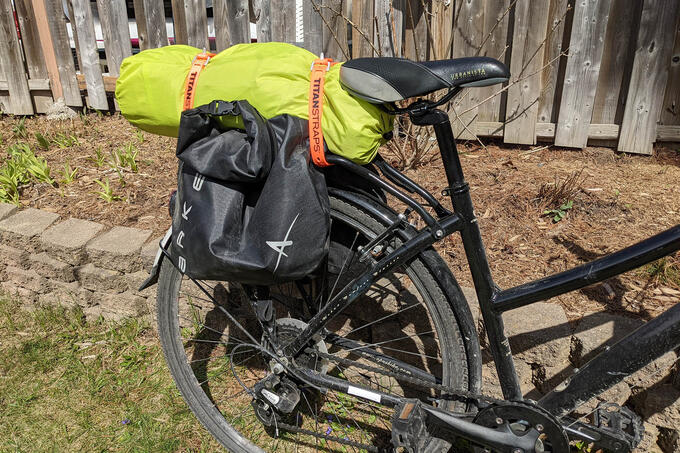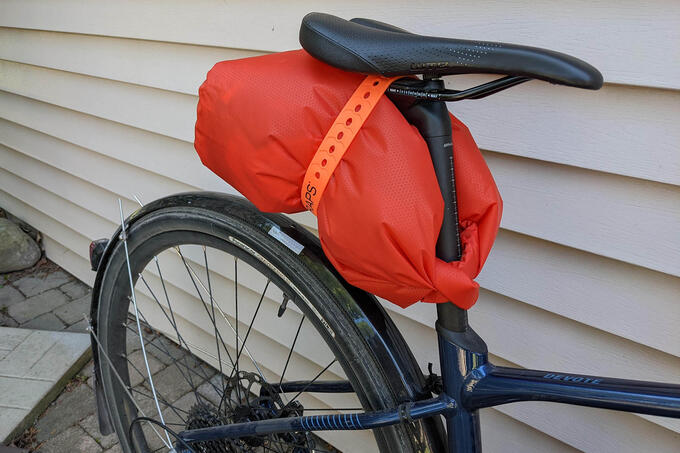 Plan Your Route
Now it's time to choose your route. The easiest options are called an "out and back". You ride from point A to point B and then return the next day on the same route. These are really good for beginners as you can control your exact distance.
On that note, don't push yourself too far. With added weight and the potential for elevation (it's called Ontario's Highlands for a reason), the distances you could bike in your sleep may suddenly seem daunting.
Match your route's terrain to both your bike and your abilities. Start simple and build from there as you gain skills and confidence. Before departing, familiarize yourself with the corner stores, restaurants, and accommodations on and near your route, so you can adjust on the fly. And then make sure to share your route with someone at home, along with your expected return time.
Get Ready to Ride
Locals Have it Easy
If you're a local, you're in luck: pick a campground  or a nearby adventurous accommodation and set out.
Eastern Ontario Routes - No Car Needed
Ottawa to Clayton - approximately 80 kilometres
Book a campsite at Thompson's Black Rock Park on Clayton Lake, about 80 kilometres from central Ottawa. This route, much of which is on the Trans Canada Trail, will take you through Carleton Place where you can refuel with a delicious meal on the Waterfront Gastropub's patio. Just before arriving, stop in at the beloved Clayton General Store for a treat.
Ottawa to Murphys Point Provincial Park - approximately 100 kilometres
This road and gravel route will take you through both Carleton Place and Perth, where you can find plenty of stops for water, snacks, or a meal. I highly recommend pairing a local beer with a big plate of nachos from O'Reilly's Ale House, less than one hour from your destination.
Kingston to Sharbot Lake - approximately 80 kilometres
Practically a straight shot on the K&P Trail, you'll pass plenty of other cyclists on your way to Sharbot Lake. Rest your head at Sharbot Lake Provincial Park, or treat yourself to a stay at the Sharbot Lake Inn  or Rock Hill Bed & Breakfast.  Stopping for a donut ice cream sandwich at Cardinal Cafe is a must either way.
Worth the Drive
The Best of Haliburton Forest - 50 kilometres
Drive up to Haliburton Forest, park at the main gate, and ride into your campsite on this shorter gravel bikepacking route created by a local rider. There is so much to see in Haliburton Forest so budget some time for the Wolf Centre and a meal at the on-site barbecue restaurant.
Various - 50 to 800 kilometres
When you're ready to hit the backcountry, graduate to these loops that will take you across Ontario's Highlands on trips that range from 50-to-800-kilometres.
This loop is perfect for intrepid riders looking for a challenge. Travel over single lane forest service roads on Crown land with only a few challenging climbs. Because you're travelling on Crown land you can pitch your tent at various spots along the way. Resupply in Griffith.
Have fun, be safe, ride bikes!