Imagine a weekend of backcountry camping in a quiet forest just a few hours from Ottawa or Toronto. As you settle down at camp, you think back to the fresh moose tracks you saw earlier that day and the amazing swim you had when you stopped for lunch.
The scenery feels familiar but something's different. There's no paddle or PFD and you don't have hiking poles. You traded these tried and true items for another staple: a bicycle.
Bikepacking has grown in popularity in Canada over the last several years thanks to groups like the Ottawa Valley Bikepacking Collective, Bikepack Canada, the Eastern Ontario Trails Alliance, among others. Of course, people have been doing bicycle tours for many decades, but now people are doing these tours on mountain bikes.
Best of all, with its mix of terrain along hundreds of kilometres of gravel roads and trails (many not officially mapped), Ontario's Highlands has emerged as a destination for bikepackers with a range of interests and experience levels.
Why bikepack?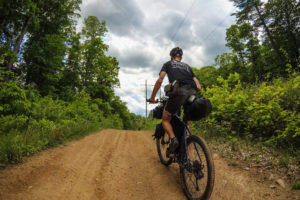 A bicycle can also take you to places you can't reach with a car.
Bikepacking trips can be logistically easier to organize than canoe camping.
A bicycle can take you farther and faster than a pair of hiking boots.
Best of all, if you already own a bike, a backpack and some camping gear, you might already have what you need for your first overnighter.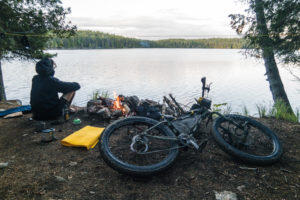 While Ontario is known the world over for canoeing with some portage routes dating back thousands of years, the network of gravel roads, ATV trails and rail trails in and around the North Frontenac Parklands between the Mississippi and Madawaska Rivers are perfectly designed for exciting exploration by bicycle.
As this route is located on traditional Algonquin, Anishnabe & Huron-Wendat territory, when you're there, be sure to take a moment to appreciate the benefit you gain from accessing and enjoying the land.
Starting from a number of possible locations between Calabogie and Plevna, there's a straightforward 68-kilometre route that takes bikepackers along the Arcol Road and the K&P Trail, skirting a number of scenic lakes surrounded by thousands of acres of Crown land. And all for less than $25 per night.
The low cost makes these campsites popular among locals so it's best to book ahead of time. As they say though, fortune favours the brave - a phrase that couldn't be more true in North Frontenac.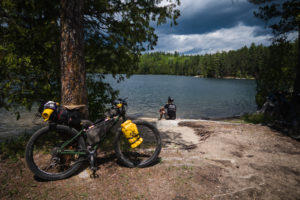 Adventurous riders with good navigation skills will be drawn to the countless side trails that can often reveal quiet campsites that can't be reserved ahead of time. Note that if you do find some of these sites, please treat them with respect and always leave them in better shape than you found them.
Services are available before reaching your preferred trailhead in Plevna, Calabogie or Lanark. These are good places to stock up on last minute food items or fill up your car's gas tank. Before you head out stock up on edibles from Seed to Sausage or Cardinal Cafe + Shop in Sharbot Lake.
See my route here: 
What to Bring
Bicycle (anything from a tuned up 90s mountain bike to a modern gravel or fat bike).
Bike tools and patch kit.
GPS device or mobile phone loaded with a navigation app like RideWithGPS or Gaia.
USB battery to keep your navigation device charged.
Water filter and at least two 1L water bottles.
Bear bag for overnight food storage (usually, a stuff sack + 50' of cord).
Usual camp items like tent, sleeping back, cookset, etc...
Warm clothes for camp
Camp shoes (optional)
Positive attitude.
Tips
The gear options can be overwhelming but fear not! If you have a bike and a backpack, you're probably ready for your first trip.
If you're ready to invest in some bags, there are a number of nice Made in Canada options such as Atwater Atelier, Thief Bikepacking and Porcelain Rocket.
You'll find a trove of local knowledge through the Ottawa Valley Bikepacking Collective Facebook group.
Good Etiquette
Pack out all your trash.
Don't burn plastic, glass or metal.
Use available fire rings. Don't build new ones.
When nature calls use pit privies or outhouses when available. If not available, a cat hole dug 15-30 cm deep and at least 30m from the water can be a safe way to go.
Respect nature and other users by maintaining peace and quiet at your campsite.
Glossary
Frame bag: A triangular bag designed to fit inside the triangle of your bicycle. Usually filled with heavier items you might need throughout a ride (water, snacks, tools, etc…). Learn how to sew your own!
Saddle bag: A flexible but sturdy stuff sack that's roughly 8-14 litres in size and fastens to your seatpost and seat rails. Usually stuffed with lighter objects like your sleeping bag and camp clothes.
Anything Cage: An alternative to a water bottle cage that, combined with straps, can fit larger items like a 5L stuff sack or large Nalgene bottle. A modern bikepacking bike might have space for these on the fork.
S24O: Sub-24 hour outing. As bikepacking allows backcountry campers to go farther and faster than canoeing or hiking, it's now pretty easy to have a sort of micro-adventure in the wilderness in under 24 hours. Some ambitious folks even squeeze in this type of adventure over a weeknight and are done in time for work or school the next day.