A natural backdrop of Canadian Shield, shimmering lakes and lush Crown land forests surround you as you pedal down a 50/50 mix of quiet paved roads and gravel rail trails that traverse a series of communities. These small towns and rural hamlets are now known for art and culture but originally came to be in the mid-1800s thanks to rocks, wood, wool and grain.
Just south of Algonquin Park, the rolling hills, scenery and access to services throughout the counties of Hastings & Haliburton make this 260km route a perfect taster for folks interested in getting their feet wet on a 2-3 day bike tour in some of Ontario's classic cottage country.
If credit card touring is your thing, look no further: access to food and lodging make it easy to leave the tent and camp stove at home. But, for those interested in roughing it, your larger tires will appreciate some steep gravel hills (Airport Road!) while access to Crown land offers some unique camping options as well.
Know that you'll be in good company too as you're likely to see other cyclists on portions of the route. Know too you won't need to worry about going hungry, there are plenty of opportunities to stop for a bite (or brew) along the way.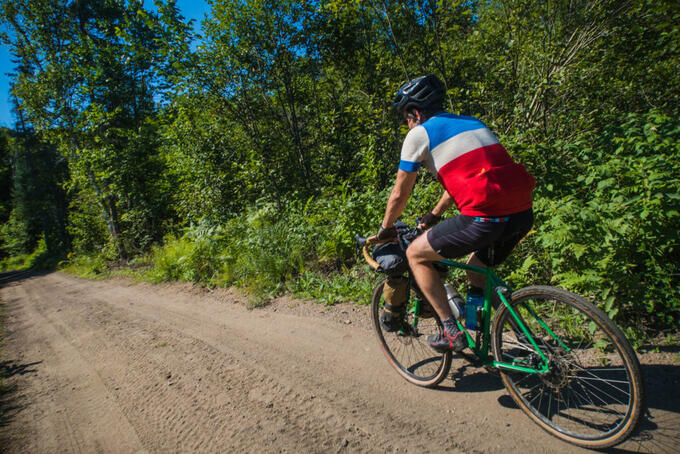 When to Ride
Summer or fall are recommended seasons to ride this route. Some areas are known to flood in the spring and wet, and cold feet don't make for a fun ride. Long warm days in June and July will be pleasant for many but some bug protection is highly recommended (fun fact: deer flies are known to fly 40km/h!). Cooler fall air and colourful leaves are sure to please many riders as well.
Where to Start
The trailhead lot by the Hastings Heritage Trail in Bancroft makes the most logical starting point but cyclists are likely to find other options. For example, the IB&O Rail Trail has a good parking area in Tory Hill.
Accommodations
With so many lakes and small towns, it's no surprise that the Hastings-Haliburton 50/50 route finds itself as what has been a summer destination for folks from Ontario and beyond for decades - and with that, comes a variety of well-serviced campgrounds and roofed lodging options.
Baptiste Lake near Bancroft features a number of private resorts that offer both cabin rentals or tent sites;  Footprints Resort is an adult-only cottage and vacation spot with a few tent sites available if you prefer to rough it. Maynooth also features a number of interesting options, including The Arlington Hotel & Pub - a 100-year-old hotel with a pub on the main floor that features a modern menu and - in non-pandemic times - regular live music.
For the more adventurous, there are a few possible unmaintained Crown land areas near Baptiste Lake and west of Maynooth. Folks who want to incorporate a little hiking into their ride could even venture on foot down the Ganaraska Trail into the Queen Elizabeth II Wildlands Provincial Park. Keep in mind that these options are available on a first come, first served basis and, as always: please pack out what you pack in.
Food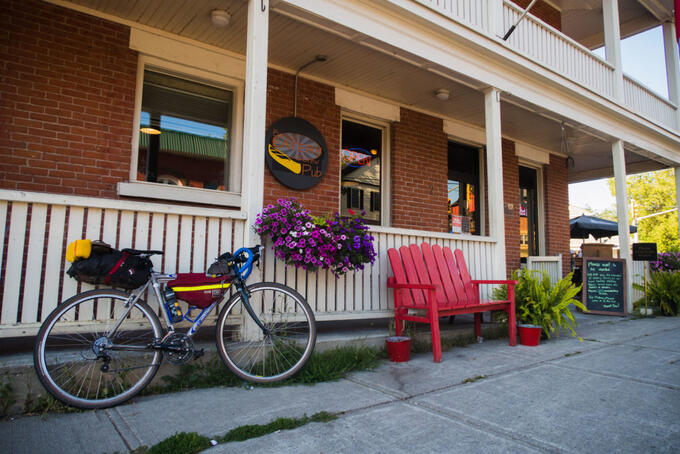 Make no mistake about it: You will eat well on this ride. From the microbrew and modern pub fare at the Bancroft Brew Pub to the espresso and lattes (yup!) at the South Algonquin Country Store or from the Thai menu at Suwan's Thai Cuisine in Minden to the epic burritos at The Arlington in Maynooth, there's something for everyone along this route. And let's not forget the pastries at The Little Tart in Haliburton.
On the whole, between restaurants, grocery stores, bakeries and gas stations, cyclists will be spoiled with a food stop every 30 kilometers or so though there is a 65km stretch between Haliburton and Maynooth with no resupplies so be sure to stuff your jersey with snacks.
Highlights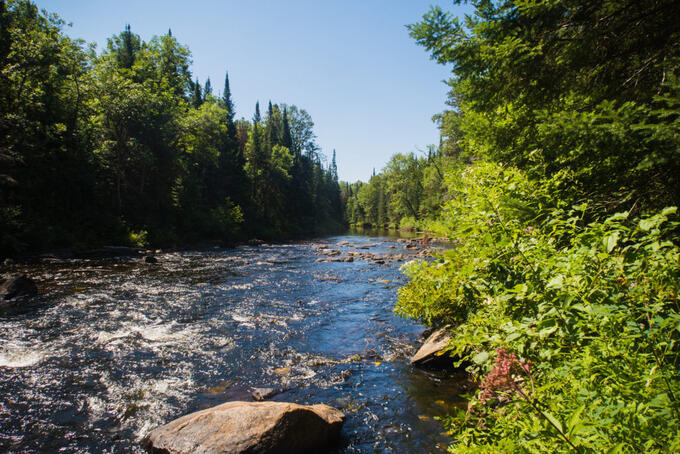 The IB&O Rail Trail stands out as a hidden gem of this route, particularly the section that follows the picturesque Irondale River where you could even stop to take a quick dip. The IB&O, which stands for Irondale, Bancroft and Ottawa, originally opened in 1878 as a horse-drawn wagonway to support the local mining industry. At its peak, it spanned 82km from Howland to Bancroft. You'll feel transported back in time as you pedal the section that remains as a rail trail.
The Eagles Nest Lookout along Highway 62 in Bancroft is a beautiful sight from the road but if you have time, you will love the panoramic view available from the observation deck at the summit. Haliburton also has a similar lookout at Skyline Park.
Geocaching enthusiasts are sure to have fun discovering the number of spots throughout the Geocaching Capital of Canada.
The wooden trestle bridge on the Haliburton County Rail Trail in Howland will add some adventure to your ride.
Art and culture can be found throughout this route and art lovers will enjoy visiting the Art Gallery of Bancroft or the Haliburton Sculpture Forest.
Safety
As with most bike tours, this route uses a mix of quiet roads that are shared with cars, trucks and ATVs. Equipping your bicycle with rear and front lights as well as a bar-end or helmet mirror will help you be seen and be prepared for traffic approaching from behind.
Getting ready
Excited about the route but not sure how to prepare? Check out our earlier article on bikepacking in North Frontenac that covers the basic essentials you need to get started.