Not every bike ride needs to involve grueling hours spent on two wheels. Sometimes the best rides are the ones where you take it easy, see new communities, and maybe even stop for a bite to eat.
Ontario's Highlands can be your everything when it comes to cycling – if you're not into wearing padded bike shorts and setting a challenging pace, cycle through our region where you can do some meandering and stop and smell the flowers once in a while. 
Read on for easy riding inspiration that will get you on two wheels without having to worry about saddle sores.
Accessibility
For beginner riders the option of renting or purchasing a bike or e-bike can make transitioning to two wheels easier. We've noted in the content below locations where you can find rentals to make your riding experience even easier.
Rail Trails
Rehabilitated rail trails are perfect for a light and easy ride. They are typically pretty flat, and other than navigating on a gravel surface they are easy going for those just getting into the bike riding game. Most often a ride on a rail trail is an out and back, so you can have more accuracy in terms of timing.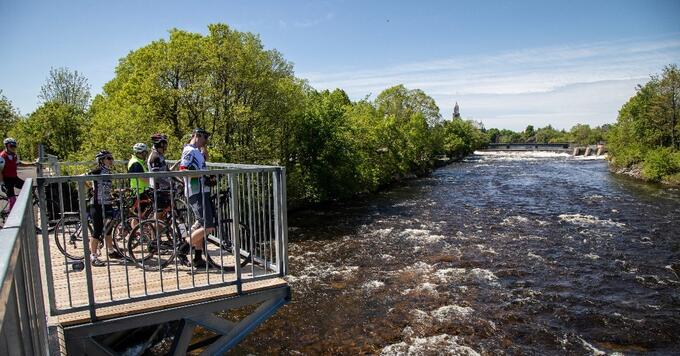 Surface: Gravel
Distance: 56.7 km
Don't be daunted by the length of this route! Since this is an out and back you can stop at any point to head back to your vehicle, and there will also be lots of places to stop for a rest or bite to eat along the way. This route is actually part of a longer, three-day route in Lanark County, but we picked Day Two as the best option for newcomers to biking.
Park in either Carleton Place or Pakenham to begin your ride on the Ottawa Valley Recreational Trail and plan for a stop in Almonte, roughly mid-way on your trip. The trail runs right through the centre of downtown and you can stop to use the washroom at Almonte Old Town Hall, have a coffee and a bite at Tea and Cake, or sit down for a light meal at North Market.

Easy Rider:
Take it down a notch with an e-bike rental from Smiths Falls Pedal and Paddle in Smiths Falls. There are also bike rentals available from the Carleton Place Visitor and Information Centre in Carleton Place.
Inspired to ride in Lanark County? Check out their cycling map with other routes to try for some on-road options. 
Surface: Gravel
Distance: 16.5 km
This route through Haliburton Highlands is short and sweet, with opportunities for stops at two bakeries along the way. Travel the Haliburton County Rail Trail through some of the most beautiful country in all of Ontario. Expect to be blown away by the views and the forests on this mostly flat, easy ride. This is a perfect intro to longer bike rides for families.
Park in either Haliburton or the small hamlet of Donald, where you can visit the Little Tart Bakery, famous for their baked goods (recommended to check hours of operation to ensure they are open during your ride). In Haliburton, coffee and a meal await at Castle Antiques and Café or Upriver Trading Co.

Easy Rider:
Algonquin Outfitters in Haliburton offers mountain bike and fat bike rentals. Reservations are recommended to be sure they have your bike in stock and at the Haliburton location. Haliburton also offers a bike share service for half or full day rentals.
Interested in riding in a group? Connect with the Haliburton Easy Ryders Cycling Club. Get more inspiration for biking in Haliburton Highlands here.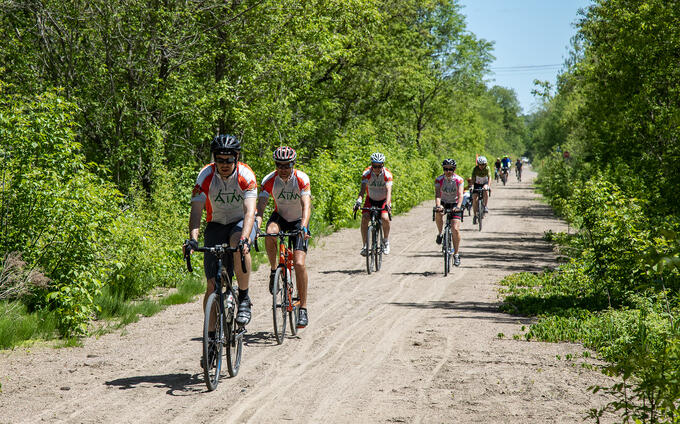 Surface: Gravel
Distance: 75 km
The K&P (Kick and Push) Trail in North Frontenac is a 75-kilometre gravel former rail line that connects the city of Kingston with Sharbot Lake. The mostly level trail takes riders through the rugged and beautiful Canadian Shield terrain and as an out and back from Sharbot Lake, it has some beautiful spots for photo opportunities.
Since this is an out and back you can travel as far as you like along the trail before heading back to your home base in Sharbot Lake. We recommend taking some time to sit by the water with a locally inspired meal from Belong Sharbot Lake and maybe a donut (or two) from Cardinal Café + Shop. Don't leave without picking up some artisan cured meats from Seed to Sausage.

Easy Rider:
Let someone else do the heavy lifting of your ride – Frontenac Trail Tours will help you plan your ride when you are also spending the night at Rockhill Bed and Breakfast in Sharbot Lake.
Surface: Gravel
Distance: 16 km
What if you could ride an out and back and not have to do the back? In the Ottawa Valley, the Algonquin Trail is the companion or extension of the Ottawa Valley Recreational Trail (see above) and travels through numerous small towns in the Ottawa Valley, including Pembroke, Renfrew, and Arnprior. In Pembroke, you can book a shuttle service from Valley Cycle Tours who will drop you off at one end of the trail and pick you up at the other. This is a great option for new riders.
Pick up a bite to eat from Krave Bistro and pack it up to take with you for a nice picnic lunch along your route. En route, an ice cream from the Flavour Container in Arnprior or fresh, homemade gelato from Farmstead Cheesehouse and Gelateria in Pembroke will be a sweet reward.

Easy Rider:
Spend the night at Whitewater Inn which operates Valley Cycle Tours, and make this a two-day cycling adventure. You can also rent mountain bikes or e-bikes from Gearheads in Petawawa.You can rent a hybrid or e-bike right from Valley Cycle Tours so all you will need to think about is booking your tour and then getting yourself to Pembroke. You can also rent mountain bikes or e-bikes from Gearheads in Petawawa.
With a longer ride under your belt you may want to consider booking one of Valley Cycle Tours' multi-day tours, with overnight stays at Whitewater Inn. You could also consider trying the multi-day Lumberjack Loop.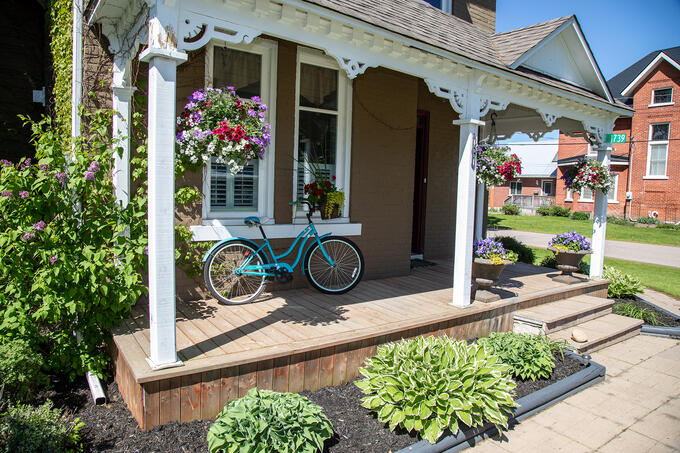 Backroads and Forest Trails
Cycling on a backroad can give you a new perspective of an area, and these often twisty and hilly routes often have plenty of photo opportunities for the budding nature photographer. For off-road cycling (using a hybrid or mountain bike), forest trails are dappled with sunlight filtering through the heavy foliage to create a magical world under the tree canopy.
Surface: Dirt
Distance: 10 km
If you've ever wanted to experience mountain biking, Lennox and Addington has the perfect place to start. Test out what it's like to ride off-road on one of the Flinton Forest mountain biking loops, that will show you pretty quick what kind of shape you're in. These old logging roads and single-track trails are light and easy enough for a beginner to get their feet dirty but still offer some technical challenge.
A must visit while in this neck of the woods is Addison's Restaurant or Gala's Pit Stop. Pick up a meal just like mom used to make and after your time in the forest you will want to rest your legs with a picnic at Flinton Conservation Area, where Flinton Falls offers a great view to enjoy while you dine.

Easy Rider:
Backroad cycling in Lennox & Addington is also very popular, consider exploring the region via the gravel backroads using their pre-curated route suggestions.
Surface: Paved and Gravel
Distance: 50 km
At 50 kilometres in total length, you'll love the ease of the paved sections of this Hastings County loop which account for roughly one-quarter of your ride. The paved roads will be a nice contrast to the gravel backroads, but don't get complacent because there are some elevation changes here to give you a wee bit of a challenge.
Park in the small town of Stirling and pick up some lunch from the local favourite, Farm Girl Café Stirling, to eat at a nice viewpoint along your route. By the time you reach the mid-point of this loop you'll be ready for a break, which the Springbrook Diner in Springbrook can deliver. If you have time for a two-minute detour stop at Nine Hand Hill Farm to grab and go food options (they also have a beautiful sunflower field that makes the ideal photo backdrop).

Easy Rider :
Since the majority of this loop is on gravel, a hybrid or mountain bike is ideal.
Find more cycling routes in Hastings County here.