Frontenac County is known for its abundance of Canadian Shield topography, plentiful lakes, and untouched wilderness. It's also made for exploring by bike, with plenty of hilly terrain if you crave a challenge, or you can head to the K&P Trail if you like it a little more tame. Either way you'll find what you're looking for here, and encounter plenty of other adventure along the way.
This sample itinerary will lead you through all of these places to explore the best of the region. Pedal the K&P, paddle Sharbot Lake, and play along the way.
2 Days of Outdoor Adventure #InFrontenac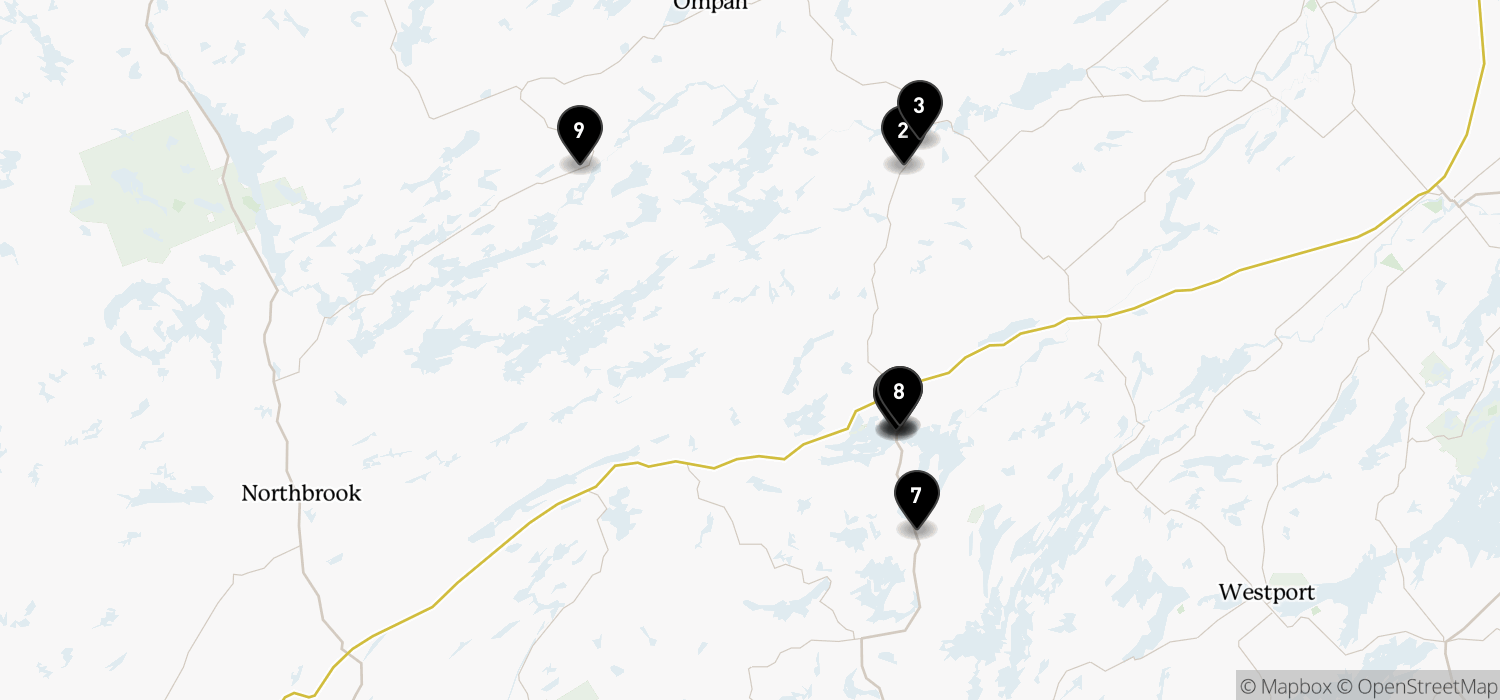 Day One: Pedal
Start of Day One
Start Here:  Sharbot Lake
Sharbot Lake is one of the most beautiful spots in the region, bordered on both sides by the lake, so you have a fabulous view no matter where you look! It's also the intersection of the K&P, a trail that can take you anywhere you want to go, including to the Trans Canada.
What to do here
Cycle the K&P Trail, a 90-kilometre trail that is accessible by cyclists, ATVs, horses and pedestrians. Find the right route for you here.
Wander down to Sharbot Lake and take a dip at the community beach. If you have little ones with you they'll love the adjacent park.
Stop for an ice cream treat or iced latte from Cardinal Café. Their homemade filled donuts are so popular they often sell out, so get there early!
Grab a bite to eat at The Sharbot Lake Inn & Crossing Pub. Their new patio is the perfect spot to enjoy a cold drink on a hot summer's day.
About the area
Sharbot Lake
Frontenac County
From Toronto: 290km • 3 hr 20 min
From Ottawa: 120km • 1 hr 35 min

Pro tip:
The causeway that bisects the lake was built in 1876 by the K&P Railway. Look for the Canadian flag bench as the best place to watch a sunset over the lake.
Time Spent Here: You can spend the whole day here cycling and exploring this fast growing community.
Book your accommodation with Rockhill B&B and you can pedal your heart out all day and then relax with a fireside dinner back at the bed and breakfast. Their sister company, Frontenac Trail Tours, can help ensure your cycling trip is a success.
End of Day One
Day Two: Paddle & Play
You'll want to linger over your gourmet breakfast at the bed and breakfast. Your hosts, Greg and Arlette will make sure you start your day off on the right foot.
What to do here
Check out of the bed and breakfast but don't leave Sharbot Lake! There's still plenty to do here.
Rent a canoe or kayak from Sharbot Lake Country Inn or Sharbot Lake Marina to take out on the water to get a different perspective of the community.
Stop for fries from Frenchie's Chip Hut and dine at a waterfront picnic spot by the beach to savour your last moments in Sharbot Lake.
Swing past Seed to Sausage to pick up some naturally raised artisanal meats and cheeses to take home with you.
22km • 18 mins
Time Spent Here: You have the rest of your day on the lake (or in it). 
Artisan cheese will be the perfect addition to your take home goodies from your trip through North Frontenac. Cheese makers, Jeff and Jenna, are making truly excellent cheese here on their Mississippi Station farm and love to share.
What to do here
Cheese Tasting? Yes please! The Cheese Shop and Tasting Bar is open for visitors on Fridays and Saturdays in summer (check ahead to confirm hours).
Eat dinner here! Order from the light menu featuring wood-oven pizza, salad, and (of course) a cheese and charcuterie board. Savour each bite on the outdoor patio looking over the lake.
Browse the items in the shop that include cured meats, honey, maple syrup and more. You may even find some handmade and printed goods from Jenna Rose which are made on site by Jenna herself.
About the area
Mississippi Station
Frontenac County
From Toronto: 295km • 3 hr 30 min
From Ottawa: 115km • 1 hr 35 min
Visit Back Forty Cheese, a small creamery and cheese shop, where artisanal cheeses of raw sheep and water buffalo milk are produced. Visit the factory and enjoy lunch on the Mississippi River on Saturdays from July to September.
34km • 28 mins
Arrive before dusk to get set up before it gets too dark to see. Plant your lawnchair or blanket on the concrete pad and set up your telescope If you have one (not necessary to enjoy the dark sky views).
Time Spent Here: You can stay as late you like into the night.

Don't forget:
Insect repellant, a blanket, and a thermos of something to keep you warm after the sun sets.
End of Trip