Stepping into your local outdoor outfitter or bike shop last year to find nothing but empty shelves was a good indication that bikepacking, the activity that combines backcountry camping and off-road cycling, will be a popular option for an outdoor getaway this year. Whether you're a seasoned veteran ready to take on multi-day tours or a new fan looking to test out the waters, there are plenty of routes to explore that wind through the gravel rail trails and old logging roads of Ontario's Highlands.
Note: Know your abilities and ride within them. Some of these routes traverse deep into the forest with a variety of potential hazards. If you're new to cycling or backcountry camping, start with easier routes or day trips. Always alert someone where you'll be and when you'll return as cell phone reception is non-existent on many of these routes. And of course, practice "Leave No Trace" principles.
Haliburton Forest Route – 50 km
Area: Haliburton Highlands
Level: Beginner
One of the many Haliburton Highlands routes mapped by local Thom Lambert is what he calls "The Best of Haliburton Forest." At only 50 kilometres on the gravel roads of Haliburton Forest, it's a mellow bikepacking trip suitable for most cyclocross or gravel bikes. Book ahead for a campsite at Wolf Lake and add some extra adventure by further exploring the hundreds of kilometres of gravel trails in Haliburton Forest during the day, or take a drive out to one of Thom's other gravel routes. 
North Frontenac K&P Loop – 68 km
Area: Frontenac County
Level: Beginner
If you're new to bikepacking or want a quick weekend getaway, this straightforward loop in the backwoods of North Frontenac takes you deep into the forest, away from the hustle and bustle. Overnight camping is available at the backcountry sites of North Frontenac Park Lands along the way. Food stops are limited so pack what you need and enjoy your immersion into nature! Local Wanderer Paul Galipeau shares the full details and map.
Griffith Highlander Overnighter – 69 km
Areas: Ottawa Valley
Level: Beginner/Intermediate (short but challenging)
The Griffith Highlander Overnighter is a fairly simple route clocking in at about 70 km of single lane forest service roads surrounded by Crown land. While it is short, it packs a punch with 700+ metres of climbing and some sandy sections. It's also a very remote area with only one town en route so don't be caught unprepared! Get the full scoop on Bikepacking.com.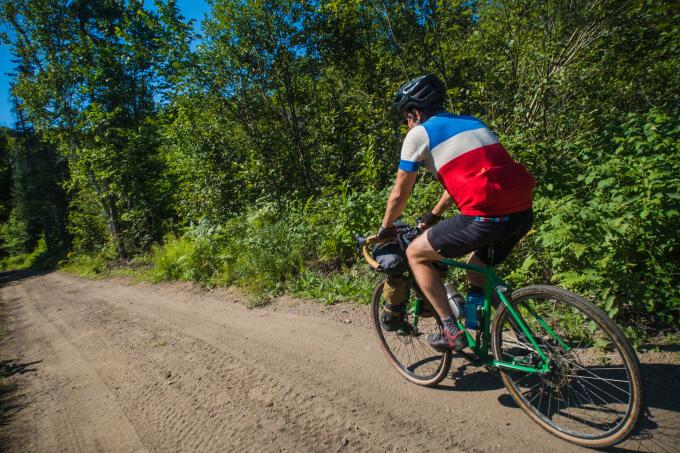 Hastings-Haliburton 50/50 – 257 km
Areas: Hastings County, Haliburton Highlands
Level: Intermediate
When you're ready to take on multi-day routes through the backcountry of Ontario's Highlands, this loop through Hastings and Haliburton counties is a great starting point. With stops in Bancroft, Minden, Haliburton, and a few other hamlets along the way, rest assured you'll never go hungry – nor will you have to haul your own beer if you crave a cold pint.
Sharb-Echo Scramble – 296 km
Areas: Frontenac County, Lennox and Addington County, Hastings County
Level: Intermediate
This is another rugged backcountry route developed by our Local Wanderer and Frontenac enthusiast Paul Galipeau. His write-up on Bikepack.ca suggests the route is best in late summer to avoid spring flooding and hunting season. There are a few spots to stop for food (and even a winery en route!) but this route is more geared towards those who are prepared for a backcountry trip where you may not encounter a soul.
Hella Hastings Tour – 347 km
Area: Hastings County, Lennox and Addington County
Level: Intermediate/Advanced
Laura Voskamp and her partner Adam created the Hella Hastings Tour as an option that departs from their hometown and heads north to explore the landscapes and gravel roads of central Hastings. Highlights include a stop at Flinton Conservation Area, abandoned settlements from the 1850s, and dockside sunsets on the Hastings Heritage Trail.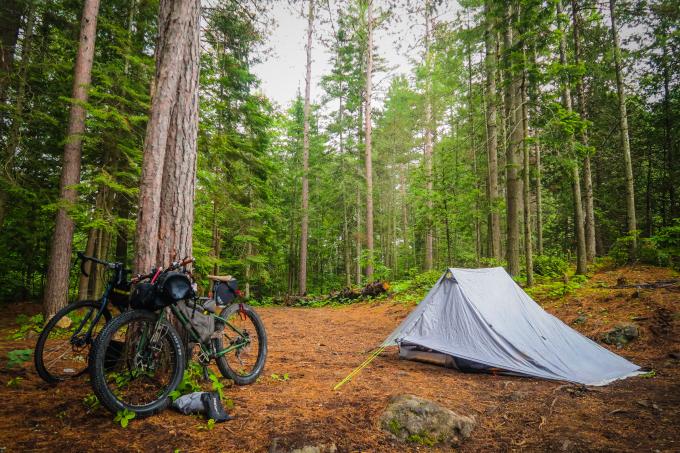 Central Ontario Loop Trail (COLT) – 457 km
Area: Hastings County, Haliburton Highlands
Level: Advanced
The Central Ontario Loop Trail, known by most as the COLT, takes riders through a large portion of Central Ontario stretching from Lake Ontario almost to Algonquin Park. Most riders start in the areas just south of Ontario's Highlands and save the best for last, in our opinion. Both you and your legs will know when you've hit the rolling hills of the Highlands. This route is for experienced riders and is best tackled with thick, knobby tires as there are some rough areas.
Hasty Highlander – 474-704 km
Area: Hastings County, Haliburton Highlands
Level: Advanced
The Hasty Highlander will keep you on your toes with two optional add-ons in the Haliburton and Bancroft areas. The bare bones route (shown in red on the map) developed by Matthew Kadey is 474 kilometres that follows a similar path as the COLT. But two optional loops provide additional riding if you so desire, bringing the total kilometres to just over 700 km.
Log Driver's Waltz – 794 km
Areas: Ottawa Valley, Lanark County, Frontenac County
Level: Advanced
The mother of all bikepacking routes is the Log Driver's Waltz, a nearly 800 kilometre route developed by Jen Adams and Eric Betteridge. About half your time will be spent in Ontario's Highlands as you follow the inter-provincial loop that showcases the stunning landscapes and deep culture of the area. Bet on plenty of climbing, scenic vistas, and café stops along the way as you traverse through the towns of Renfrew, Sharbot Lake, Almonte, and Carleton Place.
Bonus: Eastern Ontario Rail Trail Loop – 384 km
Areas: Frontenac County, Ottawa Valley, Lanark County
Level: Intermediate
Last year, Frontenac County local Jonas Bonnetta departed on a multi-day adventure set almost exclusively on gravel rail trails, which he affectionately dubbed the "Choo Choo Loop." His journey took him on the connecting K&P, Cataraqui, and the Ottawa Valley Recreational Trails through countless small towns in Ontario's Highlands, including Smiths Falls, Arnprior, and Calabogie. While Jonas decided to go ultra lightweight by staying in accommodations, camping options are available along the route.