Local's Take is a series highlighting the staycation experiences available close to home. The experiences featured in this series were hand curated to highlight fun insider spots in our region. Use these stories as your launchpad to create your own staycations in Ontario's Highlands. 
Local: Amy
From: Lanark County
Travelling: Ottawa Valley
There are those among us who spend their winter hurtling down a ski hill or trekking across snowy terrain until their nose is running and their eyelashes are frosty. And then there are those of us who waken each morning in the winter and immediately burrow deeper into the cozy cocoon of bedding.
I, unfortunately, am one of the latter.
Don't get me wrong, I wish I liked downhill skiing or any of the other winter activities that get you outdoors. That's why this winter I decided that come hell or high water I was going to find ONE (just one!) winter activity that I enjoyed. And I succeeded.
For all my brethren out there who would rather settle in with a cup of hot cocoa around a roaring fire than brave the outdoors in winter, here's a tip: You can have both in Calabogie.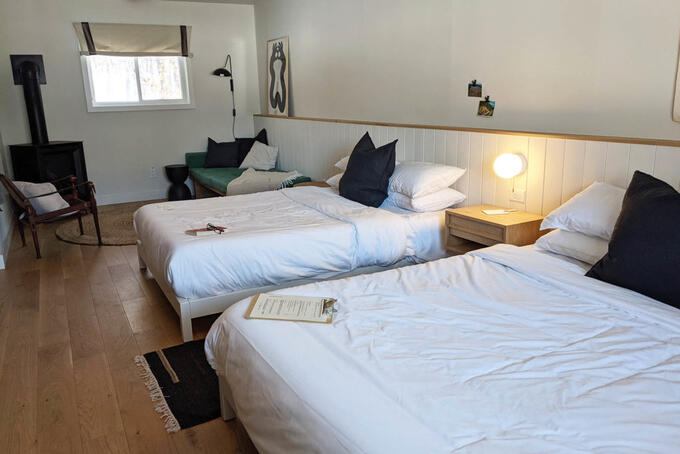 Located only a few minutes' drive from Calabogie Peaks, Somewhere Inn is where your winter escape can begin and end. We chose it because of location, and because it's so close to the ski hill, ski trails, and outdoor skating on Calabogie Lake, but also because, in a word, it's fantastic.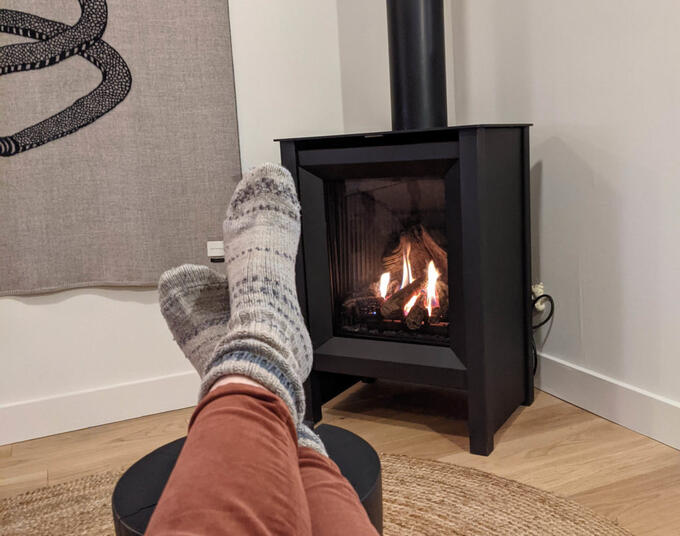 Every room has a wood stove to add some cozy ambiance to the experience, along with a sitting area, and a minimalist, Zen-like feel that is refreshing after a hard day on the hill or trail. The rooms are comfortable and make a great spot to hang out with friends at the end of the day, or by yourself.
All Outdoors – All the Time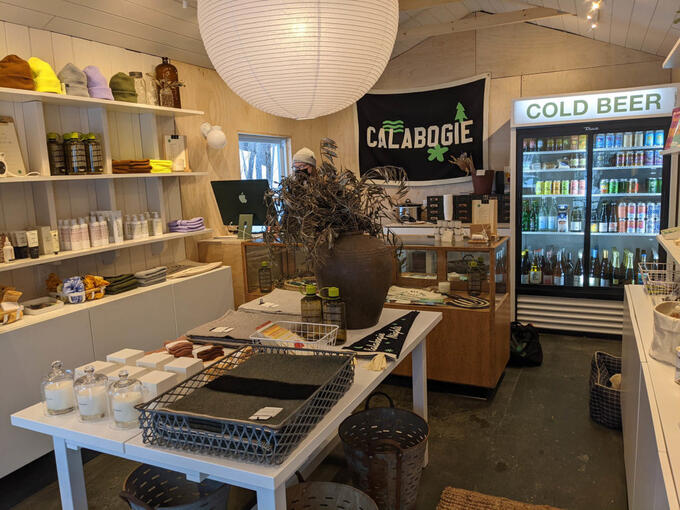 At Somewhere Inn they are literally reveling in the outdoors, instead of hiding from it. Gather with friends around the bonfire at the Bottle Shop (where you can pick up something to sip at the same time) and enjoy some hot mulled wine, supplied by the inn. Roast some s'mores using the inn's complimentary s'more kits, or just sit and shoot the breeze.
The friendly folks at the inn can also arrange for some snowshoe rentals for you. We expressed an interest in skating and a lovely staff member even loaned us her skates to use on Calabogie Lake! How nice is that?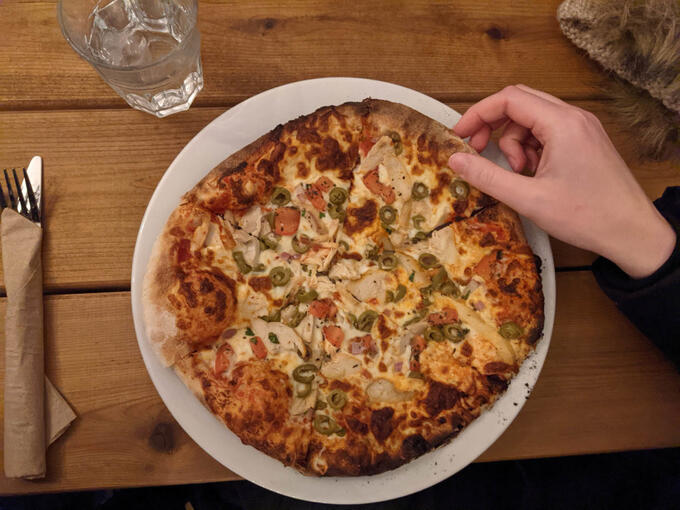 I have three words for you about Neat Coffee Shop in Burnstown: Worth. The. Drive. Wow, the food was amazing, they had a fantastic outdoor dining tent that had heat and everything, and it was only a few minutes from the inn. A must order is their wood-fired pizza. SO good.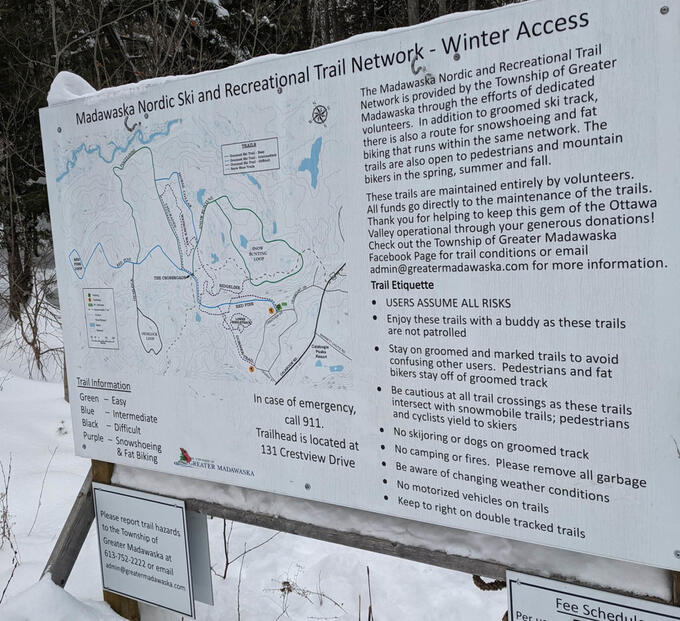 I am happy to report that I have found my winter sport! We rented cross country skis from Calabogie Peaks (tip: get there early as they don't have a super large selection) and drove to the Madawaska Nordic Ski Trail.
The trail was pretty challenging for a novice but we managed to ski a full six-kilometre loop. At the end of the day we were tired and ready to warm up in front of the fire at Somewhere Inn and sip some hot mulled wine while we contemplated dinner.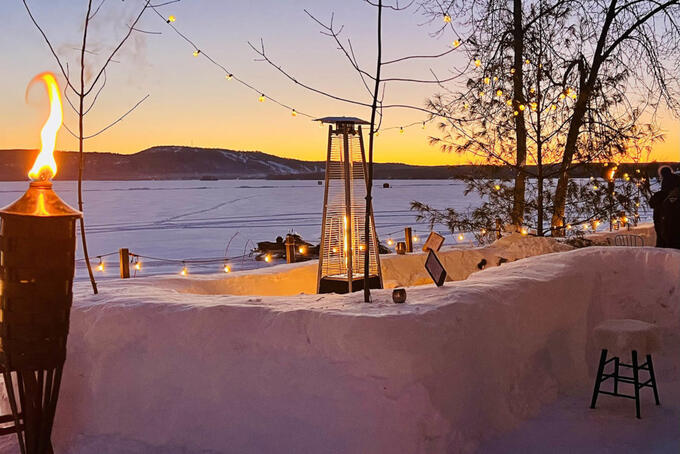 After a day on the trail we were ready for good, hot, food, and plenty of it. Thankfully, Calabogie Lodge has a fantastic restaurant on site, called On the Rocks, and their outdoor ice bar is a-ma-zing! Watching the sun set across the lake, while staying toasty beside an outdoor heater was unbelievable. And the food was, in fact, hot, and there was plenty of it, so it was a perfect combination.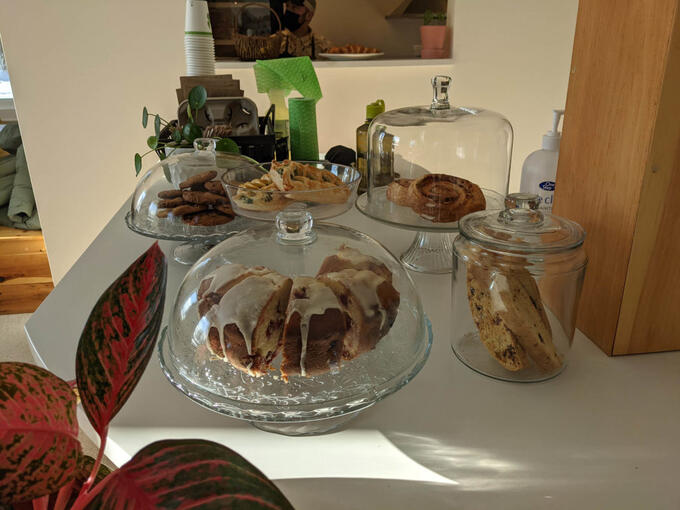 When staying at Somewhere Inn, we highly recommend ordering breakfast delivered straight to your room from Oh-el-la-Café, a cute little eatery in Calabogie. Getting it delivered to your door means you don't have to brave the cold, although if you are going to head out anyway, going straight to the café will give you a broader selection of hot beverages, and breakfast sandwiches.