Local's Take is a series highlighting the staycation experiences available close to home this summer. The experiences featured in this series were hand curated to highlight fun insider spots in our region. Use these stories as your launchpad to create your own staycations in Ontario's Highlands. 
Local: Nathan and Jessica Rogers
From: Stirling, Hastings County
Travelling: Hastings County
Exploring in your own community is always time well spent. While it may not have the allure of jetting off to destinations unknown, you'll discover new corners and old favourites while supporting your friends and neighbours.
Also, these amazing places will be available to you even with broader travel restrictions and can have you playing tour guide when friends and family come to visit. Health and wellness are top priorities for us, so we planned a staycation to highlight some local spaces that we've never been that also support our lifestyle as well.
We spent two nights at Grail Springs Retreat Centre for Wellbeing this summer as part of a local staycation in Hastings County.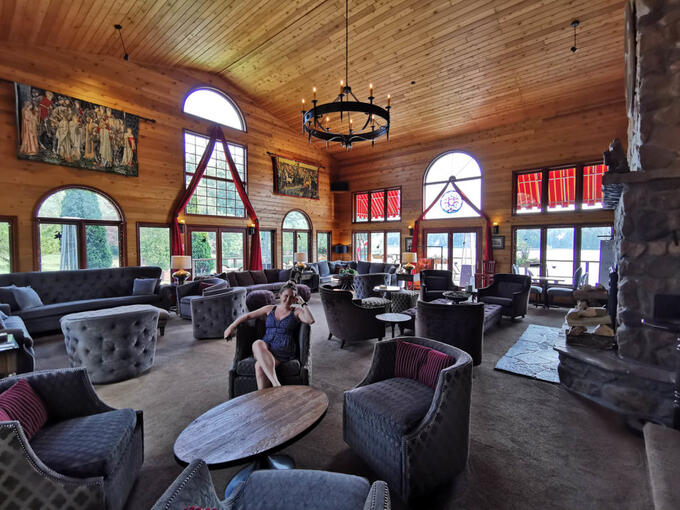 Grail Springs 
Coming to Grail Springs was a dream for us. Our stay included all meals, morning yoga, evening workshops/seminars, afternoon snack and elixir, a guided tour of the grounds including a hike to their Crystal Crop, yoga/sun deck, swim raft, camp fire. We also got unlimited use of: the thermal circuit, canoe, paddleboat and SUP equipment, Sacred Labyrinth, Medicine Wheel, Prayer Tree, Volcanic Ash Healing Bed, and Trail of Dreams/hiking.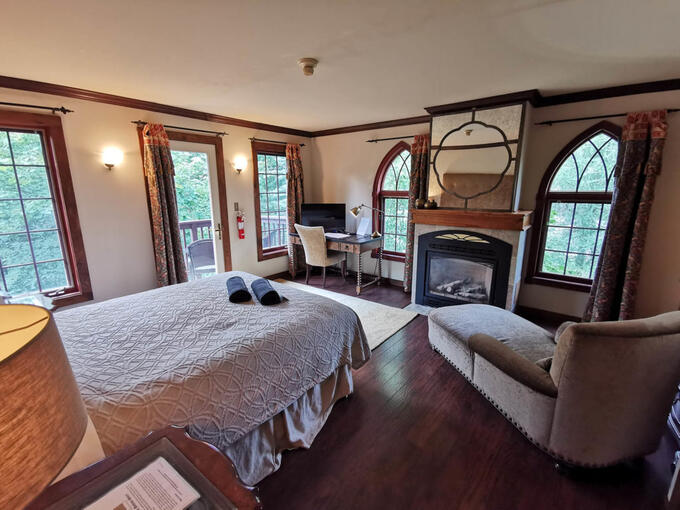 We unloaded into our luxurious room with a balcony, jacuzzi tub/rainfall shower, chaise lounge next to the fireplace (no need on this trip but would be so cozy in the winter), self controlled air conditioning (which was a treat in this heat as we don't have this at home) desk, fitted robes and slippers, a spa towel each, and a queen bed fit for a queen. We literally felt like royalty!
Vegan and Gluten Free 
Grail Springs perfectly delivers an entirely vegan, gluten-free, and caffeine-free experience. No processed flour, salts, or sugars either. Truly a healing menu that doesn't disappoint on flavour, texture, and to Nate's happiness, serving sizes.
Our three-course dinner the first evening was one of Jess' favourites; curry cauliflower salad, tikka masala on coconut rice with lentil papadum, and mango cheese cake (this was Nate's favourite dessert during our stay). Presentation was spot on.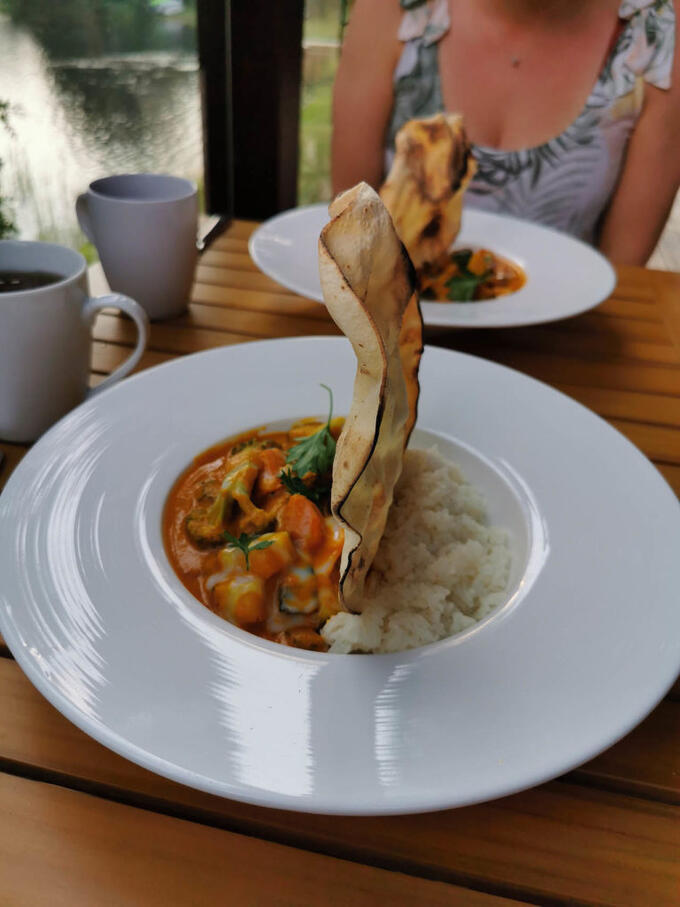 The next day, lunch was a chilled watermelon and roasted red pepper soup - I know, I was skeptical too, but the cool soup on the hot day was perfect and the flavour was one of the best soups I'd ever tasted! The soup was followed by black bean tacos with corn, onions, and fresh cilantro. The service staff is incredible and go out of their way to provide an exceptional dining experience.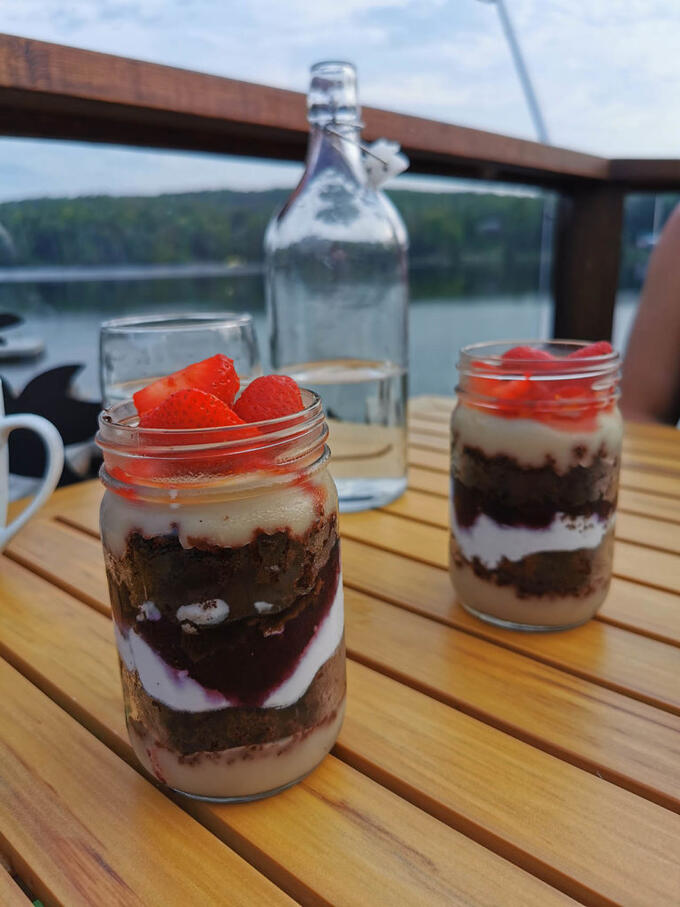 Dinner that evening was a spiced roasted cauliflower appetizer followed by lettuce wrap with house-made guacamole, pico de gallo, and corn salsa, and then Jess' favourite dessert of our stay, a chocolate berry parfait with desiccated strawberries and coconut whipped cream. It doesn't get any better than this!
Thermal Circuit and Meditation
In the great rooms evening workshop, Wendy Fouts treated us to a Sound Meditation to Soothe our Body, Mind & Soul. While immersed in calming sounds, Wendy guided us on journey through the chakras, visualizing the colours, connecting us to the energy flowing through each centre, and lulling us deeper into relaxation.
We likely could have floated off to bed after this experience but decided a dip in the thermal tub and steamy sauna followed by a cold plunge in the lake would be a perfect ending to a busy but body-and-soul-nourishing day. After, we snuggled into bed and easily drifted into sleep.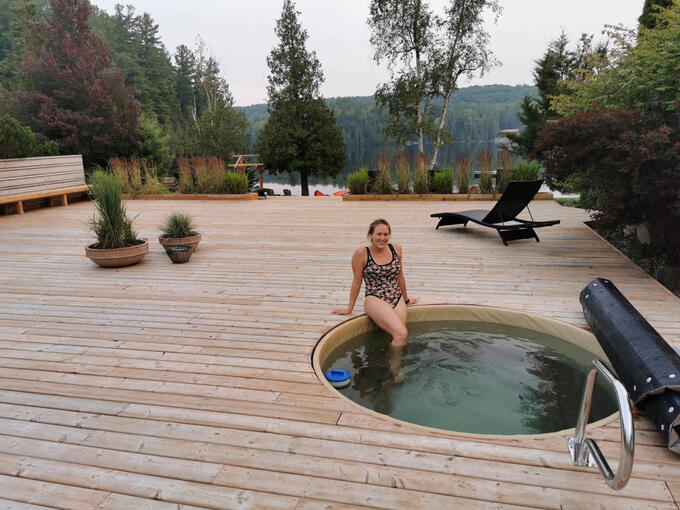 Forest Bathing
Next for the day was a guided hike with John, a Grail expert and resident artist. As you follow the Trail of Dreams, John talks about benefits of forest bathing and becoming submerged into the community of the forest and how it stimulates our creative side of the brain.
A very talented and established artist whose studio is located right next door, John often turns to the forest to clear his head and get those creative juices flowing. Along the trail you start to see a village of rock statues that John has created and if you look closely enough you can even see their faces.
The Crystal Crop is a huge clear crystal quartz deposit, the second most powerful healing stone, and a perfect spot in the forest to come rest and replenish.
Pamper and Recentre
After the hike it was onto a slow, soothing yoga practice on the sunny deck guided by Tanya Mahar. The bending and twisting felt so good after the hiking that morning (and the day before) and set us in the perfect space for our next activity: the spa.
Nate received a healing bath and massage and I opted for an oxygen facial with mini massage. Both treatments had us feeling relaxed and rejuvenated, and this was all before lunch!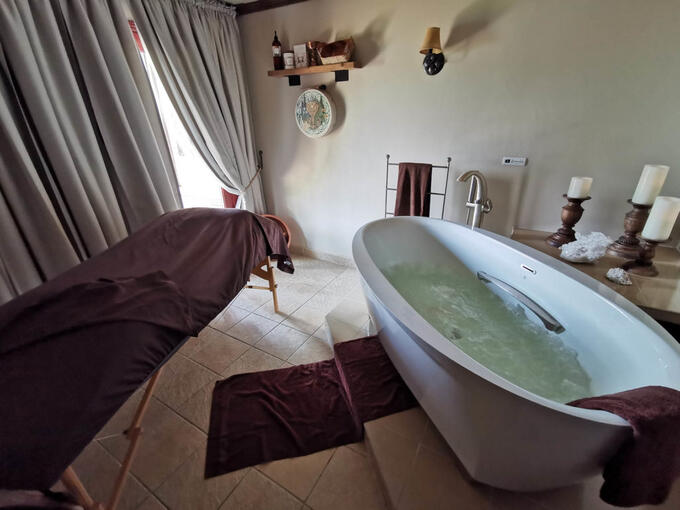 Hike to Crystal Crop
After our afternoon snack and elixir we decided to hike back to the Crystal Crop to enjoy our own, now informed, peaceful experience of this magical forest. Sitting in meditation at the crop, with the sounds of nature all around us was one of the most tranquil and meaningful experiences of the trip. During our passage back to the Grail, a majestic deer came sauntering up the trail but quickly decided we weren't who she was looking for and turned to continue on her own path.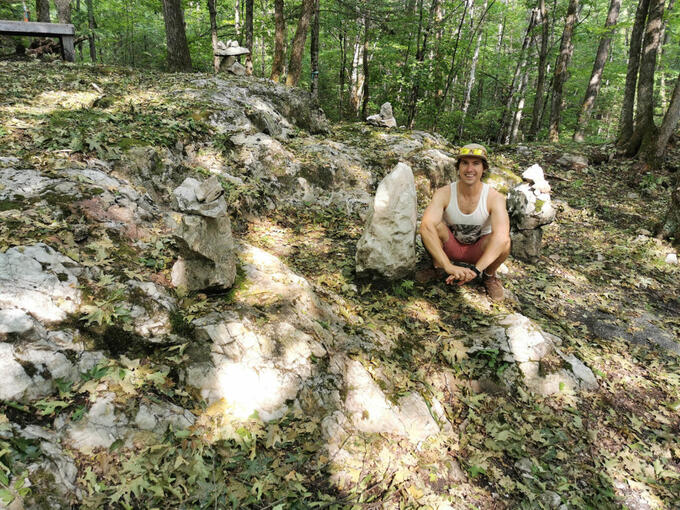 Connecting
We attended a Restorative Breath, Yoga and Meditation workshop with Tanya Mahar which provided great insight to relaxing practices, especially for those dealing with anxiety.
Again that evening, we floated off to the thermal tub and sauna and lit a fire in the outdoor pit as it was all set up by staff and just needed some willing participants.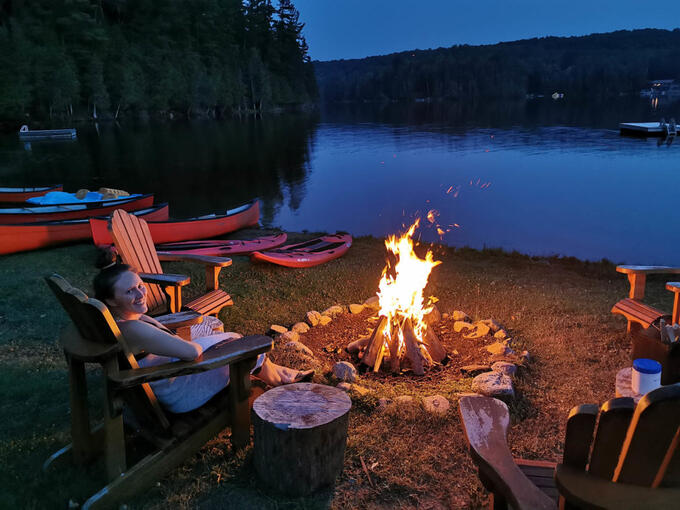 Fires are always a gathering spot and this one was no different. Many of the people we'd seen and had these guided experiences with drifted by the fire and we were able to chat and learn more about those around us and those who had just arrived. While we were all there for different reasons with different goals in mind, we were all seeking healthful, healing experiences.
Our time spent at Grail Springs Retreat Centre for Wellbeing reshaped our point of view and brought us more peace with the present.
Looking for more staycation experiences? Read these stories next: