Picture this: You are at the cottage seated with friends and/or family around a roaring bonfire, the low murmur of voices competing against a chorus of crickets and bullfrogs. The music starts, drifting around your group to connect you intimately in a sensory experience filled with music, darkness, and the outdoors.
This uniquely cottage country experience is the brainchild of Nick Russell and Benton Brown, who have creatively developed a popular musical bonfire series, available within 40 minutes of Haliburton. These "bonfire sessions," and Nick and Benton's music as a whole, are deeply rooted in the Haliburton region, pulling together the best of creative improvisation, and a love for music that combines perfectly with a love for the outdoors.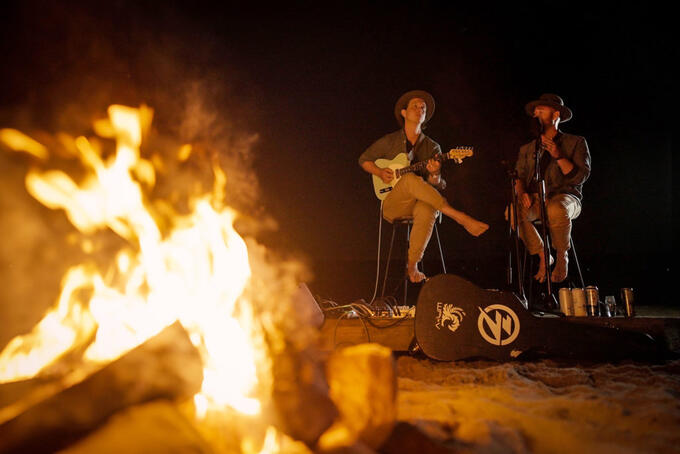 Listening to Nick and Benton chat it's easy to assume the pair have been friends for decades, but the truth is that while they both grew up in Haliburton, they only really connected years later, when they met again on Boshkung Lake. Today, Nick is a fourth-generation full time musician while Benton has a background in music and theatre and also works a day job as a contractor. The two have young families in tow and a passion for music and community that is filling their lives in Haliburton Highlands.
With a topography filled with lakes and rolling terrain, the Haliburton region is home to a deep-rooted "lake culture" that draws people from across the province, and beyond, to cottage or settle down permanently. Both Nick and Benton agree that the rugged wilderness and unique topography has helped feed their creativity and kept them rooted in the region.
"We feel so privileged to carve out a living, have great friends, in what is essentially a massive outdoor playground," said Benton, "Haliburton is our studio, our Abbey Road, that's where the best music comes from, it's one big, massive studio with lakes and birds and trees."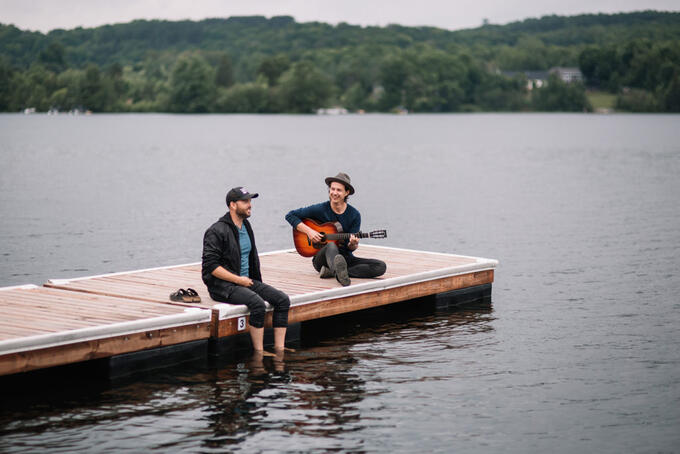 Their lakeside surroundings may have inspired them to create their bonfire sessions, but it has also given them the freedom and inspiration to mesh their musical talents to create something new and fresh. Today, their bonfire performances bring families together while uniting them in the love for the universal language in the world: music.
"Nick lives right by this stunning, rugged river, and I live right beside a big open lake. We don't just work around nature all the time, what we come home to every day is nature," Benton said. "The environment here allows us to discover and create our own unique genre, a mixture of jazz and pop soul that is fed by the outdoors."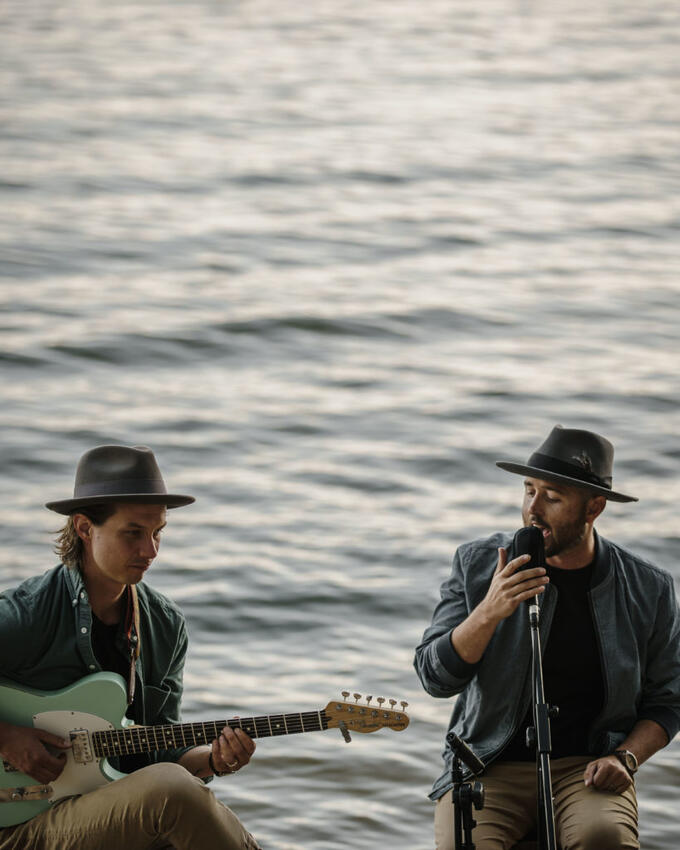 As they describe it, through their bonfire sessions they are literally connecting the vibes of music, people, and the outdoors, and translating that all into one phenomenally intimate and sensory musical experience.
Struggling to define what this means from an audience perspective, Benton explained that people don't listen to one of their performances and think "this is a practiced, rehearsed set." Instead, the musical duo's forte is their ability to connect with people between songs and people listen intently precisely because the performance "seems to be off the cuff," but in reality, the impression is there precisely because the pair are so closely attuned to the audience, the environment, and each other.
"When people sit down and listen to the music, they are listening intently because it seems to be off the cuff, but we're kind of listening to each other in the moment – improvising and using intuition to pull it off."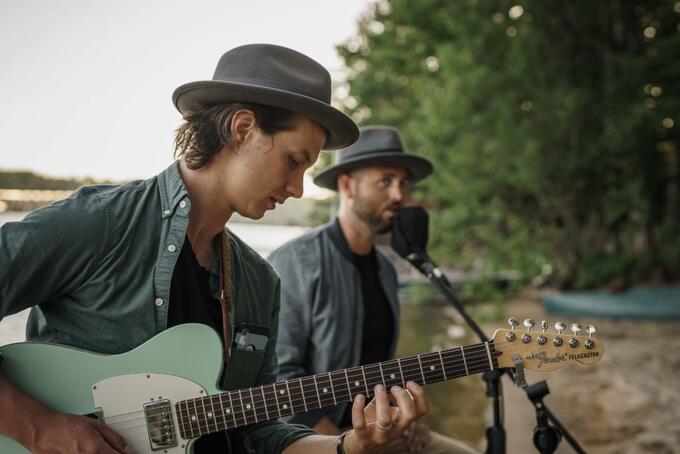 For Nick and Benton, the environment is what brings them together, but it isn't without challenges. Their bonfire sessions are performed outdoors which means they often have to be flexible and fluid with equipment, location, and even the weather.
"And bugs," laughed Nick. "Bugs can be a challenge, too."
Nick and Benton are like a mutual admiration society (I'm really jealous, I wish I could sing like Benton, said Nick), and listening to them describe their music is like taking a step into a creative world you've always known was there, but you were never able to access. The skills and passions each brings to the table (or dock) only serves to enhance and deepen their performance.
"I trust in the spirit of the music, and will always play in service to the song, that could mean playing two chords or a million chords, whichever frames the particular song and evening best," said Nick. "Benton and I are really good at figuring that out quickly and it feels really good…we have to be fluid and improvise."
Benton added that putting trust in the musical and creative process is important with their act in particular. "Almost everyone has heard of us through word of mouth. We don't have any music you can buy at a store and yet all our gigs are full…that speaks to something, that our music resonates with people."
Looking for more inspiration for connecting to music and creativity in Ontario's Highlands? Click here to learn more about where to find inspiration and creative spaces.