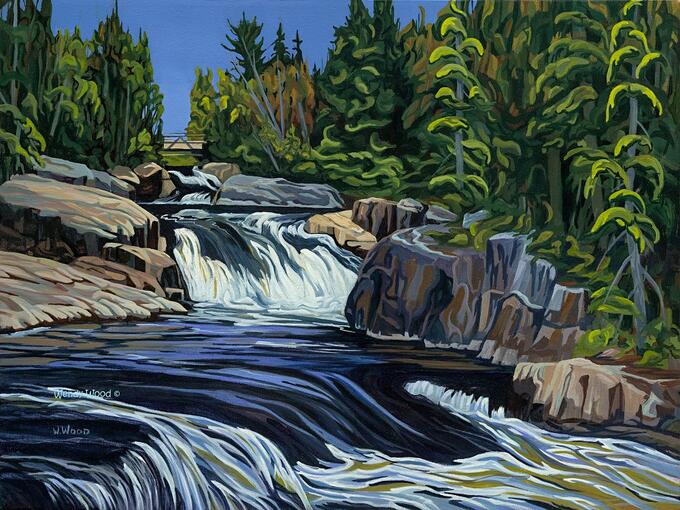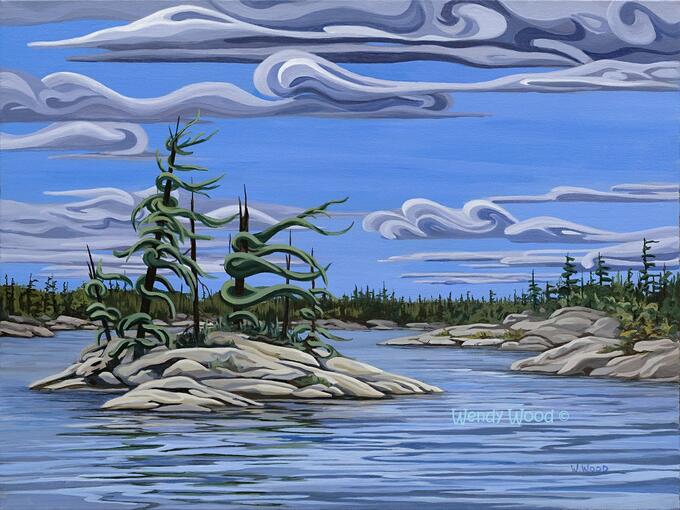 Haliburton artist, Wendy Wood, has lived everywhere from Kapuskasing to the shores of Lake Erie, but says nothing can compare to the creative atmosphere in Haliburton, particularly when it comes to fostering art and artists.
"There's a little bit of everything here," Wendy explained. "The art school here draws everybody…you have top-notch teachers then people who are learning, and then arts tourism in the summer."
Wendy is no stranger to the Haliburton region: her aunt and uncle used to own Buttermilk Falls Resort and Wendy and her husband spent a lot of time in the area over the years. While Wendy knew there was an art school nearby, she couldn't have predicted what an impact living and working in such an arts-focused community could have on her art and creativity.
"When we moved up here, my style really changed, I switched from oils to acrylics and that's when my style really took off," Wendy said.
It's the Haliburton landscape that provides inspiration for Wendy, who said that lately she's been doing a lot of sunsets, a lot of clouds. The artwork in Wendy's studio provides a tapestry of different natural settings, all found within the Haliburton region.
Vibrant, rolling cloudscapes, dark and mysterious forests, and lonely bodies of water all combine on Wendy's canvas to create a patchwork effect that captures the totality of Haliburton's beauty.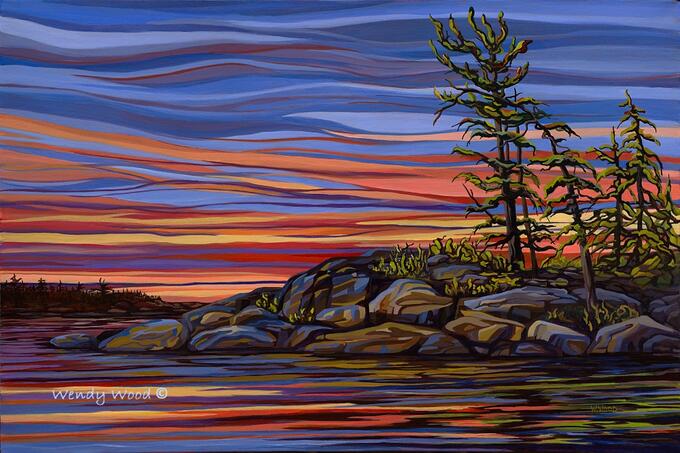 It's that same appreciation for the topography that has led Wendy and her husband to dive into the world of maple syrup with their sugarbush, Colour of Wood. The Wood's started out with only 90 buckets and today they have 950 taps and a new sugarhouse.
In fact, it's their syrup that launched a partnership with Abbey Gardens; customers can look for Colour of Wood's unique label in store, made from a painting created by none other than Wendy herself.
As a former drafter, Wendy's foray into the art world of natural settings is relatively new to her, but she's found her drafting background has helped her with perspective and composition which has come in handy for the nature scenes she captures in Haliburton and in other parts of the world.
"It's been great up here, it's a good artistic community," Wendy said, noting that the artistic scene extends beyond visual arts and she's recently joined the local orchestra as a violinist.
"I'm new to the violin, but they welcomed me into the orchestra even though I didn't have a lot of experience…I don't know anywhere else in Ontario that someone with three years under their belt can jump in."
Visit Wendy's website for an overview of her art at www.wendywood.ca.