Spring is in full swing and you know what that means – it's maple season. The sap is flowing and maple producers like Shirley Fulton-Deugo of Fulton's Sugar Bush in Lanark County are busy collecting and boiling sap to make that sticky and sweet liquid gold we Canadians love so dearly.
As with all maple syrup producers, Shirley has a favourite grade of syrup (hint: it's all of them), and her favourite recipes in which to use this natural sweetener. No matter where you live, you can bring the bounty of the maple season into your kitchen (and into your belly) with these sweet and savoury dishes.
You can order your Fulton's Pure Maple Syrup online and have it shipped straight to your door, then get straight to whipping up some of Shirley's tried-and-tested recipes.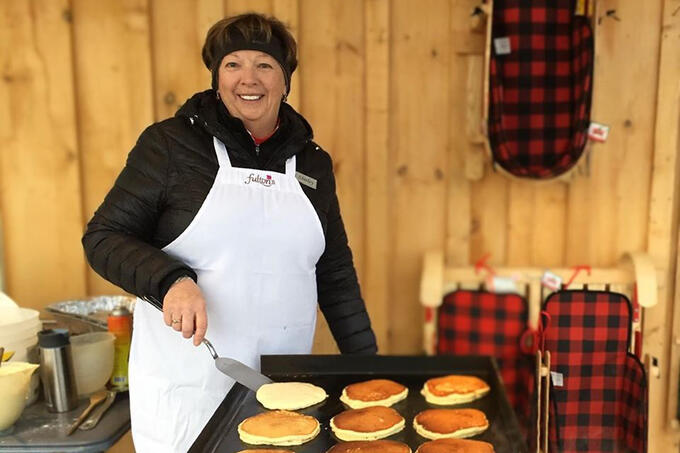 Shirley's Sweet Grilled Cheese
1 Fancy bun (Ciabatta or something-plain, but any kind of bread will do)
2 tbsp Fulton's Maple Butter (purchase or make your own by blending melted butter with maple syrup)
1 Apple-cored, peeled, sliced in thin slices
1 tsp Cinnamon
3oz Brie cheese-plain (can substitute with any cheese)
1 tbsp Butter
Method: Sauté apples, butter and cinnamon in a sauce pan over medium heat until fragrant and soft and slightly caramelized. Turn on oven to broil. Butter bun with maple butter, toast until bubbly or to your liking. Turn off oven. Top bun with apple mixture and cheese and put in still warm oven just until cheese is melted. Serve Warm. Tastes like waffles and a Danish/pastry at the same time!
Fulton's Maple Curried Chicken
1 Whole chicken, cut up, or 6 to 8 chicken thighs
¼ cup Butter
¼ cup Fulton's Pure Maple Syrup
6 tsps Fulton's Granulated Maple Sugar OR packed brown sugar
2 tsps Fulton's Maple Mustard OR regular mustard
1 tsp Curry powder
1 tsp Salt
Method: Wash and dry chicken and place in a roasting pan. Mix remaining ingredients in a saucepan and cook until butter is melted, and a slow boil is reached. Pour over chicken. Bake at 350 degrees for one hour. Baste frequently during the last 20 minutes. This can also be cooked on the barbecue.
About Shirley
Fulton's Sugar Bush matriarch, Shirley Fulton-Deugo knows her maple syrup. From the Fulton's sugar bush in Lanark County, the queen of maple has been involved in the maple syrup world in one way or another for more than 70 years, with no end in sight. Making syrup and taffy continue to be a family affair at Fulton's, with virtually every member of Shirley's immediate and extended family taking part in the annual tradition of syrup season.

Local's Tip: