My bucket list gained a checkmark last week after visiting Haliburton Forest & Wild Life Reserve for the very first time. I had been eyeing up this very unique destination, specifically with an interest in the wintertime trout fishing opportunities found here.
Located just south of Algonquin Park, Haliburton Forest is a 100,000-acre private wildlife reserve. There's a wide variety of outdoor activities available to guests here year-round. The reserve is home to native populations of brook trout, as well as a strain of genetically distinct lake trout known as 'Haliburton gold' which are found in just a handful of lakes here.
In order to provide additional fishing opportunities, some of the lakes are also stocked with rainbow trout and brook trout.
These lakes are expertly-managed to ensure sustainability and fishing opportunities for guests in the years to come. During the winter months, guests can access the lakes by way of the 400 kilometers of groomed trails. Needless to say, it is a very popular destination for snowmobile enthusiasts as well. 
Steve Lukacic offers guided ice fishing trips at Haliburton Forest through Yours Outdoors. He introduces folks of all ages and skill levels (even newcomers) to the ice fishing opportunities found here. Steve recently reached out to invite me to join him for a day out on the ice.
As an avid angler myself, I was thrilled to finally do some exploring here and to share the ice with Steve, who has extensive experience in the area. My partner, Eric, and I opted to make the trip down from the Ottawa area the evening prior to our planned fishing outing and stayed in one of the cozy two-bedroom units located in the aptly named "Snowmobile House". A variety of onsite accommodations are available, which can even host families and larger groups.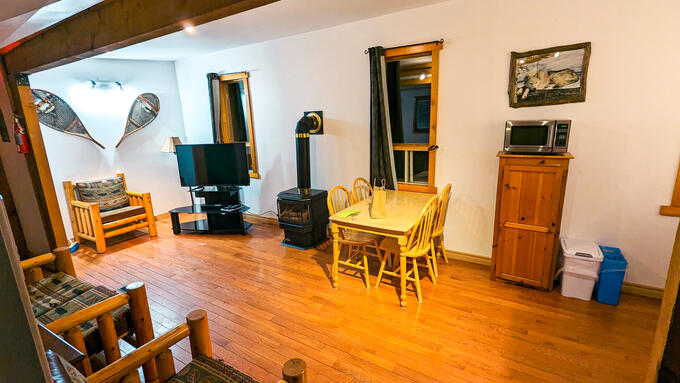 Upon our arrival, we popped by the onsite restaurant, Truss Foodworks Smokehouse, for a quick bite to eat. We tried a few different options from the menu, which revolves around handcrafted smoked meats. Our favourite was the Pitboss poutine which was made up of crispy French fries, slow smoked brisket, pulled pork, cheese curds, gravy, chipotle mayo, and finely sliced pickles on top. We enjoyed every single bite! 
The following morning we met up with Steve, hopped onto our rental snowmobile and followed him to the first lake we'd be fishing. It was quite a treat riding on the freshly groomed trails through the beautiful snow-covered trees, and yet still having the entire lake to ourselves.
Steve mentioned that the trails are maintained around the clock by the team on site. For those who may not own a snowmobile or ATV, rentals are available onsite. Additionally, there are also lakes that are accessible on foot.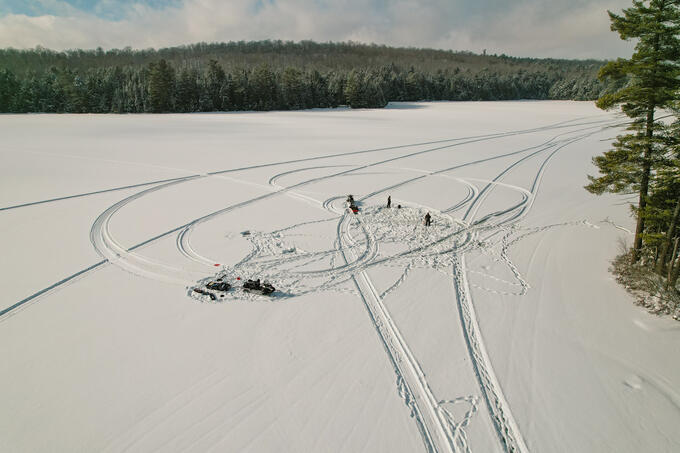 Brook trout are known to frequent very shallow waters (less than two feet deep at times) and love to hold around shoreline structure such as; fallen trees, shorelines, and rocky areas. Rainbow trout, on the other hand, can often be found cruising throughout the water column.
We fished in a few different areas throughout the morning, drilling several holes which covered a range of depths from very shallow out to around 15 feet of water.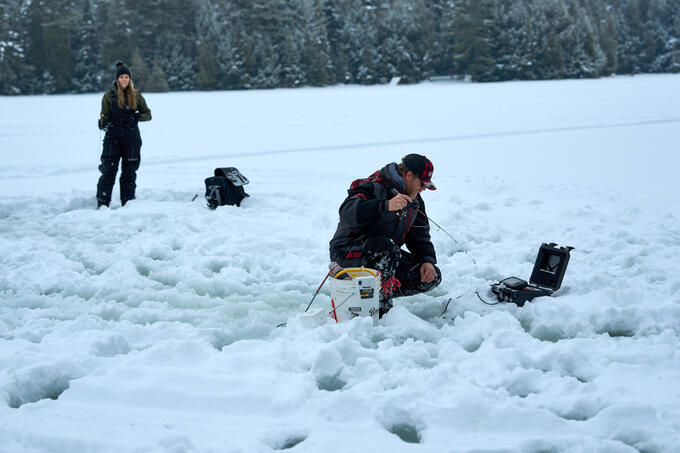 We set up still lines (rods positioned on holders) and were also jigging (rod in hand) using small spoons. In no time at all, some beautiful brook trout and rainbow trout graced us with their presence.
I had the best luck with jigging using a short lift-and-drop-motion allowing my spoon to flutter slightly. The rainbows could not resist!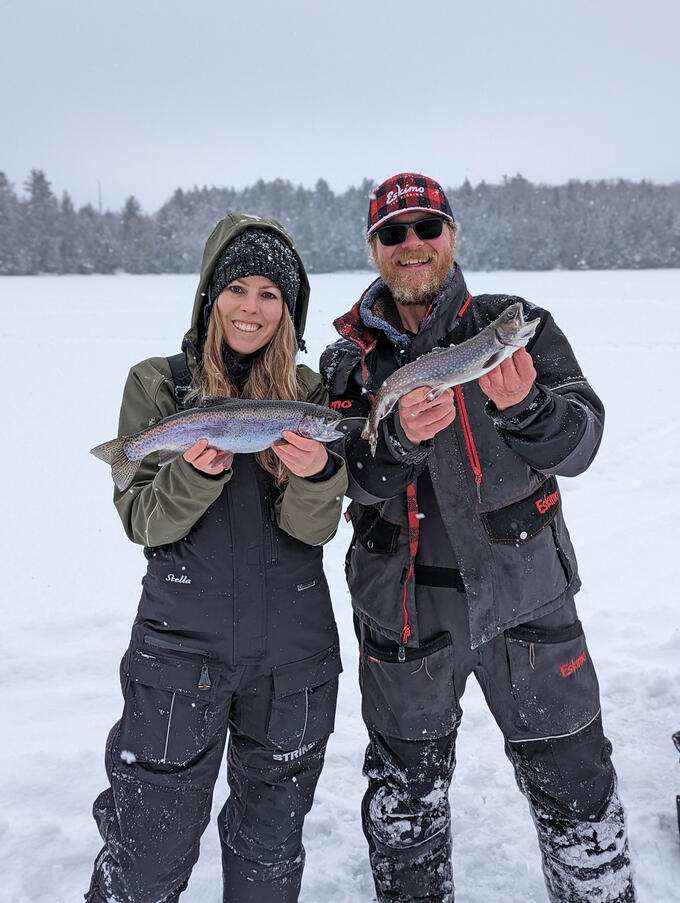 Steve has an exclusive partnership in place with Truss Foodworks Smokehouse where his ice fishing guests can pre-arrange to have their morning catches cooked for lunch or smoked for pick-up at the end of the day. We decided to keep a smaller rainbow trout and brook trout for a meal. Lunch was incredibly tasty and definitely hit the spot!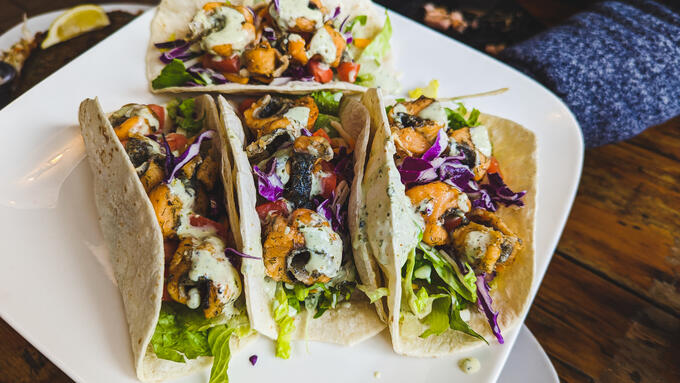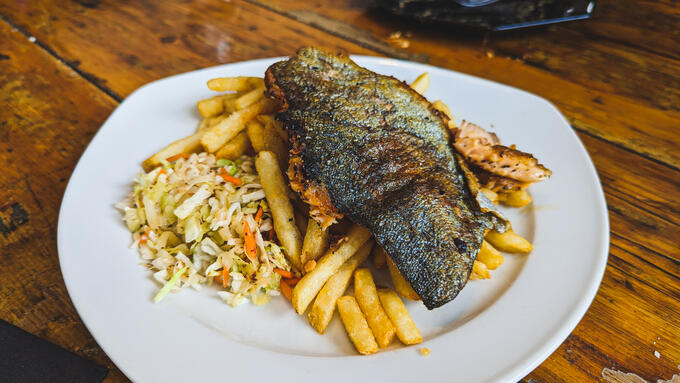 It's safe to say that my first Haliburton Forest experience was memorable and delicious! I am already anxiously planning my next adventure here!