What could be more Canadian than wild fish, cozy flannels, a slab of ice, and unwavering patience? Ice fishing is arguably the epitome of a true Canadian experience, and I totally understand the appeal.
Full disclosure: in my 20-plus years calling Haliburton County home, I have never ice fished. I've watched people fish, I've reaped the rewards of a tasty trout, and spent long winter days marveling at the silhouettes of the iconic ice huts that decorate every hard water surface. But I've never fished.
There are probably a few reasons for this, but the primary one is quite simply that I don't know how. It's almost a sin that I live surrounded by so much natural beauty and have missed out on this fun, winter activity that's literally right beneath my feet, but there's hope for me yet!
I embarked on a quest to get the inside scoop on ice fishing in Ontario's Highlands, and what I found is there are enough ice fishing opportunities in Haliburton County to cater to everyone; from the rookie to the pro and everyone in between.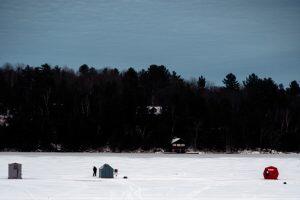 Step one is to find a location. One of the coolest hot spots for ice fishing is the Minden-based Ogopogo Resort on Mountain Lake. This destination offers pickerel, whitefish, burbot, and the unique heritage species; Haliburton Gold Lake Trout.
This "Haliburton Gold" is unique to Haliburton County, as they are only found in a handful of lakes around the area. The trout are genetically distinct from all other trout in the province with their shorter stature and torpedo-shaped body, and are a direct result of the evolution of our geography in the area.
Another unique asset of Ogopogo Resort is that you can rent a hut that's just a hop, skip, and a jump from your accommodations. While ice fishing often requires transportation into the middle of the lake, at Ogopogo, the best fishing is a mere 300 ft. from the shoreline, with a freshly shoveled skating rink right outside the huts.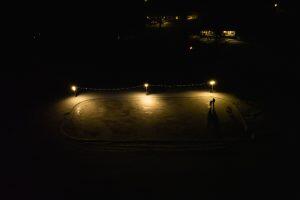 That means that while one member of the family is dedicated to the next big catch, another can be focused on the next big goal; what's more Canadian than that?
Nearby, The Pines on Boshkung is situated on Boshkung Lake, a body of water well-known for its diverse stock of fish species. The resort offers two, three, and four-person heated ice fishing huts for rentals, along with transportation to and from the property.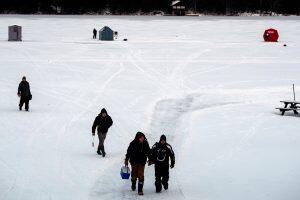 If you're still feeling a bit lost and would prefer a guided fishing experience, we've got you covered. Yours Outdoors offers a variety of themed adventures that allow you to dive into winter. Boshkung Big Ones is an adventure designed for the avid fisher-person, with active insights into lake ecology and biology. This program also offers a visit to the local Fish Hatchery to learn about native fish species in Haliburton County, and a hot gourmet lunch delivered right to your ice hut.
If you're jigging the line on ice fishing but haven't committed hook, line, and sinker, then Adventures on Ice is for you. This three-day package is designed for the winter-lover to explore our glassy lakes on skates, scale a frozen wall with an ice-climbing expert, and bundle up in a cozy ice-hut to enjoy the serenity and solitude of ice fishing.
Once you're out on the ice, whether you're a rookie or a seasoned pro, you'll probably get hungry. Don't worry, even if you can't quite nab that trout, Dinner on the Dock has got you covered. Be sure to pop by any of the Dinner on the Dock providers around Haliburton County to grab a gourmet take-out, pre-order, ready-to-eat or ready-to-heat meal before your icy adventure.
As with anything worth enjoying, be sure to respect and appreciate your surroundings, fish responsibility, and practice ice fishing with caution and safety. It's truly an experience designed for the true Canadian; just you, wild fish, extra flannels, a slab of ice, and unwavering patience - what could be more Canadian than that?