As an angler who is passionate about exploring new waters, I'm grateful to live in a region that has endless options! Whether you're shore fishing, venturing out by boat, kayak, or canoe, there are bass fishing opportunities for everyone here in the Ontario's Highlands region. I've put together a list of my five favourite bass techniques that I use throughout the region, along with how to get geared up for these techniques.
The Ned Rig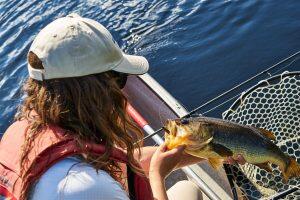 The Ned rig has become one of my favourite go-to presentations for both largemouth and smallmouth bass and worked well during a recent adventure at Bon Echo Provincial Park. It is a finesse presentation, meaning that it is typically paired with lighter line and a sensitive spinning rod set-up. In terms of a fishing rod, I would suggest using a fast or extra-fast action in order to ensure you feel even subtle bites. I use a standard size 2500 spinning reel. The bait itself looks like a stick bait, or a Senko that's been cut in half. It doesn't sound very fancy, but it works! I use the Z-Man Finesse Shroomz jig heads paired with their Finesse TRD soft plastic baits. In terms of line, I use a braided main line (15-pound test) with an 8-pound fluorocarbon leader. I usually focus on shorelines, rocky points, and weedlines. I'll work this bait a few ways: casting it out and hopping it back, slowly lifting and letting it sink, or even pausing it as sometimes bass will pick it up off bottom.
ChatterBait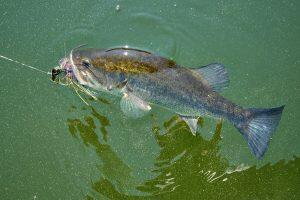 The ChatterBait is a great search bait that I use to cover water and locate fish. One of my favourite places to throw a Chatterbait is along shorelines and on weedy flats on Big Rideau Lake in Lanark County. A ChatterBait is a bladed swim jig that has an erratic action as the blade wobbles through the water, with a skirt that pulsates as it moves. I recommend using a baitcaster set-up with this presentation. I use a medium-heavy moderate action rod, a 6.3:1 speed baitcaster reel paired with 40-pound test braided line. When fishing clear waters, I like to use a 15-20 pound fluorocarbon leader. This bait can be straight reeled although I like to vary my retrieve speed. I typically throw a ChatterBait through and over weed beds. My favourite options are the Z-Man ChatterBait Jackhammer and the Z-Man ChatterBait Elite. I will also put a soft plastic swimbait on my Chatterbait to give it a bulkier profile.
Drop Shot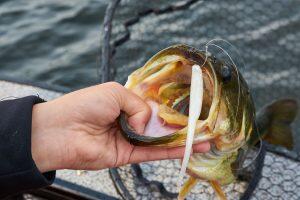 The drop shot allows you to present your bait hovering just above bottom. This rig consists of a hook tied above a weight (which sits on bottom), and can be paired with a variety of soft plastic bait options. I had a lot of fun throwing a drop shot during a visit to Limerick Lake in Hastings County, and picked up both largemouth and smallmouth bass. The drop shot is a great option when fishing around mid-depth shoals, rocky points, and off-shore structure but is also versatile enough to be casted around shorelines, docks and weedlines. For this presentation I use a lighter spinning set up including an extra fast action rod, a standard size 2500 size spinning reel spooled with 15-pound test braided line and an 8-pound test fluorocarbon leader. I like the Gamakatsu TGW Drop Shots Hooks and the X-Zone Round Drop Shot Weights. As for the bait, I like the Berkley Gulp! Minnows, or the Z-Man Trick Shotz. When fishing a drop shot, I will cast it out and twitch it, hop it off bottom or slowly crawl it back.
Flipping Jig
If you're comfortable using a baitcaster set-up, I'd suggest adding a flipping jig to your line-up if you haven't yet! A flipping jig consists of a jig head with a skirt, and is typically equipped with a weed guard. This presentation is best thrown on a heavier baitcaster set-up such as a heavy action rod with a high-speed gear ratio reel (such as 8:1). The reason for the heavier set-up is due to the types of areas a presentation like this is typically thrown. For example; around heavy cover like thick vegetation, or around fallen trees and dock pilings. A flipping jig worked well for me while targeting largemouth on Weslemkoon Lake. Upon hooking a fish in dense cover, you'll want a set-up that enables you to pull them out quickly so you don't get bogged down with weeds or wrapped up on structure. A jig works great in covering structure and can work well even when it's tough to get a bite. I like to cast in, ensure my jig touches bottom, do a few lifts and then move on.
Hollow Body Frog
Throwing a hollow body frog is one of my favourites for largemouth bass. Watching fish explode on the surface for this top water lure is very exciting! There are a variety of frog options out on the market, but I like the Live Target Hollow Body Frog. You'll want to go with a heavier baitcaster set-up with this technique as it'll help with pulling fish out of heavy vegetation. I use a 7'4" heavy action rod and a high speed gear ratio reel (7.1:1 or 8:1 works well), spooled with 65-pound test braided line. I throw a frog over thick floating vegetation such as lily pads or weed mats. It's amazing what largemouth will bust through for a meal! Mississippi Lake is a great place to throw a hollow body frog.