I am not a fisherwoman. I have tried to fish, but the sport never really hooked me (pun intended). I want to like fishing; it looks like people who are fishing are having a great time! But no matter how many times I have tried, I just can't get into it. 
Then I tried fly fishing.
I took a "Learn to Fly Fish" course from Jeff Jackson at Algonquin Fly Fishing, and when I booked the course I had visions of standing waist deep in a sparkling river, expertly flipping my line back and forth over the water, pausing only to reel in one of the many fish I would catch. 
Needless to say there were some misconceptions to correct.
Learning to Fly Fish
Our course with Algonquin Fly Fishing lasted three hours and my husband and I were eager to learn the basics of fly fishing and possibly some of the nuances as well. We met our instructor, Jeff, in Pembroke and drove to our first location, which surprisingly wasn't the river! 
Apparently, before we could get into the water, we had to spend time on land learning the basics of fly fishing. And boy, were we glad for the instruction, because fly fishing takes some muscle memory and dexterity before you get it right.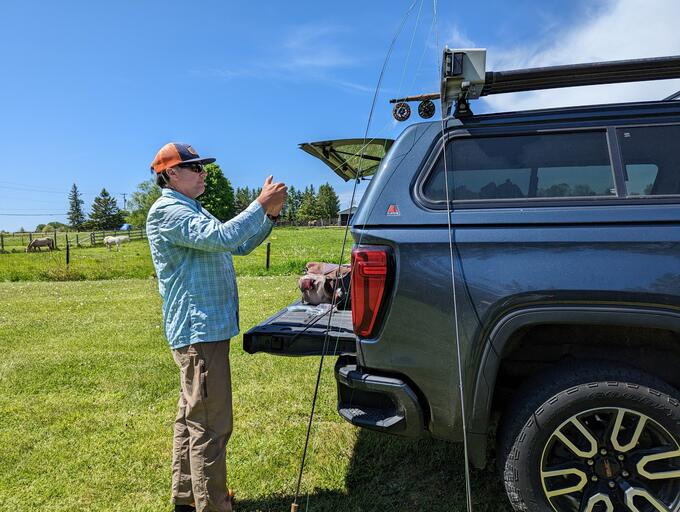 We stood on the grass in the sun for over an hour casting back and forth, back and forth, learning how to stop your cast on the back swing, then flick it forward to allow the line to gently land in the water. We talked about the current and how to work with it, and how the different flies (the 'lures') worked to trick fish into taking a bite.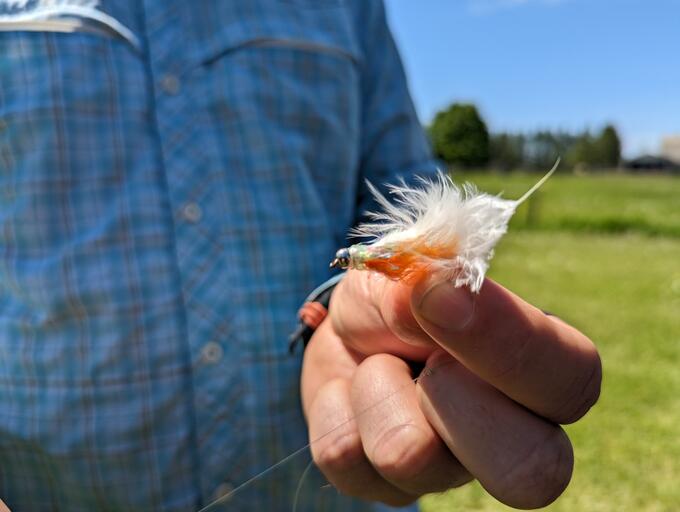 By the time we finally got to the water part, we felt like pros. (We fished in two different places on the Muskrat River, but the first was in a small park area with access to the water that can be found here.) 
Here's what I learned about fly fishing, the river, and myself.
Fly Fishing is Beautiful
What I learned about fly fishing is that lure fishing and fly fishing are about as alike as driving a car versus driving a horse and buggy. In other words, they both have the same goal (to get somewhere) but the experience couldn't be more different.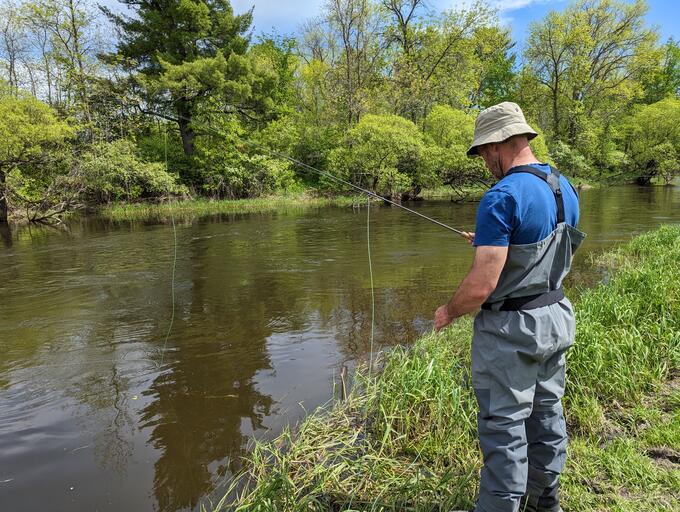 It's difficult to describe the beauty of fly fishing…you cast your line back and forth, slowly, sinuously. Ripples of sunlight break into a thousand pieces as your line lands softly on the water before sinking down to hopefully entice a fish. 
In a word, it's magical.
While I wasn't a fan of lure fishing, I loved fly fishing! There is a beauty and symmetry to casting a fly fishing line that invites you to Just. Breathe. (Side note, I also learned that fly fishing can be tiring on the arms!) 
The River Calls to You
I love to spend time in rapids, either swimming up the current to float down again, or paddling a canoe or kayak, rapids are one of my favourite places to spend a hot summer's day. So I've spent a lot of time in the water, but I have never experienced it from a fly fishing perspective.
When you're fly fishing you're a part of the river in a way way you aren't when you are lure fishing. Literally, you are in the water up to your waist sometimes, feeling the current tugging on you, a gentle reminder of its presence and power.
Watching the water course around me I got a better perspective of the world beneath, and a more insightful understanding of what the fish might see, and what could lure one of them to take a nibble on a line.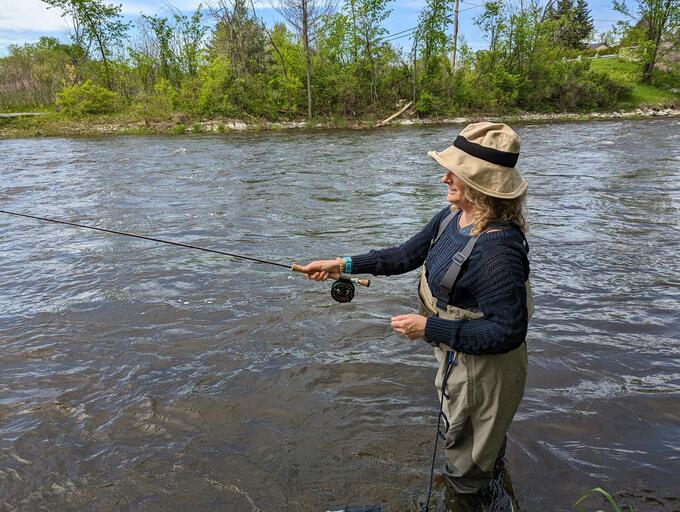 I'm Not a Scaredy Cat After All
While I like the water, I am not a person who would ever voluntarily walk through weeds in the water. I avoid the shoreline if it is anything but sand and where I live this is easy to do since most of the riverfront here is rocky and the river is fast flowing. 
The Muskrat River, where we were learning to fly fish, is a different beast. Not nearly as swift moving at the two spots we explored, and the shoreline was weedy, muddy, and intimidating. I was worried about slipping and falling, getting my feet stuck in the mud, and of course, the dreaded leeches.
With waders on it was a totally different experience than wading in bare feet or swim shoes; I didn't have to worry about leeches or stepping on turtles, I was fully protected from waist to feet in a one-piece suit. It was liberating to be able to be part of the river life and to not let my inhibitions keep me from trying something new.
Jeff Jackson is a professor at Algonquin College in Pembroke in fall, winter, and spring, but in summer he transforms into a fishing guide and instructor. With a background in whitewater paddling, Jeff brings to the table a deep understanding of the water, the aquatic life that life there, and fly fishing. Algonquin Fly Fishing offers drift boat guided fishing, a learn to fly fish course, and casting lessons. They operate in the Ottawa Valley.