Everyone has a story, and for me, a large part of my story takes place somewhere very special. For years now, Bon Echo Provincial Park has been my little slice of paradise, a place I can go to disconnect from my phone and reconnect with nature.
My family discovered it completely by accident in 2007, on our way to a neighbor's cottage in Denbigh. We stopped in the blink-and-you-miss-it town of Northbrook to pick up some groceries from the only grocery store between Kaladar and Denbigh.
This same grocery store would supply many "midnight raids" over the years and especially in the summer of 2018 when I worked as a Natural Heritage Educator (NHE) and lived at the park.
Everything happens for reason, and fate has a funny way of showing us where we are meant to be. As we pulled out of the grocery store parking lot, a warning light suddenly flashed on the dashboard. My brother and I exchanged glances as our parents discussed what to do. As luck would have it, destiny got her way as the car started lurching on one side. We had a flat tire.
We pulled off the road in an unassuming parking lot that to my nine-year-old mind looked nothing different that a highway rest spot. Little did I know that I would be visiting this quaint area plenty in the years to follow, because this parking lot was actually the entrance to Bon Echo Provincial Park.
While the boys were putting the spare tire on, Mom and I took the dog for a walk to stretch our legs. We were both blown away by the serenity of it all: the towering, brilliant green pines and crystal blue sky; the sweet scent of fallen leaves and a nearby body of water; and beneath the rumble of the road we had just travelled, the rustlings of wildlife carrying out their lives in the bush.
Fast forward two years and my family had purchased a trailer and were ready to explore what Ontario Parks had to offer. I still remember the excitement in Mom's voice as she told my brother and I all about the park's large open sites, massive sandy beach, and of course, the 330-foot tall Mazinaw Rock with hundreds of First Nation pictographs painted on it.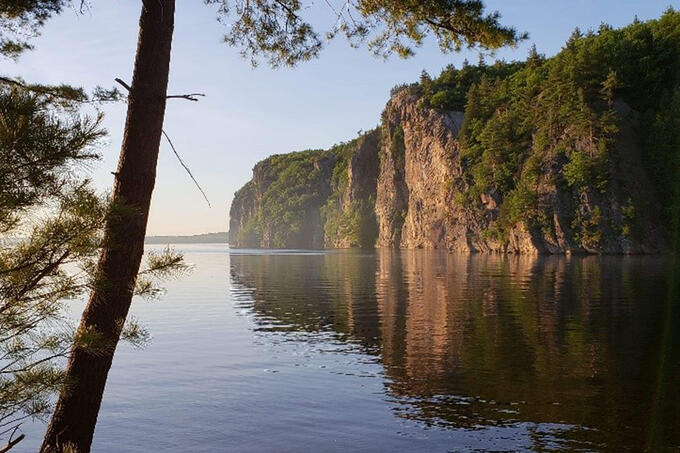 As soon as we pulled in past the parking lot where we stopped last time, I was filled with awe and wonder as I took in the pine trees draped in lichen and moss. The sunlight filtered through the trees in a slanted, golden haze thanks to smoke from afternoon campfires.
I rolled my window down and the sounds of laughter and chatter from sites drifted around me. The humps and shapes of trailers and tents rose out of the trees like hulking, brightly colored animals.
We made our way to the beach to meet up with my aunt, uncle, and cousins. The beach was so much better than Mom had let on!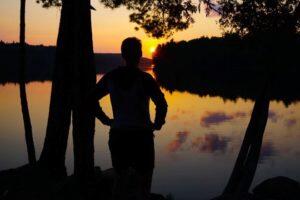 Not a weed in sight, sandy, the water was heavenly warm, there were large waves for us children to roll around and splash in, and the water was so shallow we could walk out for what felt like forever! When we turned around to look at the beach, everyone on it was tiny, and their voices were muffled and blended in with the wind, waves and the bird singing.
Back on shore, we explored together, wandering hidden trails until we came to the Narrows, where you could practically reach across the lake and touch the rocks on the other side.
That's where we finally got our first glimpse of the cliff.
Everyone fell into awed silence as we took in the towering rock face, and a laugh erupted from my chest before I could stop it. I was comforted that the pictographs I'd heard about weren't the large and awe-inspiring images that covered the entire rock face as I had conjured in my mind.
It wasn't until later, aboard Bon Echo's Wanderer Tour boat, which takes curious minds on an up close and personal trip to see the cliff in more detail, that I finally saw the small figures painted on the rock in bright red ochre at water level.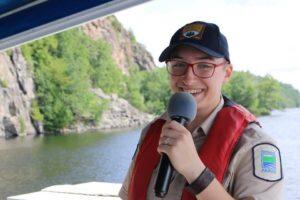 I felt choked up at the sight of them. Here were these small, nearly 1,000-year-old symbols from a culture nearly destroyed by invaders and their bright reminders remained to this day. Their stories were almost gone, preserved only through those passed down from elder to child.
Most of these stories have disappeared to the trials of time, but those that weren't resonated deep within me. Thunderbird, lord of the skies, Nanabozho, the mischievous trickster and demi-god son of the West Wind, and Mishibizhew, the underwater panther who guards the pictographs and controls the lake.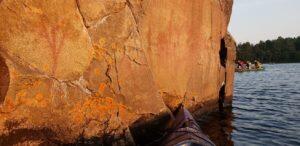 Bon Echo soon became the place I longed for to escape from the pressures of my everyday life. I visited year after year, taking friends in my teenage years to share my experiences, and eventually I accepted a job working as an NHE.
To say I thrived there would be an understatement. It was the best summer of my life! I got to show people my world, interpret the pictographs that had inspired me for years, and I even got the chance to scale the Rock and see what the peregrine falcons and turkey vultures see every day.
Hundreds of other stories are marked on the massive stone flank rising out of the lake. What other memories echo among the cracks and crevices of the Mazinaw Rock? Or in it's shadow?
For years I've asked myself this and every time I leave, I leave with another story to tell—one of my own. Of the friends I've made, the things I've learned and what I have seen in the shadow of that giant.
Perhaps, on your next visit, you will find some of my stories, or make some of your own.