When you have a pet, suddenly vacations are harder to come by. Not every accommodation is gracious enough to welcome you AND your furry friend. After hearing about Dimensions Retreats, a trauma-specialized retreat in Haliburton Highlands that recently opened to guests looking for a luxury wellness getaway that is also pet friendly, I knew I had to try it out.
A retreat that combines wellness, my dog Jasper, and luxury? What more could I possibly ask for? I didn't waste any time booking my two-night getaway.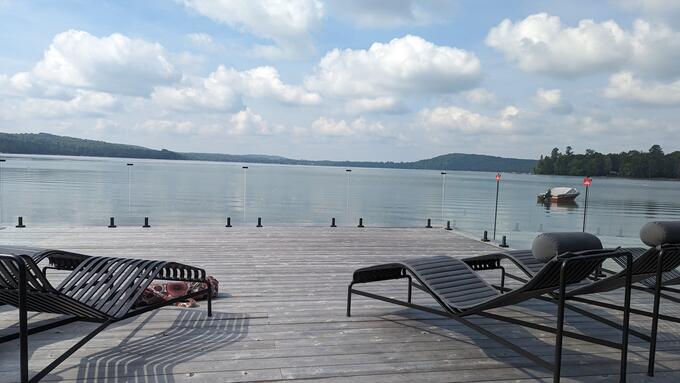 Entering a Zen Paradise
The second you step foot onto Dimensions Retreats, you can practically feel your worries drifting away. You cannot help but feel like a movie star with staff coming to greet you the second you pull up, and with a full valet service, the staff does all the heavy lifting, taking your bags (and your worries) to your room and parking your car in their free parking lot.
Sidenote: Throughout my stay, every staff greeted me by name and seemed genuinely excited for me to be there! Each staff member had their own reason for being there (and their own reason for falling in love with Dimensions Retreats).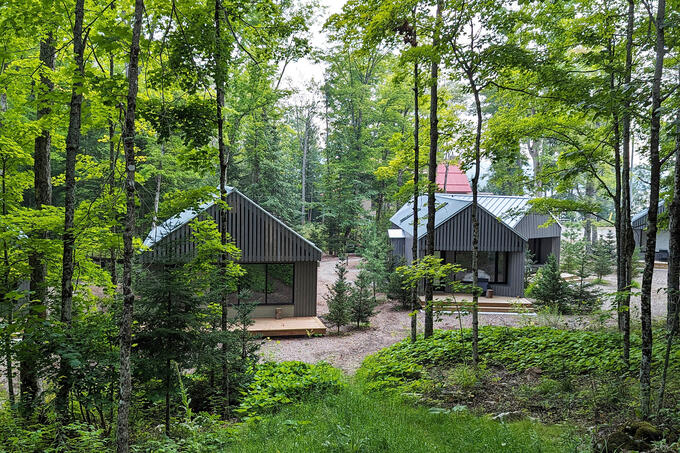 After quick moment to get familiarized with our room (and all the complimentary goodies!), Jasper and I headed to the Maple Lodge for refreshments to take a load off from our long morning of travel. After being introduced to some fellow guests, I headed out on a guided tour of the grounds to get a lay of the land.
With trails through the woods for Jasper to run and play, the lake only a few steps away with kayaks and stand-up paddler boards all waiting for me, not to mention a yoga perfect dock, I was convinced that this retreat was nirvana.
Minimalist Rooms
Honestly, I could have stayed in my room for my whole stay and been completely happy. With adjustable heating and cooling, as well as heated floors in the bathroom (can you say spa?!), a wide variety of complimentary drinks, a bed that you could spend days in and a porch with a beautiful view of the trees, what more could I need?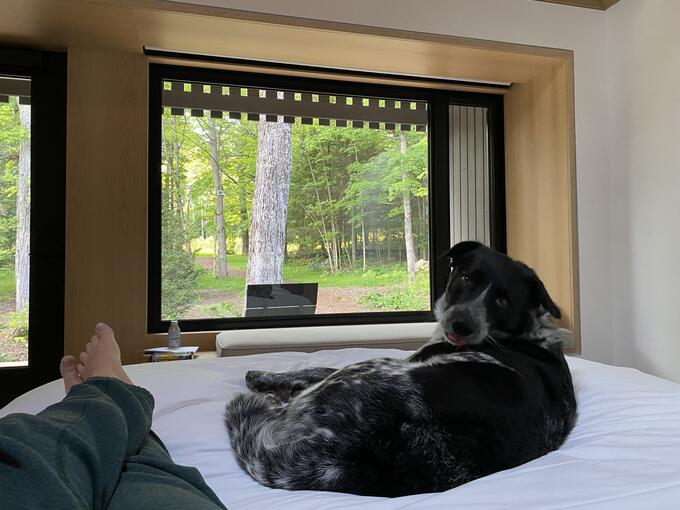 And I haven't even mentioned the soaker bathtub, that I definitely took advantage of! Each room is completely customized to your preference, from the temperature to the types of tea, coffee and milk, the level of softness (or hardness) of the bed and pillows, and the items left for Jasper's needs.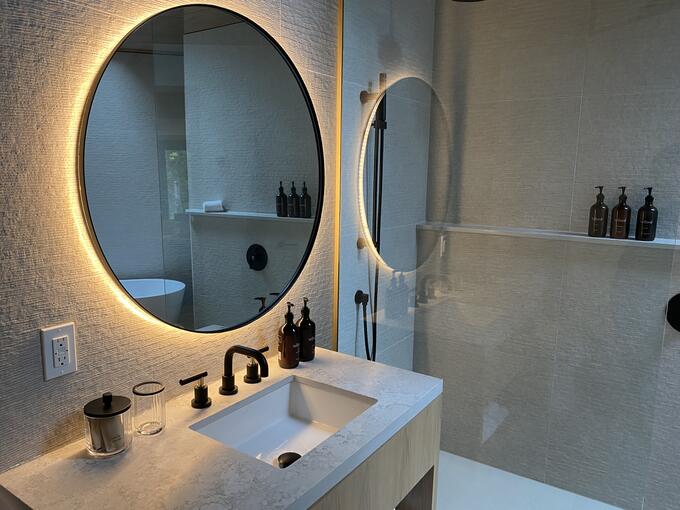 These individual customizations, while small, combine perfectly to make this experience stress free.
Chef-prepared Five-star Meals
As someone with many (and I mean MANY) allergies, I am very familiar with the embarrassment that comes with having to convey to a restaurant all my allergies and what I can and cannot have. This stress that comes along with having allergies, especially an anaphylactic one, was completely relieved during the first meal at Dimensions when I saw how seriously they took my dietary issues. Each meal the staff substituted items accordingly – all without me having to utter a word.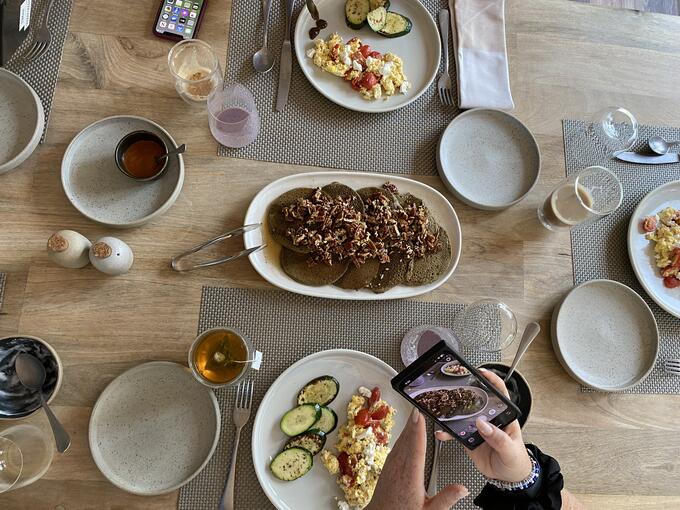 And I cannot say more about the meals themselves and how incredible they were. Miriam Echeverria, Executive Chef at Dimensions, created simple, but phenomenal, meals, made with simple, healthy ingredients, that were either locally produced or were harvested from Dimensions' own backyard. The ingredients were all sustainably produced and harvest, and each item worked together to help aid your digestion as well as your nervous system and left you feeling energized and well fueled.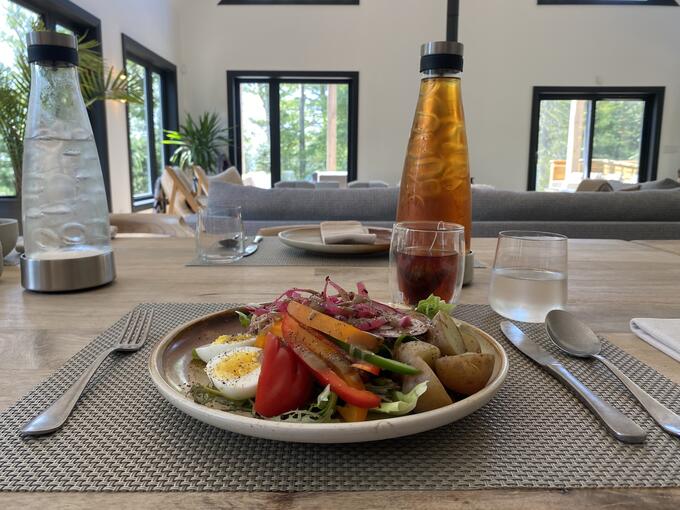 Uniquely, each meal was taken in a group setting, allowing you to connect with your fellow retreat goers and talk about the experiences that you were having. While the group meals were encouraged, you could request that a meal be brought to your room if you needed an evening in to decompress.
Snacks were never in short supply this trip and were available for you to take back to your room to enjoy in peace and quiet on your porch.
Specialized Treatments
The food at Dimensions wasn't the only thing thought out in detail. The wellness treatments were all carefully chosen for the Summer Wellness series to help you reconnect with nature and with yourself.
My first night started off with a delicious meal by Chef Miriam, before the group headed to the Ceremony Dome for a Sound Healing Session with Donald Currie, Clinical Director at Dimensions. Donald is a registered psychotherapist and integrative mental health provider with over 20 years of experience running a private practice.
Donald took us through a 60-minute sound healing session, where we were invited to lay on our backs with several supportive cushions and blankets that were available to make yourself comfortable. Donald then led us through a short meditation, to relax our breathing and bring us to the present before he started the sound healing session which was highly relaxing and a great way to start my time away from real life.
After the sound healing session, I couldn't even tell you what stress felt like, as I have never felt more relaxed.  I felt completely balanced and had the best sleep of my life, after taking a blissfully relaxing bath in the soaker bathtub in my room.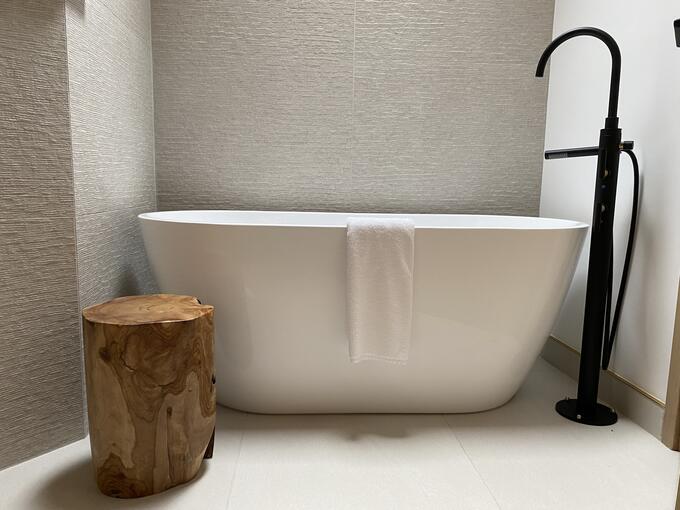 The next morning, we were invited on a nature walk with Chef Miriam herself, who showed us the trails around the property, and discussed the different wild mushrooms and edibles that can be found in the woods, including what ones can be harvest and which ones you should leave on the ground.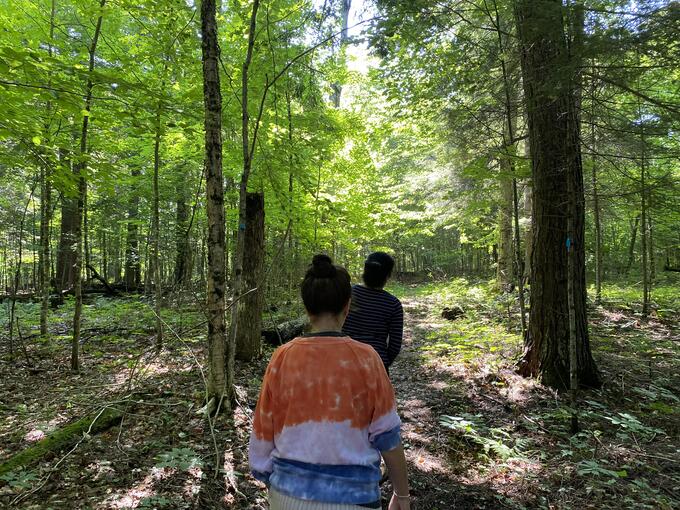 The next treatment I had was a Biosound Therapy Session, where you lay on a vibrational platform, where sounds, vibrations and rhythms create a sense of ease and relaxation. During my session I was in a coherent, but completely relaxed state, almost as if I was asleep but not. I can say without a doubt, I have never felt anything like that before and any residual stress that I had after the Sound Healing Session the night before completely vanished.
With more specialized treatments concluding the rest of my stay at Dimensions Retreats, such as an eye-opening Mindfulness Meditation with Glenda Van Koot, Floatation therapy (float tank sensory deprivation), and a truly unique and vulnerable experience at a Cacao Ceremony with Donald Currie that pushed me out of my comfort zone, I could not have asked for a better experience at this wellness retreat.
Interested in a brief reset? Dimensions Retreats may be just the antidote you need to get back to being the grounded, resilient and positive person you know you are. Now offering the Summer Wellness Series, Dimensions Retreats welcomes guests to an all-inclusive two-night minimum wellness escape that will provide guests with peace and seclusion and an appreciation of the surrounding natural beauty of North Ontario.
Other series are available for guests who are looking for more trauma-specialized and intense retreats, such as their ASCEND wellness program and their ELEVATE: Veterans-only wellness program.