Ontario has so many different tourism attractions, many unique in their own way. They each provide the visitor with a variety of opportunities to explore, some of which are the historic towns scattered around the province, many dating back to the mid 1800s or earlier.
These are the places that time has forgotten, but the past still endures.
Dorset, Ontario is one of those historic towns. Founded around 1859, first known as Cedar Narrows before the name changed to Dorset in 1860. It is surrounded by lakes, rivers and unbroken forest.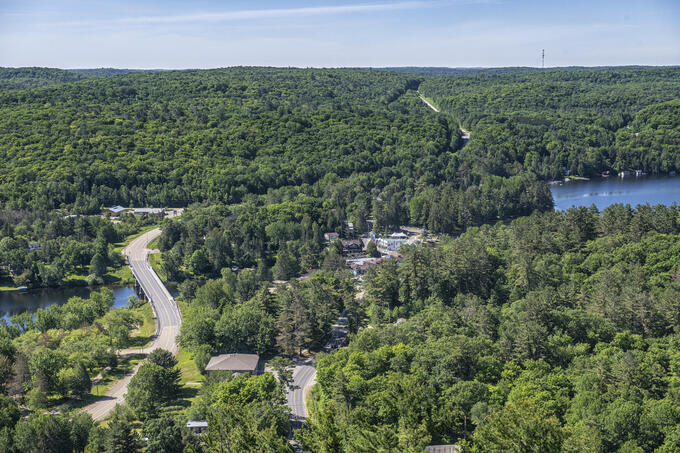 A Climb Worth the Effort
Climb to the top of the Dorset Lookout Tower 140 metres above Lake of Bays, you will be gobsmacked by the 360 degree view. Kawagama Lake to the East, Algonquin Provincial Park further east, Lake of Bays to the West, and Highway 35 winding its way through the lush landscape of Haliburton County.
To get that view, you will need to climb the tower. Not for the faint of heart, but well worth the effort to get to the top. Hint; looking down is not a good idea as you walk up — just look at the amazing view as you climb up to the lookout at the top.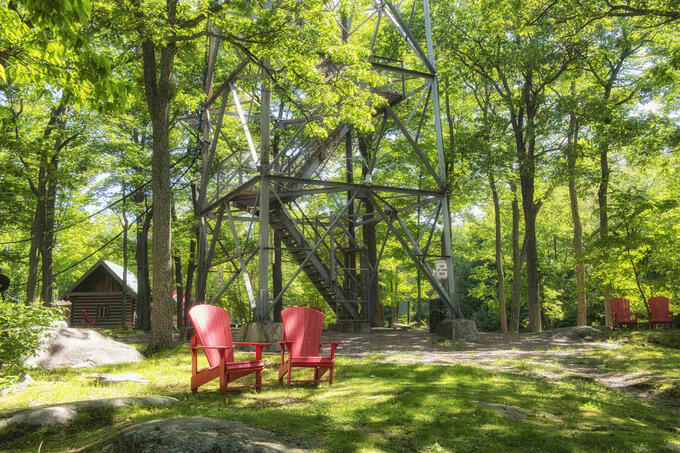 Getting to the tower is easy; you can drive up to a parking area (admission charge) which is just off Highway 35, north of Dorset or for the more adventurous, and hike the trail which starts at the Dorset Heritage Museum. The fall colours viewed from the tower are awe inspiring but fall is extremely busy. Time your visit early in the day and / or the middle of the week, to avoid the crowds. *Please note advanced tickets are required for weekend visits in fall.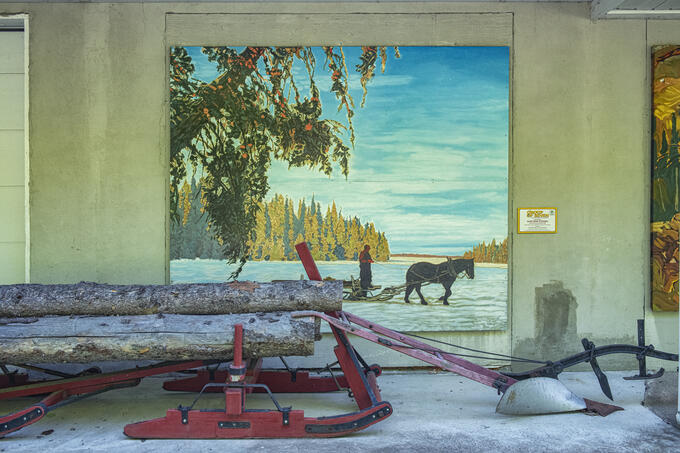 Dorset village holds on to its charm. Robinson's General Store is one of those must sees in the village. Founded in 1921 by Harry & Marguerite Robinson, who worked there up until their passing in 1975 and 1976. Brad, their son took it over and recently sold it to Mike and Katie Hinbest in 2021. From groceries, clothing, hardware and now a coffee and gelato shop, Robinsons is the one stop for cottagers and locals in the area.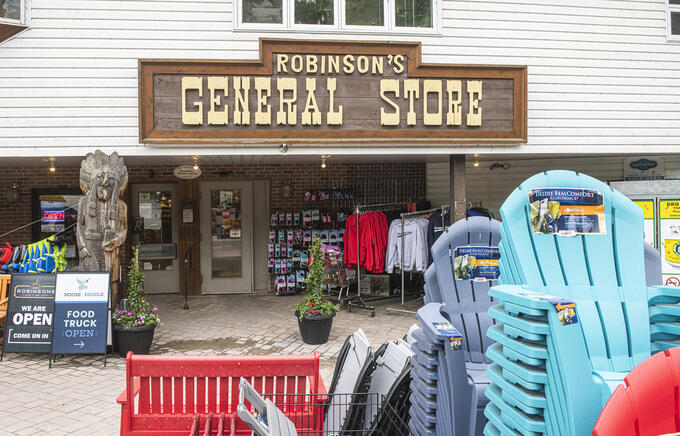 For the boating enthusiast, the big lakes in the area, Lake of Bays and Kawagama offer kilometres of wide open water as well as bays and shorelines to stop for a swim or cast a line. The non-mechanized type will appreciate Kawagama for kayaking or canoeing as it is less populated than Lake of Bays.  You will find slices of solitude and nature on this lake. And for the artist and photographer, check out the Hollow River just off of Kawagama Road.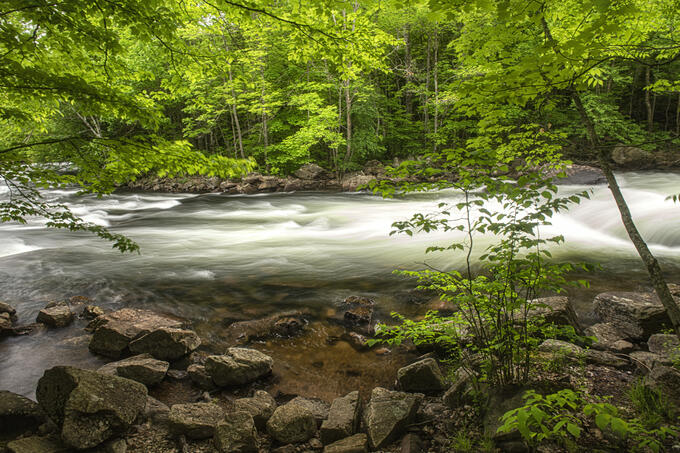 Arts & Culture in Dorset
The art culture of Dorset is another reason to stop. The studio of Elizabeth Johnson is just behind Pizza on Earth and where Elizabeth displays a wide range of her paintings created in Haliburton and Muskoka. 
Another stop is Jake Rhodes store, Northern Rhodes Artistry in Wood where you can see his skill and artistry in carving large pieces of wood, along with fellow artists, Arrowhead Metal Works and Seth Huggins carvings. It is next to the LCBO, just across from Robinsons.
If you are a foodie then Pizza on Earth, located just outside the village on Highway 35 is a definite stop.  Their wood fired pizzas as well as the Montreal style bagels baked fresh daily will not disappoint. Owned by Brad and Elizabeth Johnson, this is a great place to enjoy the food and relax at the picnic tables.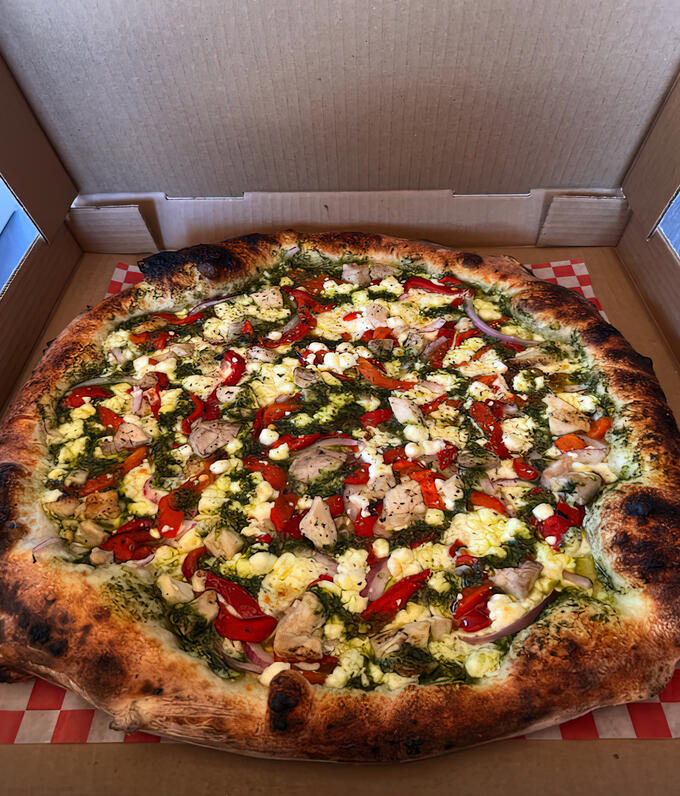 Another restaurant in town is Trading Bay Dining Company just over the bridge with its wide assortment of food on their menu. And if you are a boater, their dock in the narrows on Lake of Bays allows you to pull in, tie up and walk up to the restaurant, a 30 second walk.
Right across from Trading Bay is Robinson's food truck "The Moose'n Paddle"
Dorset is also the home of the SS Bigwin, a historic boat that used to ferry passengers to Bigwin Island in the 1920s. She fell into disuse after her hay day. It was salvaged in 1994. Considerable work and monetary funds was needed to bring her back to present day status. Check out their website to see the different outings the SS Bigwin offers today. She is moored at the dock opposite the Trading Bay Dining Company.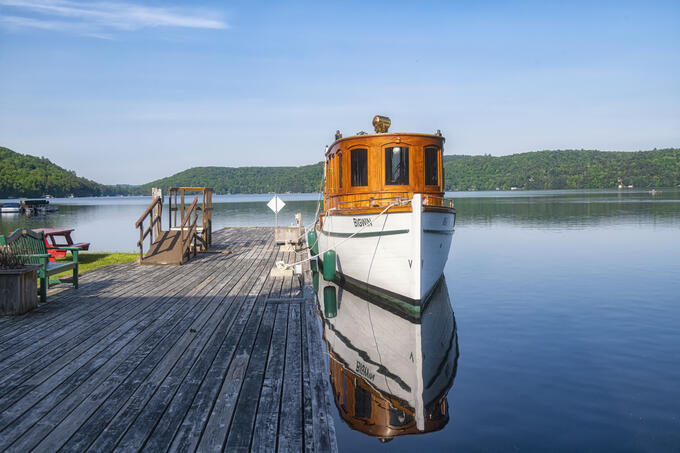 Getting to Dorset:
Dorset is about 20 minutes south of Huntsville, about 45 minutes from the town of Haliburton. As you can see, for a town of 500 which has been around for 160 years, there is no shortage of things to see and do. Go to https://www.dorsetcanada.com for a complete list of businesses, activities for Dorset.