Reminiscing about your favourite road trips that seemed to last forever? The ones where roadside attractions were numerous, and you were constantly stopping to see the sights? 
Driving a short distance took three times as long, but those kilometres were packed with trails, nature exploration, historic sites and tasty eats. 
This summer, Local Wanderer Heidi Csernak road-tripped across Ontario's Highlands, and the first left of the voyage had her Searching for Small Pleasures and Big Roadside Attractions from Hastings County to Haliburton. In this chapter, Heidi continues her explorations, heading toward the Madawaska Valley in Renfrew County. 
Read part two of Heidi's story below.
Barry's Bay | Highway 60
With no one behind me on Highway 60, I had driven below the speed limit to spot moose along the highway in Algonquin Provincial Park - and saw none. So, it was late afternoon when I reached the turn-off for Highway 127.
I debated taking the detour to revisit Maynooth and get tasty Algonquin Gourmet Butter Tarts at the Madawaska Art Shop. From there, I could take Highway 62 to the Kamaniskeg Lake Lookout near Combermere. I love that scenic route but decided to continue straight on Highway 60 into the Madawaska Valley.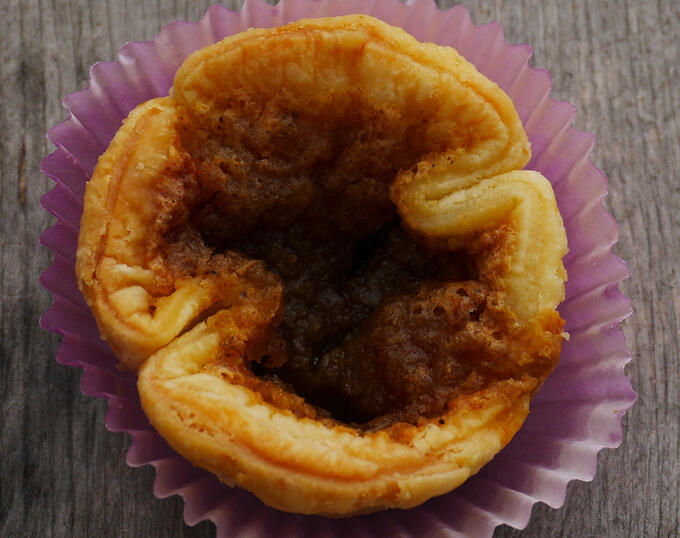 Maybe I should have turned because I was famished when I rolled into Barry's Bay. My breakfast donut's energy had depleted, and some pastries would have staved off the hunger. So, a quick stop at Dairy Freez to eat onion rings and a pogo was in order. I love comfort food when I travel.
Revitalized, I went for a short walk about town, passing by my favourite coffee shop, Madawaska Coffee Co., on my way back to Barry's Bay Historic Train Station.
It's now a Museum and Cultural Centre, and a short distance away, across the street, is a caboose, and the Water Tower Park - with Ontario's last standing wooden water tower, relics from when the OA & PS rail line (Ottawa, Arnprior and Parry Sound Railroad) ran from the capital to the Georgian Bay.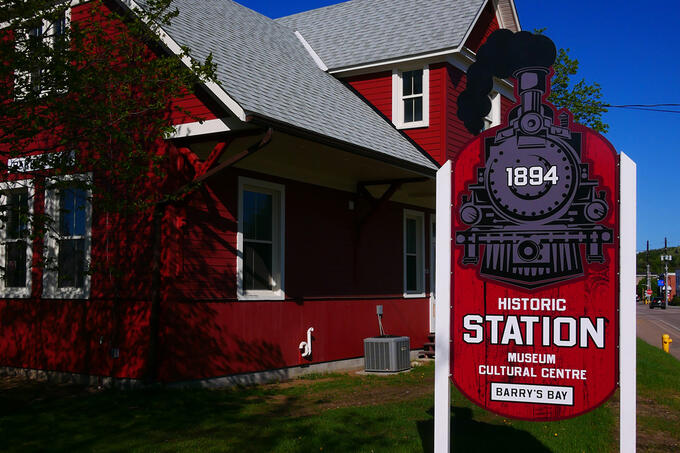 My accommodations for the night, the Balmoral Hotel & Bistro, has changed since I stayed a few years ago. The new owner, Liz, has worked hard to make this gem shine, giving this beautiful old building new life. This location is part of Barry's Bay's fascinating rail history, and it's wonderful to see it's in such good hands.
After checking in, I went up the creaky stairs, retiring to my corner room. The bed was so soft and comfortable that I had to stay off it lest sleep would claim me. I sat by the window, making notes about the day's experiences as the sun began its downward arc and the afternoon light began to fade.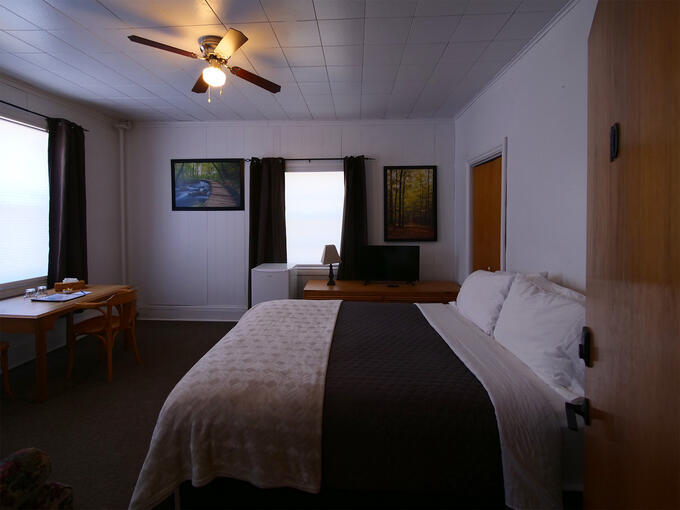 The late evening arrived, and it was time to eat again in the reopened dining room. I began with Onion and Rosemary Soup. I savoured each spoonful and scraped my bowl clean. 
More appetizers were on my table, but I only took a few bites of my Croquettes and Piri Piri Grilled Chicken Skewers, served with mango hot sauce. I had quickly decided to keep the rest for leftover breakfast - and I wanted to be hungry for my entree. 
I took my server Brittany's recommendation of the Pulled Duck Taco for my main, which was delicious! I lamented that I was too full to order anything else, remembering the last time I ate dessert in the dining room. Ultimately, it was good that I had set aside my appetizers to take away.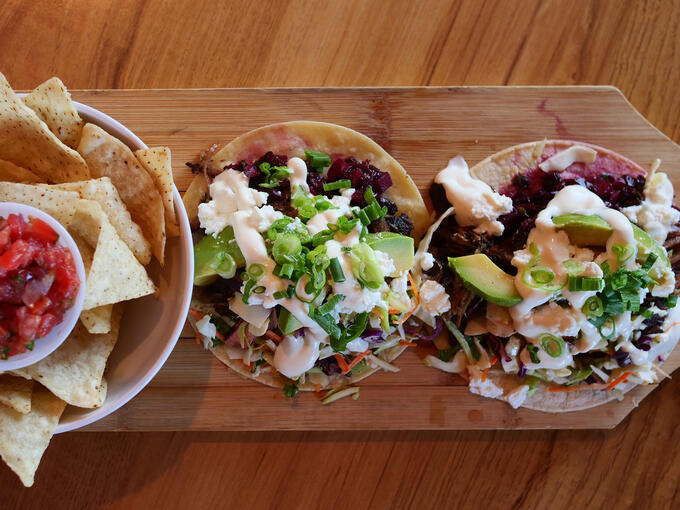 Wilno and Killaloe | Highway 60
After sleeping soundly, I woke up excited and well before my alarm. I couldn't begin the day on an empty stomach, so I made some coffee to pair with my leftovers. Breakfast is available on weekends at the hotel, so next trip, I'll time my visit to take advantage! 
After packing up, I headed east on Highway 60 to my first stop of the day, the Polish Kashub Heritage Museum, to learn about Canada's First Polish Settlement as I walked the paths around the buildings. The museum is only open during the summer months, but there are interpretive signs to guide out-of-season visitors like me.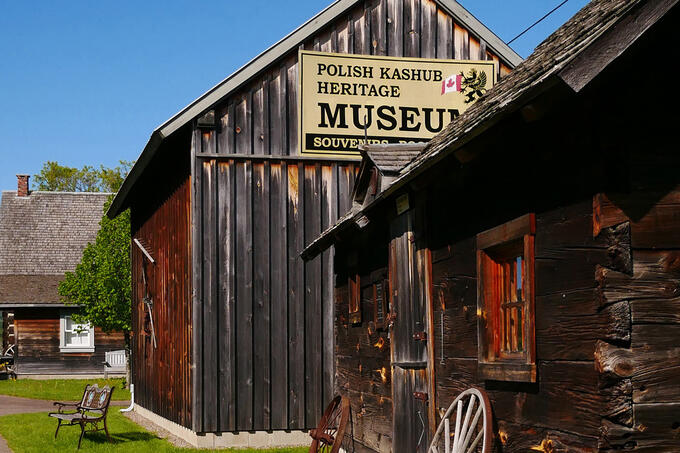 Across Highway 60 from where the train station once stood is the Wilno Tavern Restaurant - a historic building with over 100 year old roots in hospitality. They serve my favourite foods, but I was a couple of hours too early to indulge in a hearty Polish meal.
On the outskirts of Wilno, heading east, I pulled off Highway 60 to see Shrine Hill Lookout. Shrine Hill's Memorial pays tribute to those who fought and sacrificed their lives in the service of their country, fighting for our freedom.
The first line of the Historical Plaque at the Lookout reads, "The first group of Polish immigrants to Canada, some 300 in number, established a settlement in this area in 1864." It was during the 1880s that the village was named Wilno.
Views of Round Lake and Golden Lake were mostly obscured by tree growth, but it would be a lovely spot for a picnic and the starting point for the Heritage Walk.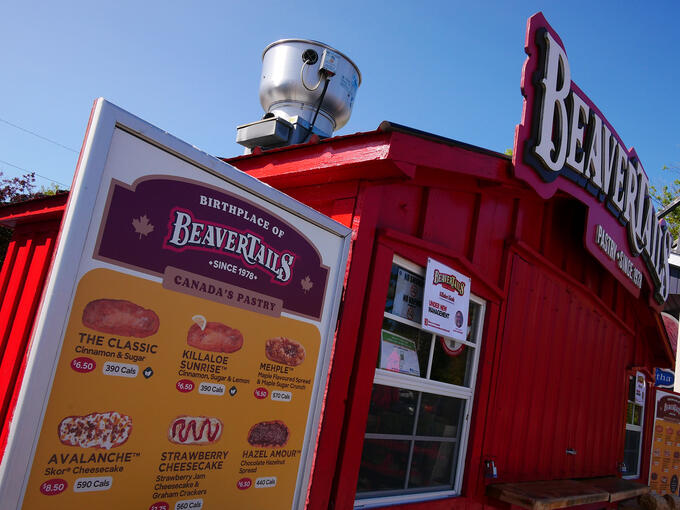 After leaving the lookout, I kept my eyes peeled for my next turnoff's signage: Killaloe: Birthplace of BeaverTails - Queues de Castor. I was sure Beavertails would be closed, but I turned into town anyways, only to find out  I was right. It was too early in the season for the pastry shop to be open on weekdays.
I read the menu, and even without the pressure of being unable to order, I couldn't decide which sugary concoctions I would have chosen.
Instead of devouring a dessert for brunch, I steamed back in time with Killaloe's rail history in the heart of town. I admired the mural at the post office, strolled through Killaloe Station Park to the Covered Bridge, then to the Killaloe Information Center before continuing my road trip.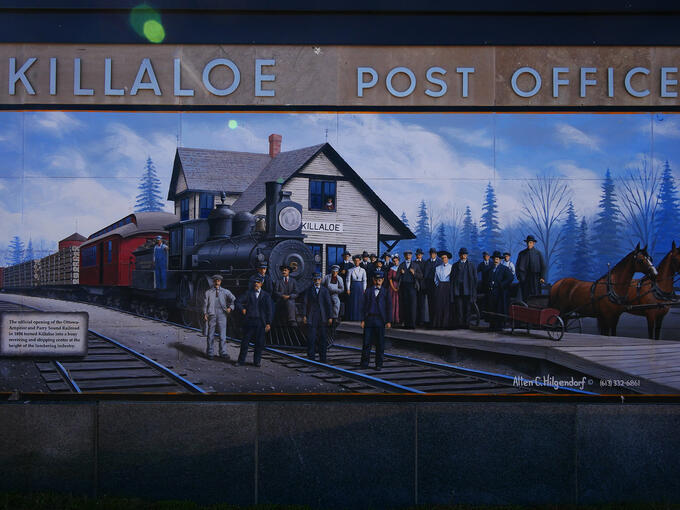 Deep River, Driftwood and Deux-Rivières | Highway 17 West
When I hit Highway 17, I added more locations to my list of roadside attractions - mostly rest areas. Every year, I travel and write about a stretch of highway in Ontario's Highlands with a "where to stop and stretch your legs" theme. By the time I reached Deep River, I had already made several pit stops for photo ops and was eager for a bite.  
I knew exactly where I was going - to Long Shot's Sports Cafe! I had to stop in for a meal! Last time, I tried their Deep Fried Pickles, Loaded Nachos, and the Long Shots Burger, so I opted for something different this time. 
I had Stuffed Potato Skins to start, and for my main, the Bandito - a tortilla stuffed with ground beef, peppers, jalapenos, onions and cheese, served with salsa and sour cream. It was all so good and full of flavour.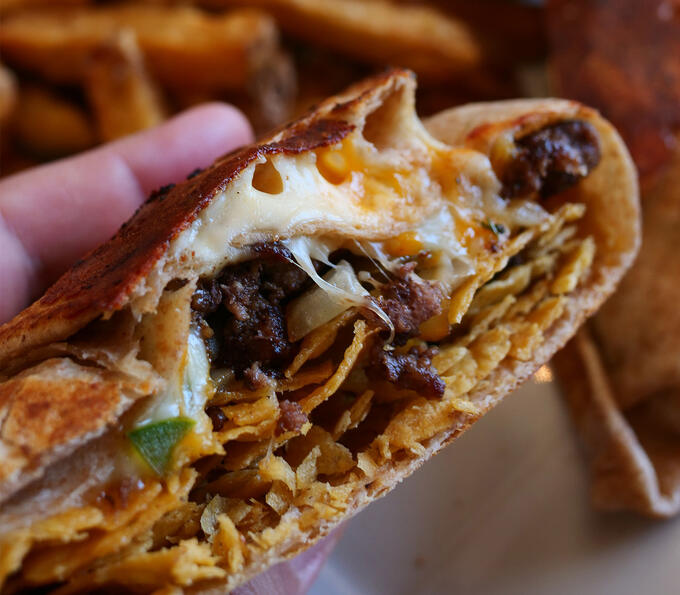 After my long morning driving and satisfying meal, the perfect way to loosen up was a waterfront walk at Riverbank Park in Deep River. I love looking over the Ottawa River with Quebec's Laurentian landscape completing the view. 
I walked down to the marina, and even though I knew it was early in the season, I was surprised that the marina slips were empty. I sat in the pagoda at the end of the stone breakwater surrounding the docks and marvelled at the beauty of the river and Laurentian Hills.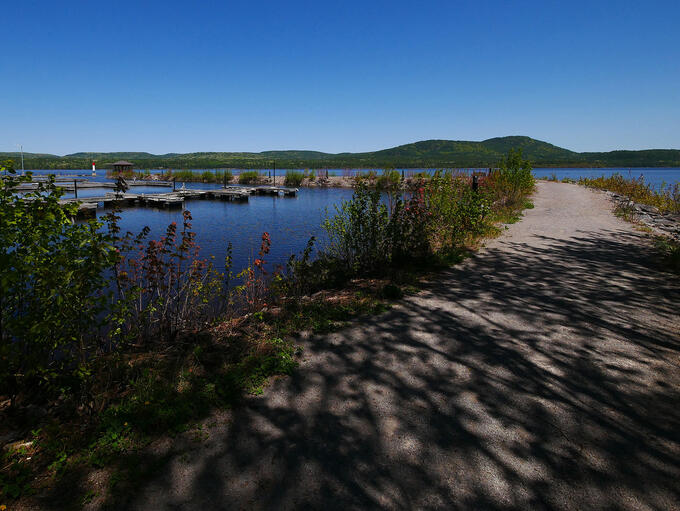 I stopped to chat with a gentleman from London, UK. He had been enjoying the views but wondered if there was fishing around Deep River. I pointed out the offshore anchors and told him about my fall trip a few years ago. Fishing and leisure watercraft dotted the river in every direction. 
His daughter (a student in Toronto) joined us, and the chat turned to road trips and their Algonquin Provincial Park exploration plans. 
We parted ways, and all that talk about trails made me look forward to hiking one!
I stopped to take photos of the Uranium Atom, then on my way out of Deep River, I passed my turn for the Canadian Clock Museum, and when I realized my mistake, I had gone too far to turn back. Missing locations can happen when I go old school, using paper maps, printed directions and destination lists!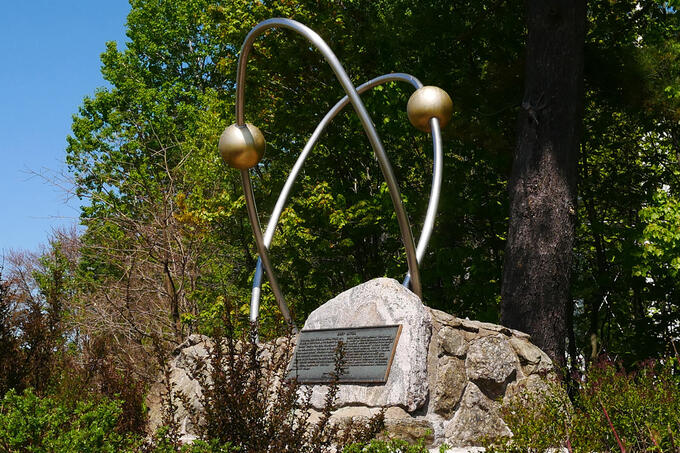 I was getting close to Driftwood Provincial Park and grinned ear to ear when I finally turned into the Park. I was going to hike the Oak Highlands Trail. The black flies were relentless when I stepped from my vehicle. Thankfully, I would find epic views over the landscape less than a few hundred metres up the trail.
The wind coming off the water kept most of the biting bugs at bay, so I sat down and debated the next move. Continue on the trail or turn back to the trailhead after relaxing?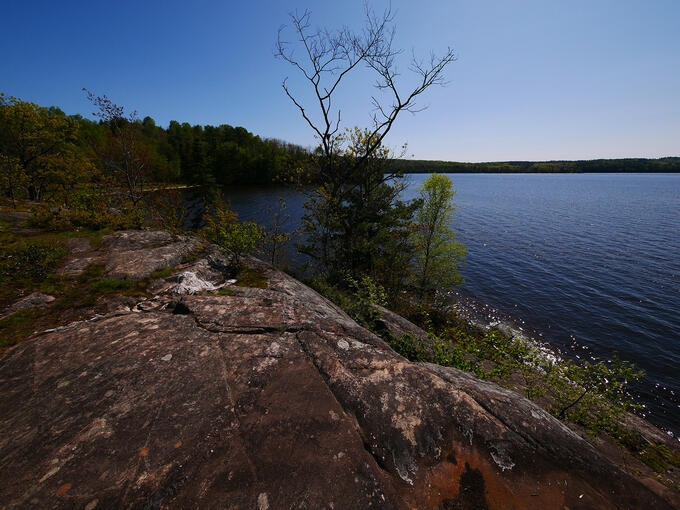 I lost track of time, looking over the Ottawa River. So when my tummy grumbled, it was time to call it a day and hike back down to the trailhead.
Arriving at Antler's Kingfisher Lodge in Deux-Rivières at the northern reaches of the Ottawa Valley was a welcome sight. With a warm hello from Jamie and a little orientation, I was ready to settle in for the night. The motel rooms faced Highway 17, but the traffic noise became non-existent once it was dark.
I slept well, and on my morning walk down to the beachfront, a humid breeze was coming off the water, holding the promise of a hotter day yet to come. I wrapped up my explorations and slowly returned to the motel room.
There was no hurry. Today was the midway point of my journey, and I would relax by the river.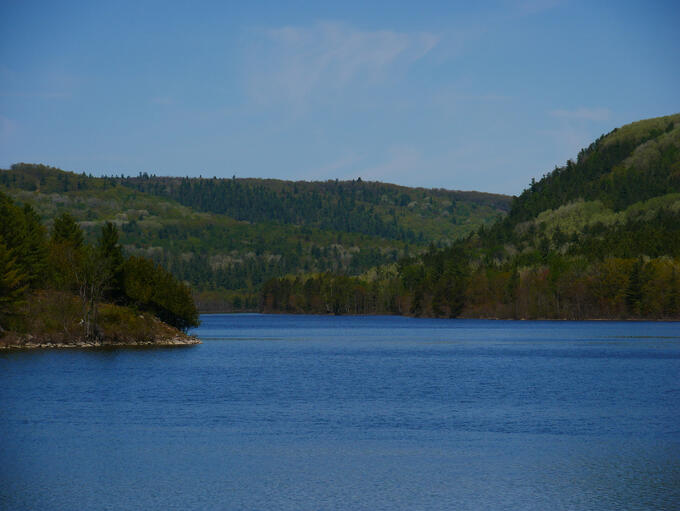 Rolphton, Deep River and Pembroke | Highway 17 East
Another scorcher of a day was setting as I headed to Reilly Bird Nature Reserve. I hoped to avoid the midday heat, but the temperature had already climbed to the mid-20s by 9 am. There was no wind but a hungry cloud of mosquitoes and black flies. 
I consulted the map, took a photo for reference, and then proceeded down the wrong trail until I came to the nature reserve's boundary. I hiked back and forth, looking for a missed turn, then gave up, returning to the road. I studied the trailhead map again and couldn't figure out how I'd missed the loop, so I called an end to my trek.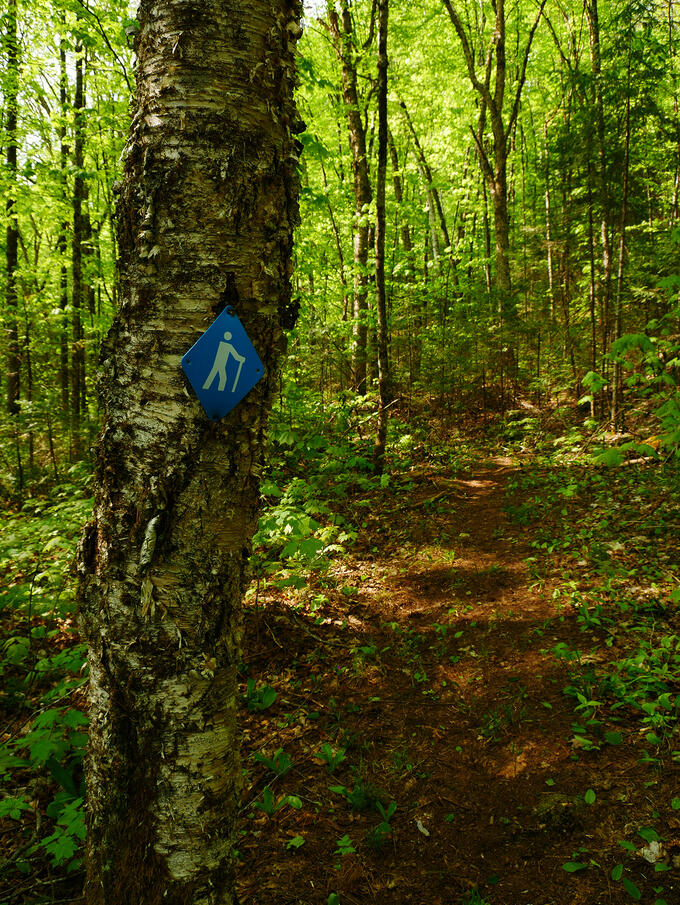 A few hundred metres from Reilly Bird was the School House Museum. I walked around, looking at the buildings - I would have loved to tour inside those old houses. 
An old Caboose was getting a new coat of paint, I found a Uranium Atom sculpture on the lawn, and somewhere on the grounds was the Steamboating on the Upper Ottawa River Historical plaque. I didn't spot the plaque, blaming the sweat dripping into my eyes and my increasing hunger.
I started to backtrack on Highway 17 West to a place rumoured to have the best pizza from Deep River to Deux-Rivières. However, I stopped at the NPD Lookout along the way for a limited view over the Nuclear Power Demonstration Reactor site on the Ottawa River.
Now it was time to eat. It was only a few kilometres from the NPD Lookout on Highway 17 West - the Rolphton Motel and Restaurant. It was not quite 11 am when I walked in. Everyone was still in breakfast mode, but it wasn't too early for pizza. At least for me!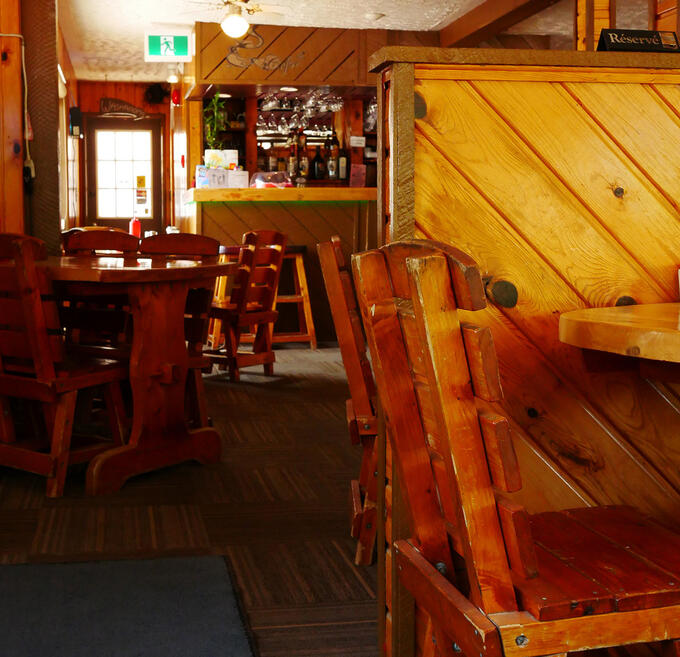 As the oven heated, a local called across the dining room, "The pizza is delicious!" and Shirley (she's worked at the restaurant for 17 years) assured me, "It's worth the wait." And it was. I was ravenous - my small meat lovers with olives and green peppers quickly disappeared.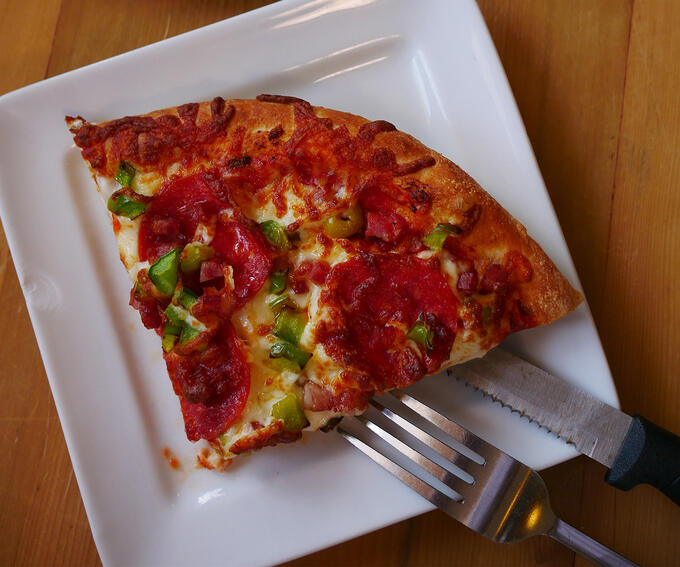 I left Rolphton, full and satisfied, driving further south into the Ottawa Valley. I stopped in Deep River for a second time just to walk at Lamure Beach. I knew it would be a while until my next trip up this way, and I wanted to sit on the sand, appreciating everything I'd experienced up until this point in my journey.

A few hours later, I arrived in Pembroke. It was such a hot day that I decided to shop at McGuire's Doughnuts after visiting Pembroke's Waterfront Park, as I feared the takeaway doughnuts would melt in the car. This choice meant I would arrive after the bakery closed when I left the park, but I didn't know that then.
I found the Cockburn Pointer Boat display and interpretive sign in the park. I wandered to and fro, finding beauty along all the pathways.
I sat on one of the many benches along the Millennium Boardwalk, watching the river and the boaters heading out on the water. Now, I wanted nothing more than to spend the rest of my day in leisure mode, lounging in the afternoon breeze by the waterfront. Where I was sitting, it was easy to forget the 31-degree heat.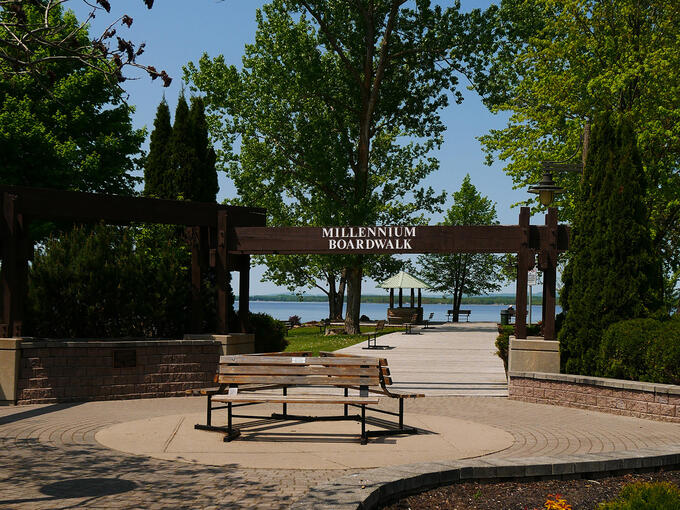 I couldn't ignore the hunger pangs once they started. So when tantalizing smells wafted in my direction, I let them draw me down the boardwalk toward Cheerful Harlies Fri Truck. 
As usual, I couldn't decide, so I started small, ordering the Deluxe Hot Dog. The mother and daughter I sat with were enjoying their big burgers, showing me the size of my favourite meal - and I was jealous, deciding to get some takeout before I left the park.
Then there was a lull, and I could speak with Julie and Chef Richard about their food. I asked about the poutine and discovered the gravy is made from scratch. The chef shared with me his secret recipe, and I knew then that along with my Bacon Cheeseburger, I'd also order a poutine to go.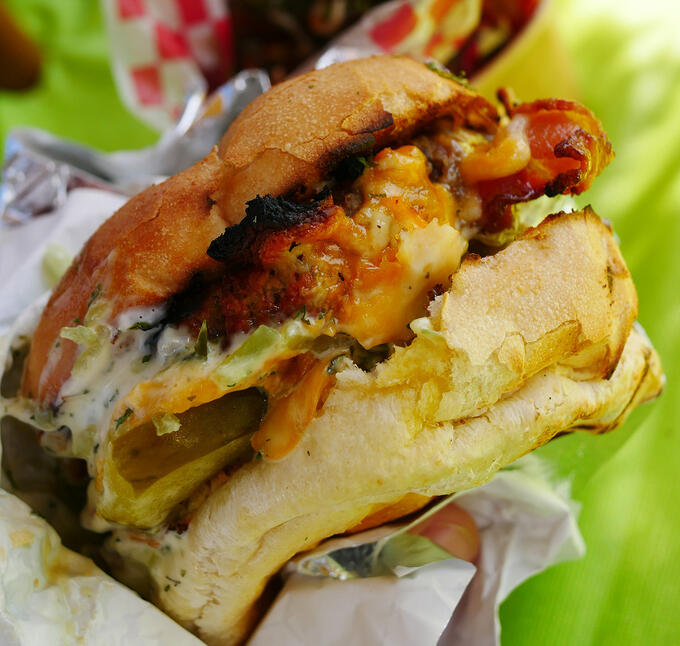 A steady stream of people was heading to the waterfront food truck, so it was time to rejoin the lineup and get Cheerful Harlies takeout for a most delightful dinner at my accommodations for the night - the Hillside Inn in Pembroke. 
I relaxed in my comfortable room, where sleep found me, and the morning came too soon.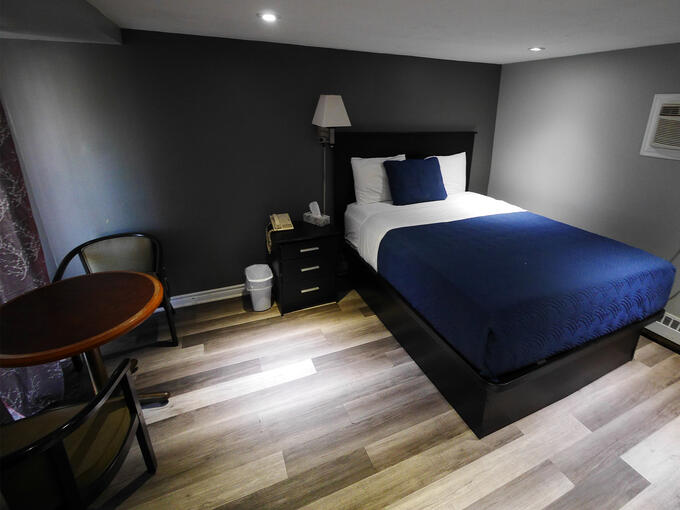 Before leaving Pembroke, I stopped at the Upper Ottawa Valley Heritage Center and walked around the buildings and grounds. The buildings were closed - it was too early in the tourism season to be open. I drove past Hugli's Blueberry Ranch, wishing (once again) it were later in the season. Otherwise, I would have stopped for Pick Your Own Berries!
Cobden, Renfrew and Arnprior | Highway 17 East
I entered the Whitewater Region, stopping in Cobden to walk the trails in the Veterans Memorial Park, then followed the path to the beach on Muskrat Lake. There was a small stretch of sandy shoreline with an incredible lake view. The picnic table was unoccupied, so I sat, but not for long - there were many more places to visit today!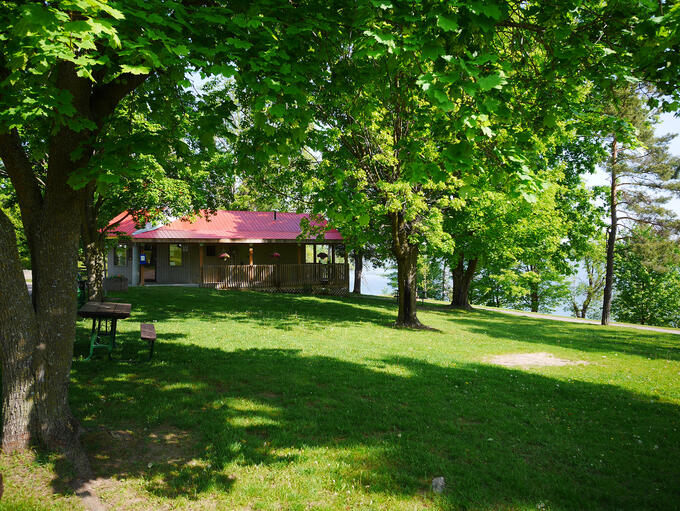 Less than a kilometre further on Highway 17 East was the Cobden Marsh Interpretive Trail. It was a lovely spot for a walk - and just on the edge of town! As I crossed the boardwalk, I saw a muskrat swimming in the creek and yellow warblers gathering nesting materials. 
I walked above the wetlands on the raised path. I could hear the red-winged blackbirds singing amongst the reeds and the bees buzzing on the dandelions along the trail. I went a kilometre along the marshlands before returning to the trailhead, continuing my journey.
I stopped to read Champlain's Astrolabe Historical Plaque, located next to Logo's Land Resort and Waterpark's Noah's Ark. Now that was another photo I couldn't miss taking.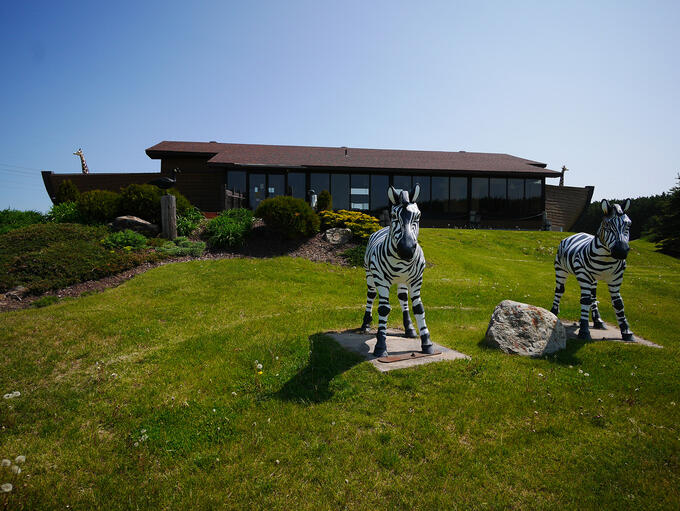 I drove past the Horton Township sign, the Birthplace of the NHL, but with so much traffic, there wasn't a good place to pull over for a shot, both on the way in and out of the township. 
I went into Renfrew, searching for a Lumberjack statue supposedly near Town Hall, but I couldn't spot him. So I headed to the Renfrew Visitor Information Center to see the Caboose; it was under repair. A lumberjack was on this property; as it turns out, this was the guy I was looking for.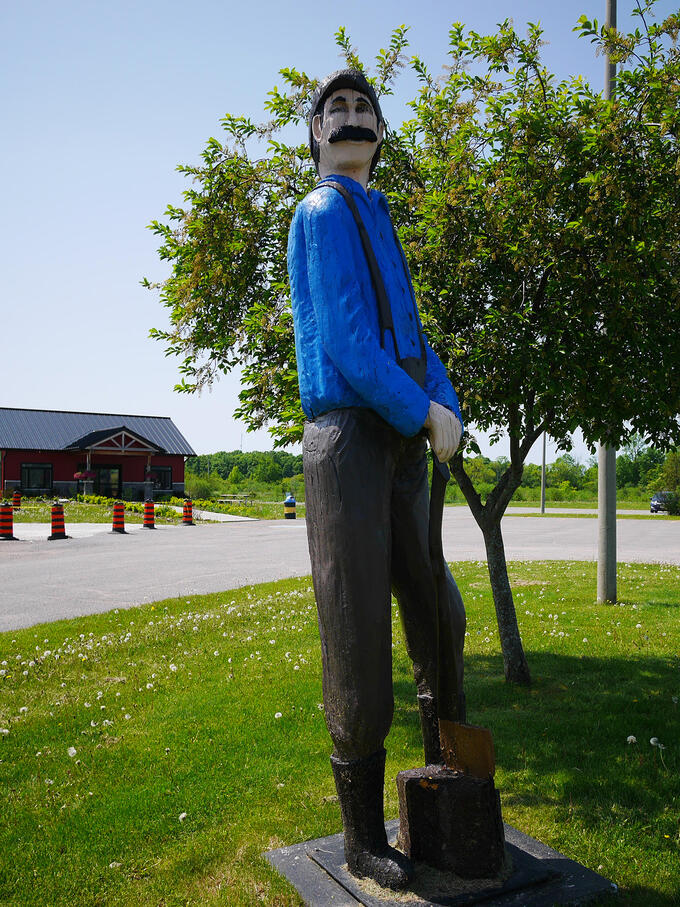 In Arnprior, I searched for Ontario's Tallest Tree in Gillies Grove Nature Reserve. My only clues to finding its location were that the tree stood over 130 feet tall and a strategically placed bench at its base, so park explorers could sit back and view the tree without falling backwards. 
I walked the White Pine loop, lined with old-growth trees, and headed down many a side trail. Still, I didn't come across the Tallest Tree. Trails were closed for natural regeneration. Other paths were permanently shut down - perhaps due to the Derecho Storm damage in May 2022, so I can only assume that the tree in question was along those routes.
Wouldn't you know that the only other hikers in Gillies Grove that I passed were there for the first time as well? They had not found Ontario's Tallest Tree either. I came out of the forest hot and sweaty. The day was getting away from me, so it was no surprise I was starved for something to eat.
It's hard to choose where to eat, let alone what to eat, so I had already picked my destination: Brian's Spuds With Taste! When I arrived - despite having previously reviewed the menu- I couldn't make a decision. I asked for suggestions, and Brian, having heard my difficulties, popped his head out of the window and said, "Get the Fish & Chips."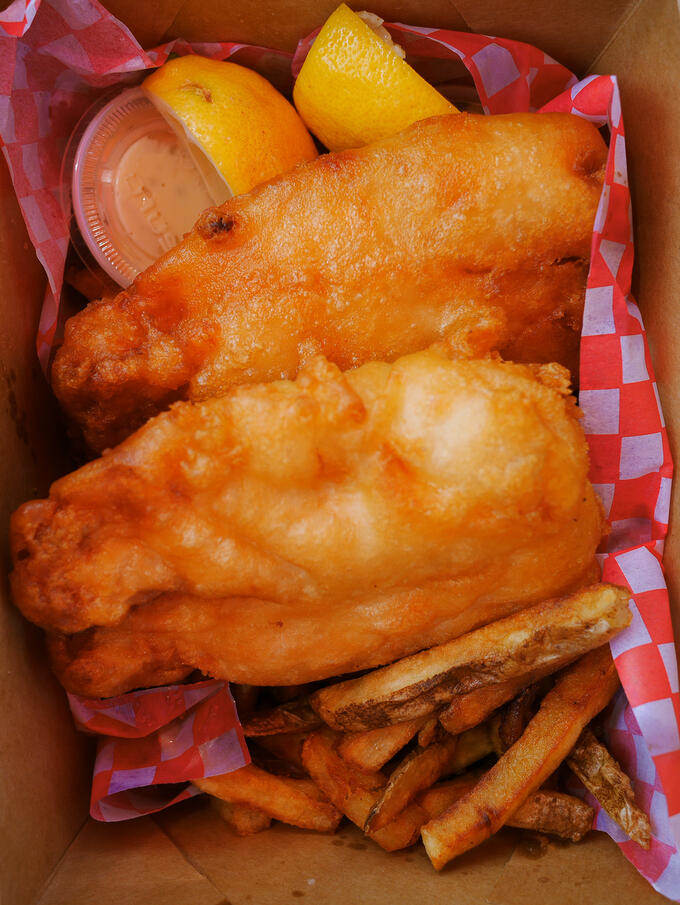 So I did. The portions were huge, and it was so good. I took my leftovers to the Country Squire Motel, where I stayed for the night. Brian's Spuds was only a few hundred metres away should a deep-fried Mars bar craving suddenly attack.
I settled in my cozy room, munching on leftovers. I couldn't believe this would be my last night on the road. Tomorrow, I would slowly make my way home.
Keep Reading to Continue the Journey! 
In the next part of my journey, Rocks, Rails and The Old Addington Road, I'm homeward bound and making the most of my time. My route goes through Lanark County to Pakenham and Perth, Sharbot Lake in Frontenac County, and Cloyne in the Addington Highlands.