These days the warm weather has us feeling like running through the streets calling out "Spring is here! Spring is here!" just in case anyone has missed the first sweet signs of spring. When the warm weather hits we all long to get outside and stretch our legs for a refreshing spring trek to bask even further in the signs of spring. 
Get your spring on with these nine treks through the spring beauty of Ontario's Highlands. Remember to tread lightly on these trails; be respectful of others and leave no trace.
To break a sweat…
If you're looking for a workout with a sweet reward at the end, these trails are for you.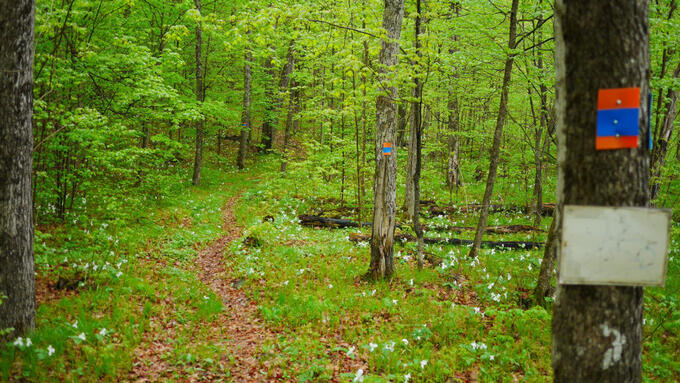 This challenging five-kilometre trek is part of a network of trails that will take you through the beauty of the forests of Haliburton Highlands. The Circuit of 5 Viewpoints take hikers across the rugged Canadian Shield, which means less chance of boggy or wet conditions. Wander through a mixed forest and stop at the five viewpoints that overlook Ontario's Highlands' natural splendour.
 Getting There: Trailhead is searchable using Google maps and is located at 20219 Little Hawk Rd. (County Road 13) in Algonquin Highlands.

Refuel:
The Mill Pond Restaurant's hearty, homestyle dishes will be just the thing to perk you up after your trek. Once open you can dine outdoors on their patio for even more fresh air.
Choose from seven hiking trails that all go in one direction – up. You're unlikely to get your feet wet on one of these challenging hikes that range up to one-kilometre in length. Don't worry if you think that's too short a trek, when you're heading up an incline it will seem plenty long enough. Your efforts will be worthwhile when you get to the top to see the views overlooking Palmerston and Canonto lakes.
Getting There: There is parking right on Arcol Road in Ompah, with easy access to the trails. Bring your swimsuit as there is also a lovely and secluded beach that is part of the conservation area.

Refuel:
Pick up some goodies on the way to this trail as there is nowhere nearby where you can grab a bite to eat afterwards. The Harvest Bakery in Elphin is a roughly 30-minute drive and has a lovely selection of home baked goods. If you're looking for heartier fare, stop at Cardinal Café + Shop in Sharbot Lake for homemade soup, sandwiches and more.
To see wildlife….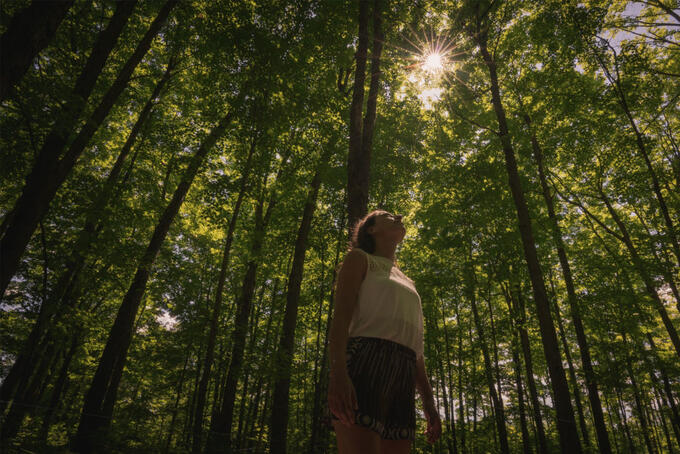 Summer is when we're likely to catch wildlife out and about and doing their wild things.  Tread lightly while traversing these paths and you never know what you might see.
Explore four kilometres of trails that wind their way through this protected old-growth forest and wetlands. Walk slowly and keep your eyes open for the bald eagles which have been nesting here since 2009. You may also catch sight of lynx, deer, and rare species of song birds.
Getting There: The Shaw Woods Outdoor Education Centre is located at 2065 Bulger Rd. in Eganville. Parking is available on site and the location is searchable by Google maps.

Refuel:
Fill your belly with a hearty burger or sandwich paired with a refreshing pint or two at Whitewater Brewery in Cobden. Pick up for take-out to dine at home, or on-site, when restrictions permit.
Bring rubber boots because this trail could be a little boggy after a rain. Located on the Tay Marsh, this is the perfect place for wildlife spotting. Hike the three-and-a-half kilometre trail and keep your eyes peeled for deer, ducks, geese, and songbirds of all kinds. This reserve is 257-hectares in size and the trail is flat and level and easy to traverse.
Getting There: There is a parking area right onsite at 100 Wildlife Rd., only a five-minute drive from the charming small town of Perth.

Refuel:
Make sure your boots are made for walking because you'll want to take some time to explore Perth. Wander the downtown's boutique shops and stop for a bite to eat on a patio at one of their many cafes and eateries (when restrictions allow). You can also take your food to go and dine outdoors in scenic Stewart Park.
Wander the remote trail on this 358-acre property tucked deep in the forests of Addington Highlands. This area doesn't get a lot of traffic which means you are more likely to come across some wildlife during your hike. Hike the three-and-a-half kilometre trail that takes you past small ponds, wetlands, and creeks, and under the canopy of a lush forest.
Getting There: Rose Hill Rd. is searchable by Google maps and located about two-and-a-half kilometres north of Denbigh. Watch for the Mississippi Madawaska Land Trust sign for the Pumpkin Trail to find the parking area.

Refuel:
To see the spring thaw….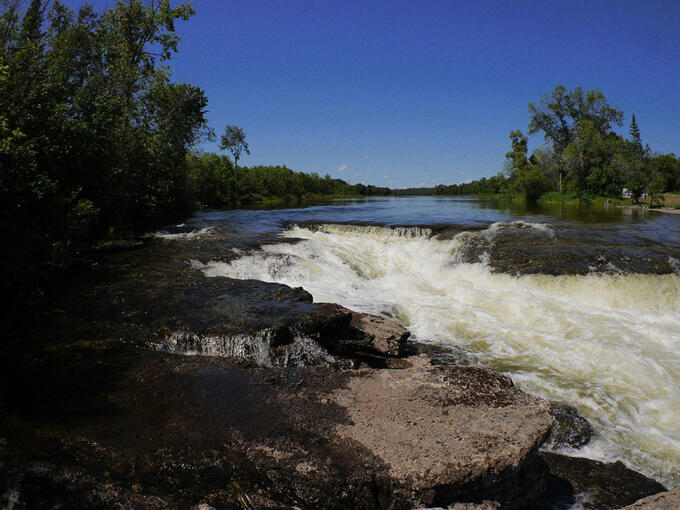 In early summer high water season means rushing rivers and creeks across Ontario's Highlands. Take a hike to drink in the sight of nature's impressive display of waterfalls, rapids, and swiftly flowing creeks.
This lesser-known gem isn't all that far of a hike, but you won't mind how short the walk is when you get to the view – two waterfalls, an upper and lower, that are about three feet high and roughly 150 feet across the entire width of the Crowe River.
Getting There: Park your car at the end of Callaghan Rapids Road and take one of the paths that leads to the river. Follow the river until you reach the falls.

Refuel:
You won't leave the Iron Grille Cafe in Marmora hungry, that's for sure. Pick up your meal to go or if restrictions allow, settle in on their outdoor patio for a refreshing brew and a hearty meal.
Get a spectacular view of the Bonnechere River here – there are two short paths north of the road that take you parallel to the river. South of the road is the main trail with multiple branching paths. Wander and marvel at the wonder of thousands of gallons of water rushing over this limestone riverbed.
Getting There: Parking is available on-site. The Bonnechere Caves are located right across the street so while you're there (and if the caves are open) they are worth exploring as well.

Refuel:
Indulge in a truly Canadian dining experience at the Axe and the Paddle in Eganville. This restaurant is brand spanking new, but their food has already gained a reputation for being stellar.
The majestic power of the Crowe River is on full display here as it is funnelled through a large gorge (the "Gut") for over 200 metres. Hike the trails in this 400-acre conservation area and spend some time at the lookout area taking in this natural marvel.
Getting There: There is a parking area on-site of the conservation area, which is searchable on Google maps. Find it south of Apsley, on South Lake Road.

Refuel:
After your hike drop by The Barn Chefs and pick up everything you need to build an epic charcuterie board at home.
To stretch your legs….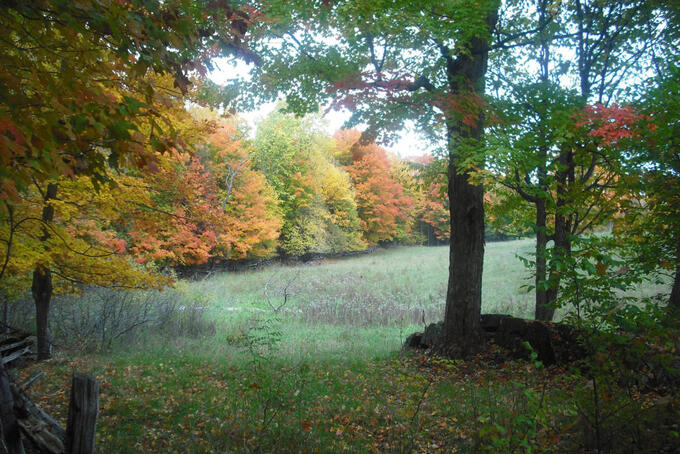 Not all hikes need to be a high intensity, full-day excursion, sometimes you're just looking for a leisurely stroll in a natural setting, and maybe with a nice view at the end.
This is a short but sweet trek that will take you to a fabulous lookout over Beech Lake and Boshkung Lake. At less than two kilometres, this trail has been classified as suitable for all skill levels, so if you're not feeling it for a long, intense hike, this could be just the thing. Please note there is an incline that at times elevates the trail level to moderate.
Getting There: The trailhead is searchable on Google under "Coopers Lookout" and is located across from 1242 North Shore Rd. near Highway 35 in Algonquin Highlands. The Stanhope Museum is nearby and makes for a pleasant educational addition to a visit here.

Refuel:
Country Bakery is a cute little bakery just a few minutes from the trailhead. For something new, try their "Walking Tacos" made with Doritos nacho chips topped with in-house chili, lettuce, cheese and salsa.
This short trail is suitable for all skill levels, with a boardwalk covering part of the trail that runs through a sedge wetland. At less than one-kilometre, the Baird Trail is a beautiful trail to explore, without breaking a sweat. Wander through a hardwood forest where you'll come across the evidence of past farming in the area in the old split-rail fences that were typical for Lanark County.
Getting There: Baird Trail is located near Middleville in Lanark County; the address is 1024 County Road 8. There is an on-site parking area with information about the trail and the area's history.

Refuel:
Almonte is only a roughly 15 minute drive from the trail where you'll find a number of excellent restaurants to fill you up. If you're into pizza, the patio at Joe's Italian Kitchen will be just the place to refuel, when it reopens. You can also stop in at Baker Bob's to pick up some fresh-baked goods, and maybe a loaf of bread to take home with you.