Remember when you were a kid and the first snowfall brought so much excitement you could hardly wait to get outside?  That excitement doesn't have to end with adulthood, you just need to find the right experiences to surprise and challenge you, sending a tingling of excitement down your spine.
In Ontario's Highlands, moments like this are found around every corner, and each experience is more than enough to make you fall in love with winter all over again.
Check out the list below for five chilly experiences that you'll want to mark off your bucket list, and tell everyone about.
Winter Yurts and Backcountry Trails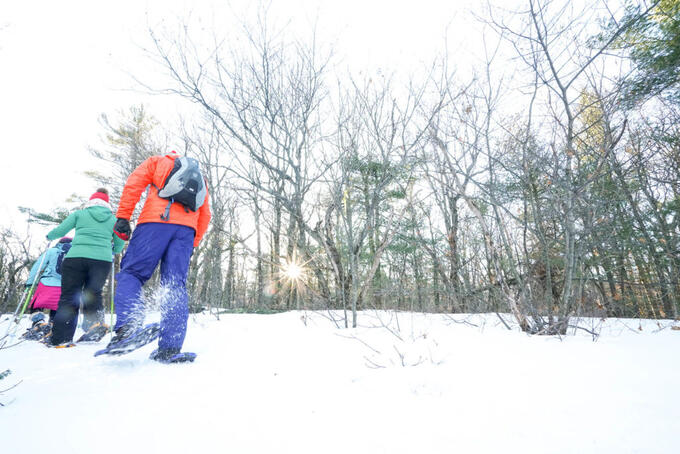 Ontario's Highlands' ample Crown Land territory offers a rare opportunity in crowded southern Ontario – the chance to escape from it all.  Experience winter hiking at the Hike Haliburton Festival the first weekend in February, or explore pristine winter wilderness on a groomed trail by snowshoe or ski at Silent Lake Provincial Park in Haliburton County.
Here, you'll find more than 40-kilometres of ready-for-you cross-country ski trails all accessible from the same entry point, including loops for all level of skiers and an eight-kilometre trail groomed especially for skate-skiing. Warm-up huts stocked with stove and firewood dot the trails, welcoming trail-goers seeking a place to rest and exchange adventure stories. When you're done wandering the great outdoors at Silent Lake, fall fast asleep amidst the wondrous quiet of the woods, in a cozy, classic yurt (the park has 10!).
If you're a snowshoer at heart, head out onto rugged trails that will challenge you to keep up with each frosty exhale. Push yourself higher and faster at Sir Sam's Ski & Ride's three-kilometre trail, or hike to the lookout on Manitou Trail for an epic view that's worth the effort.
 Skating on Ice
Glide over smooth ice on outdoor rinks or lakes in Ontario's Highlands and celebrate the quintessential Canadian pastime in winter - a quick game of shinny or a chance to try out your figure eights. Head to Smiths Falls' very own Rink of Dreams to glide beneath the sun or stars, then warm up with a hot drink of something warm and chocolatey downtown. 
In Haliburton, their outdoor rink is brand new, and just waiting to be broken in with a few blades. And rinks are nice, but can anything compare to the sensation of skating when an entire lake is at your disposal?
In Calabogie you can rent a kicksled to take on Calabogie Lake from Mad River Paddle Co. The kids will love being able to sit while they glide (and you do all the work). Before you head out on the ice, ensure ice conditions are suitable for skating.
Ice Fishing Experiences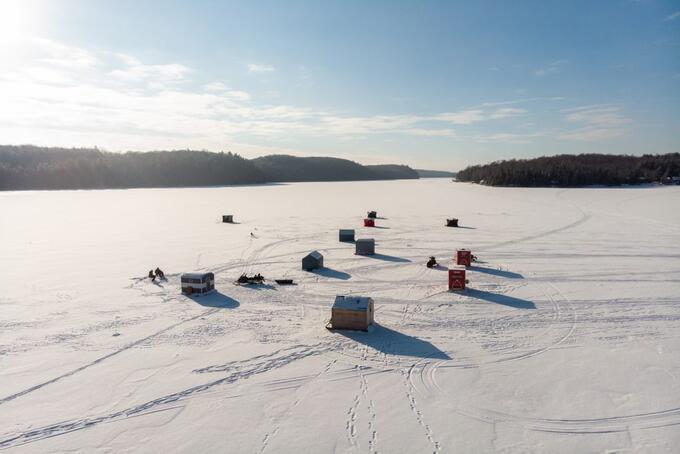 If anything will encourage you to embrace winter and all that comes with it, it's an ice fishing experience. In an ice hut all the crazy business of the world fades away, leaving you with the calm of the dark waters beneath the ice and the quiet of the wintry air. At Ogopogo Resort on Mountain Lake you can fish for one of the unique heritage species of the area - the Haliburton Gold Lake Trout. Rent a hut from Ogopogo or another resort in Ontario's Highlands and trek out onto the ice with your gear and bait.
Roaring Snowmobiles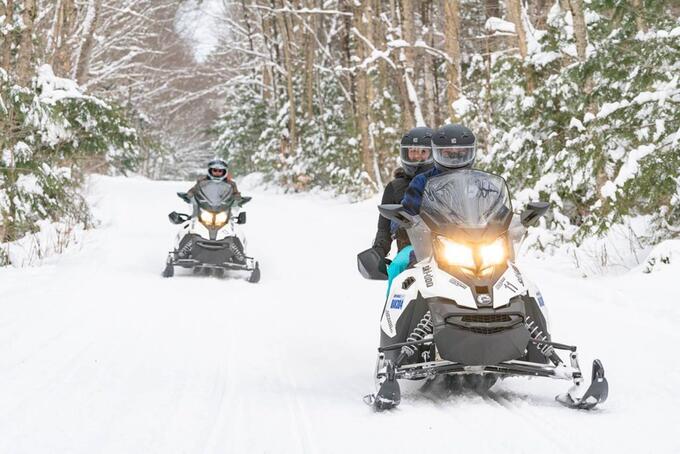 Recharge your batteries with high-energy adventure, found around every nook and cranny in Ontario's Highlands. Quench your need for speed from the front seat of a roaring snowmobile, weaving the groomed trails of Haliburton Forest & Wildlife Reserve or make fresh tracks riding past frozen lakes, sparkling forests and farmland on the Hastings Highland Tour anticipating each new discovery behind every bend of terrain.
Travel Ontario's Highlands' snowmobile loops that traverse dense forest trails, snow-filled valleys, and rugged Canadian shield. Stop for a hearty lunch and then hit the trail to do it all over again. Remember to check the Ontario Federation of Snowmobile Club's interactive map to ensure the businesses you will need to access on your ride are open and available during your travels.

Insider Tip:
To take snowmobiling to the next level, be in Eganville Feb. 4 and 5 in 2023 for the annual Bonnechere Cup.
Ice Climbing Adventures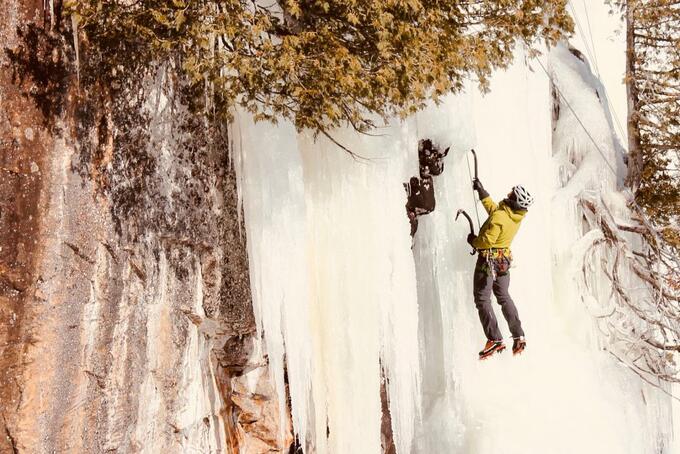 Whether you go by guide or with a gang of friends, this winter ice climbing is the latest activity to get adventure seekers outdoors. For those new to the sport, try a customized guided trip from Elements Guiding or take a workshop with Yours Outdoors, where you can take on the challenge of climbing a 50-foot man-made ice wall with the beauty of #MyHaliburtonHighlands as your backdrop.
If do-it-yourself ice climbing is more your style, head to the Madawaska Highlands or Calabogie areas for some of Ontario's best and most scenic climbing. Warmer weather and salt run-off from encroaching urban development in southern parts of the province mean adventure seekers increasingly look further north for reliable conditions, meaning the cliffs and crags of Ontario's Highlands make for the perfect climbing destination year after year.

Insider Tip:
Dogsledding in Snow Country
Feel crisp snow mixed with soft fur as you become one with the pack and try your hand at mushing with Winterdance Dogsled Tours. Located on the doorstep of Algonquin Park, there's nothing quite like a ride with 150 purebred Siberian Huskies on 5000 acres of private rugged wilderness.