If you have been longing to cruise along snowy trails where the winter forest towers over you and the rush of the frosty wind fills your ears, this is the year to get out and explore the landscapes close to home. COVID-19 has made us all feel a little housebound, and flying through a winter wonderland by snowmobile is just the thing to lift our spirits.
Ride local on Ontario's Highlands' snowmobile loops that traverse dense forest trails, snow-filled valleys, and rugged Canadian shield. Stop for a hearty lunch and then hit the trail to do it all over again. While planning your trip and before heading out, remember to check the Ontario Federation of Snowmobile Club's interactive map to ensure the businesses you will need to access on your ride are open and available during your trip.
Be considerate in your travels of others on the trail and be sure you are geared up for whatever the weather may throw at you.
Read on to find out everything you need to know to have an amazing snowmobile daytrip in Eastern Ontario. Your snowmobile exploration of Ontario's Highlands begins here.
You will need a permit to ride on an Ontario Federation of Snowmobile Clubs' (OFSC) groomed trails. Remember to 'Buy Where You Ride' which means purchasing your trail permit from the club where you will be riding most often. Visit the OFSC website to purchase your trail permit online.

Guides & Gear:
Loops and Trips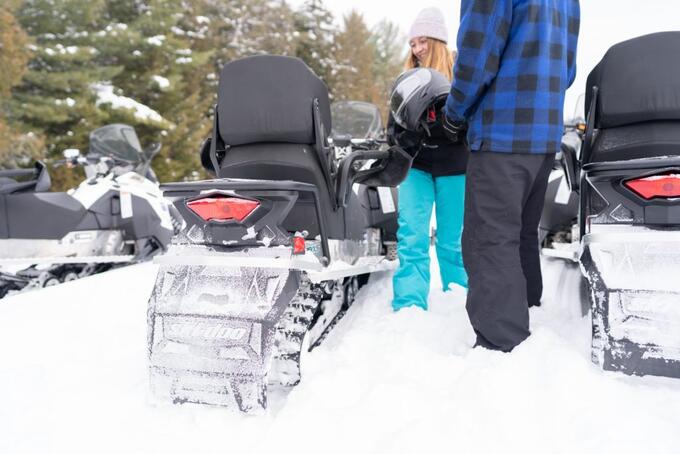 Explore one of the loops below for a snowmobiling daytrip through Ontario's Highlands' winter wonderland. Remember to check ahead that places to stop to refuel or eat are open and whether they are offering dine-in services or take-out only.
Destinations: Perth, Smiths Falls, Carleton Place, Almonte, Sharbot Lake, Renfrew
Distance: 267 kilometres
Brand new to Eastern Ontario, the Ontario East Rails & Trails Loop takes riders through Lanark County, Ottawa Valley and Frontenac County rugged snow territory. Stop at one of the small towns peppered along the route and explore the downtowns for shopping, food and drink, and more. 
Where to Eat: The Thirsty Moose and The Good Food Co. are both just a short walk from the Ottawa Valley Recreation Trail in Carleton Place and serve hearty, stick-to-your-ribs dishes that will warm you from the inside.
Destinations: Bancroft, McArthur Mills, Coe Hill, Gilmour
Distance: 350-kilometres
Come and play on over 350-kilometres of groomed trails that take you through the beautiful scenery of Hastings County and surrounding areas. Adjoining trails make this a route that will take you virtually anywhere you want to go on the trails.
Where to Eat: The Granite in Bancroft is famous for their wings, but the more adventurous may be tempted by their fire breather burger, including jalapenos relish, habanero barbecue sauce, and sriracha sauce.  
Destinations: Haliburton Forest
Distance: 400+ kilometres
Known as one of the top 10 snowmobiling destinations in North America, this can be the ultimate destination for your snowmobile getaway. Explore 400-kilometres of privately owned and groomed trails where passes are limited so you can avoid extra traffic. Build on your trip with a visit to the Wolf Centre or a dogsledding experience onsite. *Please note these are private trails and permits are required.
Where to Eat: You'll want to dine at Truss Foodworks, located right in Haliburton Forest. Try their cauliflower "wings" and pair with a pulled pork sandwich before heading back on the trail.
Destinations: Southeast Bancroft to Mazinaw
Distance: ~ 235 kilometres
Have your breath taken away as you wind along this scenic loop, through picturesque landscapes, rugged terrain, and frozen lakes glistening in the sun in Bon Echo territory.
Where to Eat: Plan your route to stop at Mazinaw Lakeside Resort and Eatery and after a hearty meal order some S'mores Bites to take with you for a sweet treat on the trail.
Destinations: Pembroke, Barry's Bay, Eganville
Distance: 230 kilometres
Rev your engine along this loop of rail bed and pipeline corridors interspersed with twisting mountainous terrain and soak up some spectacular views while you're at it. This loop follows the bottom section of the much longer Round Algonquin Park tour but is doable in a single day.
Where to Eat: Stop mid-way through your ride at Wilno Tavern Restaurant in Barry's Bay for traditional Polish-Kashub comfort foods like jumbo pierogies and cabbage rolls, Polish sausage and sauerkraut, and more.
Destinations: Eganville, Griffith, Calabogie
Distance: ~260 kilometres
With tight forest trails to set a leisurely pace, opportunities to stop in the small communities in the Ottawa Valley, traversing uncrowded trails with picturesque views.
Where to Eat: Plan to take a break at Redneck Bistro in Calabogie and try the local favourite, poutine, which also comes with a gluten-free option. Pair with a local beer from the brewery right across the street, Calabogie Brewing Co.
Destinations: Barry's Bay, Madawaska, Whitney, Lake St. Peter, Combermere
Distance: 180 kilometres
Enjoy the Valley hospitality along this trail that winds its way along rail corridors and following the Madawaska River. This loop will take you through small communities with plenty of opportunities to stop to refuel and grab a bite to eat.
Where to Eat: Pick up some take-out from Bent Pizza in Combermere, a local favourite. 
Destinations: Arnprior, Pembroke, Petawawa, Deep River
Distance: 350 kilometres
Step back in time as you follow the route of voyageurs from yesteryear along the Ottawa River through scenic vistas and changing landscapes – from farmland to forest. This route is a little long for a day trip, but still doable if you take few breaks and motor through.
Where to Eat: Grab a bite to eat in Petawawa at Valley Smokehouse for stick-to-your-ribs dishes like pulled pork, smoked chicken, or deep fried mac 'n cheese.
Destinations: Minden Hills, Haliburton and Carnarvon
Distance: 75 kilometres
This loop will take you through the heart of Haliburton Highlands, and is the perfect daytrip if you only have a few hours to put in on the trail. Expect to see an abandoned railway line, a floating snowmobile bridge, and to traverse a small section of the Round Algonguin Park (RAP) tour, and more.
Where to Eat:  Plan to end your trip in Carnarvon, where you can stop at The Mill Pond Restaurant for a break to warm up and refuel.