If you were sad to pack away your bike for the winter, are lamenting the loss of beautiful weather for an early morning run, or regretting all the days you could have been churning through whitewater this summer but weren't, we have good news for you: Winter doesn't mean you don't need to give up your love for extreme sports.
In fact, we would argue winter is the best time to get your adrenaline on with a heart racing, muscle burning, and endurance building experiences. From fat biking to ice climbing to snow jumping, this winter is your winter to try it all, and then come back and do it again. Trust us, you'll never dread the first snowfall again.
Find out where and how to experience these hot, trending, and fun winter activities, close to home in Ontario's Highlands.
Winter Biking for Everyone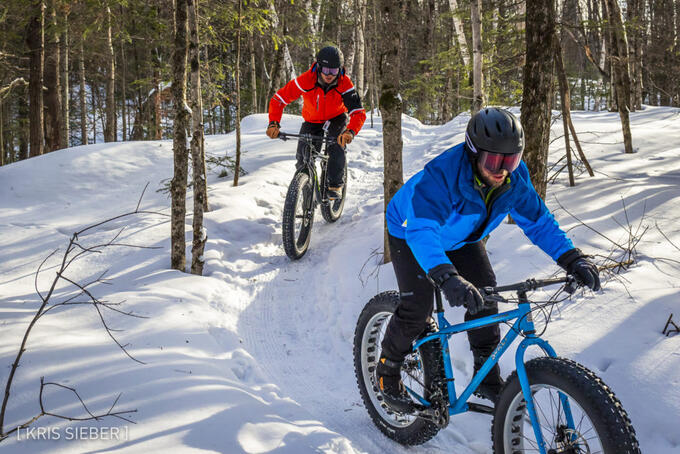 Can you ride a bike? If you can ride a bike you can fat bike. Seriously. Fat biking uses wider tires with a lower tire pressure, and are made for riding on snowy trails.
The best part of this hot new winter sport is it burns an epic amount of calories – up to 1,500 calories in only an hour. Fat biking isn't permitted on all trails so it's best to check ahead before heading out.
Where to Fat Bike: Cruise the six-kilometres of Forest Lea's marked snowshoe trails for fat biking, or if you're a little further south, Lennox & Addington's Forest Trails have six kilometres of logging roads and single-track trails on 127 acres of forest, or you can explore Frontenac County's rail trails by bike for a more sedate pace.
Where to Gear Up: Fat biking requires a specialized bike which you can rent from Gearheads in Petawawa or from Algonquin Outfitters in Haliburton. Please note rentals made in Haliburton will need to be picked up outside the region. If you're in the Calabogie area, you can also rent a bike from Mad River Paddle Co. 
Climb a Wall of Ice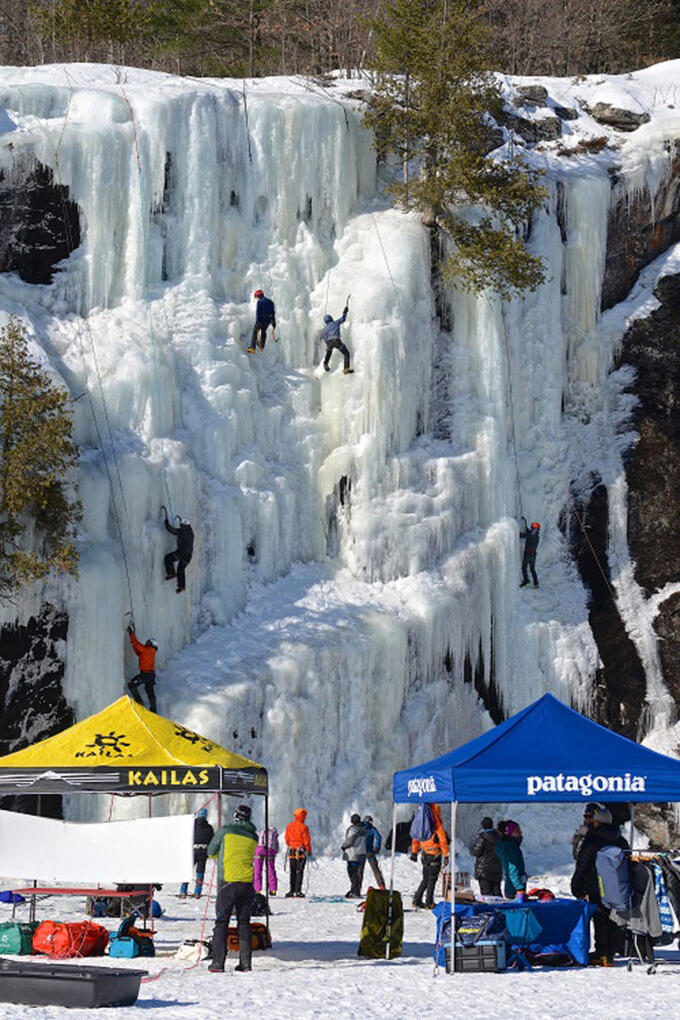 This one takes a little more work to try for the first time but will be totally worth it. Ice climbing involves using tools like an ice axe and boot crampons to climb a frozen wall of water (sounds fun, right?). You would think these areas would be hard to find but ice climbing is more common in this region than you might think.
Where to Ice Climb: You can find ice walls throughout Ontario's Highlands' wilderness, but one of the most well known for instruction is the manmade Medeba Ice Wall in Haliburton Highlands. Yours Outdoors runs an introduction to an ice climbing program there that's a good place to start for newbies. In Maynooth, the Southern Ontario Ice Festival (SoICE Fest) is a collective ice climbing experience that takes place each February. It's geared for everyone from beginners to advanced ice climbers. 
Where to Gear Up: SoICE Fest provides instruction to try out ice climbing and boot rentals. If you are booking the Medeba Ice Wall climbing program through Yours Outdoors they provide everything you need even down to hot drinks and snacks.
Terrain Park Skiing and Snowboarding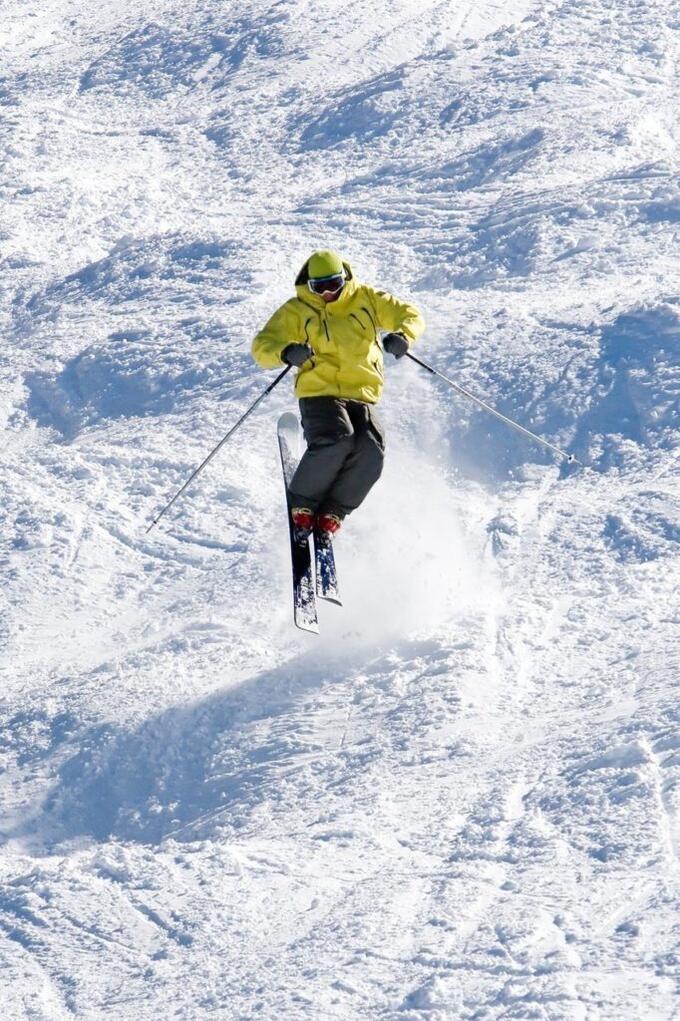 If you love to ski or snowboard but want to take it up a notch, you can try learning new skills at a snow park (also called terrain park). You don't need to be an expert skier or snowboarder to use a snow park – all experience levels are welcome as you try out edgier jumps and tricks. Not every ski hill features a terrain park, and each park will differ based on how it's constructed.
Where to Try a Terrain Park: At Calabogie Peaks they offer a little bit of everything so you can choose between snow cross track, a rail park, a mini terrain park and a mogul field. Freestyle lessons are available for those who want a little guidance before hitting the park. Sir Sam's Ski & Ride has expanded their terrain park so you can perfect your moves with boxes, rails, and jumps for all levels. If you love night skiing try out Mount Pakenham's terrain park at night for a nocturnal experience.