Every year when autumn arrives, we are treated to a spectacular display of fall colours across Ontario's Highlands. Knowing that the warm days are numbered, we head to the hills to take a scenic drive or stroll to drink in vistas as vibrant reds, warm oranges, and sunny yellows explode across the landscape.
This is when the fall colour search gets intense, and the hunt is on to soak up this brilliant kaleidoscope of colours created by nature's paintbrush.
Cherish the last few weeks of warm weather with a road trip to one of these best spots to view fall colours in Ontario's Highlands.
Wondering when is the best time to see the fall colours? Use this handy fall colours viewing map created by Ontario Parks to plan your trip.
This site will be worth the drive, especially if you love winding, tree-lined roads in fall. This Frontenac County conservation area has more than seven kilometres of trails, two of which lead to a lookout. For a spectacular fall display, take the Cattail Trail, a gentle hike that's less than a kilometre in length, and the lookout is phenomenal.

Insider's Tip:
After your hike you can relax and take in the waterfront view at nearby Palmerston Beach.
You could enjoy the seasonal colours from the ground level of a vast forest, or you could take it up a notch and walk among the treetops in the Haliburton Forest and Wildlife Reserve. The two-to-three-hour canopy tour will take you across the longest canopy walkway in the world. Reach out and touch the brightly coloured leaves as you pass from tree to tree.

Insider's Tip:
Don't delay on this one! The canopy tours end mid-October, but the forest is still accessible for exploration year-round. Tours must be booked in advance.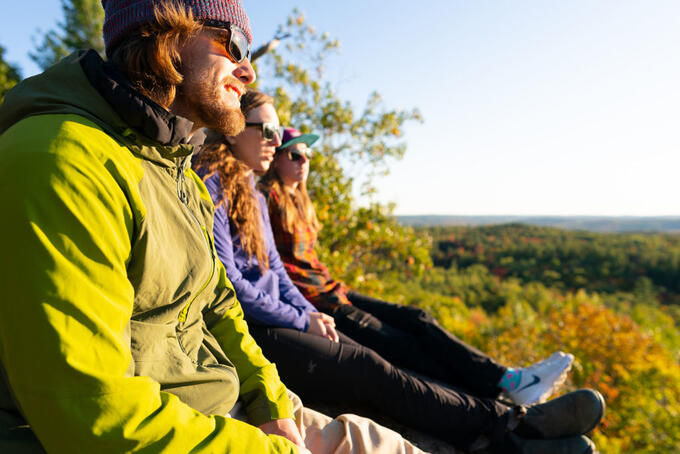 A little hard work pays off, especially when you hike up Blueberry Mountain for the sweet views of the changing trees. Blueberry Mountain is part of the Mississippi Madawaska Land Trust Conservancy and features 1,250 acres of pristine wilderness.  The hike itself is a surprisingly gentle 2.5 kilometre walk with a big payoff in the end – think of all the Instagram likes you'll get!

Insider's Tip:
Cider goes perfectly with a fall outing. Visit Ugly Apple Cider when you're in the area and do a cider tasting, only a short drive from Blueberry Mountain. Appointments available with advance notice.
Stay overnight at Clyde Hall Bed and Breakfast and waken to a gourmet breakfast featuring maple syrup produced right on the property. Clyde Hall is situated on the third hole of Timber Run Golf Course and has some fantastic scenery.
This is a new trail and not one for the faint of heart – embark on a 10-kilometre challenging hiking adventure that will test your fortitude, but with spectacular viewing rewards. The full loop has no less than five lookout points on it (wow!), so be sure to bring your cell phone to snap some shots of the fiery glory of the Madawaska River Valley in fall.

Insider's Tip:
Download this trail map to take with you on your hike; a GPS or compass would be helpful as you navigate. Plan for between four and five hours to complete the full loop.
Add on a paddling outing onto your exploration of the stunning scenery bordering the Lower Madawaska River. Canoe rentals are available from Greater Madawaska Canoe Rentals, only a few minutes from the trailhead.
Each fall hundreds of hikers flock to Calabogie to hike the trail to Eagle's Nest Lookout. This picturesque trail and viewpoint lends well to photography, with a rock face jutting out beyond the valley below. You can access the point via the trail that starts along Highway 508, just west of Calabogie Peaks Resort. 

Insider's Tip:
Pick up some picnic fare from Redneck Bistro or Oh-el-la Cafe right in Calabogie. After your hike you'll be happy to reward yourself with a light meal while you take in the view.
You can also make it an overnight trip by booking a room at Somewhere Inn Calabogie and swing on one of their outdoor hammocks to while away the evening hours.
Head to Crooked Slide Park in Combermere to explore this network of trails  that are easily accessible and of moderate difficulty. The 3.5-kilometre McGillivray Trail is the park's most challenging trail that takes you to a stunning lookout. If you're not into a hike you can get to the lookout via an active logging road south of Long Lake Rd.4.

Insider's Tip:
Cap off your day with a stick-to-your-ribs hearty meal on the patio overlooking Kamaniskeg Lake at Ash Grove Inn Restaurant, a roughly 10-minute drive from the trails.
This is another lookout that's going to take some effort to get to, but the Instagram photos will be worth it! Hike the 2.5-kilometre Lookout Trail to a spectacular spot overlooking a small kettle lake, a depression formed during glacial retreat. This trail is rugged and with steep inclines.

Insider's Tip:
Bask in the fall colours all weekend long by booking a camping trip to the park.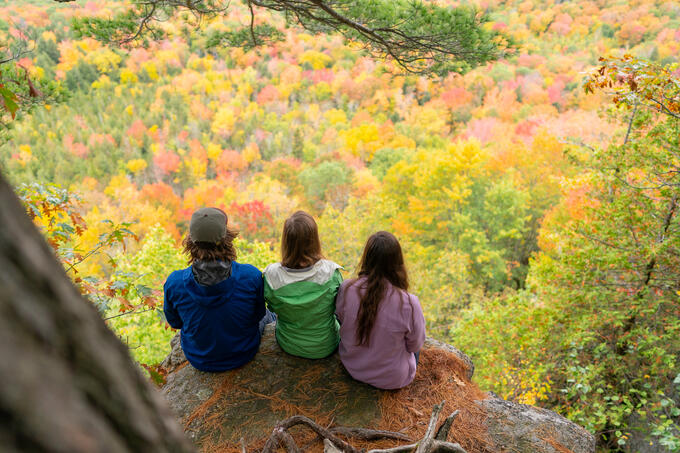 At six kilometres, this trail will take you over rugged terrain and craggy ridgelines to one of the best lookout spots in the region. This is a one-way trail so you will either have to double back at some point or arrange for a pick-up to shuttle back to your vehicle. Make sure you have the trail map with you because there are other trails that converge onto this one.

Insider's Tip:
Do the trail in reverse and you will reach a stunning lookout in short order. Then you can choose to either continue on or head back the way you came for a shorter trek with just as much bang for your buck.
Refuel after your hike at Pepper Mill Steak & Pasta House. These folks are known for their excellent steaks, but you won't go wrong with their seafood either. 
Named one of the 10 best waterfalls in Ontario, Ragged Falls offers a short but sweet hike to a lookout overlooking a scenic waterfall created by the Oxtongue River as it boils down a steep and rocky gorge. At only one-kilometre long you can make the trek to this lookout without breaking a sweat - there are no excuses here! This park is open for day-use only, but is a great spot for an impromptu picnic.

Insider's Tip:
Rent a canoe from Algonquin Outfitters and explore Oxtongue Lake for more breathtaking views. The sight of the fall foliage crowding the waterfront will make this paddle even more memorable.
The hilly town of Haliburton sits in the shadow of a towering ridge, and on that ridge is a public park with sweeping views of the landscape below. The entrance to Skyline Park is just a minute or two east of the town, and allows you to drive all the way to the top for an easy lookout option without breaking a sweat!

Insider's Tip:
The Hawkwatch lookout at Bancroft Eagles Nest Park stands tall over the town and the surrounding Hastings County. Don't be intimidated by the steep hill you'll need to drive up before parking your car. This hike is a short and simple one to the observatory deck overlooking the winding river and hills below.

Insider's Tip: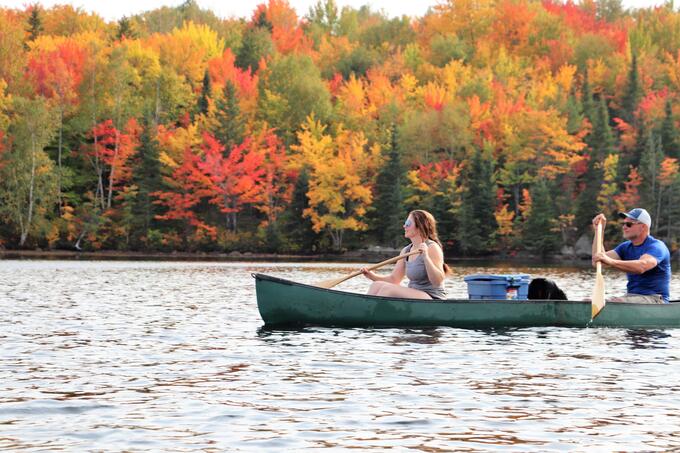 This stunning spot for fall colour viewing is dual-purpose - you can view from the shoreline or bring a canoe or kayak and paddle the six-kilometre lake crowded with the blazing colours of the forest in autumn. This area is one of the largest collection of peatlands in southern Ontario.

Insider's Tip:
This is a great spot for a picnic! Make a stop at Addison's Restaurant and pick up one of their hearty sandwiches paired with soup and a salad and dine surrounded by Mother Nature's painting. 
Just south of the conservation area is Flinton Falls, another great spot for fall colour viewing!
Once used for spotting forest fires, the Dorset Lookout Tower now stands as a lookout for the fiery reds and oranges of fall. Ascend 142-metres up the tower for a prime view of the rolling hills and lakes that spot the Haliburton Highlands.  

Insider's Tip:
The trail starts at the Dorset Heritage Museum which is a nice spot to explore if you have a spare hour. A must visit is Robinson's General Store, which is an old fashioned shop that sells everything from groceries to hardware. 
To visit the tower this fall advance tickets are required beginning Sept 16. Tickets will be required on weekends and Thanksgiving Monday from Sept 24 to Oct 16.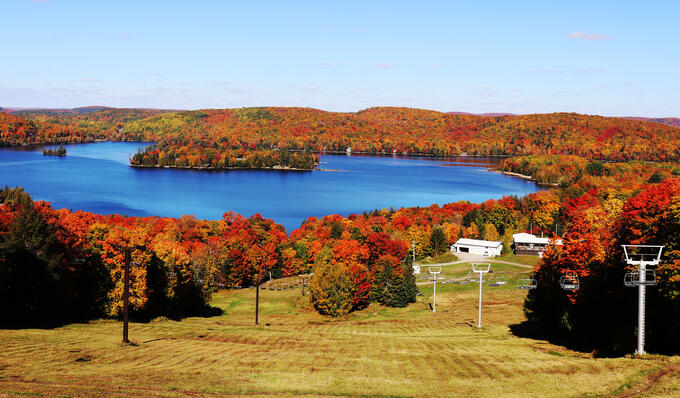 Take a ski lift to the top of Sir Sam's and see the splendour of Eagle Lake in fall spread out before you. Chairlift rides are offered Saturdays and Sundays until Thanksgiving weekend. Sir Sam's is also a popular spot for mountain biking, if you'd rather your fall colours come with a bit of a challenge. 

Insider's Tip:
No list of spots to view fall colours would be complete without including this provincial park that is simply stunning in fall. Hike these vast forests to see Mazinaw Rock up close and personal. This park is exceptionally busy all year long but day passes are available for trail use. Worth the drive!

Insider's Tip:
See the foliage from a different perspective - the water. Rent a canoe or kayak from Bon Echo Outfitters, but remember to bring your camera with you as the autumn views here are phenomenal.