You can't beat a North Hastings drive — unless you compare it to a North Hastings drive in the fall. There's something adventurous and wistful about rolling over hills - unsure what you're going to find. You're weaving through forests that have been there since long before you, and are sure to be there long after. You're discovering roads and places less travelled.
Luckily, North Hastings has scenic routes that take you through the north of the county so you can capitalize on the experience without having to plan your day away.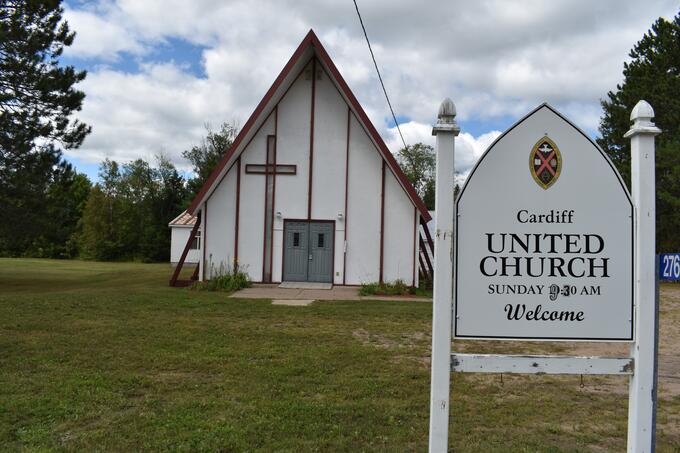 Hillsview Heights (55 km)
Did you know North Hastings is speckled with one-room, old-timey churches filled with spirit and history? The Hillsview Heights route takes you to some of these local spots, from Maxwell Settlement to the pioneer home of Lawrence O'Marra before stopping at Musclow Hall, Bethel United Church and Hybla Zion Church. You'll also stop at Salmon Trout Lake Scenic View, the former Monteagle Township Office, Monteagle Valley Lookout, McAlpine's Farm, Annelee Acres and Graphite Bible Camp. It's heavy on the history with a handful of breathtaking views.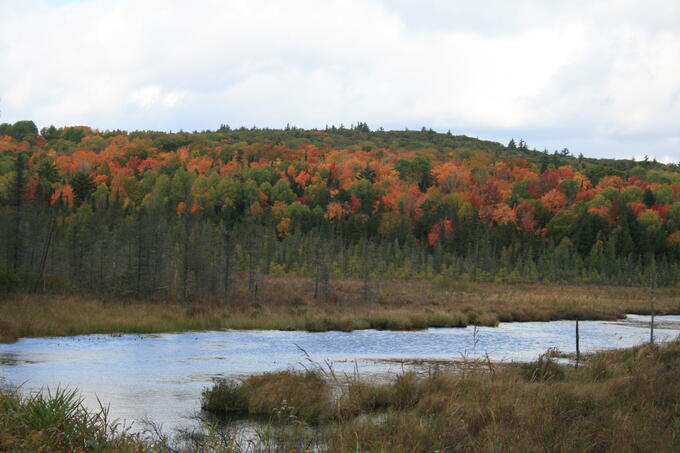 Wilderness Way (60 km)
Water, water and a little more water for those who are missing their time on the beach as fall chills the waters. Stop at White Duck Lake, Lookout Park Road, Hinterland Beach and then search out a hidden scenic view. See Bark Lake Dam, Bells Rapids, Papineau Lake and weave around our best bodies of water down Bark Lake Road. This route includes bathroom stops en route.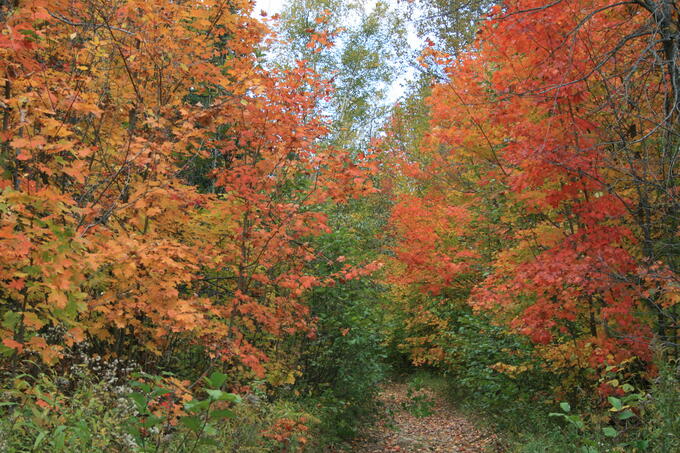 Sunset Trail (70 km)
A little bit longer now - this route stops at one of my all time favourite North Hastings' destinations; High Falls Dam.  Depending on the season, the dam can be rushing, powerful and intimidating, great to hype you up for an explorative hike, or it can be drizzling and trickling, peaceful background music for a lunch date. Head just a little north of Bancroft to pick up this route. See Moore's Bridge, Redmond Bay, Baptiste Village, Sunset View, a favourite public dock, Old Grant's Store, Old Diamond Lake Road, Highland Grove's Old General Store, Elephant Lake Road, Kingscote Lake and Martin Wood Mill. Don't forget Peterson Road and Little Lighthouse Lake.
Homestead Hills (50 km)
If you've a love for community, this is a great way to familiarize yourself with the locals in the north of the county. You'll see the Faraday Community Centre, the original Faraday Community Centre, Wollaston Heritage Centre, the Wollaston Municipal Office and Visitor Centre and Coe Hill Fairgrounds. This is also a great route a little closer to Halloween. Check out both the Lower Faraday Community Cemetery, Trinity Anglican Church, St. Michael's Anglican and St. Andrew's United Cemeteries.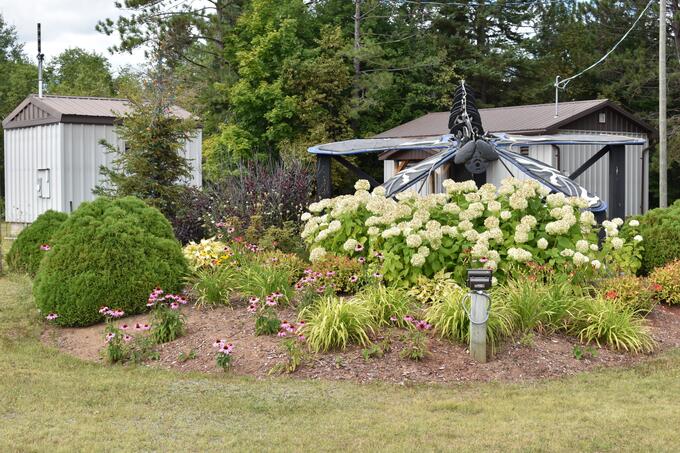 Nature's Winding Trail (14.5 km)
This route is nice if you're short on time. Keep an eye out for the blue telephone booth - a landmark that appears as quickly as it disappears when you're rolling over the hills. It's on a residential property no doubt owned by a Doctor Who fan. Stop at the Original Monck Road School House, Monck Road Cemetery, scenic vista, peruse Cardiff and the Cardiff Information Kiosk — is it a mosquito or a dragonfly, the verdict is still out! — before stopping at North Bay Beach.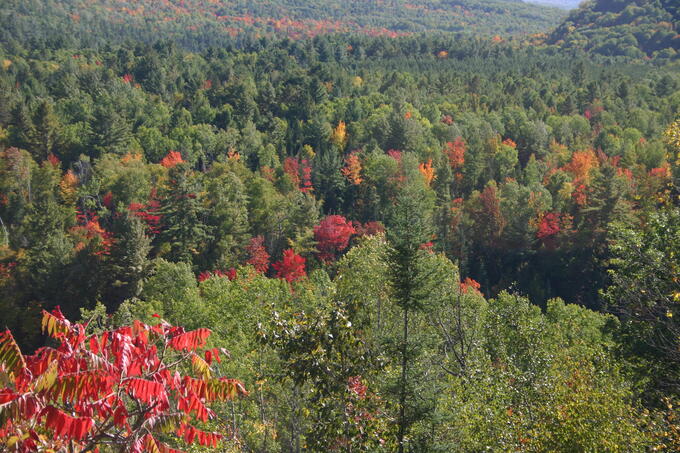 Rapids, Rocks & Rallies (45.3 km)
Bancroft is the centre of North Hastings so this is an ideal route if you're planning your trip with young children who can't sit still for long periods of time. There are a bunch of stops close together here, including area staples such as Eagle's Nest Scenic Viewing Platform and Hawk's Watch. You will feel like you are driving straight up, and it will be bumpy but don't worry, there is a parking lot at the top of this almost mountain. Make sure you get the kids out for some learning at the Bancroft North Hastings Heritage Museum. It's also a great opportunity to nibble on the way with a stop at the Wattle and Daub Café when you're at Riverside Park.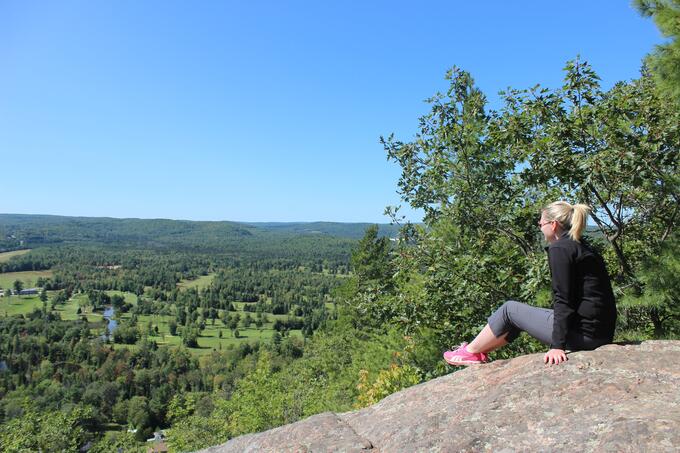 Cedar Ridge (33.8 km)
This route is meant for explorers! Load your bike or ATV into the back of your truck and drop them off to ride through North Hastings' most loved trails. Try the Hastings Heritage Trail which is open year-round and follows an old railway line that connects Hastings County, or visit the McGeachie Conservation Area, which spans 500 acres on beautiful Steenburg Lake.
Not convinced there's a route here for you? These trails haven't even brushed the surface! Find more information on the North Hastings website or watch this inspirational video. Happy trails!