Did someone say road trip? The mere thought of a road trip brings to mind the excitement of heading out on an adventure where you may not know where you will end up but you're pretty sure the getting there will be half the fun. When you head out for the day the options are limitless: Where will you stop for a bite to eat? What roads will you travel? What will you see?
We've selected four of the most scenic drives in Ontario for some road trip inspiration, choosing routes that will take you from city streets to rural oases where the only traffic jam you'll encounter will be a turtle crossing. These itineraries will lead you through some of the most beautiful countryside in Ontario, and are accessible from both Toronto and Ottawa. And as with all good road trips, your travels will introduce you to new communities, new eateries, and new hidden gems along the way.
Don't let this summer pass you by without a little spontaneous exploration - a road trip is the perfect way to travel safely with your crew. So pack the car and hit the road with one of these four awesome adventures across Ontario's Highlands.
Route 1: TransCanada Meander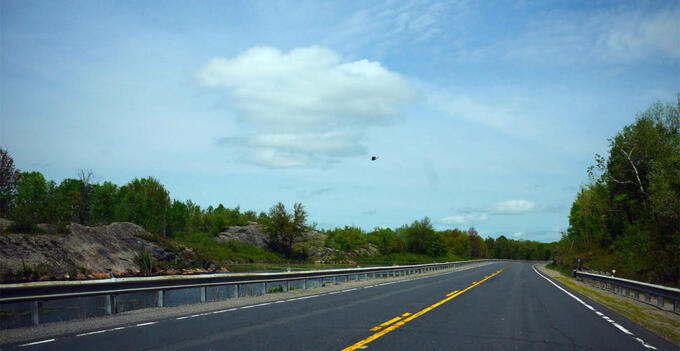 Route: Highway 7 from Ottawa to Marmora (and beyond)
Distance: 212 kilometres
This can be a fun day trip that takes you through one small town after another, perfect for exploring with a little shopping, a light lunch, or a short hike. Highway 7 is a scenic part of the TransCanada Highway and is the perfect road trip route. From Ottawa to Marmora is a roughly two-and-a-half-hour drive if you go straight through, but you'll want to take time to stop for some sightseeing, shopping, and maybe browse a brewery or distillery along the way. If you're feeling adventurous just keep on driving and you'll end up in Toronto only a couple of hours later.
Don't Miss: Stretch your legs with a stroll along the waterfront Riverside Trail in Carleton Place. Keep on driving and do some shopping at the Red Brick Emporium or Riverguild in Perth to find the perfect gifts (for you or for someone else!) while Possibilities Inc. in Marmora will have the hard-to-find antique you've been looking for all your life.
Where to Eat: Take a break for lunch at Cardinal Café + Shop and browse the small town of Sharbot Lake. Stop for some fine dining on your way back on the Boulton House Restaurant's gorgeous riverside patio in Carleton Place. 
Add a Day: Spend the night in luxury at Nevis Estate, a luxurious and historic bed and breakfast just steps from downtown Perth.
Route 2: Cruising the King's Highway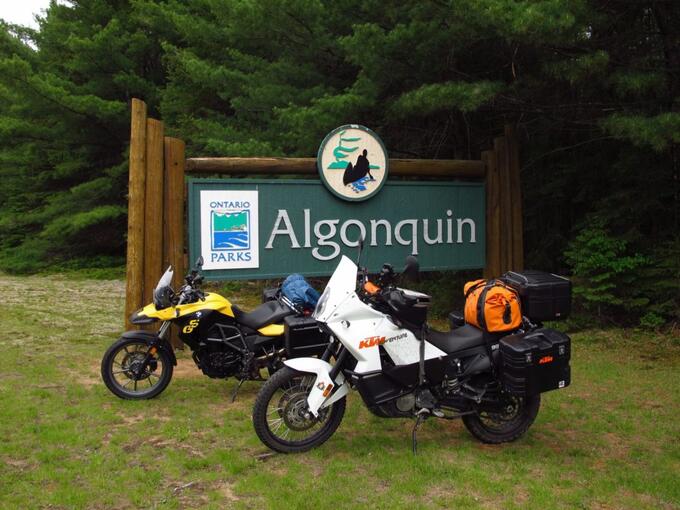 Route: Highway 60 from Renfrew to Algonquin Park
Distance: 220 kilometres
Driving the King's Highway is a must have on any list of the best Ontario road trips. This route takes you from the rocky banks of the Ottawa River, across Eastern Ontario and past small Ottawa Valley towns like Eganville, Barry's Bay, and Madawaska, before heading up through Algonquin Park and on to Oxtongue Lake in Haliburton Highlands. Out here you won't have any trouble keeping distance from others! Bring a swimsuit or fishing line with you, because you never know what opportunities you'll come across along the way.
Don't Miss: The King's Highway dates back to the 1930s so why not get a feel for the region with a stop at the Polish Kashub Heritage Museum in Wilno, or check out the circa 1885 Renfrew Swinging Bridge (updated in 2015) across the Bonnechere, one of only three swinging bridges in Canada.
Where to Eat:, Stop for a coffee on the go at Madawaska Coffee Co. in Barry's Bay or savour gooey poutine at Charlie D's just down the road.
Add a Day: Stay in the heart of cottage country at The Pines Cottage Resort.  The next day you can make the five-minute drive to Oxtongue River Ragged Falls Provincial Park for a little side trip.
Route 3: Headlong Through Haliburton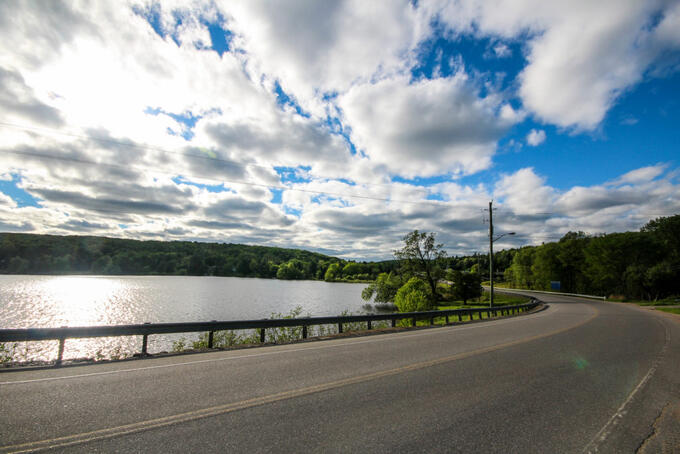 Route: Highway 35 from Minden to Oxtongue Lake
Distance: 85 kilometres
Make this trip a quick half-day outing or take your time and leave yourself open to spontaneous stops on the side of the road or a quick dip in a lake along the way. There's plenty of space to roam here, so you won't need to worry about crowds or physical distancing. This part of Eastern Ontario is stunningly beautiful, with much of the same pristine wilderness found in the neighbouring Algonquin Park. Known as a fishing region, you'll want to bring your rod with you just in case you stumble across the perfect fishing spot along the way.
Don't Miss: Stretch your legs before you head out at Panorama Park Lookout in Minden and take advantage of the photo opportunities from here. Stop at the nature interpretive centre, Nature's Place, to learn more about the local flora and fauna and check out the museum's straw bale building.
Where to Eat: Stop for a bite to eat at the FeastON certified Rhubarb Restaurant, and grab a pint at Boshkung Brewing Co. in the same building.  If you want something gooey and delicious while on the go, stop for a wood-fired Montreal-style bagel or a gourmet, thin-crust pizza at Pizza on Earth. Say hey to "Etna," the brick oven where all the magic happens.
Add a Day: Stay and play at Sir Sam's Inn & Spa, just a short detour north from Highway 35 and get rid of any kinks in your back with a hike or bike ride at Sir Sam's Ski & Ride on one of the 23-kilometres of trails.
Route 4: Ottawa River Scenic Route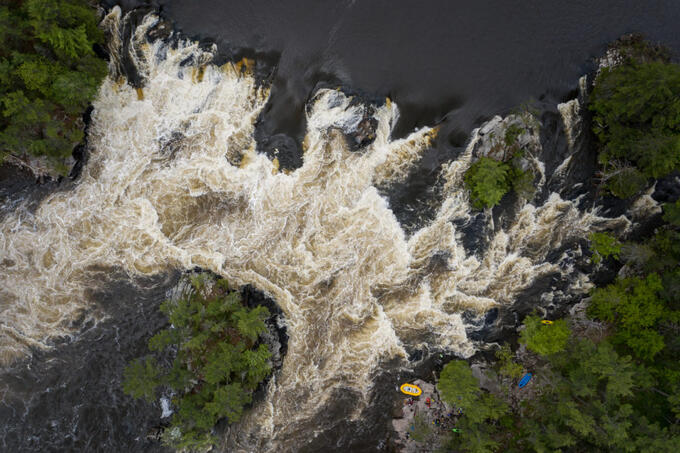 Route: Highway 17 from Renfrew to Deux-Rivieres
Distance: 170 kilometres
If you love driving through small towns and stopping now and again at a cute little shop or a cozy café along the way, this route will be for you. Travel Highway 17 from Renfrew to Deux-Rivieres and wander onto side roads where you'll fall in love with the views of the Ottawa River. Get out and explore the small communities of Cobden, Pembroke, Petawawa, Chalk River, and beyond. Stop for a bite to eat at a COVID-friendly restaurant and immerse yourself in the stories of the Ottawa River and how it shaped the communities you come across along the way.
Don't Miss:  Stretch your legs and get informed about local history at the Petawawa Heritage Village.
Where to Eat: Sample craft beer at Whitewater Brewing Co. in Cobden, then head north to Petawawa to Kusina Fusion Café for a little spicy pick-me-up. You'll have to hunt a little bit to find this hidden gem – it's tucked away on the Canadian Forces Base Petawawa, but civilians are welcome.
Add a Day: If you're a little wound up from so much time in the car, spend the night in luxury at Grey Gables Inn & Spa in Pembroke and unwind as you get ready for another day of exploration.