Returning from a road trip has its own pleasures. If you never want the voyage to end, then you'll find any excuse to detour, visit destinations and discover what's in your backyard when you're getting close to home. 
This summer, Local Wanderer Heidi Csernak road-tripped across Ontario's Highlands, Searching for Small Pleasures and Big Roadside Attractions then Following the Rail and River in Renfrew County. In the last part of her story, Heidi follows the Mississippi River, learns about Geoheritage, and explores rail history. Her route home drives through Lanark County, Frontenac County, and Lennox & Addington County. 
Read part three of Heidi's story below.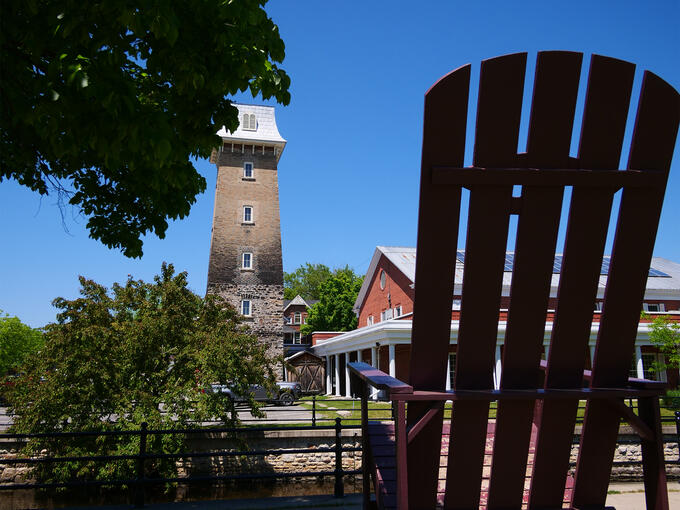 Lanark County
On the last day of my week-long journey, I woke up with mixed feelings. Wrapping up a trip is always bittersweet. I didn't want it to be over, but I could hear home's sweet siren song as I drove closer.
I left Arnprior, heading south into Lanark County toward Pakenham Stone Bridge Park. I had wanted to see the stone arches of the Five Span Bridge over the Mississippi River in Pakenham. I found a spot in the shade from which to enjoy the sight and sounds of churning waters.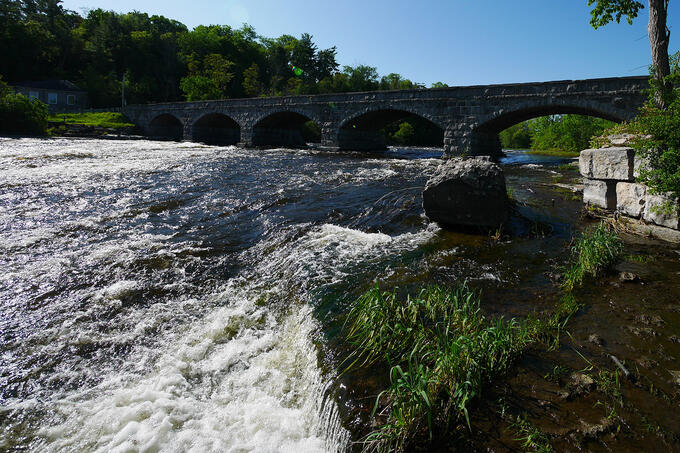 It was a hot morning with clear skies, so the breeze coming off the rapids was a welcome respite.
I set off from Pakenham, looking for another riverside park. Ten kilometres further down the highway, I took the turnoff to Blakeney Rapids Park. It's a small and beautiful spot, with benches to sit by the river, and a short trail to explore. It was another perfect spot to enjoy the cooling air current near turbulent water.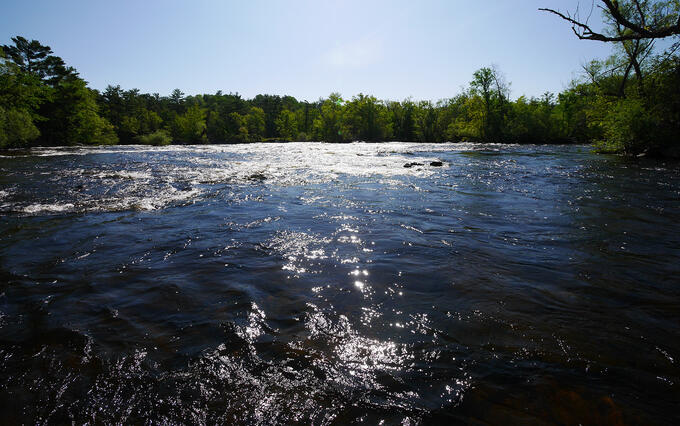 Continuing on, I headed toward Metcalfe Geoheritage Park in Almonte. I love learning about geology, and the park has an excellent collection of rock types found in the region. Twenty-two samples are on display, rocks from the Ordovician age, 490 to 440 million years ago, and Precambrian age, about 2.5 to 1 billion years ago. Geo-history Rocks!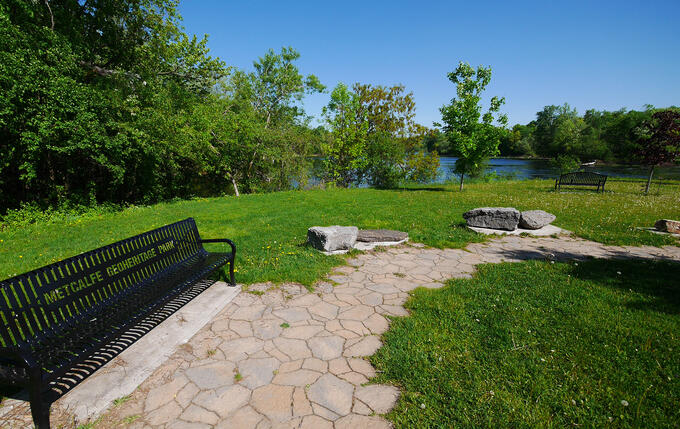 I was most excited to reach the Railway Museum of Eastern Ontario in Smiths Falls. For years, I've wanted to visit the museum and Ontario's largest rail memorabilia collection! 
I started in the old Train Station, paying my entry fee and checking out the gift shop with its collection of new toys, authentic train lanterns, and other pieces from the rail days available for purchase.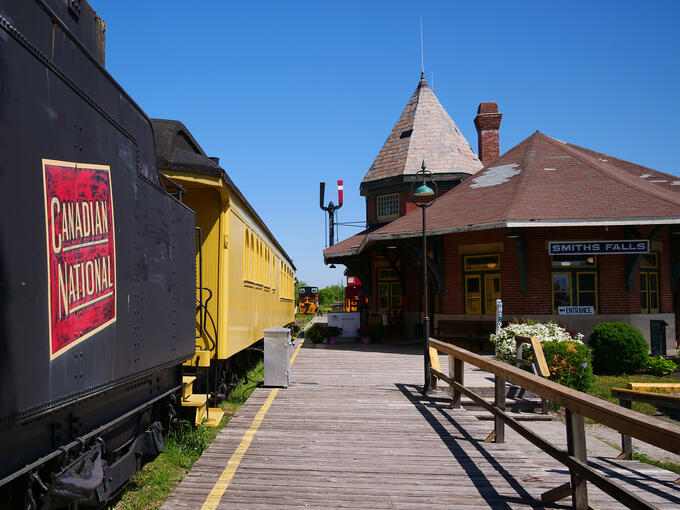 I met John, who has volunteered at the museum for 50 years, along with many other family members. Today, he was wearing a conductor's uniform, having just returned from taking the children on a ride for the Kids Camp.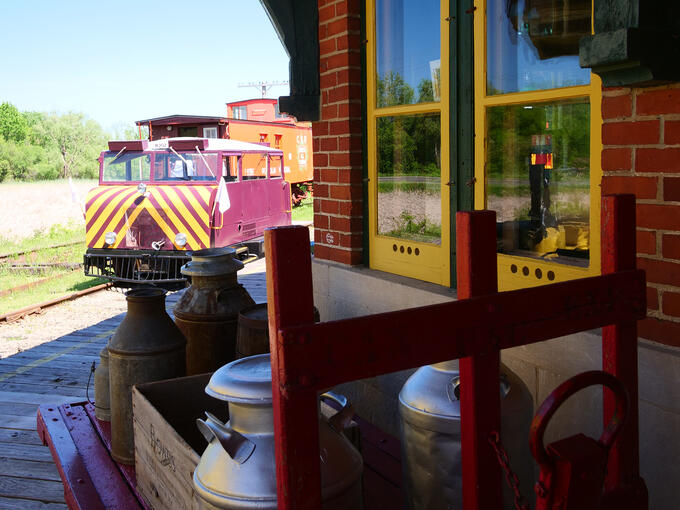 Walking further into the building, I discovered the station's interior retained many authentic artifacts from its days in operation. The original ticket and train communications office looked like it was still in use - the desk was cluttered with relics of the job.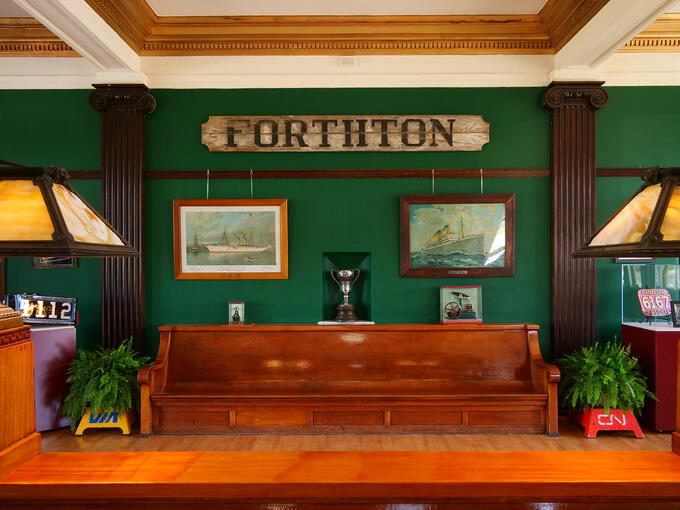 Behind the counter, within view of the ticket sellers, was a wanted poster of escapees needing capture, making identification easier when outlaws try to buy a ticket.
Once I started exploring, I knew this wasn't the place to "just take a couple of photos." There was always something around the corner - machinery would catch my eye, and I'd wander farther into the open-air grounds.
Some train cars were open to visitors, so I climbed into a huge snowplow, the dentist's train car, and the dining car.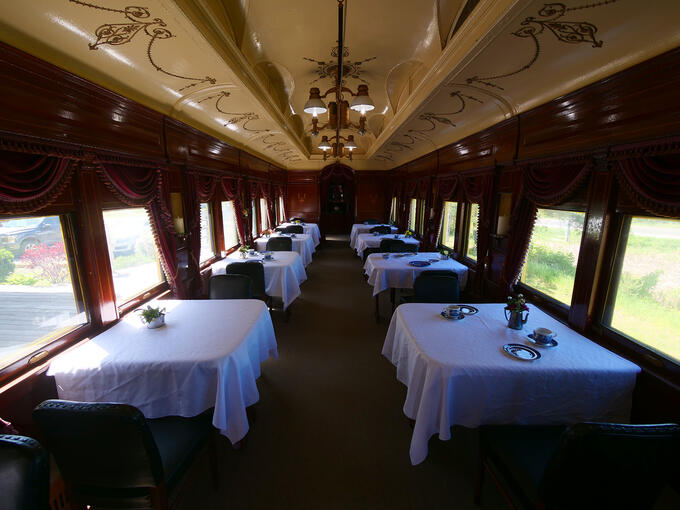 I checked out two vacant cabooses being readied for AirBnB guests with authentic interior furnishings - if you ignore the standing fan and other amenities that provide overnight visitors comfort. The museum has 3 already set up for overnighters, and a fourth is being readied for guests.
I left the museum heading toward My Place Restaurant in Smiths Falls hoping they were open and even though I knew the hours, I still swung by, just to be sure. Alas, they were closed. Some hearty European food would have been most welcome, but it seemed I wouldn't be devouring any on this road trip. 
Try not to get hungry while looking at these tantalizing photos from past visits.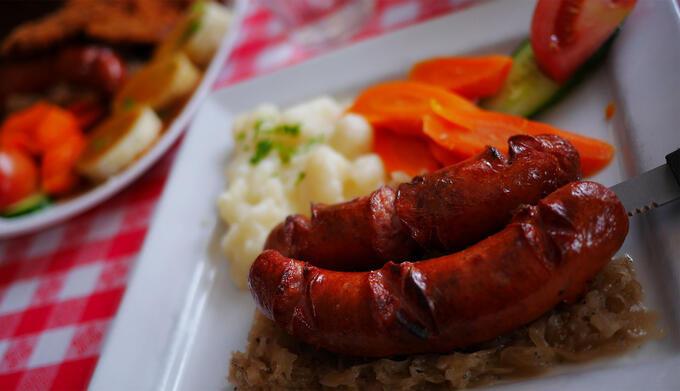 I love cheese, so stopping to see the Mammoth Cheese in Perth was a natural choice. Looking at that gigantic display, I wondered how many cheezy dishes I would have made with even a tiny slice of the 22,000 lb cheese! In my dairy daze, I left town without stopping at The Perth Cheese Shop - a failure to fulfill my fromage dreams.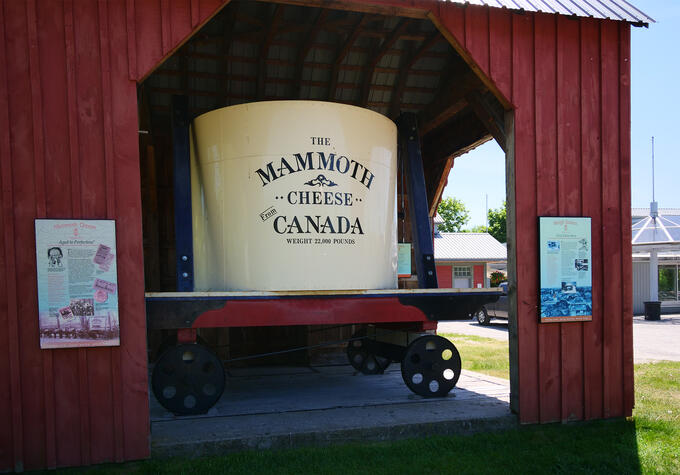 It was late afternoon when I saw the signs for Wheelers Pancake House, so they were already closed for the day. There would be no fluffy pancakes and sausages for me.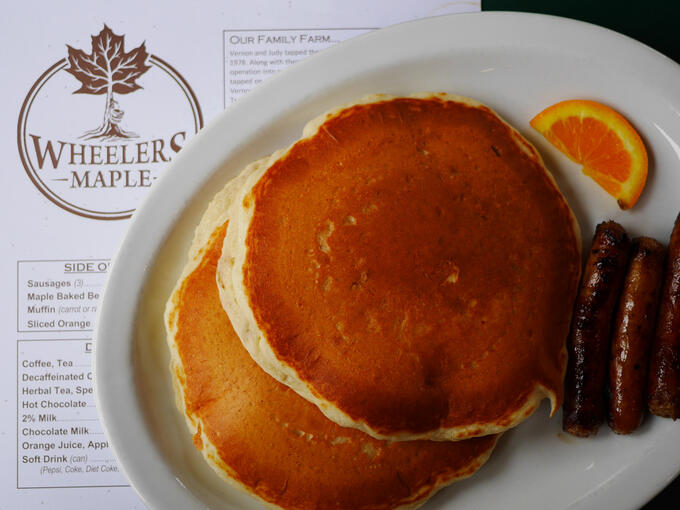 Frontenac County
I continued heading west on Highway 7, heading to Sharbot Lake. I was looking forward to a refreshing drink, and I felt drawn to Kick & Push Brewery for a cold beer. Nestled in the woods off the highway are their brewery, tasting room and bar. where I enjoyed a flight.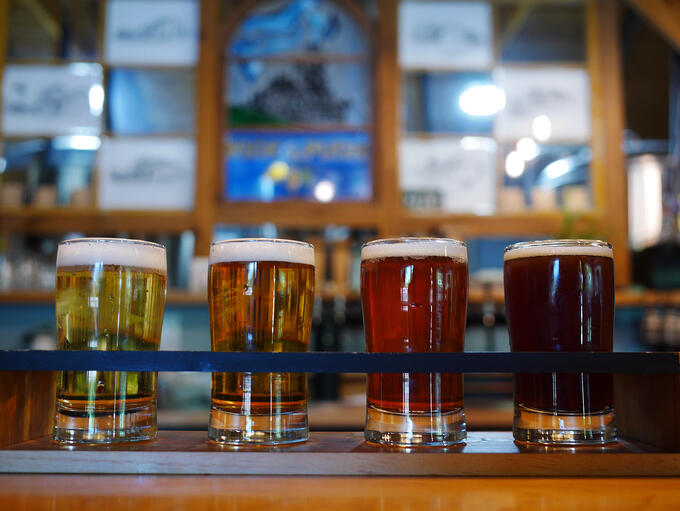 I didn't expect the cold brews to go down so easily, but my sampler was hitting all the right spots on this hot summer's day. The kitchen was still under construction; however, a small selection of food was available. So I ordered a Seed To Sausage hotdog and chips to eat on the outdoor patio.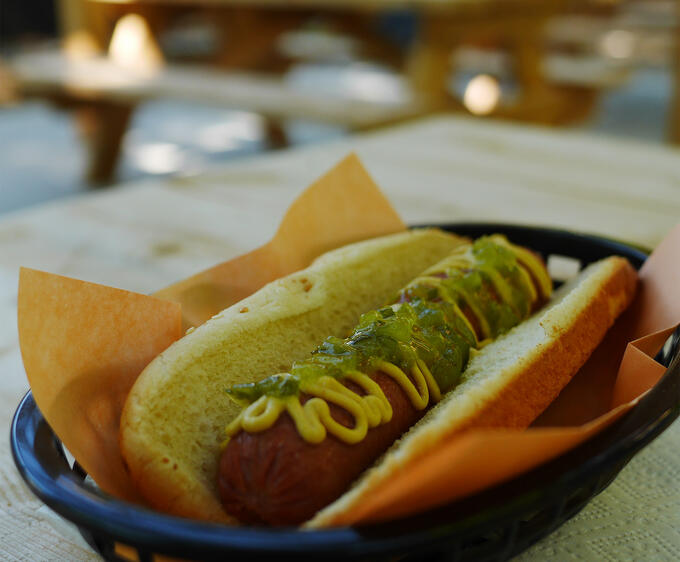 After leaving KAP Brewing and driving for twenty minutes, I remembered I missed out on visiting the Train Playground at Kick and Push Railway Heritage Park in Sharbot Lake and donuts from the Cardinal Cafe! 
I still had nearly two hours on the road until I was home, so I wasn't about to turn around. However, I promised myself another road trip (or two) this year to visit places I had missed on this journey.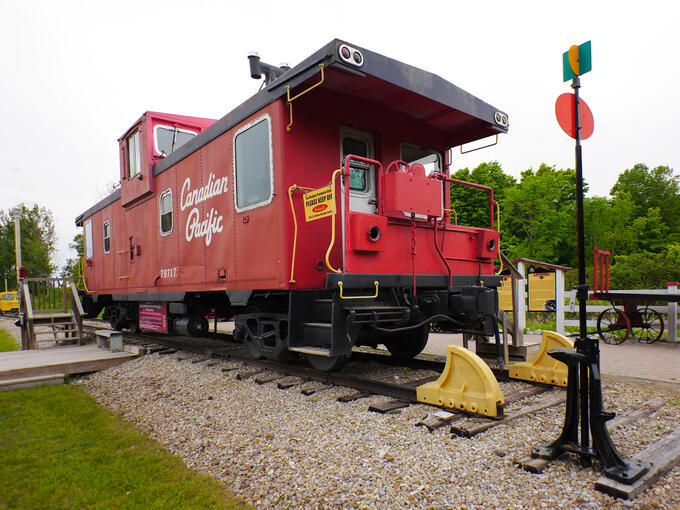 Lennox & Addington County
The few stops I had left on my list were in Lennox & Addington County. I rolled into Cloyne, looking for the Big Chair and found… nothing. Later, I discovered the Derecho Storm of May '22 had damaged the roadside attraction irreparably. In early July, a new chair was installed at its new permanent home at the Cloyne Pioneer Museum!
I thought about continuing north to revisit Bon Echo Provincial Park, but I decided against driving further away from home.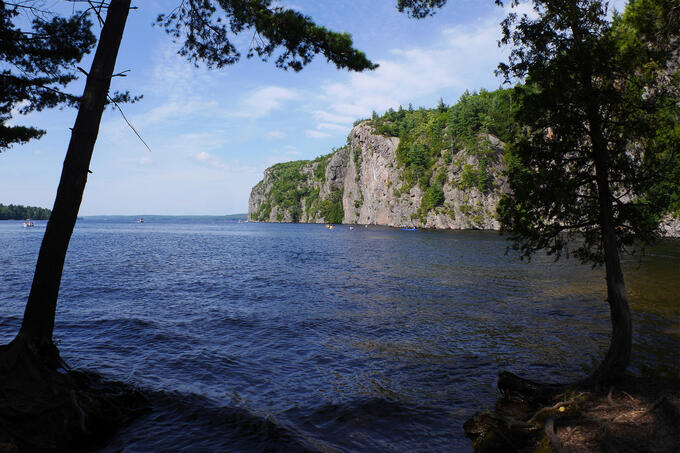 Heading south, passing through Northbrook, I reminisced about eating at Addison's Restaurant. Then, when I crossed Highway 7 in Kaladar, I looked with longing at Gala's Pit Stop. 
I would have stopped for a bite, but I was promised burgers upon my return home - and warned not to spoil my appetite. So I drove on to my last stop of the day.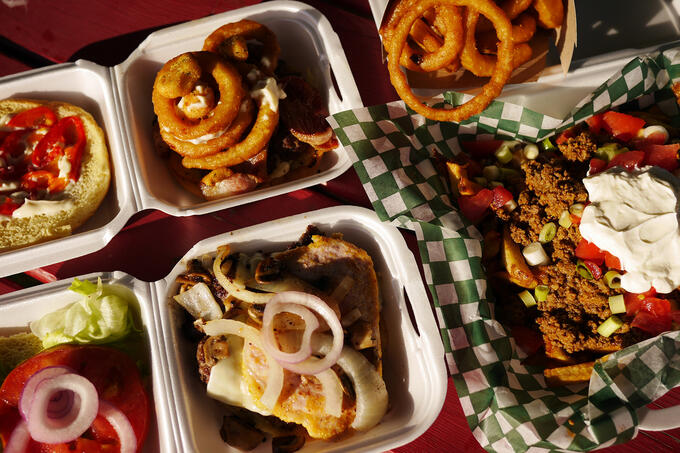 I drove south on Highway 41, I went just past Sheffield Conservation Area to the L&A Dark Sky Viewing Area. I wanted to see the recently installed upgrades around the stargazing pad.
A wall was built to block light from passing vehicles. The improvements included solar panels and electrical plugs for camera gear and powering deep space telescopes. The dividers were painted to resemble a spaceship's corridor, and the finished structure now had a perfect thematic design for the Dark Sky Viewing Area.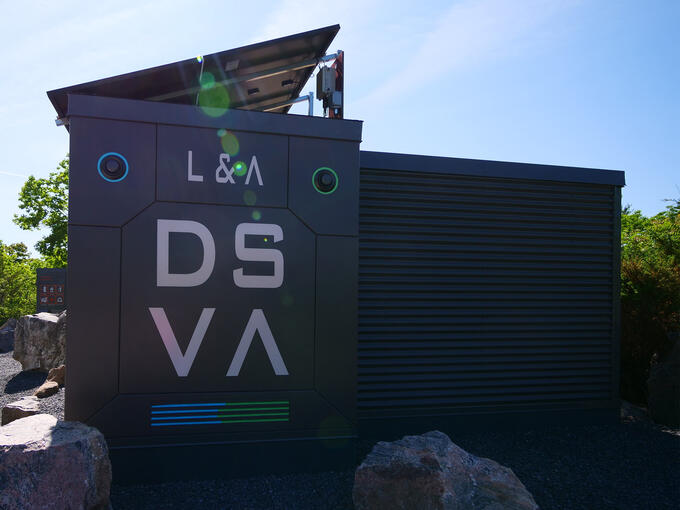 The road trip was almost over, as I played out the past seven days in my head. 
I was tired and inspired.  I couldn't keep from wondering where the next journey would take me in Ontario's Highlands.