Summers when you're a kid feel like they stretch on forever, a seemingly endless march of long, sweaty days spent swinging lazily in a hammock, floating on your back at the lake or giggling with friends in the back of the car at the drive-in.
Those were the days, am I right? Those days made us feel invincible, as though we had the power to freeze time (for two months at least).
What if I told you that you could have that feeling again?
All you have to do is slow down your summer. No big vacations. No jam-packed schedule to fit it all in.  Just you, the lake, and a box of popsicles.
You may not be able to turn back time, but you can sure try. Get inspired with these ideas for a fantastically old fashioned summer like you remember.
Lazy Days on the Water
Lazy river tubing is a chance to stop the clock and let the river's current take you where it will. No hustle, no bustle. At O'Kenny Craft Spirits in Pembroke, you can book a river tubing experience on the Muskrat River, complete with shuttle back to the top of the run. Nearby, Wilderness Tours offers a tubing experience that spans a total of three-kilometres on the Ottawa River! At the end of your trip you can relax on the beach at the resort and watch the sun set.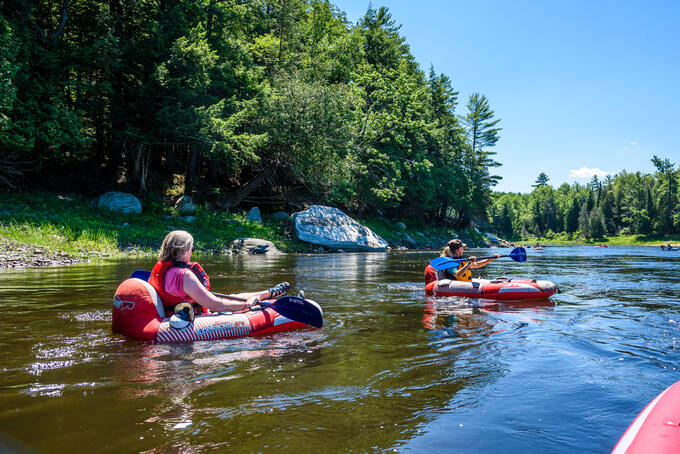 Sun, Sand, and Surf
When was the last time you made a sandcastle, or spent so long floating in the water that your toes shriveled up? With so many bodies of water in the region we are fortunate to have many fantastic beaches as well to swim, splash, SUP, and play in. Some good ones are Burnstown Beach on the Madawaska River in Burnstown, Riverside Park on the Mississippi River in Carleton Place, Murphy Park in Smiths Falls on the Rideau Canal, Rotary Beach on Head Lake in Haliburton, or Sharbot Lake Beach in Sharbot Lake.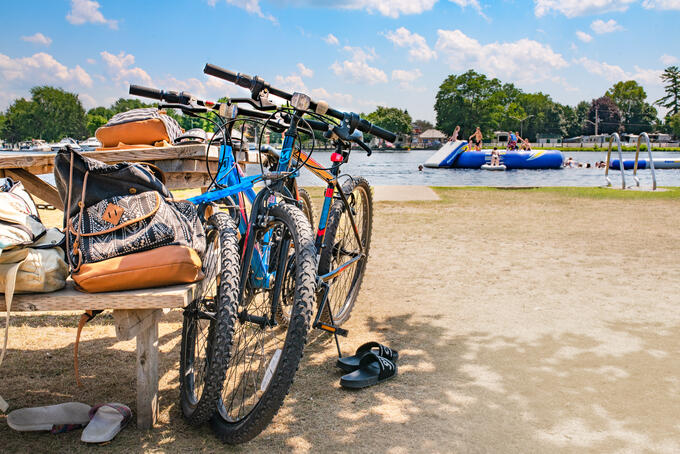 Gone Fishing
Spend the day in the water with expert guide, Jeff Jackson, from Algonquin Fly Fishing and learn the beauty of fly fishing in some of the most beautiful rivers in Ontario. There is no other option for fly fishing besides slowing it down and immersing yourself in the moment. Just you, the rush of the river flowing past, your line and fly, and the sound of the birds calling all around you.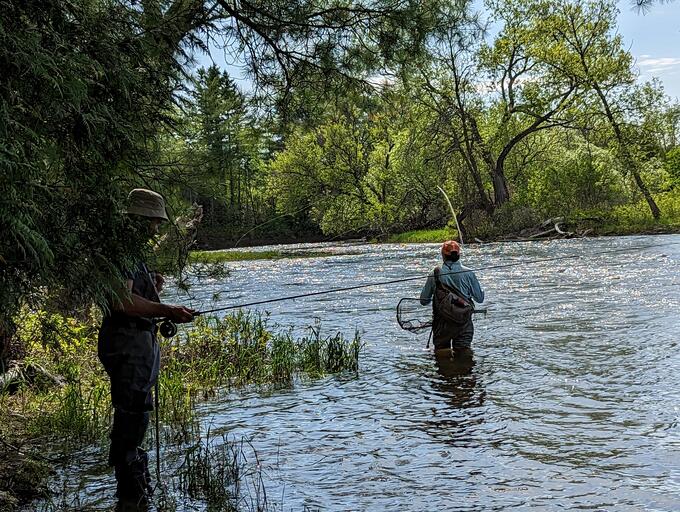 Night at the Drive-in
Maybe it's because of the 1950s movie Grease, or maybe it's just because it's an awesome experience, but there's something about the drive-in that reminds us what it feels like to fall in love for the very first time. Head to the Skylight in Pembroke or the Port Elmsley Drive-in in Port Elmsley (near Perth) and settle in for a night under the stars watching the big screen. If you would rather sit on the lawn for a movie, Smiths Falls' Movies Under the Stars has been running for over a decade and still going strong.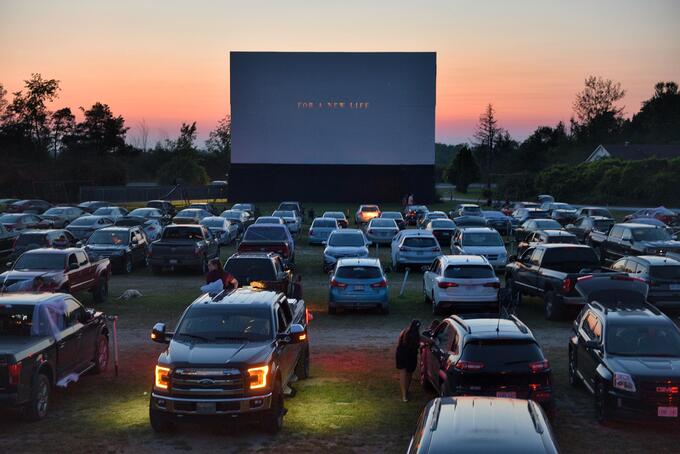 Scream for Ice Cream
Every summer road trip is made better by a stop for an ice cream cone. Visit the iconic, cone-shaped shop at the Minden River Cone in Minden or the Flavour Container in Arnprior for unique shops and a small town vibe. In Bancroft, you can savour Kawartha Dairy's many flavours or stop in at The Almonte Ice Cream Shop in downtown Almonte and enjoy your cone while seated next to the bronze, life-sized statue of Dr. James Naismith.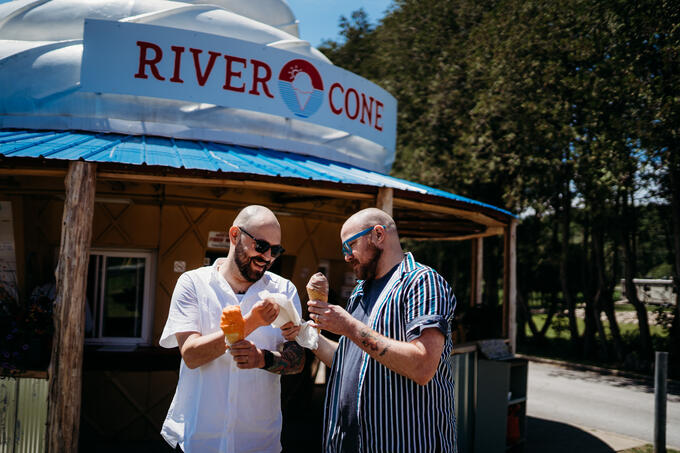 Go Berry Picking
Once a family summer milestone, berry picking meant spending the day in the field picking fruit, fingers stained red from strawberries and raspberries or blue from blueberries (and maybe the odd stain on your mouth, too). This summer try the newest trend in pick-your-own, Haskaps, at Stonetable Haskaps in Lanark County. For blueberries, Balderson Blueberries in Lanark County or Hugli's Blueberry Ranch in Ottawa Valley offer pick-your-own experiences that will be worth the drive.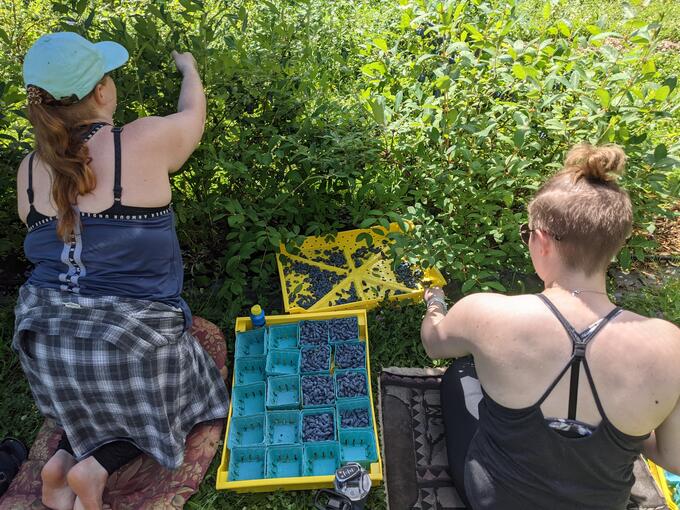 Make Friends with Farm Animals
Imagine wandering out to the farmyard early in the morning and collecting the freshly laid eggs for your breakfast….talk about the slow life! Life can't really get any slower than a hen's waddle. Get the full farm experience from Ottawa Valley Farm to Fork, included in your overnight stay. At Killara Station, you can sleep in a yurt at night and then help in the farmyard the next day.
Get Up Close with an Alpaca (or Cria)
Animals help us to stay in the moment and nothing can do that better than a funny to look at, but totally charming, alpaca. You can experience the quirky personality of an alpaca up close and personal at Forest Cove Farm in Chalk River, or take an alpaca or a llama for a walk at Serendipity Farm & Sanctuary in Lanark Highlands.