Can you hear that? The beach is calling – it is telling you to ditch whatever you have planned for the day, grab your cooler, beach blanket, swim suit and towel and head for the beach. Spending an impromptu (or planned) day at the beach can make the summer feel more like – well, summer!
Beach days are a guilty pleasure we all love to indulge in, complete with fluffy beach blanket, sand toys, and picnic basket. If you can slip away on a hot humid day for a trip to the beach, we highly recommend.
The abundance of lakes and rivers in Ontario's Highlands means there is a beach in most rural areas and small towns or hamlets. This is where the locals head when the weather's just a wee bit too much, and this summer you can, too.
2-22 Confederation Dr., Smiths Falls (Centennial Park)
The Rideau Canal flows through Smiths Falls, a community also known as the "heart of the Rideau" and Murphy Park Beach lies right on the canal and has been a swimming spot for locals for generations. There is a shallow sandy area here for young children, along with a floating deck and floating trampoline for older kids to test their mettle on. 
What to Expect: Park right at the beach, or at Centennial Park and walk over. There are washroom facilities located on site.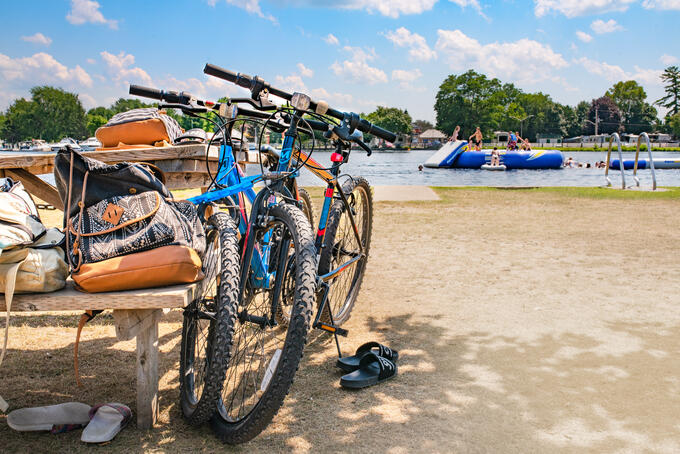 Picnic It:
There is a fabulous picnic program running in town, called PICNIC Smiths Falls. Contact a participating restaurant and order one of their special value picnic boxes to take with you to the park, and you will receive a free picnic blanket, courtesy of the town of Smiths Falls.
133 Yacht Club Rd., Rideau Ferry
This is a popular spot for locals, with a long beach bordering the mighty Big Rideau Lake, which means opportunities for good surf and lively water. The beach is sandy and the slope gentle for getting into the water. This site is also the site of the bi-annual Rideau Ferry Regatta, one of the largest regattas in the area.
What to Expect: There are picnic tables on site, and barbecues.

Picnic It:
 Rideau Ferry is not large so you should have no problem finding the best spot for a bite to eat. CC's on the Rideau is a good option for some heartier fare for a picnic (and they deliver through Valley Eats, although we are not sure if they would deliver to the beach!), or Jimmy's Snack Shack if you'd like something faster.
4101 South Lavant Rd., Lanark Highlands 
This little-known beach is ideal for families, with an on-site park and given its location in remote Lanark Highlands you can be pretty much guaranteed to not find a crowd there. There is lots of space here for you to set up for the entire day, and even an on-site playground.
What to Expect: You can park right at the beach, and this is a very large area so don't hold back on the sand toys.

Picnic It:
Stop in Lanark at Lanark Pizzeria and pick up a steaming pizza and some cold drinks for lunch at the lake. Right next door is the chocolate maker, Village Treats, a convenient excuse to pick up some sweets for dessert.
137 John St., Carleton Place
There is so much to say about this amazing park and beach, located on the Mississippi River in the heart of Carleton Place. Picture towering trees that are perfect for spreading a picnic blanket underneath, and a long waterfront complete with a play structure, splash pad, and picnic tables.
What to Expect: There are lifeguards on duty from 9:30 a.m. to 6 p.m. in July and August. 

Picnic It:
We recommend picking up a sandwich to go from The Good Food Co. on Bridge Street, downtown.
195 Water St., Almonte
Located at the Almonte Fairgrounds on the Mississippi River, the beach in Almonte is small enough to still be cozy, has a nice swimming area and the water is slow enough that young kids can safely wade. This area is close enough to downtown that you can easily walk back and forth when you want something to eat or drink (or use the washroom).
What to Expect: There are public washrooms at Almonte Old Town Hall, just a five minute walk from the beach.

Picnic It:
 Right up the street from the park is Tea and Cake or Baker Bob's both of which can make up a mean sandwich and sweet treat to go.
Beach and Cedar Rd., Deep River
This small community on the Ottawa River is known for its fabulous sandy shoreline that will make you feel like you are in a Caribbean island instead of the Ottawa Valley. There is over 400-feet of beach here to challenge friends and family to a sand castle contest. 
What to Expect: Lifeguards are on duty here daily from 12 p.m. to 5 p.m. in July and August.

Picnic It:
When in Deep River a must try is one of Godfather's Pizza's gooey, cheesy creations. The good news is, these pizzas taste better cold, and are perfect for no-muss, no-fuss picnic fare.
400 John St., Arnprior
If you love waves and maybe want to bring a boogie board with you, Robert Simpson Park in Arnprior can be your best friend. The surf can get pretty high here when the wind is high, and the beach is long and perfect for sunbathing. 
What to Expect: There is a concession stand on-site, with washrooms and a splashpad as well.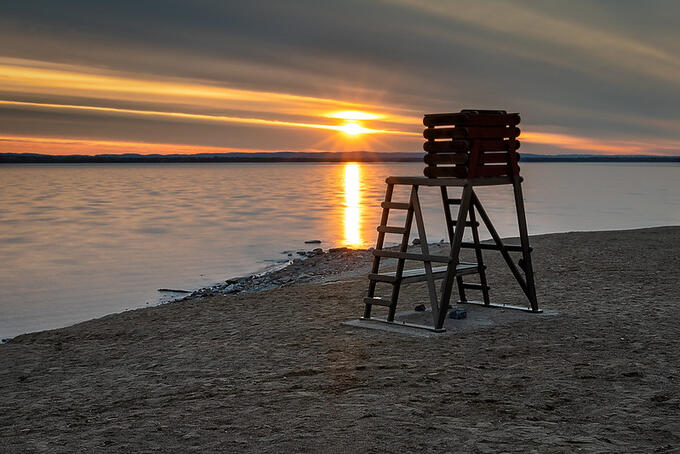 Picnic It:
When in Arnprior a must stop is Wes' Chips, a local icon. If you're looking for picnic fare that's more than just fries, Krave Bistro can fix you up.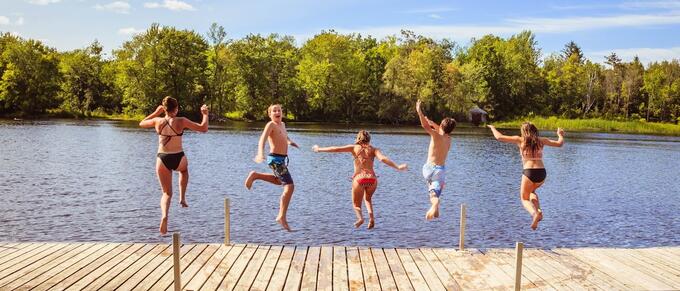 1537 Calabogie Rd., Burnstown
The tiny hamlet of Burnstown naturally has one of the best beaches on the Madawaska River. Located within walking distance of town, you can relax on this sandy beach for hours, then walk to get an ice cream cone from Laurent's Ice Cream & Cafe in Burnstown proper.
What to Expect: There is a playground, new picnic tables, and a washroom on-site. 

Picnic It:
Neat Café or Blackbird Café will have something delicious for you to take with you to the beach. We recommend Blackbird's Montreal meat smoked sandwich.  
123 Dog Point Rd., Maple Leaf
Located a bit north of Bancroft proper (roughly 30 km), Papineau Lake Beach is sandy and shallow, ideal for families with young children. The water here is crystal clear and the remoteness of this location will make you feel like you are all alone in the world.
What to Expect: There is a parking area just a short walk from the beach itself.

Picnic It:
1073 Island View Dr., Petawawa
Known simply as "the Point" by locals, this beach is so popular it's also one of the sites in the renowned Water and Dirt Festival that takes place mid-August, a high octane event that combines swimming, paddling, mountain biking and fly fishing. The beach here is large and sandy, so bring your sand bucket and plan to spend the day here.
What to Expect: Bring your volleyball because there is an on-site volleyball court to warm up in before you cool down in the water.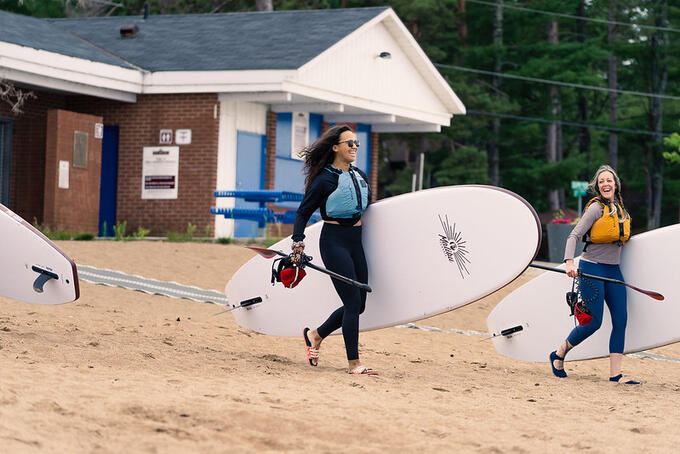 Picnic It:
1021 Medical Centre Rd., Sharbot Lake
As you can tell by its name, the community of Sharbot Lake is all about the lake, and this beautiful body of water falls on both sides of town, which means waterside views for everyone. The community beach is located near the causeway that divides the water into two sides, and has a small park and grassy area to make it the perfect day trip getaway on a hot summer's day.
What to Expect: There is a playground on-site, and parking adjacent to the beaches. 

Picnic It:
There are a few options for places to grab a picnic lunch from in Sharbot Lake. Belong Sharbot Lake is brand new, and is not far from the beach, or Cardinal Cafe + Shop is also a walkable distance, so you won't need to change out of your swimsuit.
BONUS:
If you're looking for a resort-style beach day, this is the beach for you. You need to purchase a rafting trip to access this phenomenal beach at OWL Rafting's resort. With your raft trip you will have access to SUPs, kayaks, canoes, and the resort's floating dock, not to mention the beach volleyball area, and other fun beach games.
What to Expect: This is the perfect place to lounge after a full day on the water, rafting!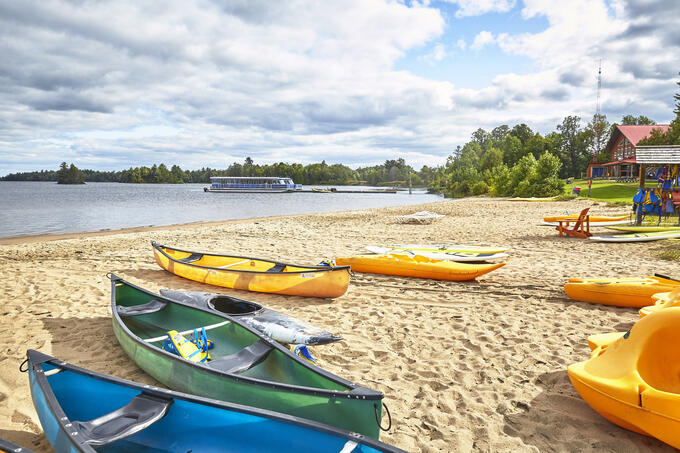 Picnic It:
Your meals are included when purchasing a rafting trip, and there is an on-site cafe open from 7:30 a.m. to 5 p.m., daily.
They don't call this resort "The Sands" for nothing! Guests at the Sands on Golden Lake will tell you the beach here is stellar, one of the best in the region, with warm water, and more than 200 feet of pristine sand to set up your beach day headquarters. You won't want to leave the beach when you stay here.

Picnic It:
There is a restaurant on-site - ask for take-out of one of their hand-helds, like their "Sands Burger" with more than six ounces of prime rib served on a toasted Kaiser bun with cheese, bacon, onions, as optional add-ons.