I love setting goals on the bike; It seems like this happens on a micro and macro level constantly. The first 50-kilometres, then the first century, the first overnight. On the ride, you have these little checkpoints. Energy bars, swims, coffees, calories, hours in the saddle, kilometres in a day. It's a constant.
This became my goal for the 2020 season: a 330-kilometre counter-clockwise loop that I planned to tackle in three days. I figured if I was going to do it, then I best document it for future cyclists that might be interested in tackling it. I called my friend Tanner Pare, a cyclist and photographer from Peterborough, to see if he was up for the challenge. It was an easy sell. The Choo Choo Loop was born.
The Route
The Choo Choo Loop started in Sharbot Lake and followed the K&P Trail south to Harrowsmith, where it intersects with the Cataraquai Trail, which runs east and west. We hopped on it there and rode it all the way to Smiths Falls on night one.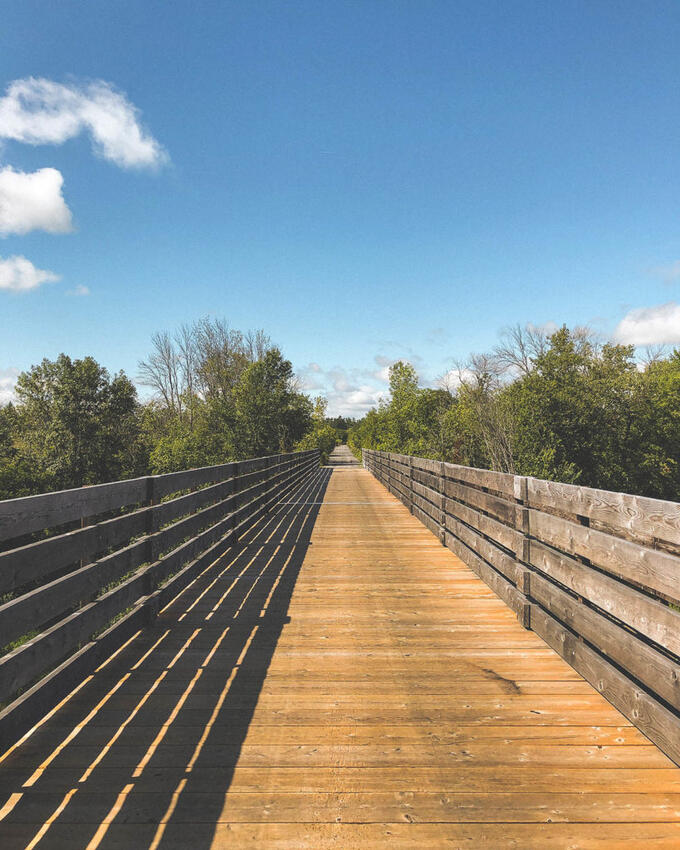 Our second day was spent on the Ottawa Valley Recreational Trail (OVRT) which runs from Smiths Falls to Mattawa.
"The nice thing about the Ottawa Valley Recreational Trail is that every 20 kilometres or so, you hit a town. It makes for a nice way to break up a longer ride and it seemed that as soon as you left a town, there was another one to look forward to - the water tower for each town on the horizon served as a beacon calling us forward from one spot to the next."
We hopped off the OVRT at Renfrew and headed south on the K&P again to Calabogie for our second night. On the last day of riding, we stayed on the K&P until Sharbot Lake. Save for a few kilometres here and there, we rode almost exclusively on old rail beds. This story focuses on the route from Smiths Falls to Arnprior.
Overnight in a Caboose
It was a mellow arrival into Smiths Falls. No fanfare, just two tired dudes with 147 kilometres under our belts, ready to eat and put our feet up. And where is the best place to stay while riding a 300-kilometre-plus rail bed loop? In a caboose, obviously!
The Railway Museum in Smiths Falls has a couple of cabooses on AirBnB which you can book to overnight in, and I can't recommend this enough. We rolled in at dusk and were greeted by two staff members who gave us the keys and showed us around.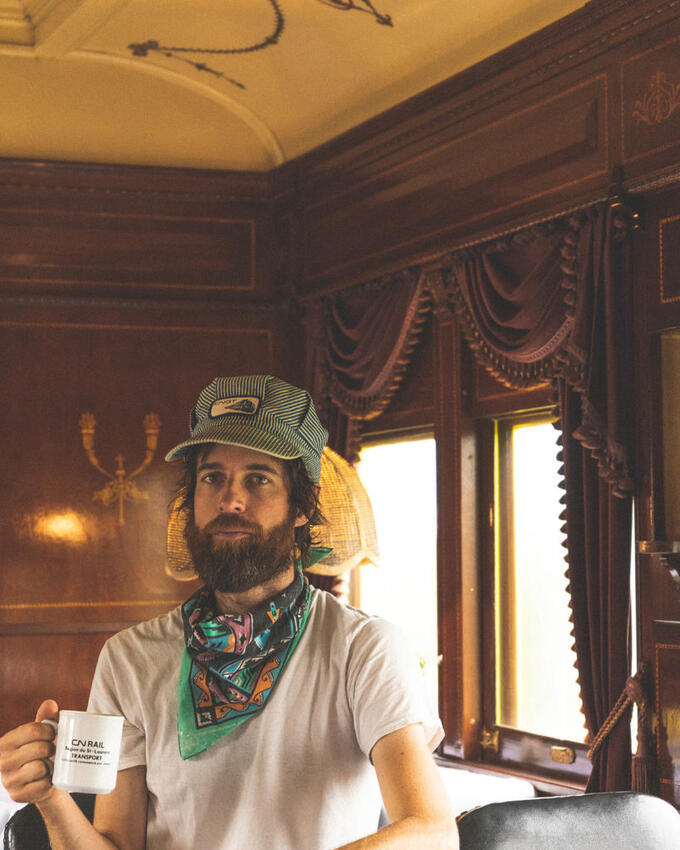 The cabooses are still on the tracks and the one we stayed in was built in 1945. I'm sure that after 147 kilometres even sleeping on the floor would've been comfortable, but these beds were great and the whole caboose is such a vibe. Very cozy and the perfect place for a couple of weary cyclists to rest their heads and sore bodies.
We'd ordered dinner ahead as part of Smiths Falls "Picnic" initiative. A series of local restaurants are offering take out meals that come in a special picnic box. It's a really cool thing and a convenient way to eat local, but to munch the food wherever you want. The boxes were awesome, loaded with delicious food and so convenient.
Picture the two of us cramming salads, sandwiches, pastries (and, of course, butter tarts) into us and then washing it down with a local craft beer. It was a glorious end to an epic day of trail riding and the perfect place to put our feet up. The caboose gets a five-star review!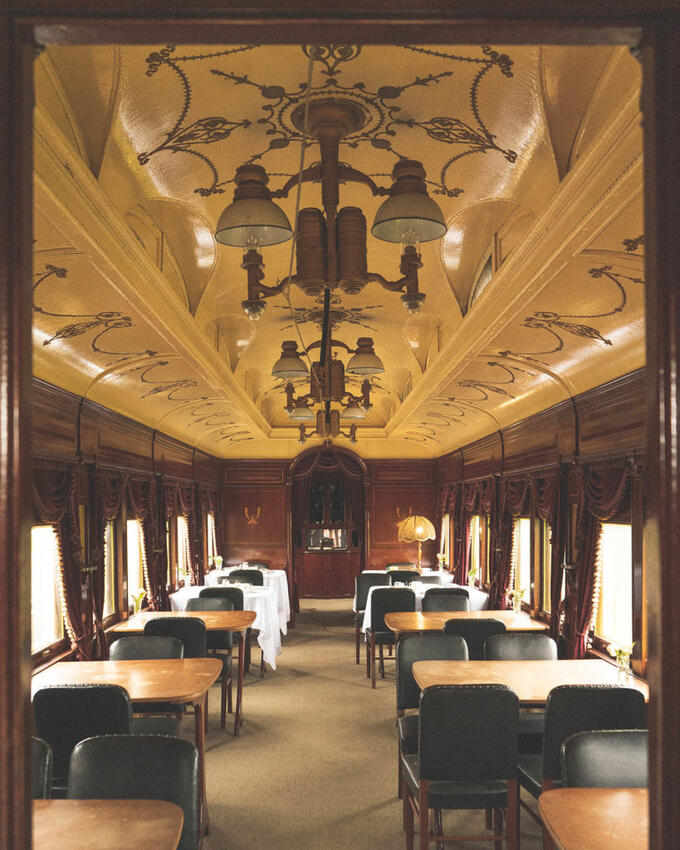 The Ottawa Valley Recreational Trail
In the night, I was awoken by rain pounding down on the roof of the caboose. I rolled over and fell back into a deep sleep. There's nothing more comforting than a cozy bed, in a caboose, in a rain storm, I tell ya.
When I awoke for real the second time, it didn't look nice out. A light mist was falling and the sky was a solid grey. The forecast we'd been watching and dreading for the last few days seemed to be coming true. Our weather app had been showing 60-70% chance of rain all day ,with electrical storms, as well.
We'd come to an agreement the night before that if it was just rain, we'd try our best to ride and see how far we could make it, but that we'd call it if it got too stormy and felt unsafe. We took our sweet time in the morning at the train station, touring the museum, drinking coffee and munching the leftover pastries from our Picnic packs until finally rolling down the ramp off the platform and out into a misty morning.
After a few kilometres of streets through Smiths Falls, we hit the OVRT, which starts on one end of the town. This is the trail we'd spend most of our day on and it's essentially a cycling superhighway, wide and well-maintained, that runs from Smiths Falls and would take us all the way to Renfrew.
Small Town Charm
It was nice to see how many people use this trail. Some folks were fully loaded down with bags and heading out into the great beyond, babies in strollers, ladies out for a walk. The perfect surface and lack of elevation had us reaching Carleton Place in no time.
On the edge of town I found a new pump track to take my bike on which was a blast and got the blood pumping. We snapped a few pictures downtown and then pressed on to Almonte for our proper breakfast/lunch stop, and a few other places I'd been eyeing to check out.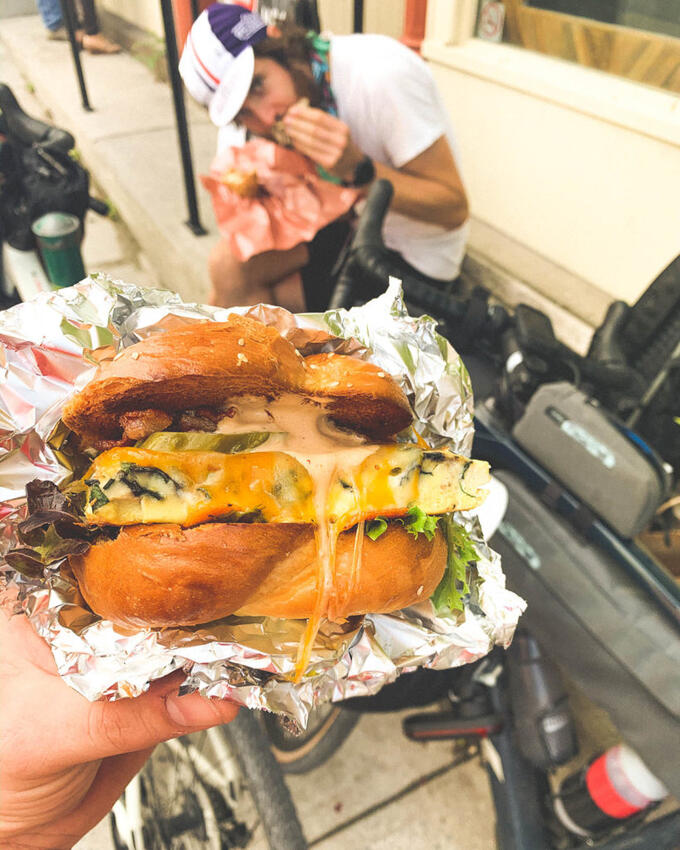 We grabbed lunch at North Market and, after following their Instagram a week before we left and salivating over the photos they were posting, they did not disappoint! It was so good that I picked up extra food for the trail that afternoon. Arguably the best muffin I've had in my life was consumed that day.
After lunch, we motored over to Healthy Food Technologies and Dairy Distillery, two of the quirkier stops on the loop. HFT makes crazy donuts but with half the fat of a regular donut. Seemed to us like the perfect bike snack, so we loaded up. The owner of HFT pointed me in the direction of the most popular donut, and Tanner rolled the dice on an elaborate Skor donut. If we only had room for another dozen of these beauties on our bike.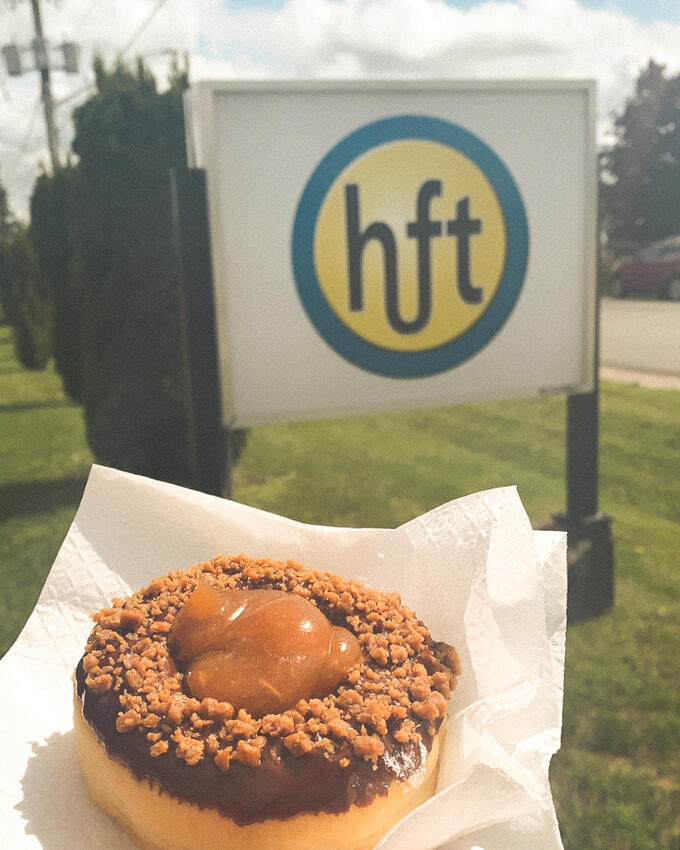 Across the street from HFT is Dairy Distillery. They make vodka, or "Vodkow", as they call it, out of Canadian dairy permeate. The space they've built is worth the trip alone. Beautifully designed with lots of glass, so you can see on to the distillery floor. I bought a bottle of the Vodkow for post-trip and also some of the hand sanitizer they recently started making. Almonte offering a one-stop shop for your donut and vodka needs!
We burnt an easy hour in Almonte, snacking and visiting these cool places, and it was time to hit the road with…wait for it…blue skies above us! The clouds had disappeared (was it the vodka or the donuts?) and the bicycle superhighway awaited us again. We had 133 kilometres to put down this day, so we knew that we were lagging a bit behind. But there were so many nice stops along the path to grab food, refill drinks or to take photos that we kept stopping.
Fresh corn lined the trail on both sides and with the trail being in farmland, and quite exposed at times, a light wind kept us pushing into the pedals. We had donuts to burn off and the extra effort was fine. It was a good day to be on a bike.