It takes a village to create the most meaningful experiences and Burnstown offers that in spades! This bustling community offers unique places, activities, shops and amazing people enveloped by picturesque views and relaxing atmosphere within the Ottawa Valley.
While there is a lot you can peruse through within a weekend here are a few things you can't miss when exploring:
SUP and Swim at Burnstown Beach
Our weekend began with making our way out for a morning paddle at Burnstown Beach. We spent time sitting and enjoying the views from the beach beforehand and the water is calm, inviting and full of life.
You'll always find others who love to paddle, be on their boats or swim. The beach provides plenty of room to put out your blanket and enjoy the morning sun too.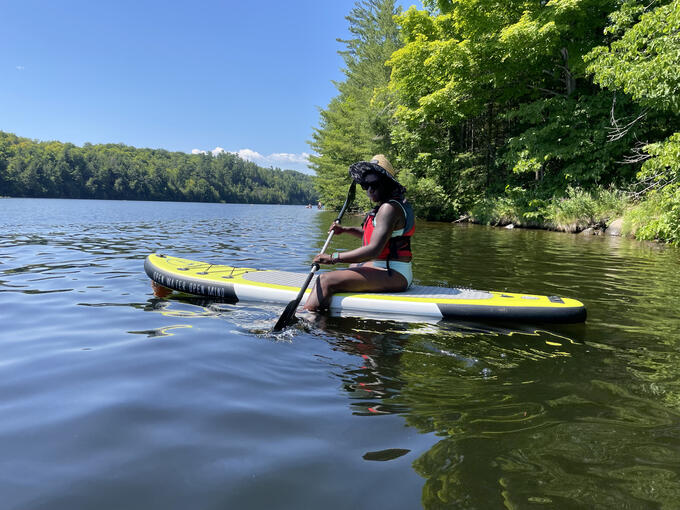 Best thing is to head out to the dock which is just beside the beach. Paddle boards and kayaks were purchased by the Township of McNab Braeside from Mad River Paddle Co. and can be rented by the hour or by the day. 
There are different boards to choose from depending on your experience, type of paddle boarding you'd like to do. Safety gear and instructions plus guidance beforehand. For someone like myself who doesn't get out on a paddleboard often it was reassuring and interesting to see.
The water at the beach is always the perfect temperature and it doesn't hurt that there's a few spots you can catch shade too!
After all that paddling it was time for lunch. I was starving and grateful that Neat Coffee Shop was s so close to the beach. At first when you drive up to the four corners where Neat Coffee Shop is located your eye focuses on the bright blue and red paint of the building, but there is so much more to this place.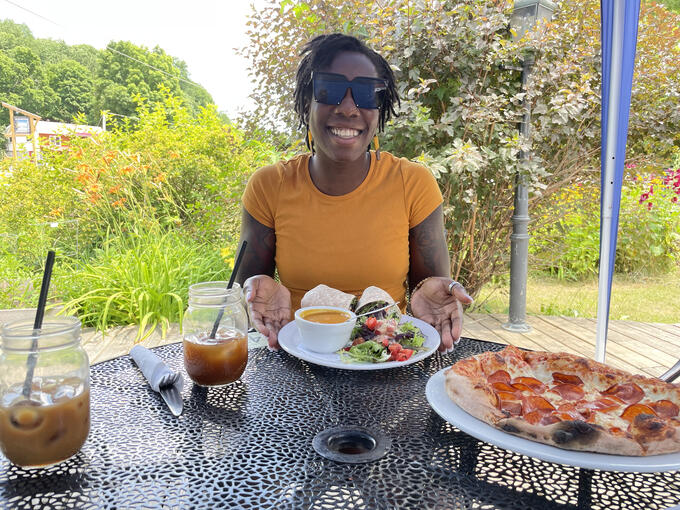 Upon walking from the parking lot you can find built up vegetable planters that take your breath away with beautiful aromas of herbs and vegetables you know are put into each dish. Then that scent transforms and you notice hints of rich coffee, baked goods and other delights based on what's happening at the outdoor patio.
Now if the aromas don't bring you forward, the laughter, service and wide array of talent that have passed through their doors certainly will.
I was really pleased with the meal I ordered and moments I was able to spend enjoying the sun some more. It's welcoming and must stop place before venturing to your destination or making it the destination.
I can't have dinner without dessert!!! Across from The Neat Coffee Shop is Laurent's Ice Cream & Cafe. With over a dozen homemade flavours it was such a treat to read through them all, learn more, order and enjoy.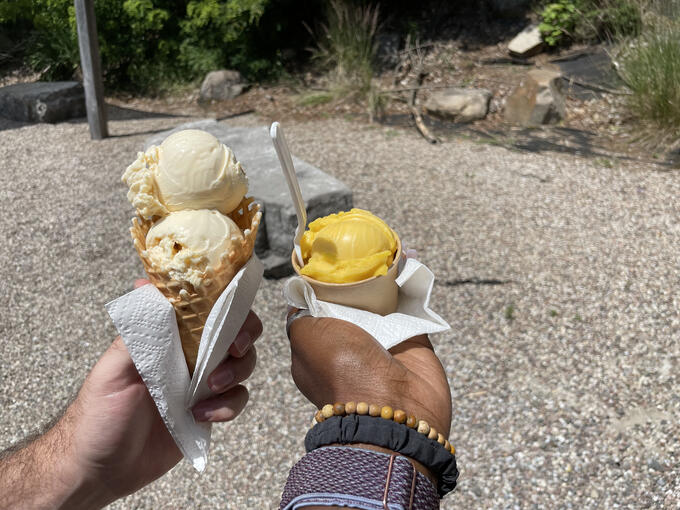 Each flavour is made from scratch, they provide dairy free options as well. Ice cream is great, but the care that Laurent's places from creation to the final is magical and you can tell in each scoop.
There's a lovely outdoor space where you can sit under a canopy and enjoy. You may not hear much conversation as everyone is focused on their ice cream but you will notice smiles on faces and a collective understanding of how precious this afternoon treat is.
Let's talk about dinner! After our ice cream treats we went back to the beach for a few more hours  but dinner started to roll around (get it?). After being all over Burnstown enjoying the outdoors, local spaces we also needed to explore the nightlife. 
The Blackbird Cafe carries an eclectic menu and cozy atmosphere. A great for solo dining or date night especially as the portions are filling and plated with style. This place is always hopping and there's always space whether you make a reservation or stop in.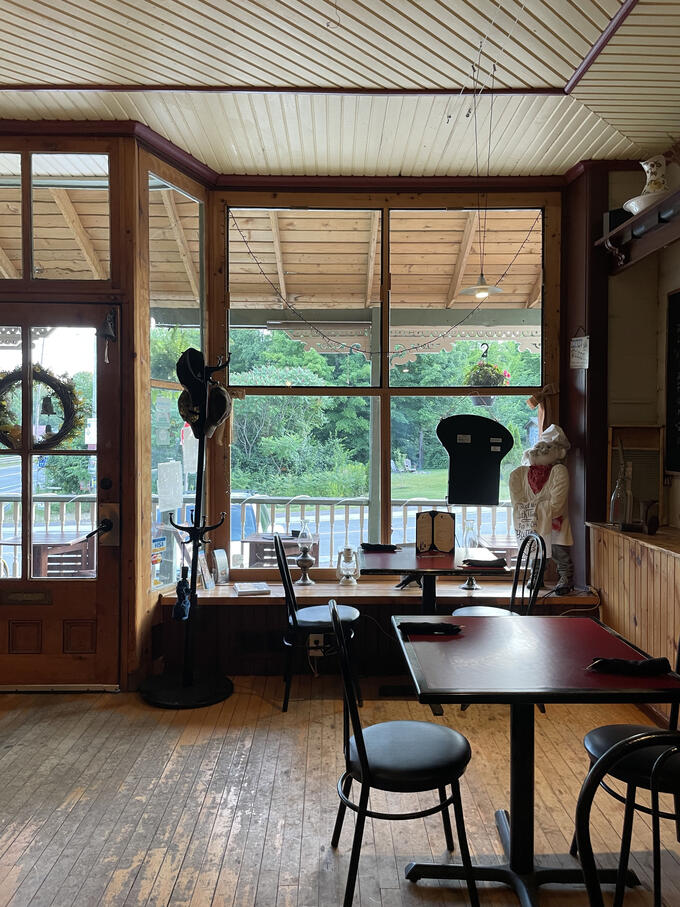 The inviting smiles and compassionate care tempted me to order everything on the menu and if you're sitting out on the patio you may hear one of Neat Coffee Shop's concerts from across the street, double bonus! Something really fun was that 30 minutes before we got there Dan Akroyd (!!) had dinner and couldn't stop complimenting the food!
Burnstown has so much to offer and it's really the people and their attention to others that will make your day. Pair that with delicious food, outdoor activities and talent there's no way you won't have a great time.
Take time right now to set aside a day, a weekend or even a moment to visit. You'll be inspired, full and delighted by what you find.