Lanark County is the perfect staycation destination for anyone from the Ottawa, Kingston, or Toronto region – not too far away that you can't make it there in just a few hours (at the most) but close enough that you won't spend the majority of your trip asking "Are we there yet?"
This summer, Lanark County's charming, small-town communities centred around the Mississippi River and the Rideau Canal, can offer the perfect community-hopping itinerary where you can see and do it (almost) all in just a few days. Read on to find out where to go, stay, and what to do while you're here.

What to Bring:
You'll want to pack your walking shoes, hat, and camera. A bicycle would also be a great addition to this trip!
3 Days of Shopping, Dining and Exploration in Lanark County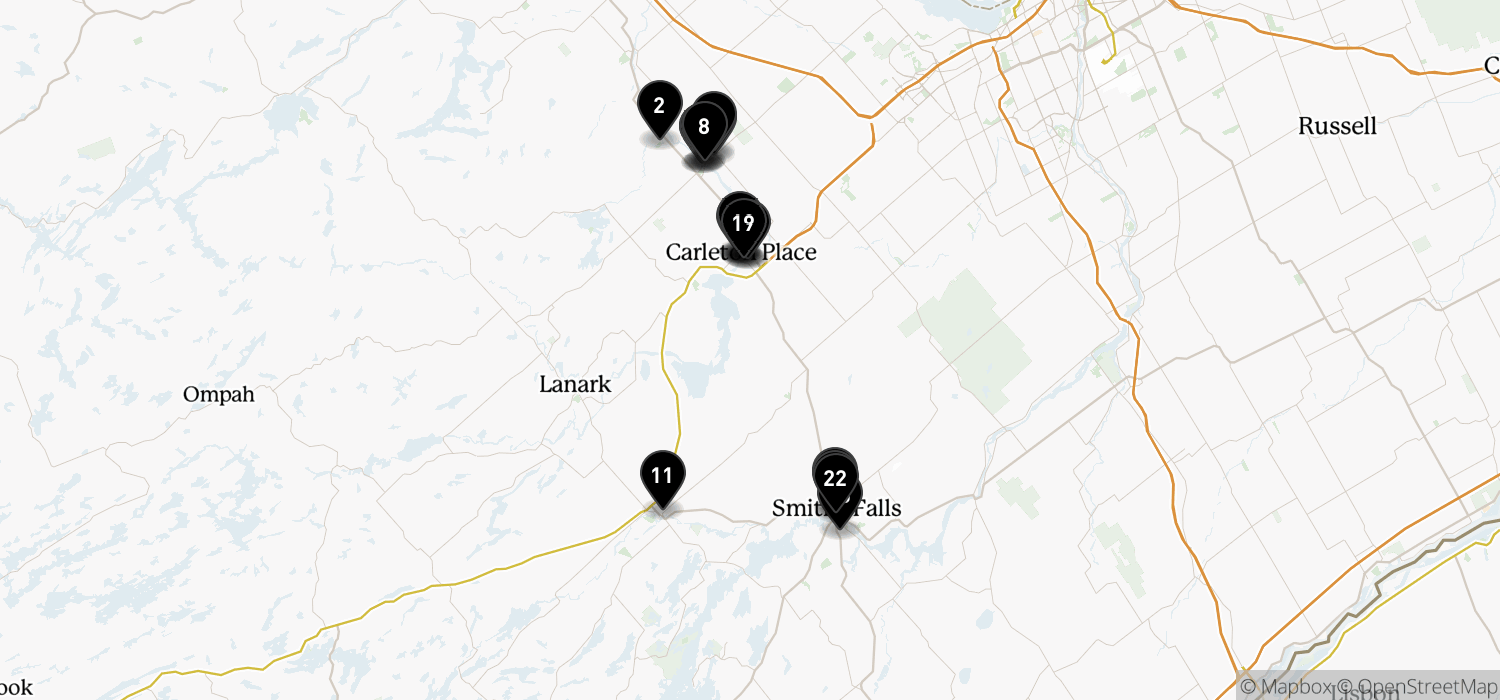 Day One
Start of Day One
Start Here: Almonte
Almonte is the perfect place to begin your journey in Lanark County! Only a 30-minute drive from Ottawa, Almonte has it all: artistic scene, food and drink, and plenty of cute little shops to weigh down your arms before the day is out.
What to do here
About the area
Almonte
Lanark County
From Toronto: 360km • 4 hr 30 min
From Ottawa: 52km • 50 min
Dr. James Naismith, the founder of basketball, was born in Almonte, where the original homestead still stands today. Visit the Dr. James Naismith memorial statue on Mill Street, and get your picture taken with this Canadian legend.
Time Spent Here: Plan for a full day (six or more hours) spent in Almonte; you won't regret dedicating the extra time to really explore this fun and artistic community.
Riverside Inn is a historic inn located on the shore of the Mississippi River and is an easy walk from downtown Almonte.
What to do here
Dine downtown or you can also keep it simple and eat at Loom Bistro, right in the inn. These folks are known for their delicious fish tacos.
If you're still hungry after dinner, pick up an ice cream from the Almonte Ice Cream Shop and enjoy in the riverside gazebo beside the Mississippi River.
End of Day One
Day Two
Start of Day Two
Waken refreshed from a good night's sleep in one of the Riverside Inn's six fully restored rooms.
14km
Next Stop: Carleton Place
Just as in Almonte, the Mississippi River is the focal point of this historic waterside town located only 30 kilometres from the city of Ottawa.
Time Spent Here: Plan on at least three-to-four hours spent in Carleton Place. If you want to extend your stay, check out the historic and majestic Grand Hotel on Bridge Street.
30km
Next Stop: Smiths Falls
At the heart of the UNESCO World Heritage Site sits the vibrant town of Smiths Falls. Here the Rideau Canal is front and centre, and you won't run out of things to do or see.
Time Spent Here:  Arrive in Smiths Falls by noon to ensure you have time to see and do it all (and eat it all!) before check-in to your hotel.
Check in to one of the historic and recently renovated Airbnb rooms at the Hotel Rideau and use this as your launchpad for exploring the community of Smiths Falls.
End of Day Two
Day Three
Start of Day Three
Start Here: Smiths Falls
Wake up to your last day and head downstairs to C'est Tout Bakery to pick up a cup of coffee and some baked goods for a light breakfast to fuel your day.
20km
Last Stop: Perth
Make the short, 15-minute drive to Perth for your final day exploring Lanark County.
What to do here
On Saturdays, the Perth Farmers' Market at the Crystal Palace in downtown Perth is worth a visit.
Don't miss seeing the Mammoth Cheese in downtown Perth, a replica of the 22,000 lb cheese made for the World's Fair in 1893.
Stroll through Stewart Park, the crown jewel of Perth, and be sure to detour past the statue of Big Ben, the world champion horse that rode to fame with Perth Olympian Ian Millar.
If you're not all shopped out already, swing past Fall River & Co. for fashion, home décor, and even some local fudge to add to your baggage.
Stella Luna Gelato Café in Perth has all the gelato, fudge, nuts, bagels, pastries, smoothies you will need  to keep you going.
Don't head home empty handed! Visit Perth Pie Co. for a fresh or frozen pie to take home with you.
Lunch locations are plentiful here – try Michael's Table or Gather for homestyle, made-from-scratch dishes.
About the area
Perth
Lanark County
From Toronto: 320km • 4 hr
From Ottawa: 85km • 1 hr 10 min
Perth is known as one of Ontario's prettiest towns, and once you visit you won't want to leave. As a town older than Canada itself, it boosts over 100 designated heritage buildings, with boutique shops, specialty stores, and restaurants to suit your tastes. Rent a canoe and explore Perth from water on the beautiful Tay Canal.
Time Spent Here: Plan for five or more hours in Perth – there is really so much to see you may want to tag on another day to your trip! If so, the Perth Best Western Parkside Inn & Spa can be your go-to accommodation.
End of Trip