A trip down Hwy 7 begs for the opportunity to deviate from your route and discover new communities, people, and places. As you approach the town of Perth if you turn off the highway onto Elphin Maberly Road, you're now travelling "North of 7" and into an area steeped in classic Canadiana.
Edged by thick bush, Highway 36 turns into County Road 12 connecting the communities of Elphin, McDonald's Corners and Lanark Village. The long winding road cuts through the heart of Ontario's Maple Syrup Capital revealing sweet gems along the way.
Elphin
It's easy to miss the small community of Elphin, but if you slow down you'll spot the  Elphin Bakery, a local gem which boasts"nothing but lip-smacking goodies." They're right!
As you walk into the small but mighty space, you're greeted with a counter displaying many treats including classic Canadian creations including rich Nanaimo bars. The smell of fresh bread, savoury and sweet flakey pastries, pies, pillowy soft Cinnamon buns and more, fills the air.
The staff is as warm as the freshly baked bread. If you're lucky and get your timing just right, you'll be greeted with baking directly from the oven.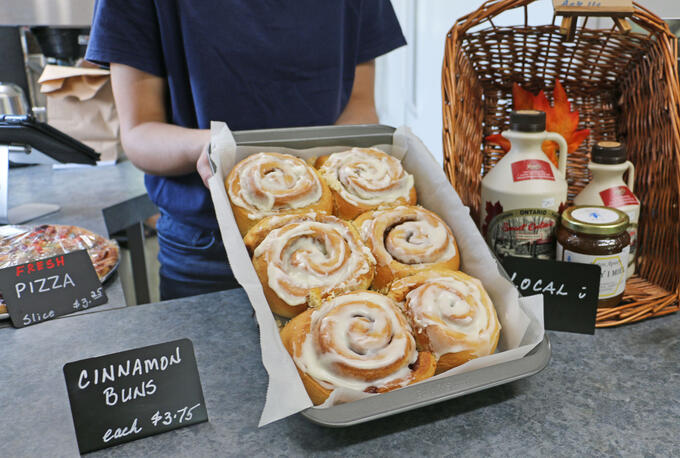 Insider Tip:
On Fridays, you can order freshly made pizza from the bakery. Be sure to call ahead.
McDonald's Corners
Head deeper into maple syrup country during the summer months and in McDonald's Corners. Even though it's a blink-and-you'll miss-it-sort-of-place, if you hop out of your car and explore there's a lot to be discovered.
McDonald's Corners Farmer's Market
Pull up to the McDonald's Corners Farmers' Market on Saturdays in the summer months and you'll be greeted by the sounds of live music – bringing you into the fold of what country living is all about: friends, food and hard work.
Local vendors showcase their wares as the smell of lilacs dances in the air enmeshed with the sounds of live music and fresh coffee.
Pam Black of Pam's Soaps offers a vital concoction: her famous, and infamously secret "Bug Juice" – natural, and wonderfully fragrant, insect repellant that keeps pesky mosquitos and black flies away. You can promise will be your perfume of summer.
After shopping, grab a breakfast sandwich made by Sarah Wilson, of Worthewaite Farm, and a coffee, sit on one of the picnic tables and enjoy the smooth sounds of local music behind the historic schoolhouse, now operating as an art and recreation hub. While you're there, pick up some locally made maple syrup – a staple of the region.
Wheelers Pancake House, Sugar Camp & Museums
If you're looking for a full maple experience, you can't miss Wheelers Pancake House, Sugar Camp and Museums, a sugarbush tucked deep in the heart of maple syrup country near McDonald's Corners.
The sugar bush is now one of the largest producers in Ontario with over 20,000 trees tapped, and their pancake house serves up the best pancakes around. You won't need to mull over a large menu: choose from Pancakes, French toast and maple sausage, with a fresh orange slice – both carb-rich vehicles to let the syrup sing.
After the sugar kick, you'll have the energy to check out their Maple Museum to learn about the history of the industry in the region.

Insider Tip:
Come early or late during maple season if you want to avoid a wait. Line ups can be long as hungry patrons wait to get their fill. They also have swings and a big tube slide for young ones to burn off the sugar. The barn out back has a few farm animals excited to say "hi" too.
Lanark Highlands Basketry Museum
After you've had your fill of syrup, your next stop can be Canada's only Basketry Museum where you'll be greeted personally by curator, Ankaret Dean - a delightful spirited woman excited to teach you about basketry. Dean will guide you through the history of basket-making and offer insights into the wonderful world of woven wood.
You'll learn about the different techniques and materials employed by the Indigenous peoples and settlers of the area. The intimate display is located in a quaint building behind Dean's house and includes examples of basketry made from materials that can be sourced in the local region.

Insider Tip:
You need to book an appointment to visit in 2022.
Highlands Country Store
After the museum, head to another community hub and heartbeat of McDonald's Corners, The Highlands Country Store. Even if you're not local, you'll be treated like one.
The store was rescued by two local women after they heard of its impending closure. It's been revamped as a classic general store with a modern flare. The store carries all the staples – milk, bread, eggs – as well as carries some fruits and veggies, sliced meats, coffee, and locally made gifts and crafts.
In the summer months, you can enjoy soft-serve ice cream served up in the rear of the store.

Insider Tip:
Sit in the Adirondack chairs with your ice cream and enjoy the village vibe. You won't sit long before one of the many customers coming in and out strike up a conversation.
Continue down County Road 12 and you will find your way weaving through windy, picturesque roads.
Roll down your windows. There is nothing like fresh air North of 7. The natural elements have always been a key asset for those who live here. Early industry in the 1800s included grist mills, flour mills, pork-packing and tanning, followed by the development of maple syrup, lumbering, saw mills, furniture making and fishing.
 Lanark Village
 As you reach the junction of Mill Street, South Street and George Street, which leads you up the main street of Lanark Village, you'll find a local staple – Fitz's Fresh Cut Fries and Take Out – where you can dine on the quintessential Canadian cuisine, poutine.
Rich dark gravy melts cheese curds spread over fresh-cut fries. Cue the chef's kiss. Lots of other chip wagon favourites await your hungry taste buds if you aren't craving the Canadian classic.
Eat at the picnic tables beside the chip wagon, or take your food a short distance to River Park to picnic at the water's edge of the Clyde River. On your way you'll see the location of the shuttered local textile giant, the Glenayr Kitten Mill – which used to be the backbone of the village.

Insider Tip:
Bring your bathing suit to have a quick dip or bring your canoe and launch it here for an afternoon paddle. A picnic blanket is a must.