As if anyone needs an excuse to go shopping, but if they did, a change of season is a good one. Maybe it's the crisp morning air or the brilliant fall colours, but there's nothing like the change from summer to fall to remind you why you need to freshen up your wardrobe, and no better place to find the perfect fall outfit and accessories than in Lanark County.
I'll be honest, fall is one of my favourite seasons, and a time of year that makes me think of home baking, long walks in the woods, and fuzzy sweaters.
Of course, fall is also the season when I pull out the clothing I haven't seen in a while, and start to think about what's missing.  Hello favourite jeans and sweater, what fabulous items can I find to keep you company in my closet, and where can I find them?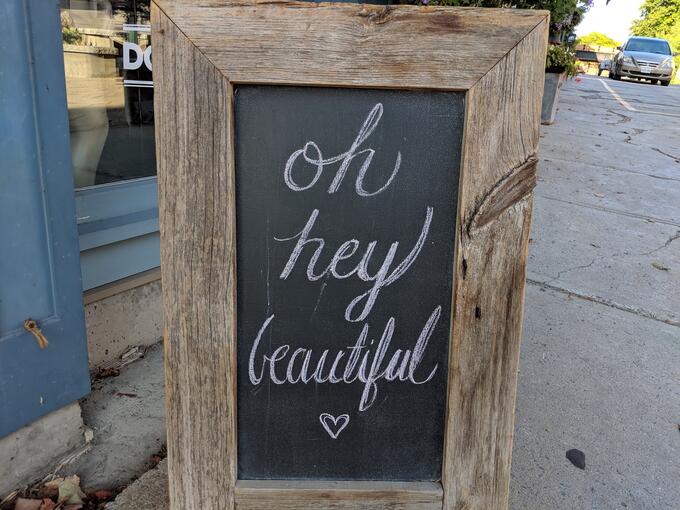 Less than an hour outside of Ottawa, Lanark County is where you want to head to look for a few choice items that are sure to get compliments every time you wear them.
The Friendly Town of Almonte
The first stop on my fall shopping daytrip was the charming small town of Almonte, where cute shops are literally around every corner on downtown's Mill Street. Doree's Habit, Cheerfully Made Goods and Crush Marketplace, what do you have for me this year?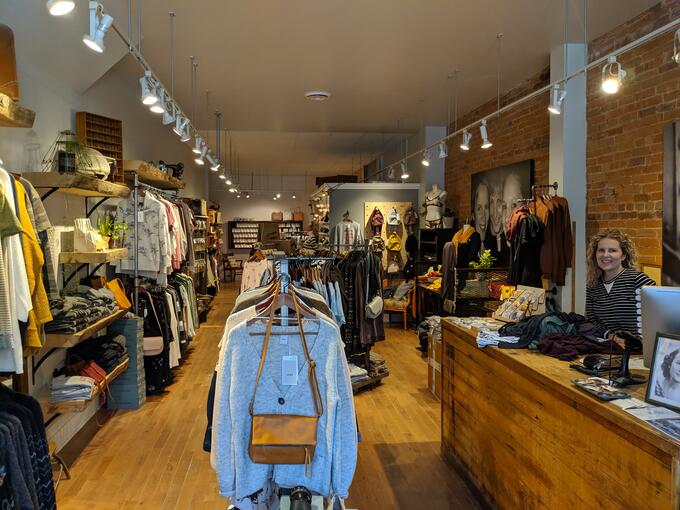 Almonte's shops all offer something different for the dedicated shopper, and one of the first places I always stop is Crush Marketplace, a cool indoor mall where you can find everything from bird feed to lingerie, clothing and flowers.
Adjacent to the marketplace, is Vamos Outdoors, my personal favourite place to shop. Everything in Vamos so suits my style that I'm actually a little careful about how often I visit, there is always something there I just have to bring home with me! I love their hard-to-find items like wool tights that can make or break a fall or winter skirt. From chic shoes and boots to outdoor active wear (that you can still wear to the office), I love every brand name Vamos carries – Lole, Columbia, Royal Robbins, Desigual, and more.
f course, fall shopping isn't just about clothing (sigh), so whenever I'm in Almonte, I always stop at Cheerfully Made Goods to check out the sweet, handcrafted items they've brought in from local makers. It's like having an Etsy store where you get to hold and touch everything before you buy!
Just across the street, comfy sweaters, scarves and high-end purses are always in stock at Doree's Habit, conveniently located right next to Baker Bob's (coffee pick-me-up, anyone?). I found an adorable pair of Tom's boots there, and a fabulous orange scarf that really says 'fall' and I know that chances are pretty good I won't see anyone else with the exact same outfit this fall.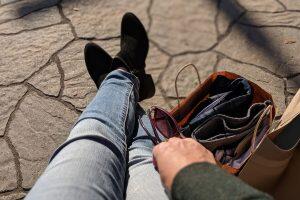 After a coffee and snack from Baker Bob's (and a chat with Dr. James Naismith), I set out for Carleton Place, to visit a new store I've heard so much about but haven't had the time to visit – Acquisti Life. All I can say is "Wow!" New to Carleton Place since 2017, I can see what everyone's been raving about. So many options, and every clothing item has something special about it, whether it's a unique off-the-shoulder element, a cut-out in back, or just something that sets it apart from run-of-the mill options.
I ended my day in the heritage town of Perth, one of my favourite downtowns (seriously) with a stop at Fall River Fashion and Fall River & Co., two sister stores where you can find the perfect fall outfit and a soft and cozy blanket or crockery without stepping foot outdoors. Other cute shops are found throughout the downtown, including Shadowfax, your go-to gift store.
I'll admit that at the end of the day I was SHOPPED OUT (but in a good way). You want to know what is the best part about a day trip to Lanark County? It doesn't need to end with the setting sun!
It was nice to know that Perth is also home to the Perth Best Western Inn & Spa, a beautiful hotel that also features a spa and an on-site restaurant, The Locks.  I can't wait to try out the Inn's mineral pool and steam room, that seems like the perfect way to end a hard day's work shopping (haha).
Can't wait for winter shopping to start next…