So you've seen the Instagram posts of friends or family seated around a rustic campfire, enthusing on the beauty of nature and a rugged camping experience, but you're thinking "That's totally not for me?" Hey, don't sweat it, you are not alone.
Camping isn't for everyone, and who says it should be? If everyone were into roughing it in the woods they would never have invented "glamping" and that would have been a real shame. For the uninitiated, glamping is an elevated style of camping that offers a nature-focused experience but without necessarily giving up hot showers and a comfy bed.
As an added bonus, glamping often allows you to extend the camping season to authentically experience the beauty of nature in fall and early winter, without losing the cozy factor.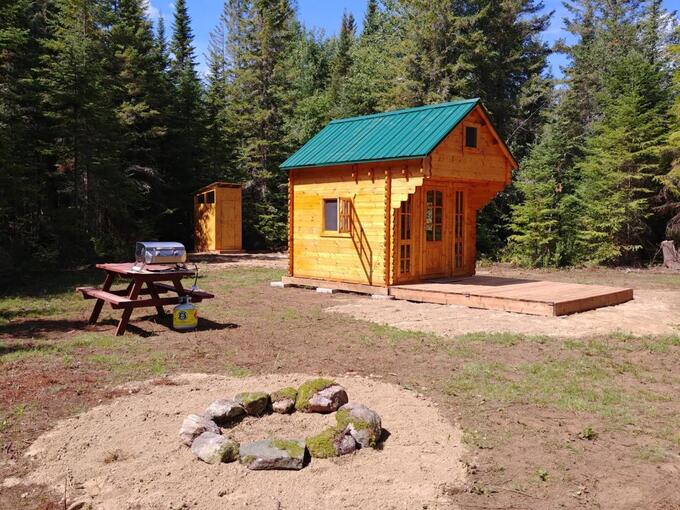 Tiny is where it's at these days – tiny cabins, that is. And when you can get so much in a small space why would you want anything more? You'll be snug as a bug in one of Highland Wilderness Tours' two tiny cabins, each tucked away on this 134-acre forested property near Algonquin Park. Roast marshmallows over the open fire, then head up to the loft to sleep the night away overlooking the forest.
This cabin looks like a fairy tale gingerbread house with its sweet loft and homey interior. You can use Elm 8 as your launchpad to explore Haliburton Highlands' vast forests and outdoor activities, like hiking, snowshoeing, snowmobiling, or cycling. Why not share nature's bounty and bring a friend or two with you? This cabin sleeps four so you can bring a friend or two from your social bubble with you.
If you're looking for a unique (but still comfy) glamping experience, an overnight stay in this canvas tent structure could be what you're looking for. Snuggle down into a duck down feather mattress topped with a natural down duvet and slumber in comfort while staying close to nature. Shower beneath the stars and waken in the morning for a leisurely kayak on the Moira River.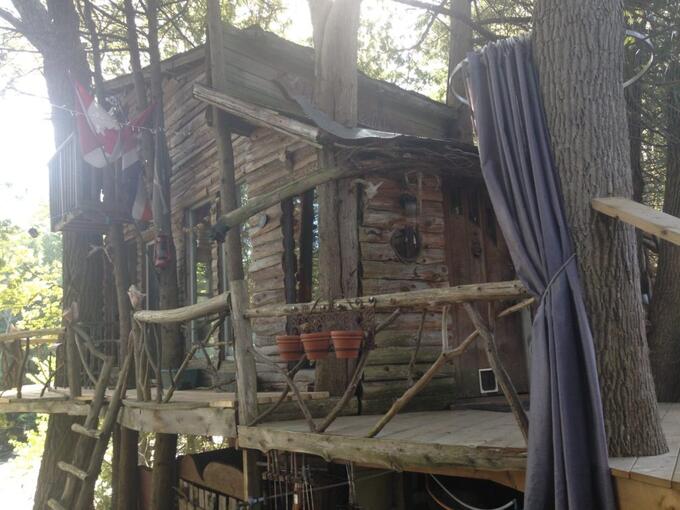 If you've always dreamed of living in a tree house this is your chance. Spend the night more than 20-feet above the ground in a one-of-a-kind treehouse nestled in the rugged wilds of Lanark County. Made from natural and reclaimed materials this treehouse experience is one for your Instagram page. You won't need to rough it here. You can still enjoy the comforts of a hot shower – outdoors – and a hot meal indoors.
What else would you do when you have a yurt other than give it a name? These Madoc area Airbnb owners affectionately call their yurt "Burt" and this glamping experience can be enjoyed all year long. Relax beside a crackling fire in the yurt's wood stove before venturing out to wander 20 acres of woodland. You won't need to eat out while spending the night in this yurt, you can cook on the indoor stovetop or use the outdoor Weber propane barbecue. In the winter, the owners will even supply you with a pair of men's and women's snowshoes to explore their winter wonderland.
Plan Ahead:
You'll need to plan ahead to grab a reservation at one of these two high-demand luxury glamping accommodations – they book up fast, often months and months in advance.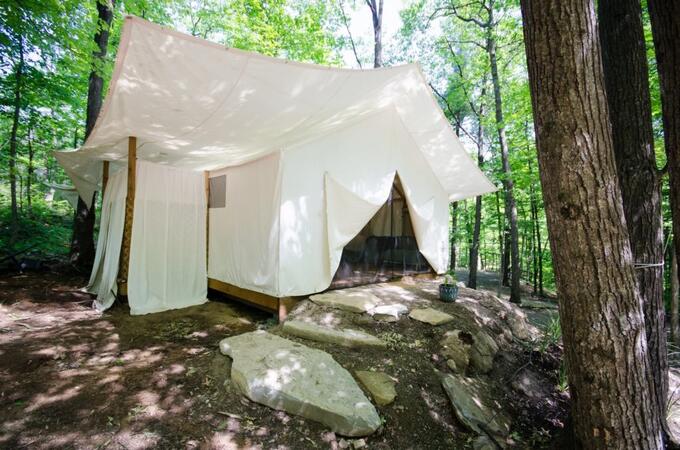 You will feel like forest royalty when you stay in one of Elements' outdoor tents. Each of these glamping tented sites are furnished with luxury hotel-style furnishing, and come complete with wilderness butler service ready to meet your every need. They'll even prep your meal for you so all you need to do is cook it. Even though you are sleeping in a tent this is no mere camping experience. Elements will begin taking reservations for their 2021 season beginning in November 2020, so plan ahead to grab a few nights at this unique accommodation.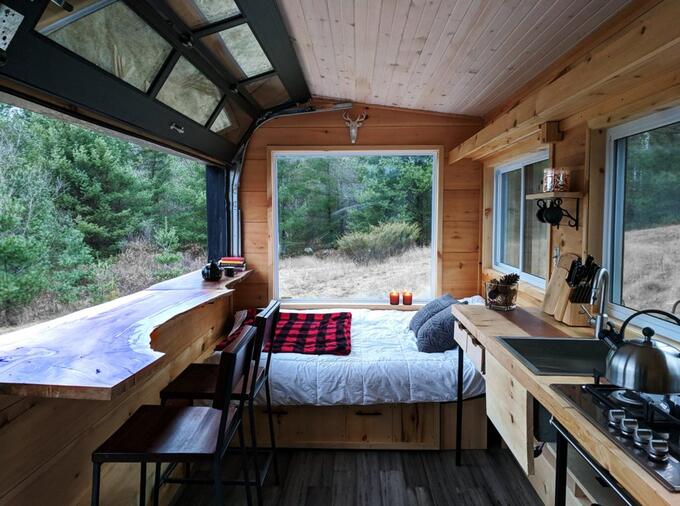 If you love the thought of going off-grid and being out in the wild then you need to set your alarm for Oct. 1, 2020 at 8 a.m. This is when Cabinscape opens its bookings for January, and their tiny cabin experience is a must-see for glamping getaways. Choose between cabins in Pakenham, Perth, Maberly, or Haliburton, and explore the region by day, then snuggle up by night with a special someone (or a good book) by night.