Is there anything better than a cold beer on a hot summer's day? The sun is warm, the condensation drips off the bottle or can, and the refreshing liquid rolls down your throat - cooling you from the inside out. It's a moment of pure bliss.
A nice cold brew is best experienced while lounging on the dock at the cottage, sitting around a backyard barbecue, or socializing at a campsite with friends. This summer, trade your regular LCBO or Beer Store beers with a craft brewery find from Ontario's Highlands, where the flavours you'll encounter are as diverse as the scenery.
We've put together a list of our favourite fail-proof brews, each one with a unique flavour profile and personality that only comes from brewing in small batches, in a place that's known as Cottage Country. Order yours today for pick-up or delivery - whichever you choose, there's a brew for you in Ontario's Highlands.
Where: Perth, ON
The Brewery: This family run craft brewery puts passion behind each batch they craft. With a dedication to brewing fresh, all natural quality beer from locally sourced ingredients and a focus on approachable taste and drinkability, they bring a rich brewing tradition back to Perth and craft beer this community can be proud of.
Summer Brews: The crisp, clean flavours of the Honey Lager, accented by a hint of local honey, offer a refreshing dockside sipper, while the Bonfire Black Lager's surprisingly light body is perfect for laughter-filled nights around the campfire.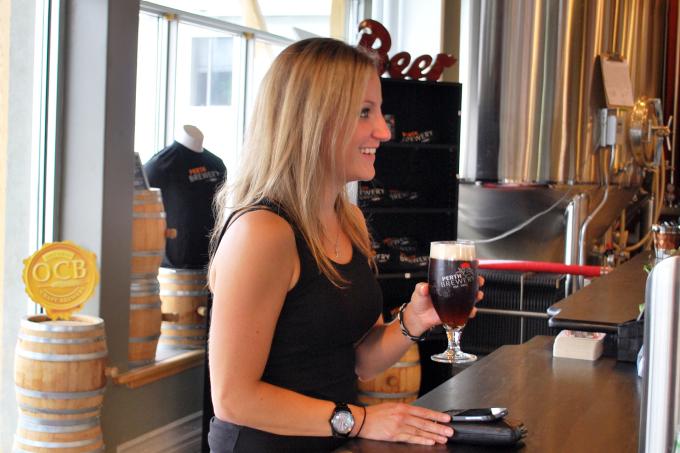 Where: Pembroke, ON
The Brewery: This independent brewery embodies the soul of the Ottawa Valley and celebrates the historical role of the Ottawa River as a transportation corridor in the logging industry. Each hand-hewn ale and lager is made to reflect the personality and spirit of the people who settled the Valley.
Summer Brew: When Timber Crib Pale Ale rolls over your taste buds, the delightfully clean finish and light malt flavours of bright and floral hops brings with it the image of the rolling Ottawa River and a fresh summer breeze.
Where: Cobden, ON and Foresters Falls, ON
The Brewery: Long time white water rafters, these three founders realized the Ottawa Valley was already home not only to great natural ingredients for hand-crafted beer, but to incredible people deserving of a local brew. These brewers continue to pay homage to the Ottawa River and local culture with their creative beers, each one brewed by friends, for friends.
Summer Brews: Inspired by the freeing moment you realize you've managed to leave all concerns of the "real world" behind, Whistling Paddler, is the perfect complement to a carefree day, while the Class V India Pale Ale offers experienced beer drinkers the ride of a lifetime.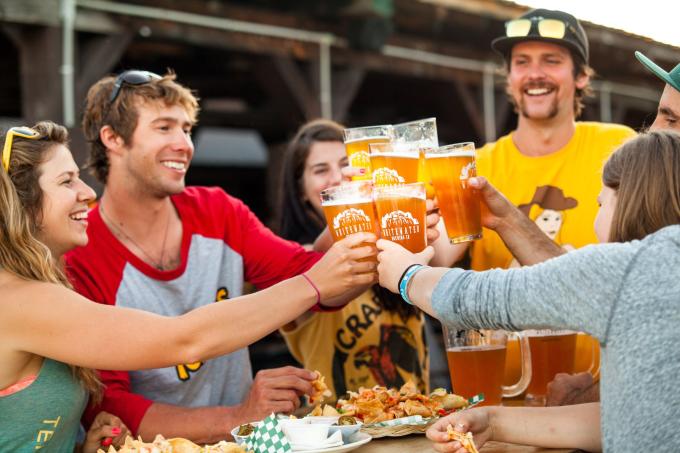 Bonus:
Where: Bancroft, ON
The Brewery: This brewery started with the finest English and German brewing traditions and is dedicated to creating high quality small-batch brews. The mineral-rich water that bubbles up through the nearby granite of the Canadian Shield gives its beers a distinctive taste.
Summer Brew: The light, fresh flavours of the Blonde Lady make this the perfect beer for a backyard barbecue, or any other occasion.
Where: Carleton Place, ON
The Brewery: This brewery started when several servers at an Ottawa pub got together to develop their own unique brewing business. Located in the heart of Carleton Place, these brewers offer a range of full-flavoured ales and specialize in putting the hammer down.
Summer Brew: We don't know how they've done it, but Stalwart has managed to capture sunshine in a can with Down By the River, a tantalizingly full beer invoking thoughts of feet dangling from the dock and sunlight glistening off the water.
Where: Pakenham, ON
The Brewery: After finding an artesian spring on their property, the founders of this brewery started making beer with it, and then decided they should share! The passion for creating a quality product as well as passion for protecting the environment radiates through both this brewery and the tap room, meaning these are beers you can feel good about drinking.
Summer Brew: The summertime tastes of honey and goldenrod in the Kinburn Honey Lager serve to rejuvenate spirits on warm summer days.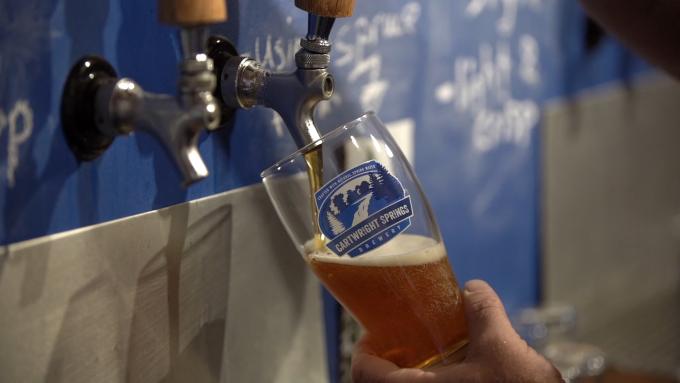 Where: Haliburton, ON
The Brewery: This brewery was founded by a couple with an affection for brews, a passion for sustainable agricultural practices, and a love of the Highlands life. Their passion for life is obvious in the handcrafted, all-natural ales they brew.
Summer Brew: The citrusy tartness and touch of spice behind the Summer Wheat celebrate the easy-living of cottage life and perfectly complement a lazy afternoon of soaking up the sun.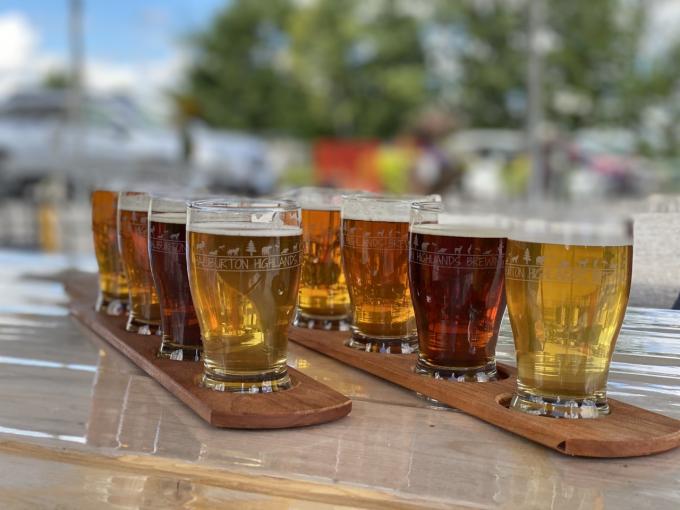 Bonus:
A significant part of the brewery team, Ringo, a West Highland WhiteTerrier, is often on-site to greet guests and display authentic small town hospitality.
Where: Minden Hills, ON
The Brewery: This small batch brewery is focused on three things: cottage living, local fare, and great tasting beer. Located in Haliburton County, this brewery is the perfect addition to cottage country and a must-visit for many local cottagers.
Summer Brew: Their award-winning Kellerbier, North Country, evokes images of sitting on the front porch and enjoying the feel of a cool summer breeze against sun-warmed skin with its light spice, herbal tones, and delicate bitterness.

Bonus:
The brewery is located below its sister company, Rhubarb restaurant. With a casual fine dining atmosphere, this restaurant embodies a more upscale feel while offering local flavours and (of course) Boshkung on tap.
Where: Carleton Place, ON
The Brewery: Beer lovers looking for an authentic German experience but without the travel are in luck at Braumeister Brewing Co. The German brewing influence can be found in this new brewery where traditional Bavarian-styled beers are carefully crafted by a Brewmaster who lived, worked, and brewed beer in Germany. Say prost and enjoy a soft Bavarian pretzel on their outdoor patio.
Summer Brew: Try their Biergarten Blonde, Helles, a traditional German-style lager brewed in the style of beers found in Bavarian beer halls and beer gardens. This brew is a beautiful golden colour, and full-bodied, with a slight sweetness that's the perfect touch for patio weather.
WWhere: Almonte, ON
The Brewery: Brand new in Almonte, this brewery is already making waves in the craft beer scene. 
Summer Brew: Try their Trailhead Pilsener, a new brew just released that is light and hoppy at the same time.

Bonus:
Grab some fish and chips from English-styled fish and chip stand, The Cheeky Chippy, located in the parking lot at Base Camp Brewing Co.
Where: Smiths Falls, ON
The Brewery:  Smiths Falls is the perfect location for this fun and innovative brewery. 4 Degrees' brews bring together local ingredients and local history for their brews. With names like Frost & Wood '55 and Old Slys '69, you'll be sure to wonder about the story behind the name.
Summer Brew: Let 4 Degrees' North of 7 beer be your go-to this summer. It's an easy drinking lager with subtle hoppy flavours and a crisp finish.
Where: Perth, ON
The Brewery:  You'll love the funky, old-meets-new vibe of exposed beams and brick at this former industrial location in the heart of heritage Perth, adjacent to Perth's iconic Beckwith Street bridge (hence the name). Their location's large harvest-style brew hall tables are the perfect place for friends or family to gather, play a few games, and knock back a few brews.
Summer Brew: These folks are opening in summer 2023 so keep an eye out for their newest brews.
Where: Calabogie, ON
The Brewery:  Located on the shores of the mighty Madawaska River, Calabogie Brewing Co. was inspired by a passion for beer, plain and simple. These brewers aren't afraid to push the envelope, and their award-winning barrel aging program has introduced new complexity to the flavours found in their beer.
Summer Brew: Gose Islands Watermelon is the perfect summer beer, but if you're not into watermelon, their Bogie IPA is another good choice.

Bonus:
Rent a canoe, kayak, or SUP from Calabogie Peaks and explore Calabogie Lake or  Madawaska River before hitting up the brewery. Beer always tastes so much better when you've earned it!
Where: Madoc, ON
The Brewery:  This brewery may be last on this list, but it's definitely not least! 7/62 is named for the crossroads that established the town of Madoc - Highway 7 and Highway 62. The brewery's mission: To brew "simply good beer" and they've definitely hit the mark on that one.
Summer Brew: Their Little Irish brew is almost (but not quite) a light beer, but definitely has a lighter flavour. You'll love the ruby red look to this beer, which will look especially nice in the summer sun.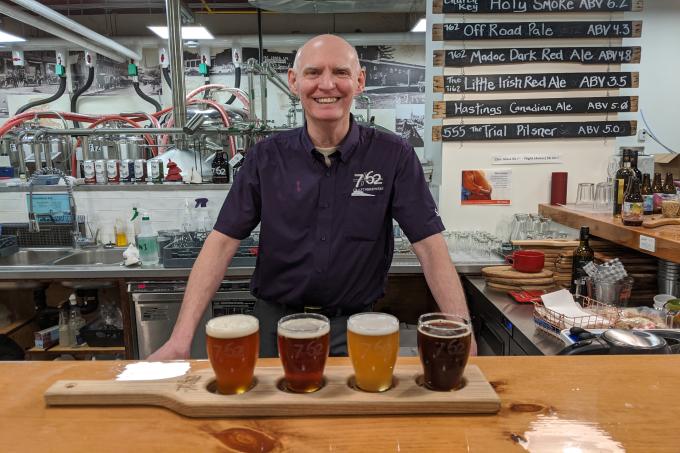 Bonus: