Want to celebrate the springtime with a tasty plate of wild ramps and fiddleheads? Feast on sautéed chanterelle mushrooms, purslane & lambs quarters all summer long? Sip on tangy staghorn sumac lemonade through the warm, sunny days of early fall, or warm yourself by the fire with a healing chaga tea next winter?
Then you might want to consider putting a little time and effort into learning more about the wonderful natural abundance of Ontario's wild places.
Benefits of Foraging
Even just five or six years ago it was difficult to convince friends and family to get out into the forest with me to collect wild plants and mushrooms for the table—but opinions have changed drastically since then! With the rising popularity of #foraging on social media, I now teach two or more weekly classes on the subject, and have to hustle to keep up with demand.
Our collective appetite for cleaner, healthier, more sustainable ways of living is on the rise in Canada, and foraging for tasty, wild, organic plants and mushrooms has never been more popular.
Until very recently, unless food came neatly wrapped in a plastic package on a shelf, most people tended to view it as unsafe, or as being of lesser quality than the products they bought at the grocery store. But nothing could be further from the truth, and thankfully that perception is beginning to change.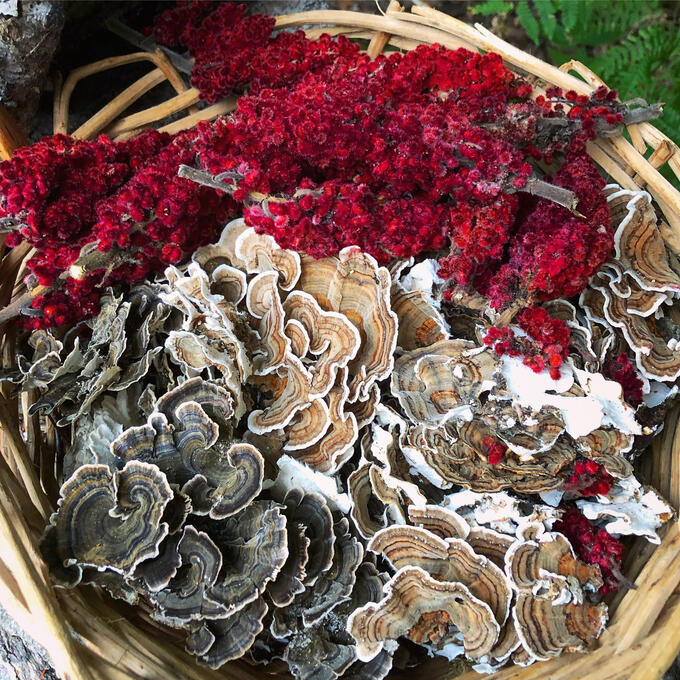 Wild plants and mushrooms are often of a much higher quality and nutrient density than their industrially produced equivalents, and they also happen to be incredibly delicious! I can attest to the quality and flavour of wild foods, as the vast majority of my diet consists of wild fish and game, foraged plants and mushrooms, and the spoils of my large organic vegetable gardens.
Michelin-starred chefs would literally fistfight each other for the contents of my pantry and freezer! (Drop by my Instagram and watch 'em battle over the best ways to use these ingredients in the comments!)
Wild foods burst through the seasons with unique colours, textures and flavours that are often only available fresh once or twice per year. Many can only be hand-picked with delicate care for a few weeks at a time, and others are readily abundant from the springtime until the snow flies. When harvested properly and responsibly, wild edibles are not only healthy, nutritious, seasonal delicacies free from pesticides and chemicals—they're a direct connection to the living world around us.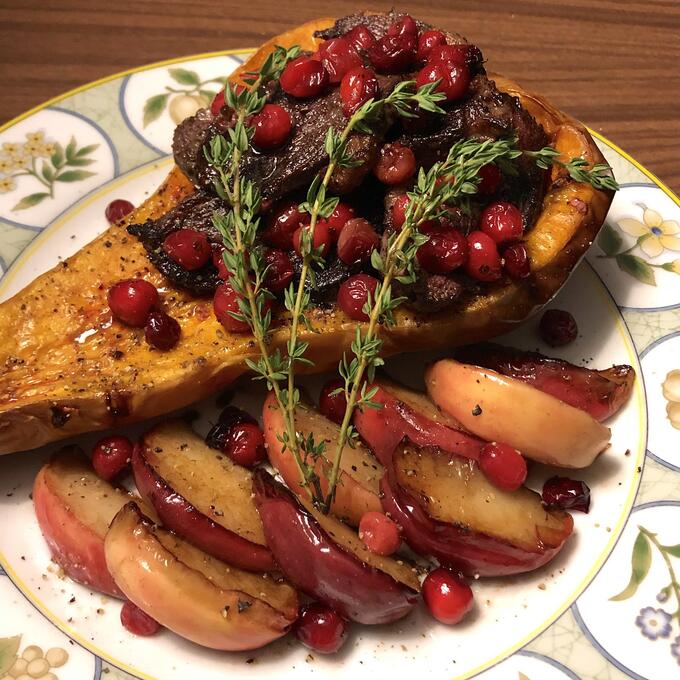 The act of harvesting them brings us closer to nature. By participating in the ancient cycles of growth, selective harvest, and renewal that happen in wild places every single day, foraging for wild plants and mushrooms can help us understand the ecology of our Canadian wilderness in ways that few other activities can.
Those of us who live in Ontario's beautiful Highlands Region are surrounded by delicious wild edibles—we're lucky to have foraging opportunities year-round if we know where and how to look. Foraging requires a certain minimum of knowledge to do safely, and a whole lot of respect and reverence for the natural ecosystems where wild edibles grow and thrive.
Getting Started with Wild Harvesting
Harvesting wild plants and mushrooms can seem like a daunting and risky endeavour to the uninitiated, but armed with a little knowledge and time in the field, any risks can be reduced to almost zero.
Many of the most sought-after wild edibles in Ontario's forests can be confused with similar "look-alikes" that harbour naturally occurring toxins. These compounds are potentially harmful, and can make us sick, or worse. Careful attention must be paid to proper identification, and specimens should only ever be collected from places that are free from contaminants and pollutants.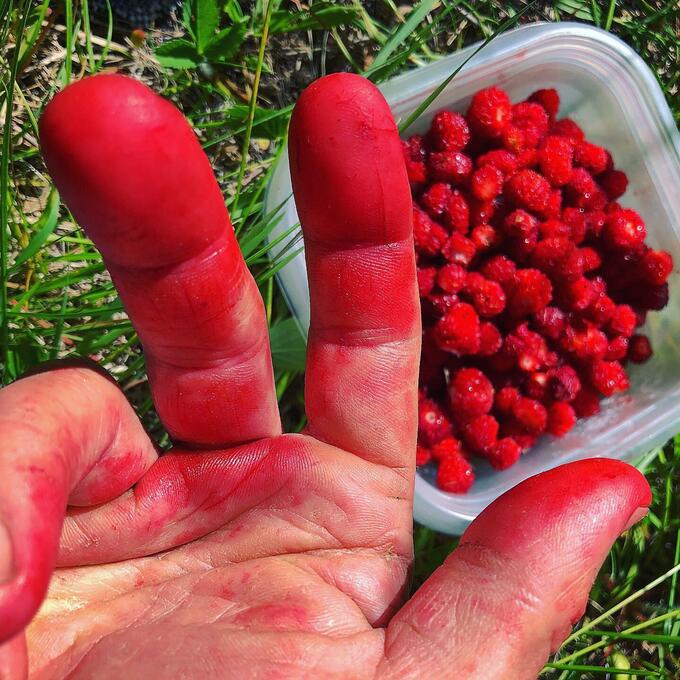 Two of the most basic and important safety rules in foraging are to only collect specimens whose identity you are 100% sure about, and to only harvest from clean, natural sites well away from busy roadsides or landfills, or places where chemicals may have been used for any reason. (This of course includes the toxic chemicals used to "treat" lawns and gardens for pests etc.!)  
There's of course much more to know if you want to start collecting wild plants and mushrooms for food and medicine, but what are the first steps? Thankfully, it's never been easier to get started down the rewarding path towards safe and sustainable wild harvest.
There are a growing number of educational opportunities focused on wild edibles in Ontario's Highlands Region, so getting your feet wet in foraging (sometimes literally!), is just a quick online booking and short drive away.
Foraging with Me
My own foraging workshops are based in the Haliburton Highlands, and take place in a beautiful outdoor classroom in the middle of the forest. I offer in-depth classes through Deep Roots Adventure on wild mushroom ecology and identification, and on common Ontario plants and mushrooms used for food and medicine.
You can reserve a spot with me from June through October here.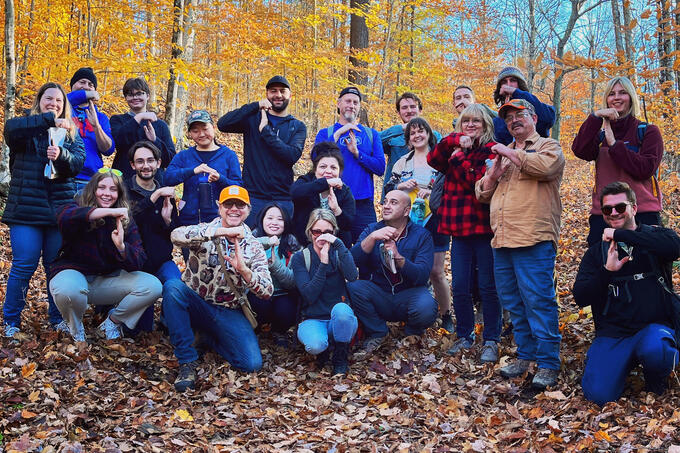 More Foraging Workshops
Additionally, there are lots of other quality foraging workshops available around the region, check out these excellent educational experiences in your area!
Operating in Haliburton Highlands, Yours Outdoors operates a wealth of outdoors-oriented skillbuilding courses, including an Introduction to Wild Edible Mushrooms as well as a Wildflowers for Wellness Guided Hike that will teach you to identify flowers in season, determine what parts of the flower are useful, and how to prepare them. 
WSC Survival School in Cloyne offers regular events and an in-depth course on edible plants, wild foraging, and other survival skills. Visit their website for more information and to book a course. 
The Ontario Mushroom Hunters and Foragers (OMHAF) hosts regular educational events to learn how to identify wild mushrooms, discussions on habitat, and edibility or medicinal properties.
Sustainable Foraging
There are of course a ton of guide books and online resources available as well if you prefer to learn about wild plants and mushrooms on your own. Whichever ways you choose to learn about foraging, please harvest sparingly and take only what you need for personal use.
Tread lightly and respectfully in wild places, and always leave more behind than you put in your basket. Wild plants and mushrooms are an important food source for wildlife, and are critically important to the ecosystems where they exist.
And lastly, remember that when foraging you're responsible for your own food safety—there's no substitute for accurate identification skills and good food handling habits. Foraging is a life-long learning curve, take the time to learn every plant or mushroom you're interested in eating one by one—intimately—and be able to recognize it as readily as your favorite variety of apple before you even think about consuming it!
It takes some time, study, and effort to feel confident enough to start harvesting wild edibles for yourself, but believe me—it's worth it. You'll gain a renewed sense of wonder at the complexity and beauty of nature, and open up whole new window into the natural world around you. And the crazy thing is, that abundance was right there all along…